Banning, California
a unique allure in a beautiful setting
With natural charms enjoyed by tourists and residents, Banning, CA remains a great place to call home
From the moment you set foot in Banning, California, cloistered in the heart of the San Gorgonio Pass, you'll sense the echoes of its storied past. With its vibrant local culture and rich historical tapestry, the city has a distinctive allure that's impossible to ignore.
Banning's story began as a crucial stagecoach stop along the road to the American West. Today, it has evolved into a diverse, lively city that still retains its small-town charm. A stroll down its streets is a journey back in time, where the echoes of the city's history reverberate through its well-preserved architectural relics and the fascinating stories shared by its residents.
Doug Schulze's perspective from his unique vantage point as City Manager reveals a dynamic and promising city. Schulze's passion for Banning is palpable as he describes it, his words painting a picture of a city on the brink of an exciting era. "Banning is Endless Opportunities," he asserts, highlighting the city's new motto as well as its potential.
One of Banning's key features is its strategic location. Situated on Interstate 10, a major east-west corridor, and within miles of Highways 60 and 79, Banning boasts easy access to Riverside, San Diego, Los Angeles, Phoenix, and Las Vegas. This geographical advantage positions Banning as an economically opportunistic city, creating a nexus of commerce and connectivity.
However, Banning's appeal isn't solely economic. Schulze elaborates, "From a residential perspective, if you live in Banning, you can be in the desert or in the mountains within half an hour, or on the beach within a couple of hours." This strategically located city offers a slice of California's diverse geography, all within an accessible radius.
Schulze further delves into the city's allure and mentions the exceptional climate. Banning's weather is milder than the scorching temperatures of Palm Springs, yet it's just a short 25-minute drive away. The city's favorable weather and relative affordability compared to larger metropolises in California creates a potent mix of comfort and opportunity.
Schulze has a fascinating account of Banning's evolution. In his words, Banning was an "undiscovered gem," a city that lay relatively dormant for a couple of decades due to a lack of promotion of growth and development. It's intriguing to learn that there was a 15-year period where the city issued only six single-family building permits, two of which were for Habitat for Humanity houses.
Fast forward to the present day, and Banning is no longer a sleeping gem but a city on the move. Schulze shares how the city is witnessing growth and significant year-over-year expansion. "Growth is coming," he says, and the city is determined to manage it effectively. He emphasizes the city's commitment to maintaining its small-town feel even as it embraces the growth heading its way.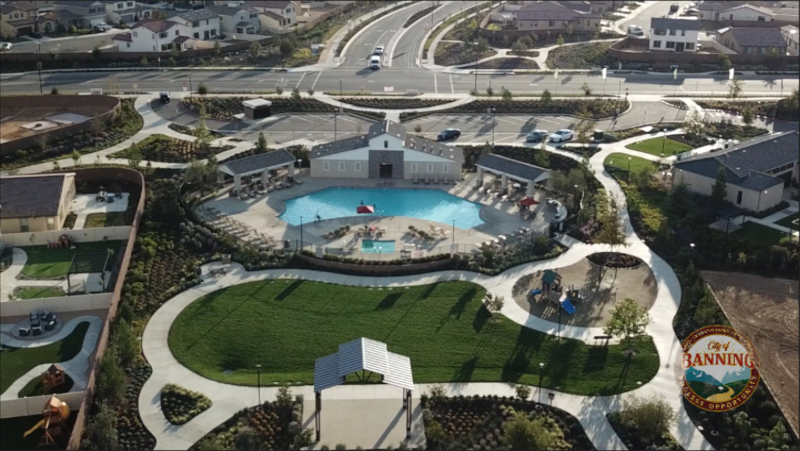 The city is currently developing over 10,000 new homes, highlighting a strategic approach to growth that combines thoughtful planning with respect for the city's unique character. The Atwell project by Tri Pointe Homes is the most significant contributor to this growth, with about 4,700 homes.
In addition, the Rancho San Gorgonio project by Diversified Pacific aims to add around 3,700 homes to the city. The project is awaiting a permit from the California Department of Fish and Wildlife, but once that's secured, it will contribute significantly to Banning's growth.
According to Schulze, Banning is not only witnessing a rise in traditional housing developments but is also attracting projects with a unique perspective on living. One such development is the Mission Heights project by Loma Linda. This project, expected to consist of between 1,500 and 2,000 homes, is situated in an area known as The Banning Bench.
Schulze describes the location: "It's located on a plateau overlooking the city and San Jacinto Mountains. It will have fantastic views. A little cooler climate in the summer when we get some heat here." This portrays a haven with captivating views, offering residents a cooler retreat during the hotter months.
However, what truly sets this project apart is its approach to housing. "It's great to have Loma Linda, a healthcare provider and medical university, looking at a residential development because they look at it from a different perspective than your traditional housing developer. Loma Linda is looking at it from a healthy living perspective," Schulze reveals. This perspective breathes a new dimension into residential planning, focusing not just on the structure of homes but also on the well-being of the residents.
Banning's commitment to sustainable development is clear, with built-in incentives that promote green practices. Schulze elaborates, "In California, any size development is typically challenged by the California Environmental Quality Act… Because we have our own electric utility, and our electric rates are amongst the lowest in California, that's a built-in incentive. Same with our water rates. We have an ample supply of water, unlike many cities in California. And our rates are also very competitive compared to the neighboring communities."
Moreover, Banning takes a unique approach to renewable energy. Instead of placing the onus on residential and commercial developments to install solar panels, the city has integrated renewable energy into its electric utility. Schulze states, "The cherry on top is that our electric utility is approaching 80% renewable, so we do not need our residential or commercial developments to put solar on their properties because we've already met and exceeded the California targets for green energy."
In this race for sustainability, Banning is leading the pack. When asked if the city was ahead of the curve regarding green initiatives, Schulze's reply was confident: "Yes, by a long way." The city's proactive measures in embracing renewable energy and sustainable practices have positioned it as an appealing destination for individuals and businesses alike and a trailblazer in green living and operation.
—
Banning's downtown area, a once thriving hub in the 40s and 50s, fondly remembered as the Palm Springs of Southern California, has been facing a bit of a crisis. "About the time the interstate went through, things changed for the downtown, and it spiraled downhill for several decades," Schulze explains. The downturn in fortune has led to a significant number of vacant buildings, a situation complicated by absentee property owners who hold their properties for tax purposes, leaving them intentionally empty.
"They're sitting vacant intentionally," Schulze admits. "From the city's perspective, it's frustrating. We are looking at ways to disincentivize that." The city's plan includes implementing fees for the registration of vacant buildings and annual fire inspections, which may push these absentee property owners to lease or sell. The City has also taken an aggressive approach with court-ordered receivership when property owners are uncooperative.
The city also has plans for revitalizing the downtown area. "We do have some city-owned land that we feel will kick off redevelopment and revitalization of our downtown," Schulze says. One such property sits directly across from City Hall. The city is working with the Shanghai Construction Group to develop this into a full-service hotel with an adjacent 120 multifamily housing units. "To have a full-service hotel right in the downtown plus 120 units of multifamily housing is going to help support the small businesses," Schulze affirms.
In its quest to revitalize, Banning isn't just focused on residential and commercial growth; it also has an eye on adjusting policy and improving infrastructure. "One other thing is that in our downtown core housing is not currently an allowed use," Schulze discloses. The city plans to amend the zoning code to allow mixed-use type housing, a move that could unlock the potential of the downtown area.
On the infrastructure front, the city is gearing up to accommodate the expected influx of businesses and residents. "The city received two grants in the last two years. One is an active transportation planning grant," Schulze shares, painting a picture of the future cityscape. The city is exploring complete street concepts, considering community feedback for safer crosswalks, street lighting, and community gathering spaces.
The second grant, a downtown revitalization grant, enables the city to repurpose unused spaces. "We have many alleyways downtown… they're just kind of lost space," Schulze says. The city is considering transforming these alleyways into outdoor dining experiences or community gathering spots, adding a touch of charm to the bustling city center.
Schulze also takes the time to acknowledge the various partnerships and strategic alliances that have contributed to Banning's exciting transformation. He mentions a host of tenants and developers, from Lawrence Equipment, SoCal West Coast Electric, and Consolidated Electric Distributors to Tri Pointe Homes, Diversified Pacific, and Estes Express Trucking, each of which has played a part in shaping the city's growth.
Schulze highlights the arrival of notable brands like Skechers in the city's first million-square-foot industrial building and the forthcoming Wyndham Microtel. "We're excited that we have a Wyndham Microtel coming in," he shares. He also notes new retailers set to open in June, including Boot Barn and PetSmart, in a commercial development called the Sun Lakes Village Shopping Center.
As for the future, the city manager unveils Banning's next significant initiative, a leap into the digital age. "The biggest thing I would mention is our technology upgrades," Schulze reveals. The city is implementing Net Suites for Government by Oracle and working on OpenGov for financial transparency. With SmartGov permitting, the process for securing permits will be streamlined. At the same time, smart metering for water and electricity will allow customers to monitor their real-time usage and detect outages or leaks.
Schulze concludes, "We're focusing on bringing the city into the 21st century."
Banning is not just preparing for its physical growth but also ensuring that its systems and infrastructure keep pace with the times. It is a city on the cusp of a thrilling transformation, ready to embrace its future while staying true to its historical roots.
AT A GLANCE
Banning, California
What: historical and charming town with a gorgeous setting and economic expansion plans
Where: Riverside County, California
Website: http://www.banning.ca.us/
Diversified Pacific – https://diversifiedpacific.com/
Rancho San Gorgonio would like to congratulate Doug Schulze for his third year as City Manager for the great City of Banning! We look forward to continuing our relationship with the City as we watch it grow. We are highly invested in the success and sustainable growth of the City as we are the owners and developers of an 830 acre master planned community on the south side.
Rancho San Gorgonio is an 830-acre Master Planned community with an approved specific plan located in the south side of Banning fronting Westward Avenue and west of Banning High School. It describes a maximum number of 3,385 dwelling units to be spread throughout the community. We are proposing a combination of traditional single family residential homes with varying lot sizes as well as multifamily to meet the needs of an ever-growing City for housing units as well as varying price points. This with a combination of parks and a trail system that incorporates the natural beauty of the foothills as well Pershing and Montgomery Creek to preserve and protect them for the many years to come.  We are currently entitling our first phase and are looking forward to breaking ground next year.
NEOGOV – www.neogov.com
NEOGOV is a one-stop HR suite serving over 13,000 public sector agencies. We built NEOGOV based on best practices in government HR for recruiting candidates, onboarding new hires, developing staff, managing employee information, and more. Simplify your processes. Focus on the work that matters most. Visit us today at NEOGOV.com to learn how we can serve you.
City of Banning Electric Utility – www.banningca.gov
City of Banning Electric Utility has been providing safe, reliable, power for over 100 years. Since 1922, BEU has been a Public Power (not-for-profit) Utility offering some of the lowest electric rates in California. In 2022, we became 75% renewable, and are making strives to meet the needs of our growing city.