Austell, Georgia
A Small City with a Big Vision
A growing community focused on development, quality of life, and entrepreneurship; Austell is one to watch
In a state known for its warm southern charm,  the City of Austell does not disappoint. It also happens to be a fast-growing and dynamic community with a host of city-led initiatives catering to its valued residents as well as visitors taking in the city's local charms.
As the smallest city in Cobb County, Georgia, Austell is a dynamic community that promotes entrepreneurship, community-mindedness, and a high quality of life. Originally home to the Cherokee Nation, the city has a unique history as a health destination due to the natural springs in the area. Today, Austell has evolved to become a diverse community welcoming continued growth and development.
"Austell is a very unique city," touts Mayor Ollie Clemons. "We are only miles away from downtown Atlanta and from Hartsfield, the busiest airport in the world. We have a lot of features that people love to have, and we have continued interest in development, from a business and a residential perspective."
He expresses particular excitement about the ongoing development in and around the city's downtown, which is outlined in a recently completed Livable Cities Initiative (LCI). Although at one time the city attracted residents seeking a quiet, tranquil lifestyle, Development Director, Darrell Weaver suggests that the landscape is shifting.
He conveys, "Right now is an exciting time to be part of the City of Austell, because of all the change and redevelopment that is happening. A lot of citizens, especially the millennial population, are looking for diverse communities to live in, with walkability and connectivity, and with access to green space."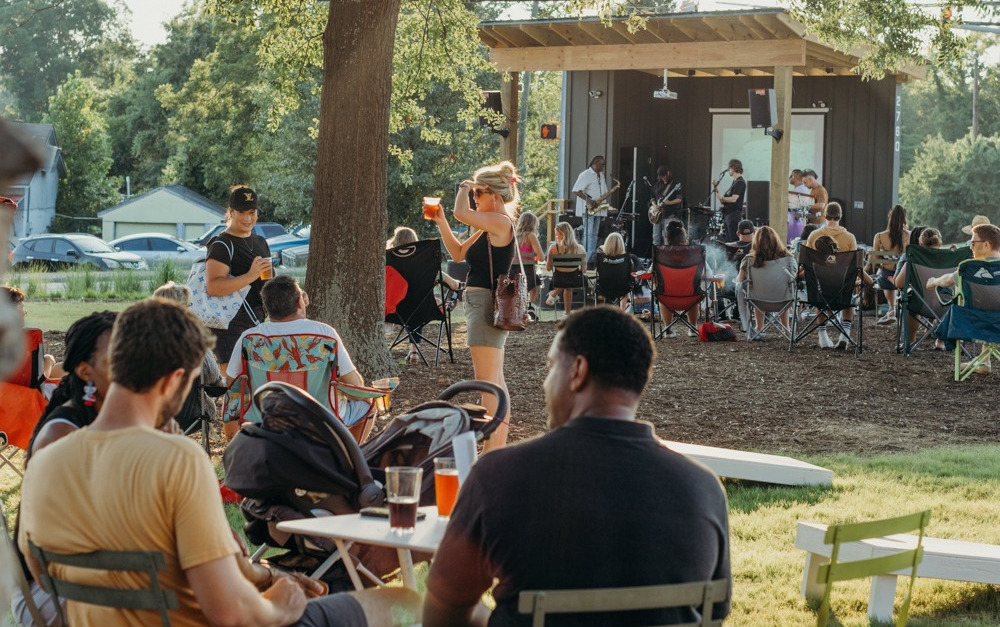 Development and Growth
One of Austell's primary economic development strategies is centered around empowering small business owners. This effort has fueled revitalization in the city, with historic commercial properties being repurposed for mixed-use developments.
The Cincinnati Junction is one example and is home to Frog Rock Brewing Company, a microbrewery in the heart of downtown. The brewery is giving a nod to Austell's history in its process.
Weaver elaborates, "This area was a destination location for everybody because of the water that was here, which had healing properties. The Rockefellers used to come to Austell, presidents used to come here, all for this water that was formed here naturally. Those springs are still here, and they're still being bottled by a company called Lithia Springs Water. Frog Rock Brewing Company is going to use Lithia spring water in their beer. That's something that is going to be unique only to Austell, you can't get anywhere else."
Another notable venture coming to Austell is Connect Virtual Kitchens. This project is set to accommodate 200 small cooking kitchens, aimed at breaking down barriers to entry into the food industry. This particularly benefits aspiring entrepreneurs who can't afford traditional restaurants or food trucks, as these fully equipped kitchens can be rented, allowing flexible hours that align with individuals' availability. The project will also include a quality daycare center, as part of the developer's desire to remove some of the barriers to entrepreneurship.
"We're excited about that project. We're all about small business ownership and job creation, and quality of life. That's what we're trying to accomplish here in the city," Weaver portrays.
Currently, Austell is home to several independent eateries, including the much-loved South    Cobb Diner, Paige's Bakery and Bistro, Dillon's Bistro, Cenacle Coffee Shop, and Dough in the Box, whose donuts are ranked the best in Atlanta. Endeavors like these are a source of employment in the city, while also contributing to its unique character.
On the commercial side, Austell has welcomed Pratt Industries, which has brought 125 jobs to the community. "Part of our goal was to bring in high-wage jobs to the city so people can live here and work here," recounts Weaver. He adds that the economic development focus has been on maximizing the existing land, which can be challenging in a city that encompasses only 5 and a half square miles.
The housing development is also on the rise, with Weaver reporting that Austell has 325 homes in the pipeline. "You can't build it fast enough," he acknowledges.
"Land is selling pretty quickly here in Austell. We have a significant number of single-family home detachments going up. We have townhouses that are going up, we have some mixed-use developments that have already been approved and looking to move forward, and all around we are trying to connect with park space and green space."
Another ongoing project is the current home of the city offices, known as the Threadmill Complex. The historic complex was originally Coats and Clark Thread company, complete with self-contained amenities such as swimming pools and a recreation center, embodying a true mixed-use concept.
"We're in the process now of a proposal to work with developers to see how they can reimagine the Threadmill Complex and the surrounding property, to see how we can make this a destination location," says Weaver. "We see that as being a next step in the evolution of the city of Austell, where you have a pocket of mixed-use right here at the Threadmill Complex."
Infrastructure Improvements and Innovation.
In a partnership with Cobb County, the City of Powder Springs, and the City of Austell a project is underway to develop a multipurpose sidewalk, connecting downtown Austell to the Silver Comet Trail in Powder Springs.
Weaver remarks, "We see that as being a catalytic type of project. It is going to spur additional development in and around that trail, as people want to be able to get out and bike, walk, or jog downtown or to connect to the trail."
The city is also working to take advantage of the opportunities represented by Sweetwater Creek, which Weaver maintains is more like a river. "We're one of the few city locations that actually has a creek that runs through the whole city," he boasts. "You can put a boat in the water- you can fish, you can kayak."
Austell is considering all possibilities, including adding a boat launch that will allow people to go in at one location and disembark in another park, all within the city's confines.
"We see all these economic drivers for the outdoor enthusiast, for the people that are looking for walkability, the people that want to have parks, and green space as an extension of their backyard, all while having amenities in a short area where you don't have to travel outside of Austell to have a great time with your family," says Weaver.
As for infrastructure, Clemons highlights the elimination of the last two pump stations in the city, reducing costs and potential environmental hazards. He describes a continued focus on upgrading aging infrastructure, improving water and sewer systems, and enhancing walkability with new sidewalks.
"Part of the issue that we have had was that a lot of the infrastructure wasn't able or capable to accommodate new growth," Mayor Clemons relays. "We are looking at that as we replace the old water lines and sewer lines to make them more efficient, to help us be better equipped in order to accommodate the new growth."
Community Spirit and Engagement
Community engagement is a priority in Austell, and the city hosts a variety of events, from the BBQ Blues and Brews Festival to a Black authors event during Black History Month, and Juneteenth gatherings. The much-anticipated Austell Tree Lighting brings people downtown to see the mayor illuminate a 20-foot tree, accompanied by vendors, Santa visits, and performances.
An Electric Parade was added to the festivities in 2022, and the main event is complemented by a walking tree trail where individual businesses can decorate trees outside their establishments to represent the business. The mayor also participates in the Mayor's Reading Club, visiting local schools and reading to children.
Recently, Mayor Clemons and his team volunteered with Habitat for Humanity on a home-building project, emphasizing the city's partnership with the organization to provide affordable housing opportunities. They also collaborate with Sweetwater Mission, a local nonprofit, to offer resources for families in need of food and clothing.
The city engages with the Cobb County Chamber of Commerce, the Austell Business Association, and the South Cobb Business Association focusing on initiatives that benefit small businesses. Weaver points out that the city is open to working with any community partners.
"That's what is going to help us achieve the goals we're trying to accomplish. Whether that's on the local level, whether that is on the regional level, or even at the state level, all working to try to solve some of the issues that are impacting us. We would love to work with any of these parties if they can help us achieve those goals."
Looking Ahead
Discussing plans for the future, Mayor Clemons says he looks forward to continued work on infrastructure updates, downtown redevelopment, and creating an ideal environment for residents and visitors.
In conclusion, he says, "I want to make sure that we continue doing those things that are job creators to provide jobs where our citizens don't have to go so far to go to work. I definitely want it to be a destination place and to be able to fulfill what is the desire of many today, and that is having that live, work, and play community. We are doing a very good job of that."
AT A GLANCE
Austell, Georgia
What: Bustling town with infrastructure and development initiatives geared towards its residents
Where: In Cobb County, 20 miles from Atlanta in the state of Georgia
WEBSITE: https://www.austellga.gov/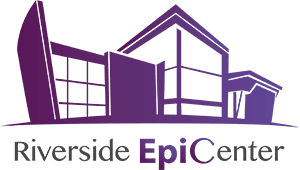 Riverside EpiCenter – www.RiversideEpiCenter.com
The Riverside EpiCenter was opened in 2014 by Bishop Dale C. Bronner and Word of Faith Family Worship Cathedral. The bishop presented the idea when the church discussed creating something transformational in the community. Pronounced Epee-center, the venue's name was inspired by a geologic event, "where an earthquake happens: we're at the center of a lot of rumbling, a lot of diversity," Boyd said. But he laughed, admitting that people prefer to pronounce it another way: EPIC-center. "At first, we corrected people. But after a while, we just embraced it. If you look up the word, 'EPIC,' you'll notice that it is defined as, 'impressively grand.' When you come into the facility, everything about it is 'impressively grand.' The fact that a church did this is even more impressive. It really is a fitting name. We just ran with it."
Austell Gas System – austellgas.com
Austell Natural Gas System a.k.a. Austell Gas System, established in 1954, is a natural gas distribution utility. A component of the City of Austell, Georgia, Austell Gas System is governed and administered by the Austell Gas Board of Director's. The system serves residential, commercial, and industrial customers for Austell, Mableton, Lithia Springs, Powder Springs as well as other portions of Cobb and Douglas counties. Currently, more than 58,000 customers rely on Austell Gas System for their heating and gas needs and employs approximately 100 full-time employees. The company strives for excellence while delivering the company core values of safety, service, and price. • Safety – above all else, we are committed to delivering our products and services in a manner that ensures safety for our employees, customers, and neighbors. • Service – employees strive to deliver superior customer service that exceeds the expectations of our customers and ensures reliability. • Price – our products and services are priced fairly and competitively. Natural gas is clean, convenient, and efficient, which makes it the popular energy choice. Like all forms of energy, however, it must be handled properly. Austell Gas works diligently to operate the system safely and prevent incidents through a variety of measures. The company takes pride delivering exceptional customer service and involvement in local communities, businesses, and schools throughout the system and we look forward to servicing your natural gas needs.
For more information, please visit our website www.austellgas.com