Association of Energy Engineers
Finding green solutions to address environmental concerns
Finding global energy solutions through education, training, networking, and energy awareness
Climate change is threatening the planet as we see global temperatures rising at a rapid rate. Governments around the world are acting, with more than 70 countries across the globe setting the goal of becoming Net Zero by 2050. The problem is many are falling short. This is a problem that is not only faced on a global scale but one that continuously requires new and innovative approaches and solutions to help address the ever-growing sustainability challenge.
The question begs, how do we get there? Providing the framework and advocating for its members while addressing the critical challenges in the sustainability sector is the Association of Energy Engineers' key focus.
Based in Atlanta, Georgia, the internationally-reaching non-profit professional association is focused on serving its members and energy industry professionals to shape the future of the energy industry through networking, energy awareness, education, training, professional certification, and recognition.
"We say we are local, we are global, we are AEE," says Bill Kent, Executive Director for AEE. "We are the global organization that brings it together. Our members are out there on a local basis, and we encourage them to go to their ministers of energy, departments of energy, and their local city sustainability groups, to help give them a pathway and a transition. Our challenge is that we all want a clean, sustainable Net Zero future."
Founded in 1977, AEE was the first group to focus on what they coined "energy management," now also commonly referred to as energy efficiency.
"It was really coming on the heels of the oil embargo in the 1970s," Kent recalls. "A young engineer, a gentleman, Albert Thumann, with nothing more than a vision and a dream, moved his family from New York to Atlanta and started the Association of Energy Engineers.
Since then, AEE has focused on helping its members and the commercial and industrial markets conserve energy.
"Our vision is to lead the global energy community to meet the challenges of a clean and sustainable future," Kent explains. "We're all about working towards a clean and sustainable future."
The membership-based association includes both corporate memberships as well as individual memberships. Individuals must have an engineering, architectural, or business degree, or be a registered professional engineer or architect. Those without those qualifications are able to join as affiliate members.
AEE has global outreach, with more than 100 professional chapters worldwide, 50 of which are located in the United States. They also have more than 30 student chapters at universities across the globe and women's groups, which fall under a division of AEE called the Council on Women in Energy and Environmental Leadership (CWEEL).
"We're working to get more women involved in this traditionally male-dominated industry," Kent says.
The association focuses on commercial and industrial space, including buildings and industrial manufacturing plants. Its more than 18,000 individual members come from engineering firms, architectural firms, major Fortune 500 companies, as well as federal, state, and local government agencies.
"It's really a mix," Kent explains. "Anyone who uses a lot of energy or manages it within their federal agency, manufacturing plant, or consultants. Those are our members."
AEE helps to execute its mission through a multifaceted approach. The association offers technical journals and publications with case studies, best practices, training, and certification programs. They also offer webinars and conferences where they bring stakeholders together to discuss the latest trends in the industry, best practices, and more.
"We hold both US and international events," Kent says. "This year, we had events in Cincinnati, Seattle, Atlanta, and Dublin, Ireland. Next year we will be in Boston, Long Beach, and Orlando."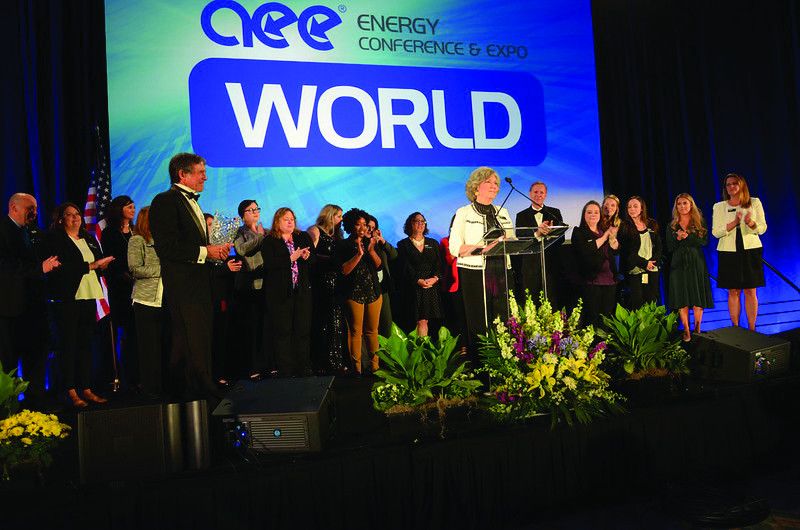 Their most well-known certification is the Certified Energy Manager (CEM®). The CEM® program is one of the most globally respected certifications in the field of energy efficiency. It certifies individuals to help optimize the energy performance of a facility, building, or industrial plant. There are more than 17,000 active Certified Energy Managers around the world, with two-thirds located in the United States. Training and certification are available in 10 languages.
"Our CEM and our other credentials are recognized and required by companies, municipalities, states, federal agencies, and countries around the world, whether it be Atlanta, New York City, San Francisco, Greece, South Africa, Hong Kong," Kent says. "Our credentials are recognized and required globally."
The association and its members face a wide variety of challenges, but they are focused on conserving energy. But Kent says they see every challenge as an opportunity. Their biggest one is climate change.
"Certainly, our planet is being affected by changes to weather, to species, with the rising temperature and the catastrophic effect that has on the planet and the people," Kent says. "And as a part of that, how do we reduce our climate impact? It's now widely recognized that energy efficiency can reach approximately 40 percent of our climate goals."
Because of this, AEE and its members remain focused on energy efficiency.
"Energy efficiency has a good financial payback. It also has a substantial climate impact. It helps create jobs and provides opportunities for workforce development. It's a driver there, and it also has other benefits such as health benefits – creating healthier and more productive buildings," Kent says. "Throughout both developed and developing countries, there's tremendous potential for energy efficiency. Any group anywhere can reduce their energy use by 20 to 30 percent. And that's being conservative."
In addition to climate change, Kent also cites decarbonization (moving away from fossil-based fuel), as well as energy reliability and resiliency, as other significant challenges AEE and its members are working on.
"As we reduce our energy consumption and move towards clean energy and renewables, we need to ensure that our energy supply is both reliable – you want it to stay on – and then resilient so that if you lose the energy, you're able to get it back quickly," he explains.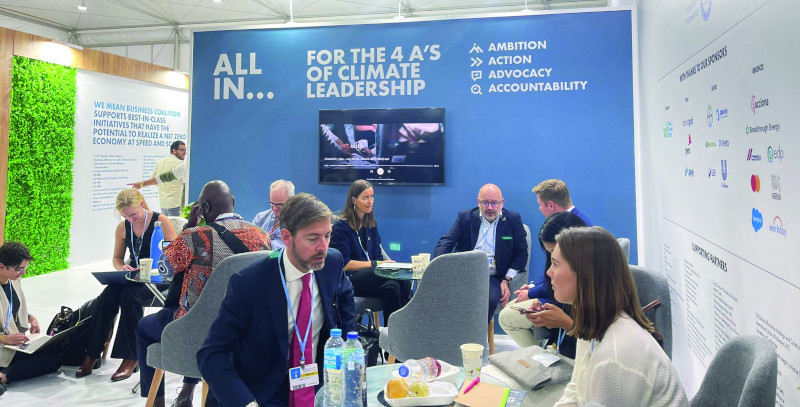 While Kent says he believes most everyone is on the same page regarding the need to move toward more renewable, clean, and sustainable energy sources, the biggest challenge is in the pathway and transition to those sources.
Regarding the pathway, Kent says there are many options to choose from. First, there are solar and wind, the least expensive forms of energy, but also intermittent, so you're reliant on a sunny or windy day. Then there's nuclear energy, which has the global community split on how green it can be. We also have the option for natural gas, which though still carbon-based, has fewer emissions than coal.
"So, is it natural gas? Is it nuclear? Is it green hydrogen, which certainly has tremendous potential and is getting lots of development and we're making great progress? But it's still very expensive at this current time," Kent says. "So our challenge is not are we going to get to a clean energy future, but during the transition [to using that energy], but how do we have some baseline baseload to ensure that we have a reliable supply?"
One solution is energy storage. Kent uses batteries as an example to store solar and wind energy but adds that it's currently not cost-effective on such a large scale.
"So how do we get from where we are to 100 percent renewable and ensure that we have a reliable baseload?" he posits. "I think that is a big challenge we are all faced with. Having good targets and mandates is great, but we need to have a good transition because I would submit that whether it's a factory or a building, a school or an individual home, what people want most is to keep the power on. No one wants to lose power."
AEE's goal is for our members to engage with policymakers and funding agencies to ensure we all work together to help develop a good transition plan toward a clean and sustainable future. Kent states that AEE can help by sharing best practices and capacity building. He also hopes to see more workforce development in these critical areas.
"As we continue to focus on a clean future, we need a strong workforce, and it needs to be a competent workforce trained in energy efficiency and renewables and grids," Kent says. A key challenge area of focus for equity is bringing clean energy solutions to underserved and disadvantaged communities.
So that's our challenge and one of our focuses, in addition to just continuing to make a maximum impact from the energy efficiency work that our members do," Kent concludes.
AT A GLANCE
Association of Energy Engineers
What: a non-profit association focused on energy efficiency
Where: Headquartered in Atlanta, Georgia with members across the globe
Website: www.aeecenter.org