Allstate Steel Company
A strong, solid future
Business View Magazine interviews representatives of Allstate Steel Company for our focus on Best Practices in the Steel Industry
Based in Jacksonville, Florida, Allstate Steel Company has two things in common with the products it sells: integrity and resilience. Primarily serving the greater Jacksonville region, the company has come a long way since its founding 58 years ago.
Allstate Steel's success over the decades was derived from its commitment to offering the best service possible to every customer. Moreover, a combination of safety and quality controls has enabled it to retain most of its key staff, a crucial factor in ensuring services rendered remain constant over the years. Yet this success has not been by chance, but rather by design, with the key architects being current President and CEO Sharon Suggs and General Manager Eddy Barrera.
"My father-in-law, C.J. Suggs, founded Allstate in 1963," says Sharon. "When I began dating Ken Suggs in 1969, I remember Allstate Steel was working on a large, exciting NASA project. After we married in 1971, I joined Allstate Steel in 1972 and started working in the accounting department. As a principle, everyone joining the company had to start at the bottom, including Ken, who joined the company straight out of high school."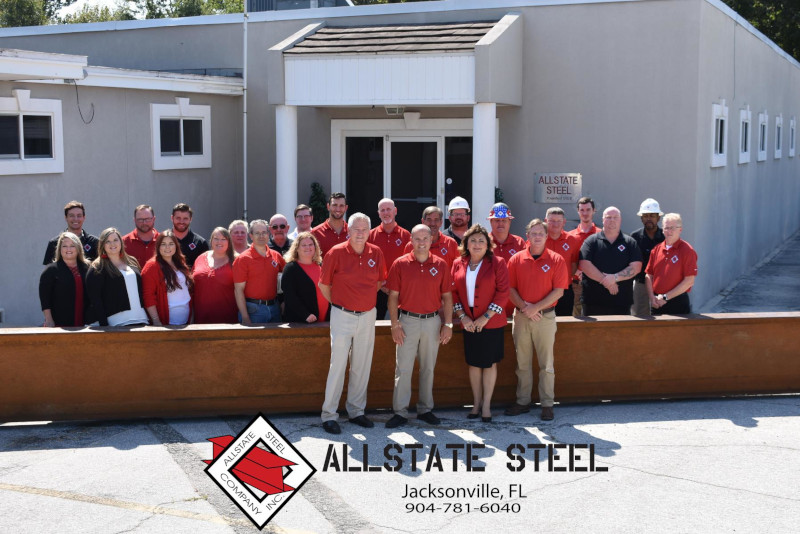 Soon after the junior Suggs took over the company as president in 1991, Allstate Steel experienced tremendous growth owing to his keen sales acumen. Sharon admits, "He was quite the salesman, and even before he took over, he had extensive business networks within the state and across state lines. So, when he took up the reigns, he naturally tapped into his salesmanship, growing the company tremendously over his close to 21-year tenure." Ken Suggs's stewardship saw the company win contracts across the United States, Puerto Rico, and other parts of the Caribbean.
At the height of this rapid growth, the company and the Suggs family soon faced tragedy when Ken passed away after a bravely fought illness, leaving Sharon to step into his shoes. Continuing the proud legacy, she has led the company to even greater heights over her 10 years at the helm. Sharon hopes to carry on until her youngest son, Joseph Suggs (Joey), who is currently working his way through the company ranks, takes over.
Allstate Steel is what you might call a value-added steel company. The company does extensive steel fabrication and detailing services for commercial projects, including everything from economy value engineering to complete design and construction. More recently, Allstate Steel added pre-engineered metal building services to its roster of services. As Barrera explains, "Instead of a structural steel building where we only provide the structure (or skeleton), we provide a complete metal building with our new service. We purchase and supply all the items, including pre-engineered beams and columns, while also being responsible for building and installation."
This new service came as a natural progression of value addition. Barrera adds, "Often, we would bid a project with a structural steel building, which we typically do. And then, in the same compound or project, there's a pre-engineered building. So, what we're doing now is, any time those two buildings are together it gives us the option to build both, which gives the client a complete package where they don't have to deal with two separate subcontractors for the structural and pre-engineered work."
Allstate Steel currently employs 89 people at its 170,000-square-foot Jacksonville facility. Approximately 22 of these employees are office-bound and make up its sales and administrative workforce, while the remaining staff work in the shop. Although the industry overall is experiencing a chronic shortage of qualified tradespeople, Barrera points out that this isn't an issue for Allstate Steel. "We do a pretty good job of retaining our staff," he says, "with most of our turnover being in the front office, we typically tend to maintain our employees in the shop."
Sharon elaborates, "We implement different programs throughout the year that keep the employees connected while showing them that the company is interested in their life and is actively working to better their experience. We are a family-owned business, so we treat all our people like family, which results in low turnover and a generally satisfying work environment for everyone."
As the COVID-19 pandemic took hold in early 2020, Allstate Steel adjusted its operations to keep the company running in effort to retain all employees and to continue to provide the quality service expected from its clients. "We took a pretty big hit starting in March of 2020," Barrera recalls. "From March to around July, we didn't sell anything. It was tough but, fortunately, we had a strong backlog worth around $25 million and that is what we focused on. Also, we still managed to hit our annual sales goal with a record setting month from a dedicated sales team."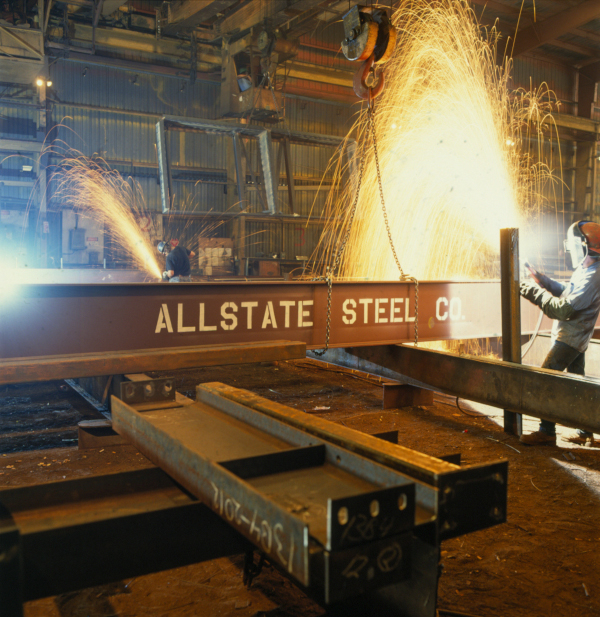 Although the pandemic had paused projects, the company used some ingenuity to keep them moving, even though clients had put them on hold. Barrera notes, "We started fabricating backlog projects to keep our people busy and ensure there was some progress with the projects, even though we were not erecting them. We also had fieldwork for projects that were already in motion, and this did not stop either." As all this was going on, the company ensured COVID-19 safety protocols were in place, including social distancing, additional office sanitizing and mask-wearing, as well as allowing workers the option to work remotely (where possible).
Allstate Steel has a long list of successful multi-million-dollar commercial projects under its belt. Currently, the company is in the last phases of completing a project for the Mayo Clinic Hospital in Jacksonville, FL that includes the fabrication and installation of a new six-story hospital addition and parking garage structure with a retail link. "We were also just awarded a new VA hospital project towards the north of Jacksonville, and we are about 60 percent on the Baptist Clay project out on Fleming Island, which is our largest project by value to date," says Barrera.
"Most of our projects are here in Jacksonville because the construction market is very busy," Sharon explains. "The main benefit of having a home territory is that we don't need to travel for work because all our projects are within our area."
On a technical front, the company supports all these new projects by taking a pragmatic approach to technology adoption. "Most of our machinery is old but very good quality," says Barrera. "Instead of replacing them, we upgrade them, and add new auxiliary equipment to make our processes faster and more efficient. The company's new fabrication equipment includes a controlled automation coper, punch line, angle line, and plasma/burn table and detailing software like SDS/2, Tekla, and Autodesk Product Design Suite Ultimate.
As the economy and various industries emerge from the pandemic, one issue of significant importance to Allstate Steel is the cost of materials. Barrera admits, "As companies resumed work, demand for materials skyrocketed, and with it rose steel prices, which have not stopped climbing since. Currently, our main strategic priority is to cushion our business from these price hikes, which are occurring fortnightly."
Another area where the company is having to deal with material shortages is buying pre-engineered products like steel decking and joists – those prices have risen over 400 percent. "There's a major shortage of joists because of the massive demand coming from Amazon and other e-commerce operations that are building fulfillment centers at a rapid rate," says Barrera. "Because of this demand, if you want to buy a joist today, you won't get it until June next year."
Although Barrera expects steel prices to plateau over the next few months, the company isn't waiting around. By working with engineers, they are finding alternatives for steel products that are currently unavailable or too expensive. For example, using roofing beams instead of joists, allows them to offer clients a shorter lead time on project completion dates.
Despite these challenges, Sharon Suggs sees a bright future ahead of the company. Her vision is to see the family business thrive, even as others shutter – something she hopes her son, Joey, will accomplish when his turn at the helm arrives.
For Barrera, he believes the company's future will depend a lot on what happens in the market over the next few years. "Although we'll see more state and federal projects coming in, we hope private projects will pick up as steel and adjacent prices stabilize and fall," he shares. "Meanwhile, we'll continue working on our backlog and supporting our operations as we solidify our current good position."
AT A GLANCE
Allstate Steel Company
What: A steel fabrication, steel erection, design-build company
Where: Headquarters in Jacksonville, Florida
Website: www.allstatesteel.com
A&K Machine & Fab Shop, Inc. – akmachinefab.wordpress.com
We're a family business with 100+ years combined experience. You break it, we make it – through problem solving, designing, and replicating your metal and plastic needs. Whether you're large or small, we're excited to help bring new ideas to fruition and keep your business up & running. We are blessed by your success.