The Albany Capital Center
Part of the Capital Complex
Business View Magazine interviews Doug McClaine, GM of the Albany Capital Center, as part of our series on best practices of convention and event venues.
Opened in March 2017, the Albany Capital Center (ACC), operated by leading venue manager SMG, is a modern, premier event and meeting destination in New York's culturally rich Capital Region. Connected to the Times Union Center arena, the Empire State Plaza Convention Center, and the Egg Performing Arts Center via enclosed walkways, the joined facility is known, collectively, as the Capital Complex, the largest meeting space in upstate New York, with a total of 159,000 square feet of exhibit space.
The Capital Center, itself, hosts a diverse array of trade shows, consumer and social events, and meetings for up to 5,000 guests. It boasts 22,500 square feet of ballroom/exhibit space, six meeting rooms with 9,200 square feet of space, and 13,500 square feet of pre-function space. The ACC is conveniently located in downtown Albany and within walking distance to the New York State Capitol, business and warehouse districts, performing arts venues, museums, shops, restaurants, and nightlife.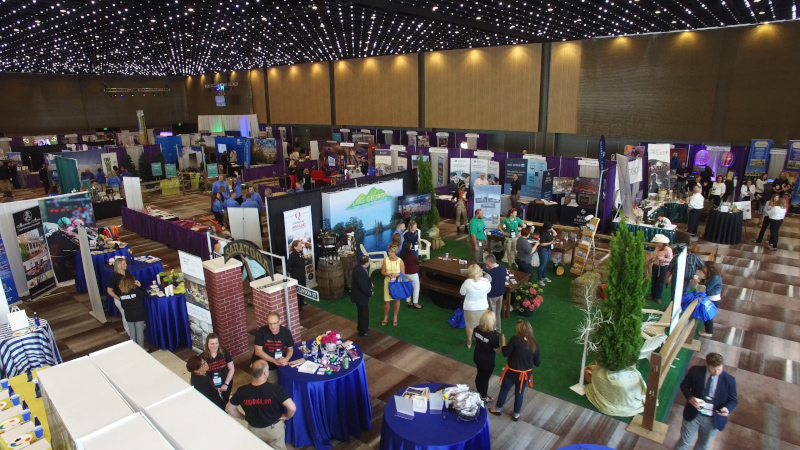 "We bill ourselves as a multi-purpose facility, so we are able to do a lot of different things," says General Manager, Doug McClaine. "We've done concerts, basketball games, volleyball, black tie dinners for 1,200 people, E-game sports with LED screens. Being in the state capital and only a block away from the Capitol building – actually connected via the walkway – state association business is the most common user of the facility. But, we've really been able to run the gamut on the types of event that we do, and I think that's what really makes the facility unique – its ability to accommodate any end user or client. In 2018, we had 217 events and that translated into 329 event days. So, there were not too many days when the lights were off."
Speaking of lights, McClaine reports that the lighting at the ACC is particularly expressive. "The lights in the second level, the main room of the facility, are all LED," he notes. "We can do 16 million different colors; we can put logos in the ceiling; we can change graphics and make them move and flash. It allows the user of the facility to create a brand with a click of a button. Then we have a series of changing colored lights throughout the lower level of the facility and also on the walkways coming in. So, if your company's color is blue, we can introduce blue, right from the walkway when the attendee leaves his or her car, all the way into the facility. You mix that with the digital signage capabilities and it really allows a building user to help engage their attendees."
McClaine adds that the LED lighting in the Center also saves money on its energy bills. "When you're doing 329 events and the lights are on, right there is where you see your energy efficiencies," he explains. "It's the same thing with our HVAC management platform. To be able to reduce the energy and the run times on those optimizes our energy savings. We've seen that in our annual budget, where our energy costs are less than what was projected before opening."
Regarding other New York State venues, McClaine says that Buffalo is the Center's main competitor for business, but being the "shiny new toy on the block helps. Then there's location, location, location," he adds. "If you're a state association, and you want to talk to your representative who might be at the Capitol, then, obviously, we're right here. But one of the things that we've really been able to hang our hat on is our customer service. Once we get folks in here, and they work with our event managers, and they interact with our guest service staff – that is what sets us apart. The difficulty is getting them in the facility once, but once we get them here, I'm comfortable that they'll have a great experience and, definitely, return."
That great ACC experience is greatly enhanced by the Center's two main business partners, and McClaine is quick to give credit where credit is due. "Mazzone Hospitality is our exclusive caterer in the facility," he begins. "In the Capital region, they are the premier caterer; they handle all the large accounts; they have numerous restaurants and on-campus facilities. They're really a key driver into our success, because you have to have a happy client, and if the food quality isn't there, that's certainly one of the first triggers that will ruin everybody's experience. If they're getting bad eggs in the morning, that's going to make for a long day. Also, we have CMI AV, who is our preferred audio visual company; they go above and beyond. They follow our model for customer service; they invest in their equipment and make sure they have the latest and greatest, so we're not pulling out ripped screens or an old laptop that doesn't work. Both partners have really helped with the success, here in the first two years."
Since the Center is only two years old, McClaine says that there are no immediate plans for technology upgrades. "The Albany Convention Center Authority, which was tasked with the building of the facility, and now the management of it, planned ahead in its construction," says McClaine. "The facility opened in 2017, but they were trying, as much as possible, to open with the technologies of years beyond that. However, this summer, we are adding two mezzanine levels for storage. Since we opened, we bought three basketball floors because we can do basketball on our main floor. So, now, we own three floors and we've done enough business to justify that purchase, but we need places to store them. Also, because of the number of events, we're expanding our operational staff and adding some offices; again, staying within the footprint of the facility, but nonetheless making improvements for operational efficiencies, at this point."
In the ACC's first two years, its 228,145 visitors have booked 47,181 hotel rooms, supported 15,624 full-time-equivalent jobs, and generated $30,200,000 in total spending within New York's Capital region. That's a pretty good beginning, and, no doubt, there will be a lot more activity to come.
AT A GLANCE
WHO: The Albany Capital Center
WHAT: A premier event and meeting destination
WHERE: Albany, New York
WEBSITE: www.albanycapitalcenter.com