Wisconsin Economic Development Corporation
Setting the economic framework for the region
Providing incentives to meet the unique financial needs of the region, the Wisconsin Economic Development Corporation keeps Wisconsin's business concerns front and center.
The state of Wisconsin has landed on top when it comes to its fiscal affairs compared to other states across the nation. Despite the strain that the prolonged COVID-19 pandemic put on local businesses of any size, Wisconsin has been able to weather the financial fallout and land firmly on a sound financial footing for the first quarter of 2023.
For the Wisconsin Economic Development Corporation (WEDC), keeping a close eye on the needs of businesses operating within the state is at the heart of what it does every day. By providing incentive programs and stepping in when needed, WEDC is helping the state of Wisconsin stay where it wants to be in terms of both business retention and growth and by implementing measures to ensure that companies are faring well.
The WEDC was established to help meet the financial needs of businesses operating in the state and to encourage the influx of new businesses to spur economic growth. A public-private agency with the ability to assist local businesses and business development initiatives through a variety of avenues including grants, tax credits, business loans, and technical assistance programs, WEDC has become the voice of the business community in the dynamic state of Wisconsin.
With a current economic climate that is somewhat uncertain across the county, the powers of WEDC have become even more essential to the lifeblood of the local economies of Wisconsin. Just like their national counterparts, Wisconsin-based businesses are grappling with supply chain disruptions and the rising cost of labor and materials as well as trying to find innovative ways around the current high-rate environment.
Despite these challenges, the state of the Wisconsin economy is enviable, as businesses are flourishing across major sectors including manufacturing and tourism throughout the state. The path to economic success did take a detour during COVID, WEDC acknowledges, and assistance was paramount during this time. Businesses felt the pandemic punch and needed financial help to stay afloat during the height of the pandemic. With the height of the pandemic over, WEDC is now turning its attention to business attraction to the state, while continuing to help businesses greatly impacted by the pandemic.
Business View Magazine had the chance to sit down with executives of WEDC to discuss the state of the local business climate as well as the important role it plays overall in the State's economy. Like any state-based economic organization, taking an in-depth look at the state of the local economy is paramount for WEDC to carefully assess areas that may need special attention. According to WEDC, Wisconsin is poised well for growth and is scoring high marks in key economic indicators from unemployment numbers to local business growth.
"There are many reasons to celebrate the progress our state has made. Wisconsin's economy continues to grow robustly in every corner of the state," states WEDC Secretary and CEO Missy Hughes.
Wisconsin leads the nation in investing federal recovery funds to ensure the long-term economic progress, ranking first among states in the share of funds allocated to businesses, and second in the percentage spent on economic development. Of the $1.1 billion Wisconsin allocated toward the economy, $363.3 million was spent on general economic development, $130 million for workforce development and $641.7 million for assistance to businesses.
Matching the impressive financial assistance numbers, Wisconsin is enjoying low unemployment rates. Thirty-six thousand more people are working now than before the pandemic and Wisconsin continues to lead the nation with a rate 4.3 percentage points higher than the national rate. Plus, the labor participation rate sits well above half at 66.5 percent.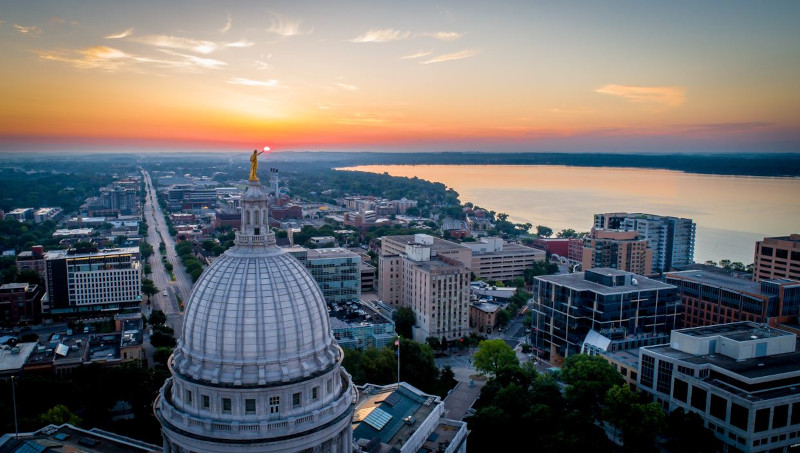 Innovators in Workforce Development
The COVID-19 pandemic also brought a new wave of workforce challenges. Many key Wisconsin industries were struggling with labor shortage leading the WEDC to develop the Workforce Innovation Grants (WIG) to develop leading-edge, long-term solutions that enable businesses to find workers and empower those workers to successfully prepare for and connect to the family-supporting careers in their regions.
WIG helped the regions of Wisconsin solve their most pressing workforce challenges by financially supporting innovative, collaborative and sustainable pandemic-recovery plans. Thus far, WIG has awarded more than $128 million in 27 grants that are addressing Wisconsin's top regional workforce challenges, including, childcare, barriers to entry, health services, housing, career pathways, entrepreneurship and transportation.
"Wisconsin realizes that economic development is about more than profits. It is about making smart investments in things like education, housing, childcare, and more that empower us all to move forward in our careers and lives," Hughes adds.
Additionally, WEDC established the Wisconsin Tomorrow Main Street Bounceback Grant program to help rejuvenate downtowns. Over $100 million in grants was allocated to support up to 10,000 businesses and nonprofits moving into vacant commercial spaces. To date, more than 9,000 new businesses have opened with help from these grants in all 72 Wisconsin counties.
"These grants have created powerful coalitions of businesses, nonprofits, and state and local governments to address the workforce challenges that could hold Wisconsin back," Hughes continued.
New Business Growth
Wisconsin also experienced growth with new and existing businesses in 2022. Madison-based global cancer screening and diagnostics company Exact Sciences is expanding with a $350 million investment into new facilities and creating 1,300 new jobs. Additionally, Milwaukee Tool invested $206 million and created over 1,000 new jobs in Wisconsin to support the expansion of its existing research and development facilities, infrastructure needs and equipment at its nine locations across the state.
Wisconsin also welcomed Ghana-based Niche Cocoa to Wisconsin in 2022. The company chose Milwaukee to build its first North American manufacturing facility. The project is the largest food and beverage investment by an Africa-based company in U.S. history and the largest Ghana foreign direct investment ever in Wisconsin. The company's North American expansion pioneers a change in the direction of African investment and showcases the rapid growth in African businesses, specifically in Ghana.
Workforce Attraction
"We have open jobs and a proximity to colleges and universities that offer high concentrations of young, educated potential employees. We also offer state and local Incentives, entrepreneur and small business grant programs, talent attraction and retention programs, as well as a diverse business development grant program," said Hughes.
Wisconsin boasts generations of agricultural and food science leadership and has developed the science and engineering expertise in the food and beverage sector because of this in-grained tradition and knowledge. In the manufacturing realm, the state supports 95,000 manufacturing-based jobs and excels in the sector creating goods of the highest standards.
Looking Forward
WEDC will continue to build relationships and support Wisconsin communities by focusing on some of the bigger challenges – workforce, sustainability and competitiveness.
"We intend to focus on keeping the conversation flowing through an open exchange of ideas with all communities and providing actionable solutions to help the Wisconsin economy thrive," Hughes concludes.
AT A GLANCE
Wisconsin Economic Development Corporation (WEDC)
What: A public-private agency with the ability to assist local businesses and business development initiatives through a variety of avenues including grants, tax credits, business loans, and technical assistance programs
Where: Wisconsin, USA
Website: www.wedc.org