The Wilmington International Airport
Expanding for the future
Business View Magazine interviews Julie Wilsey, Airport Director at the Wilmington International Airport, as part of our series on regional American airports.
The Wilmington International Airport (ILM) is a primary commercial service airport with general aviation services, located just north of Wilmington, North Carolina, in New Hanover County. The Airport was originally named Bluethenthal Field, dedicated on May 30, 1928 for Arthur Bluethenthal, a young Wilmingtonian who was killed while flying for the French, before the U.S. entered World War I. During World War II, the airfield was used by the United States Army Air Forces for antisubmarine patrols and training, using P-47 Thunderbolt aircraft. The Army expanded the airfield with three new 7,000-foot runways, and after the war, deeded the site back to New Hanover County at no cost.
ILM is proud to have a special piece of aviation history and link to Piedmont Airlines, whose inaugural flight departed Wilmington on Feb. 20, 1948. In the 1950s, the Airport became known as the New Hanover County Airport; in 1988, it added "International" to become known as the New Hanover County International Airport. On December 17, 1997 the New Hanover County Airport Authority, the governing body who operates the facility, officially changed the name to Wilmington International Airport.
Today ILM is served by three commercial carriers: American, with service to Charlotte, Dallas/Fort Worth, New York–LaGuardia, Philadelphia, Washington/Reagan–National, and seasonal service to Chicago–O'Hare; Delta, with service to Atlanta, and seasonal service to New York-LaGuardia; and United with service to Chicago-O'Hare and Washington-Dulles. The three network airlines connect the local business and tourism industries to more than 390 destinations, worldwide, with one stop.  Charter airlines include Sun Country, with service to Gulfport, and Swift Air, with service to Atlantic City. Cargo airlines include DHL, FedEx, and UPS.
"We also have a lot of general aviation activity" says Airport Director, Julie A. Wilsey, who has been at ILM for 20 years and watched the team grow to a staff of 50. "We have over one hundred based aircraft, from the smallest home-built all the way to a G-650. We have a couple of corporate flight departments based at ILM, too. So, we have a diverse mix of private airplanes at the Airport." ILM's FBO, Air Wilmington, maintains five community hangars for some of the Airport's GA aircraft, about half of which are corporate-owned. In addition, 25 T-hangars for private flyers were developed in the early 2000s by a hangar association on long-term leases.
"One thing that makes ILM unique is that we have both a commercial service terminal for the airlines, and we also have a customs facility for private aircraft, corporate flight departments, and other charters to clear U.S. Customs and Border Protection to and from overseas flights," Wilsey explains. "Some of our based airplanes have the capabilities to go anywhere in the world, so it's very convenient for them to be based here to clear customs as they come and go." Wilsey adds that ILM is financially self-sufficient. "We charge rent and fees to cover operational costs, and we reinvest profits to improve the Airport facilities, runways, and taxiways," she notes. "We do not get any funding from the county budget, either operating or capital."
The Airport's current focus is an expansion of its terminal, estimated to cost $60 million, and funded through federal grants from the FAA, North Carolina state grants for aviation, and ILM's own reserves. "We had a record year in 2018, serving 934,058 passengers with 12 percent growth." Wilsey notes. "We're tracking at 15 percent growth for the first half of 2019, and it appears we may break one million passengers for the first time.  We are getting tight for gates and concession space in the passenger terminal. As a result, we have a three-phased project, to be done between now and 2023, to expand all areas of the terminal: gates, concessions, outbound baggage area, and the airline ticketing area."
In addition to growth in the passenger realm, Wilsey says that ILM is also interested in growing the aeronautical businesses on the Airport's airside. "In addition to the FBO, we also have a small aircraft maintenance facility run by a company called SeaHawk Aviation and a Part 141-certified flight school that's been here since June of 2018.  The company, All American Aviation Services, also has a partnership with Lenoir Community College to work on pilot training and getting pilots in the pipeline. They acquired a new flight simulator a few months back."
ILM is also working to add non-aeronautical tenants in the business park it began some 15 years ago. "In the business park we have small businesses – a mechanical contractor; a small sandwich shop called Scratch on 23rd; the VA clinic rents ground from the Airport and they provide medical services to the local veterans; we also have 84 Lumber; and our four rental car companies; they have rental car service facilities in the business park, separate from the terminal, where they clean and wash and return the cars. Non-aeronautical revenue growth is very common at airports in the U.S.  Everyone's trying to diversify revenue, so we don't have to rely on airline and FBO revenue."
Regarding competition from nearby airports, on the commercial side, Wilsey says that ILM competes with several Eastern North Carolina airports. "From a general aviation perspective, it's all about location, location, location," she remarks. "If you want to fly directly to the beach, you're going to fly into ILM. Whereas, if you're price sensitive, you might fly into one of the outlying, county-owned GA facilities and drive to the beach, but that will cost you 45 minutes of driving."
Regarding any future expansion of the Airport, Wilsey explains that ILM does have a land acquisition program that identifies properties adjacent to it. "We have over 1,800 acres to start, so we have plenty of space," she maintains. "Two or three hundred of those acres are outside the fence, where the business park is located. Currently, we have plenty of room to grow, but we do have an active land acquisition program with certain properties identified. As the owners are ready to move, or they're no longer interested in living near the Airport, they'll contact us to buy their property at fair-market value."
Wilsey sees ILM as an economic catalyst for the surrounding region. "A growing and vibrant airport equals a growing economy and community," she asserts. "Our economic impact measured by an NCDOT study in 2018 was $1.75 billion on the local economy. So, we feel that's a very strong economic impact. Again, we provide services for all types of aviation; our corporate fleet is very important to the growing business community and those corporate flight departments could be anywhere in the country. They choose to be in Wilmington because of the quality of life that our geographic location and community provides. Our facility is a way that they can do business anywhere in the country, and some, around the world. We have big companies in the area in film, financial, tech, pharma – who have employees that travel, sometimes up to 40 weeks out of the year, for business. The Airport provides a connection to their customers and corporate headquarters. Finally, we have the private aircraft based at ILM to support. We really try to support all sectors of aviation and help them prosper. Again, a growing airport is important to a growing community."
Going forward, Wilsey would like to see the Airport grow the number of GA aircraft on the field and, potentially, get a fourth commercial airline. "Maybe a low fare carrier, or an airline that would serve some of our inbound tourism and our residents who want to travel for leisure," she muses. "By 2023, we should finish the $60 million terminal expansion and have a state-of-the-art airport that still feels like a welcoming facility that's friendly and represents the best of southern hospitality and, of course, a great staff that is thinking bigger than just the next couple of years."
AT A GLANCE
WHO: The Wilmington International Airport
WHAT: A primary commercial service airport with general aviation services
WHERE: In New Hanover County, North Carolina
WEBSITE: www.flyilm.com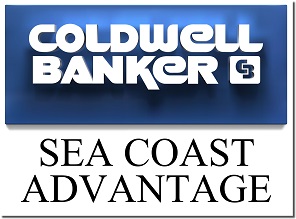 Coldwell Banker Sea Coast Advantage – SeaCoastRealty.com
Coldwell Banker Sea Coast Advantage has been the #1 real estate company in Southeastern North Carolina for the past 20 years. We are also the #1 Coldwell Banker company in North Carolina and #2 in the country. 
Our mission is to help buyers and sellers achieve their real estate goals by providing extraordinary customer service. With 22 offices up and down the coast, and over 600 highly trained agents, we are experts in our local markets. From first time homebuyers to retirees, we strive to make the real estate process a fun, smooth, and rewarding experience. We're here to educate, encourage, research, support, and counsel our clients to ensure they make the best decisions for themselves and their families. 
Coldwell Banker Sea Coast Advantage is locally owned and operated, yet we have the support, outreach, and state-of-art technology of the nation's leading real estate company in Coldwell Banker. Our local expertise combined with the extensive Coldwell Banker network of over 92,000 agents worldwide enables us to assist our clients with seamless professionalism –  whether the move is taking them around the block or around the world. 
If you're considering a move, Take Advantage of our experience and our commitment to excellence. If you have real estate questions or would like area information, call or text (910) 377-5319, or chat with a Specialist online at SeaCoastRealty.com.