Washington, Illinois
The Family-Friendly City
Business View Magazine interviews Gary Manier, Mayor of Washington, Illinois, for our focus on Growth and Economic Development in U.S. Towns & Cities
Located in Tazewell County, the City of Washington, Illinois is one of the best places to live in the state. The vibrant community, just 135 miles southwest of Chicago, has a population of 16,395 with a median age of just under 38 years. Comprised mostly of families and young professionals, this suburb of Peoria was founded in 1825 by William Holland, Sr., who originally worked to provide blacksmith services to the local Native Americans. In the 1920s, George Heyl put Washington on the map as the home of the infamous Hey! Pony Farm – a local supplier of Shetland ponies. Today, the city focuses on family, safety, and balancing quality of life requirements with smart financial management that keeps taxes low.
With a diverse climate that ranges from hot, humid summers to frozen, snowy winters, Washington, Illinois is a great place to experience each of the four seasons. Found on US Route 24 and Illinois Route 8, this scenic city also has grade 'A' schools and plenty of parks and recreation in the area, making it great for families looking to put down roots. Especially when you consider that most residents take full ownership of their homes rather than renting.
City of Washington Mayor, Gary Manier, boasts, "The best thing about Washington is our residents. That includes both those that have grown up in the area and those who have made the choice to relocate here and raise a family. I'm also proud of the various amenities and services we provide, including police and fire protection and the Department of Public Works. The city has a top-notch school system, high-quality churches, and plenty of recreational opportunities – most notably about 15 miles of walking and biking trails that go through the city, connecting almost every subdivision to East Peoria from the east to the west."
The population of Washington is ever-expanding, having grown from 10,000 residents to over 16,000 in just 20 years. In terms of housing developments, there is a major development in the works with 58 duplexes and single-family homes waiting to break ground in the area. Between 2005 and 2006, the city built 309 single-family homes to accommodate those looking to move to the area and have their children grow up in Washington's impressive school systems. Then, in 2007, they constructed their community center – the Five Points Washington – which contributed to an increased desire of people wanting to move to the area to take advantage of such resources. And while COVID did put a damper on the city's growth, Manier is happy to disclose that they successfully opened five different businesses and constructed 17 houses last year, despite the effects of the pandemic.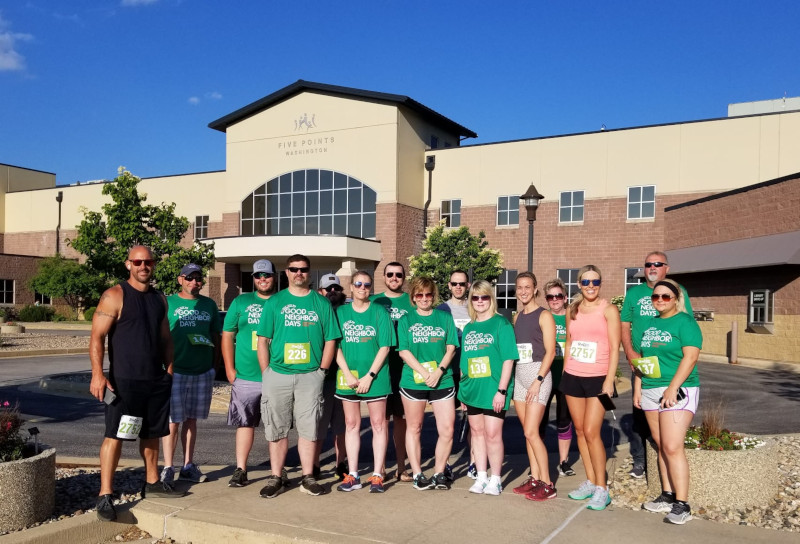 When asked about workforce development, Manier notes, "There isn't much going on independently because of our close proximity to Peoria and its multiple partner organizations including Peoria EDC, Peoria Workforce Development, and Tri-County Regional Planning which lends its resources to the area." While Washington does not have many large employers, there are several businesses with anywhere from 85-160 employees including the local high school, Chevy dealer, and Miller Custom Welding company. There are also multiple big-box stores including Walmart and Menards.
Commonly known as a 'bedroom community' where residents sleep in the city but work elsewhere, many of Washington's residents find themselves commuting to nearby locations for employment. From State Farm to the area hospitals, Washington's professional residents enjoy the benefits of Peoria's explosive healthcare industry. However, because Washington is built on sales tax, the city continues to work towards developing local businesses.
Manier acknowledges, "We do have a vibrant, older downtown area that is mostly comprised of unique, specialty shops. With many unusual attractions, the downtown area draws visitors from all the major surrounding areas like Peoria and Morton, with quite a busy flow of traffic on Fridays and Saturdays." Local attractions like the Denhart Baking Company – a local hotel with businesses like Fair Coffee and the Blacksmith Restaurant located downstairs – are great examples of adaptive reuse and are found on the National Historic Registry. "It was here that Lincoln planned his Presidency," says Manier, "making it the go-to point of interest for people in the area. We also have a brewery that is committed to moving to the district, with plans of taking over an 1852 building that has been renovated two or three times since its inception." The Gristmill plans to feature a brew pub, restaurant, and rooftop bar that will undoubtedly become quite the popular destination for locals and 'day-trippers'. Founded by William Holland in the 1800s, the Gristmill is entangled with the historical roots of the city. Scheduled to begin construction in June, this location will likely be opened anytime between February and April of 2023.
Manier has many aspirations for the City of Washington, hoping to bring new businesses to the area while maintaining the integrity of local, family-owned businesses. He shares, "It's important to both spread the wealth and ensure these second, third, and fourth generation businesses remain open."
The city is also anticipating infrastructure growth with a mix of commercial and residential opportunities, resulting from a potential grant to help develop the intersection at Nofsinger Road. Manier reports, "There are talks of things like an amphitheater, sports fields, and more. Bids are being sent out to create a corridor of industry along Freedom Parkway – these include Enforce Steel, a light industry location, and a plastic company – offering many new job opportunities to locals." The U.S. 24 retail corridor, located off the state highway, has been awarded $53 million to begin engineering what Manier refers to as "an eyesore" into a well-developed area.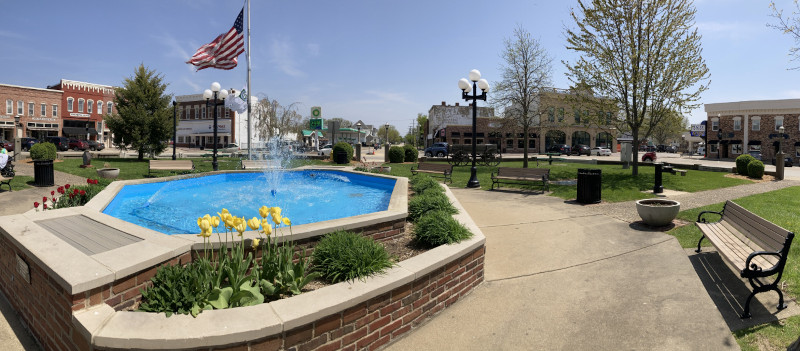 When it comes to water management, Washington has been trying to locate a revenue source for dealing with stormwater. According to Manier, the amount of rainfall they get can create flooding issues throughout the community. They recently passed a sales tax increase to assist in this matter. With regard to broadband capabilities, the city is preparing for 5G through MTCO and Comcast. However, even without it, the area has a highly dependable internet connection. Within the next budget year, they will also begin looking into the creation of charging stations for electric vehicles.
Washington, Illinois has a lot to offer residents in the way of recreation. This includes parks, a health club with over 7,000 members, and other places like the Five Points Washington which offers an array of services for seniors. With an Olympic-sized swimming pool, library, banquet facility, and more all under one roof, this is quite a popular place for people to spend time. In terms of vendors and local businesses, Manier says, "Every local business from schools and churches to rec programs plays a vital role in the local economy. From Lindy's to Sentimental Journey… I could go on and on about the impact these locals have on the area. The Chamber is very fortunate to have these businesses in the city, creating quite a draw for locals and visitors alike."
During the pandemic, the City of Washington made multiple changes to accommodate visitor and support the economy. Some of these measures included adapting the liquor license of many businesses, so that patios could remain open and restaurants could expand their outdoor seating areas to continue hosting, even as the inside was closed down. Manier proclaims, "Many businesses did an excellent job of managing these changes and ultimately surviving these trying times. We plan on continuing this trend, generating sales tax and revenue for the city. Looking three years down the road, I hope to see both residential and commercial growth to maintain our sales tax space – bringing in the right businesses whether it be for entertainment, sporting events, or otherwise."
AT A GLANCE
Washington, Illinois
What: Desirable bedroom community of Peoria
Where: Tazewell County, Illinois
Website: www.ci.washington.il.us