Vineyard, Utah
Lakeside lovely
Business View interviews representatives of Vineyard, Utah for our focus on Growth & Economic Development in U.S. Cities
Built around beautiful Utah Lake, with stunning views of Mt. Timpanogos, Vineyard is the fastest growing city in the State of Utah. In 2010, the small rural community was home to 139 people, growing rapidly over the past decade to an estimated population of 21,000 by the end of 2022.
With this remarkable trend continuing into the foreseeable future, a savvy model for growth is a must. According to Mayor Julie Fullmer, "Vineyard has been growing at 10k percent. Surmounting the challenges of growth involves an active planning approach, incorporating multiple partners tying the various pillars of what makes a community successful into a well-knit formula. Our state, regional, and local partners have been critical in building and investing in long-lasting infrastructure that will create regional development that helps move people through Vineyard and northern Utah County."
Creating a city in the 21st century has its advantages, as Morgan Brim, Economic Development Director explains, "The city has had the opportunity to master plan, and that is a huge benefit. Many places have a lot of historical development, which makes it hard to implement things on a larger scale." This master planning has made it possible to build the city with a focus on Utah Lake, taking advantage of this scenic natural amenity. "Most cities around Utah Lake when they develop, they turn their backs away from the lake," adds Brim. "Instead, Vineyard made it a huge emphasis– a big part of the quality of life and a reason that people would want to come here."
In keeping with the city motto 'Stay Connected', the master plan includes a large trail system, with a wide range of amenities and recreation opportunities. "We have a wonderful recreation department that facilitates programs for soccer, pickleball, you name it," says Brim. "Within Utah Valley, Vineyard is quickly becoming one of the most sought-after places to live." Being only 15 miles from Sundance Ski Resort, the top family ski resort in the U.S., and located on the shoreline makes Vineyard an attractive destination.
Specifically designed employment districts with a mix of business and residential development contribute to the goal of making Vineyard a very walkable city. "We have a real charge to develop sustainably, not just environmentally, but from an economic development standpoint," Brim notes. "If you have a walkable city, then you have a city that's safe for kids and families. It's also easily accessible."
The introduction of a commuter rail station, connecting with the FrontRunner system operated by the Utah Transit Authority, will be a further draw for those looking for transportation alternatives. This rail system will also provide an option for travelers, linking to the Salt Lake City International Airport.
Fullmer notes that having a regional development located in such a central location, tied into a well-planned transportation network, will strengthen economic centers across the region, bolster opportunities to explore Utah Valley, connect people to their businesses, jobs and higher education.
Brim states, "From an economic development standpoint, that is huge. You'll be able to leave your office, jump on the train, and get to the airport. That's the entrance to the rest of the world."
Conveniently located only seven miles from the Provo Regional Airport, Vineyard has the added advantage of a local airfield. The city is also accessible by three highway exits and is adjacent to I-15, the main north-south highway corridor through the state.
As the population continues to increase, Vineyard has been actively engaged in the creation of a strong housing inventory. City Manager Ezra Nair explains, "We've been working with developers to make the housing that we need. We've got a housing shortage in Utah generally, and Vineyard has been on the forefront of being able to provide options for people that need it."
Embracing a variety of housing types including multi-family housing solutions has made Vineyard unique in Utah, where business, and experiences have more success and attention as people are connected to well-planned areas that provide rich quality of life.
"Nearly half of our housing stock right now is a townhome, apartment, or condo, whereas most cities are about 85 to 90% single family, traditional lots," says Nair. "We have young professionals that come in from around the country for our close proximity to skiing, Utah Lake, and other wonderful amenities. These are people that don't necessarily want to buy an acre single-family home, they want to live in a condo, or share space with some of their colleagues while they save up for their own house."
While Vineyard is attractive to a younger population, the city aims to provide options for seniors, incorporating housing that is geared to those 55 plus. Brim admits, "We need more senior citizens. They are the people who volunteer for events and invest in things like community parks. Seniors are a critical piece to the life of the city."
With Brigham Young University (BYU) in nearby Provo, and Utah Valley University (UVU), Vineyard is positioned to offer a skilled workforce, while continuing to attract new residents. UVU currently has athletic facilities in Vineyard and plans to open a master's campus and an innovations research park in coordination with the city within the next 10 years. "That's going to continue to train up a workforce that is very skilled in trades we need most," says Nair. "As these planned developments come to Vineyard, jobs will increase and we will see university student talent advancing roots in our communities," adds Fullmer.
Mayor Fullmer has been working with UVU to make Vineyard an official STEM city, supporting programs that will ensure youth are exposed to education and technologies prior to entering university, and giving them a head start in future education and employment.
On the infrastructure side, the city is adding a six-million-gallon water tank, which will have all the storage capacity needed for the growing community. Nair explains, "Adding development, creates the need to have a self-contained system. So the system is six-million gallons with room to expand. That will help us have all the storage capacity we need in the future."
"Infrastructure investment has allowed our regional development board to create something very unique to Utah," says Fullmer. "The Vineyard connector will bring people from the west side of the lake, down from Lehi, into Provo and Sundance. There is a large pedestrian-friendly promenade, which will act as the gateway to the lakefront. "It's going to be a 100-foot-wide bridge structure that's going to be really attractive, with a lot of great aesthetics," Nair adds. The train station near this promenade is a unique project of its own. Rather than exiting the train onto a concrete parking lot, riders will enter into an area called the Train Plaza. Brim describes it as "an urban scape with restaurants and services that cater to transit users. We're building a linear park that brings you all the way through downtown, with buildings and businesses and residential pushed up against that. There's no other city in Utah, where you actually have a downtown that interfaces with the waterfront."
With COVID highlighting a demand for work at home infrastructure, Vineyard has continued to make fiber connectivity a priority, as well as designing live/work accommodations. The city is working with a developer to redesign a plan, changing from a townhome into live/work units. On the first floor would be a storefront with large windows. The first room would be a large office space and a lobby area with a bathroom, developed in a commercial grade of building code. This project would introduce 120 of these units, with construction planned for 2023. "That's 120 new businesses that we could add to the city, but also provide for residential," says Brim. "Your commute is basically walking down the stairs and going into your office. You can't beat that."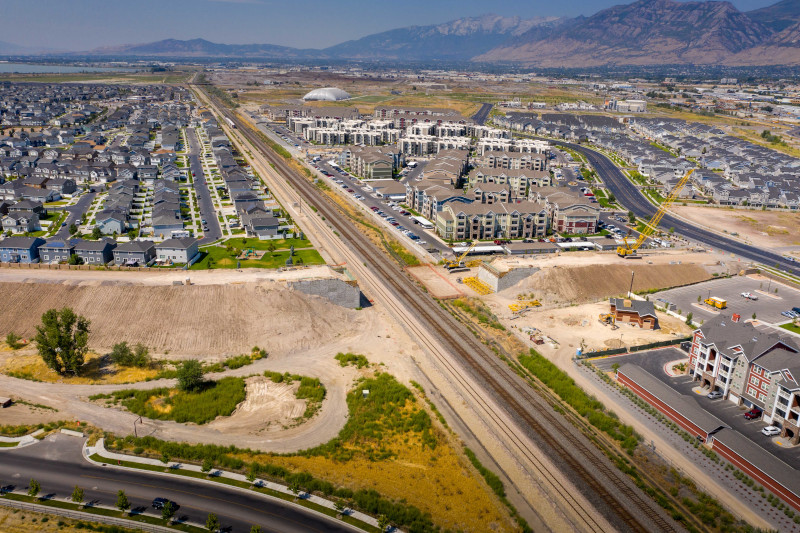 As for what the future holds for Vineyard, Nair sees continued growth, with the lakefront and downtown projects completed within the next five years. He shares, "Once people fully embrace the vision, the rest of the city is going to build out in 10/15 years. Growth will be exponential with those key projects that we're working on." Brim offers his thoughts on the projects, acknowledging, "It's going to create a very interconnected community, bringing the benefits of having a downtown for culture. Having the waterfront connected with that is so essential to the success of the city."
In summary, Mayor Fullmer, Chair of the Redevelopment Agency, offers, "Our brick-and-mortar concepts have been focused on human scale planning and satellite office spaces that create a space where people want to live, work, and play, which is important in a post-COVID remote working era. The vitality of the area is sewn together through tourism, diverse economic planning, strategic open space and agriculture, connection to higher education, and transportation that carries individuals from international and regional airports to schools, resorts, recreation, and jobs. This regional development is welcoming in a concept that will be the model of master planned developments throughout the state."
AT A GLANCE
Vineyard, Utah
What:  The fastest growing city in Utah
Where: Centrally located in Utah County
Website: www.vineyardutah.org