Town of Massena, New York
"People helping people"
Business View interviewed Town of Massena, New York Supervisor Susan Bellor and Board Member Deb Willer for our focus on Economic Growth in U.S. Towns & Cities
With a population of 16,729 people, the Town of Massena in St. Lawrence County, New York, is ideally situated only a few hours from the historic Canadian city of Montreal to the north, and the majesty of the Adirondack mountains to the south. Bordering the powerful St. Lawrence River, the community also offers the beauty of the winding Grasse and Racquette rivers. Massena is home to the Dwight D. Eisenhower Lock system and Robert Moses State Park, and draws camping and fishing enthusiasts, who flock to the area for annual fishing events.
Prior to its establishment in 1792, the region had provided a rich hunting, fishing and foraging ground for the Iroquois people for thousands of years. At the time of settlement, Massena was known as Nikentsiake in the Mohawk language, meaning, "where the fish live". During the 1800s, the town saw increased popularity when word spread of the sulphur mineral springs around the Racquette River, which were said to offer medicinal benefits to those who bathed in them. These springs were a main source of industry until the first hydroelectric facility was built in 1900, creating a low cost and reliable power source in Massena. This prompted new industry, bringing the Pittsburgh Reduction Company, now known as Alcoa, an aluminum production facility, which remains part of the Massena landscape today.
Describing what makes Massena an attractive option, Town Supervisor Susan Bellor offers, "We have more affordable housing. People like it because they're not in a city, they like what they hear about the school district, and there is a feeling of safety for many families." Although the community has experienced some industrial losses, Board Member Deb Willer, shares, "We have a group of people here that have an entrepreneurial spirit. We have lost big industry in this area, but these people are starting to think a little more outside the box, and we are seeing people start to do some investing in small business, which is great. Small business tends to stay once it gets established."
Bellor adds that Massena is a caring community, where people are always ready to help, whatever the need. She shares, "People are great at volunteering and helping others. We have a variety of food pantries, between Meals on Wheels, the Massena Neighborhood Community Center, St. Peter's Outreach and the Salvation Army. People are always ready to help other people, especially during the last two years and COVID."
Arconic Massena Operations, a leading manufacturer of aluminum sheet for the aerospace and automotive industries, is a major Massena employer with approximately 125 workers. Another innovative employer, Coinmint's New York State operating subsidiary, North Country Colocation Services Inc. (NCCS), is headquartered in Massena and operates one of the largest digital asset data centers in the world at the site of a former Alcoa aluminum smelter, which has been repurposed by NCCS to accommodate its large-scale digital asset mining operations. What began as a small operation with contract workers in 2017 now has approximately 100 full-time workers and is growing. NCCS obtains its power through a direct connection to the nearby Moses-Saunders Dam meaning that its electricity comes primarily from hydro-electric sources and is thus predominately clean and emission-free from an environmental perspective.
With Clarkson University, St. Lawrence University, and two campuses of the State University of New York (SUNY) nearby, workforce development is ongoing in the region. In the Massena Central School District, the International Baccalaureate Diploma Program offers high school students the challenges of higher academic level course work which in turn offers college credits and scholarships by well known colleges and universities. High school students are also able to go through the Board of Cooperative Education Services (BOCES) program, which offers career specific training for students including health and medical and building trades. "They start them out in programs like the auto mechanics program which is very big, or cosmetology," describes Willer. "We're still a fairly big union town. A lot of the unions sponsor apprenticeships and training."
It is no surprise that people are drawn to the friendliness and affordability of Massena, and all that it has to offer. As the town expands, Bellor reports that housing is available for those who want to join the community. "We have had a lot of housing sales the past year. We've had people from many states far away that have decided to adopt Massena as their home. It's amazing," she shares. Within the Town of Massena is The Village of Massena, which has been awarded a $10 million Downtown Revitalization Initiative Award from NYS. Working with local committees, those looking to expand or transform their business have submitted plans, with detailed designs including costs, to be considered for funding.
Bellor explains, "The big word is transformation. The businesses have had to go through various stages; while some have already been released from it, because they were not considered transformational enough, there are several others still going forward. At the end of this process, submissions have been sent to Albany for the final decision to be made. There will be a lot of transformation in downtown Massena as far as businesses following through with renovations, new facades, really redoing the downtown area so it looks a lot more vibrant, both aesthetically and business productive."
Through the community website, http://www.Explore Massena.com, residents and tourists are able to find out about fishing tournaments, and other events which draw visitors to the area. The Phoenix Bass Fishing League St. Lawrence River – Northeast Division is July 9; the American Bass Club-Eastern Qualifier is July 30-31; the 2022 Tackle Warehouse Pro Circuit TITLE Championship is August 8-21; the Cashion Rods Tour is September 10; the 2022 Toyota Series St. Lawrence River-Northern Division is September 22-24; and the Big Bass Blowout is October 1-2. These tournaments bring events with concerts, fireworks and vendors to the town, and excitement in the community. Bellor recounts, "We are pleased to have local restaurants, motels, hotels, campsites, and Airbnbs for our many visitors."
From June through August, The Greater Massena Chamber of Commerce hosts a weekly evening concert series at the  beautiful Springs Park along the Racquette River. Residents and visitors can also enjoy the beauty of the Massena Town Beach, along the St. Lawrence River during the summer months. With a diverse offering of other recreation activities, Massena has something for everyone.
"We have a recreation department, and they are very busy all the time. In the school system and locally, people are very much involved in sports. Whether it's at the golf clubs, fishing, or playing football, soccer, softball, lacrosse, baseball or pickleball," says Bellor. Willer adds, "Between the village and the town, we have our own arena. During the winter, we have hockey, figure skating, and all kinds of other events. This is definitely a sports town. When the ice goes out, then they set it up for other recreational games and sports. Hopefully we'll start getting back with some of the vendor shows and exhibitions."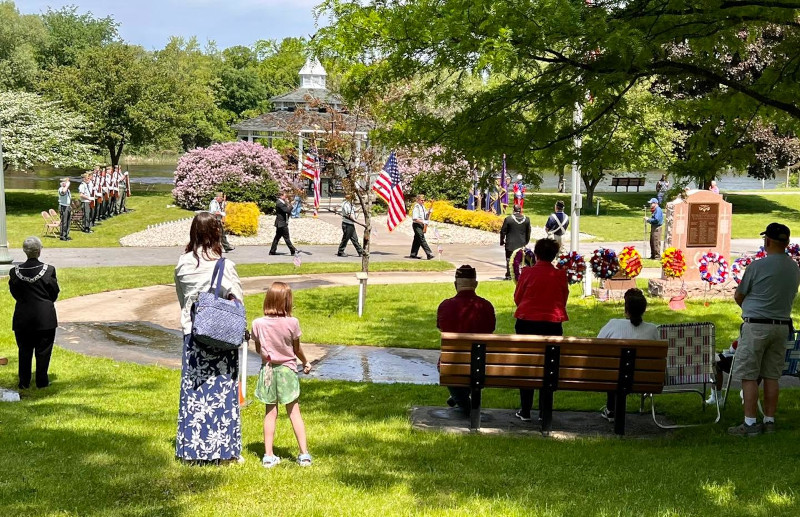 On the sustainability side, the town has a few electric vehicle chargers, although these vehicles haven't yet gained popularity in the region. As Willer shares, "There's a practicality standpoint for them. If you're just buzzing around in town, that's good, and there certainly will be people that will take advantage of the charging stations, but it will take a while before we get a lot of activity." Decontamination and remediation have been an area of focus, with Alcoa recently completing a remediation project on the Grasse River.
In terms of infrastructure, Massena Electric Department is owned by the Town of Massena, and is not on the national grid, making it possible to offer rates much lower than the national average. MED has made a commitment to be not only reliable, but environmentally responsible. "Massena Electric Department is a huge draw for people up here, because our power is much cheaper than buying totally off the grid, or from some of the other suppliers," Willer asserts. Along with ongoing water replacement and water district improvements, the town is currently working on an Apron Rehabilitation at Massena International Airport. "There are always major projects going on," offers Bellor.
As far as her wish list for the future, Bellor shares, "I would like to see the transformation of the Village of Massena along with new businesses coming to the Town and Village of Massena. I'd also like to see our airport and highway work getting back to normal after the setbacks, resultant from the Pandemic." Willer adds, "We will continue working on bringing businesses into the area. When you are a small town, you're competing with a lot of other places that can offer many advantages to a business that we couldn't necessarily offer. On the other side, we can offer things that some of the bigger areas can't, like the power."
As a final thought, Bellor shares what she believes is the true spirit of the community, summarizing, "In Massena, people helping people is very important to all of us. We depend on each other."