Torcom Construction Inc.
a success story in a niche market
Constructing the best options, Torcom Construction hammers home the solutions
In the world of general contracting, there are two main criteria with which to gauge the success of any individual construction firm. The first is procuring the job or project and the second is doing the job or project well, which also includes getting it done on time and within budget. By those measures, Torcom Construction Inc. is constructing the best options and hammers home the best solutions for its clients.
For Torcom, years of experience in construction of public buildings also positions it as a leading contractor that is highly sought after in Canada's largest city. Strategically located with offices above the subway stop at the intersection of Sheppard Ave. and Yonge St. in Toronto, Canada and with dozens of completed projects throughout the Greater Toronto Area (GTA), including Mississauga and Brampton, Torcom is in the business of getting the job done in a niche market.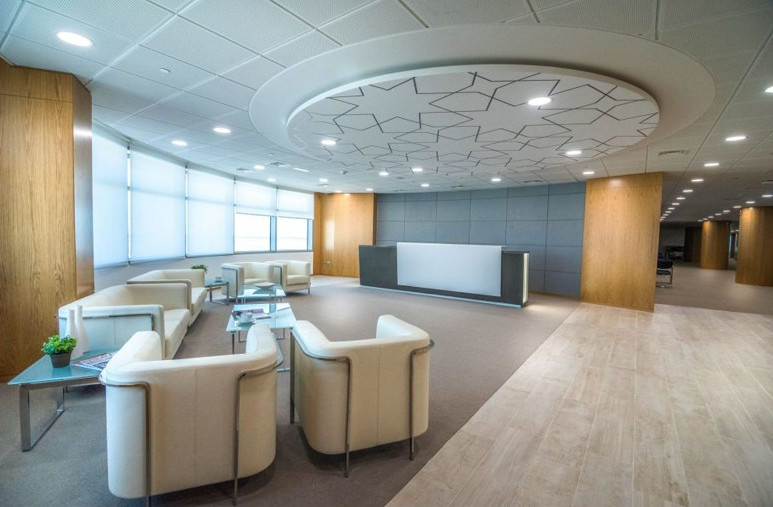 Securing the job
With the high demand for new construction in and around the city and in particular the continuing need for the completion of public buildings, working with the best contractor becomes paramount. With years of experience in the public project space, Torcom has cemented its position as a company that holds the valuable experience to carry out the job.
Company President, Artin Chitilian explains how Torcom is able to secure the many projects it has under its construction belt.
"It's a public tender process. We participate in the tendering process and we bid for projects against other bidders. If we're low on a bid, we're awarded a job."
The type of public projects on which Torcom concentrates (it has completed over 35 school projects in the GTA, since its founding in 1985), generally come with firm-fixed-contracts, which means that the bid price is what the client will ultimately pay, regardless of what the contractor may make or lose on the deal.
Chitilian outlines that knowing how to create and tender a bid that will be the lowest among the competition, but with the presumption that a profit will be made on the bid by project's end, is key to a company's long-term sustainability. For the method to work continually, a general contractor must work with trusted and dependable subcontractors.
"The way we normally market jobs is going through the tender process and they have to be part of it to get those projects," notes project manager Sina Saedi.
"We work hand-in-hand with the trades and after successful projects, we'll expand the business with them; we'll try to get them involved in different projects one after another."
"Our prices are secured during the tender process by reliable subcontractors with which we have good relations," adds General Manager Greg Chitilian.
"We can pick up the phone and discuss the prices with them."
Constructing the job
In order to succeed on any given project once it is secured is the name of the construction game and Artin Chitilian points out that "You have to make sure that you have the correct subcontractors that can perform, the right employees, and the right project managers and superintendents. It's important that the people you employ are experienced in the work that they're doing, that they do a good job, and that they're proud of their achievements. That's how we look at the industry. We're proud of the people working for us."
Having that powerful formula in place is what has allowed Torcom Construction's relatively small staff of about a dozen managers, accountants, and estimators, to succeed in the ICI (Industrial, Commercial, Institutional) sector for close to 40 years.
"Schools are our niche," says chief estimator Vache Madian.
"We also do some community centers; we've renovated libraries across the GTA; old age homes, as well. We've done work with TTC (Toronto Transit Commission), upgrading some of their stations to barrier-free. Downtown, we worked for the CIBC (Canadian Imperial Bank of Commerce) Commerce Court." Commerce Court, an office building complex on King and Bay Streets in Toronto's financial district. The four-building complex is a mix of Art Deco, International, and early Modernism architectural styles. Part of Torcom's work – somewhat unlike most of its other projects — was removing asbestos insulation inside one of the taller building's structural steel elements and replacing it with safer fireproofing.
"We did renovations on 19 floors over six or seven years," Madian reports.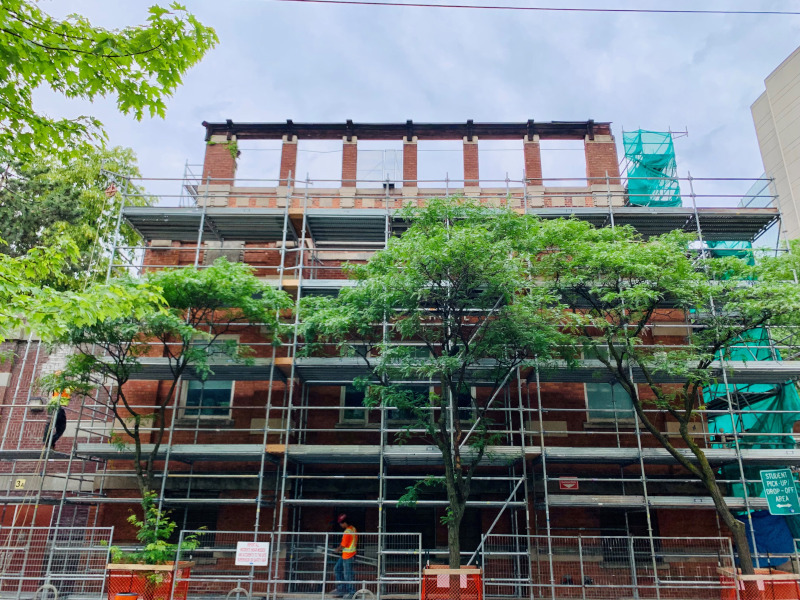 The pandemic changes the construction game
Of course, in normal times, when prices are generally stable and good workers are available, projects like the ones Madian mentions can be brought in on time and on, or under, budget pretty regularly. However, the last several years have been far from normal due to the havoc that the COVID-19 pandemic unleashed upon the wider population and economy.
"Shortage of labor and material is something that we've been dealing with for the past three years, every day, on every project," recounts Garo Kababejian, a Torcom project manager.
"For the past three years, we've seen a very unstable market as far as prices go; prices of material shot up, some by 50 or 60%," he continues.
"It has become very challenging to maintain schedules and costs. After you submit your bids, you get accepted. Then, suddenly, you realize that your suppliers can't honor their prices because the material is not available, or it's a long lead, or the prices have gone up by 30 or 40% from the day that they tender. So, they give you a new number and you've got 15 days to make up your mind otherwise the price will change again. So, it's been challenging."
Saedi agrees.
"The shortage of material during COVID impacted us on every single project. Either an item was not available, or there were long lead times, or we had to look for substitute material. It was a constant effort for all of us to maintain the timeline and stick to the given schedule."
"With school boards, you have a solid timeline to hand over the projects and it was always a difficult situation. We see some improvement in some items, but most of the major suppliers are still affected by the COVID impact. It's not like before in the olden days,"he continues.
The only option for construction companies when rising prices have blown a hole in the initial budget is to ask for a concession from the project owner; in many of Torcom's cases, that's a school board or other public or governmental body.
"We try to give as lean a price as possible, but it has been a challenge for the past few years because when the raw material prices are up – steel, concrete, fuel surcharges – you have to carry whatever you can carry and then ask the school board for reconsideration," Greg Chitilian explains. "That has been the process not only for us but for all the other companies."
A bright future looms
Going forward, Artin Chitilian seeks to continue to aggressively go after more school projects in the GTA, even though the price tag for a new school has gone up markedly.
"Prior to the pandemic, they were maybe in the $20 million range," he states. "Now, the price has probably gone up one-and-a-half times. We have seen some recessing of the prices, but it's not going to be to the level that it was prior to the pandemic." Madian sees continued work on renovations. "A lot of schools are doing window replacement and ventilation upgrades," he notes.
"And some school boards are moving towards adding childcare in all their schools. Those are starting to pop up."
Kababejian expects to see a continual busy pace in the GTA's construction market over the next few years, at least, and that Torcom will be well-supplied with projects in its niche market.
"It's very busy in residential space and the schools follow," he predicts.
"When there are a lot of people moving into an area, they need schools."
Artin Chitilian concurs.
"We have good relationships and we know how to handle the projects here. We have a good reputation for building our projects on time and within budget. That's our main objective. So, we look forward to working within Toronto and the GTA and building more schools for our kids."