Signarama
Global franchise excellence
Business View Magazine interviews A.J. Titus, President of Signarama, for our focus on Best Practices in the Franchise Sector
Signarama has well-earned recognition as the leading sign and graphics franchise in the world, with over 700 locations spread globally in 20 countries. While the company does not own any sign shops itself, it provides hands-on support to its hundreds of franchisees and their employees, creating a solid support network that is the bedrock of its growth.
At the helm is A.J. Titus, Signarama President – son of founder Raymond (Ray) Titus and grandson of Roy Titus, who started the family down the business path it is on today. Born and raised in the Signarama fold, A.J. has worked with the company nearly his entire life. Today, that signage DNA plays a more important role than ever as the junior Titus helps the company navigate the COVID-19 pandemic.
As President, he is responsible for defining the path the company will take as it seeks further growth both in franchise numbers and the number of sales each franchisee makes. In a post-pandemic world, it seems all eyes are on him to steer the ship to clear blue waters, a task he believes he is equal to and ready to take on.
Signarama is a portfolio company of United Franchise Group, headed by founder and CEO Ray Titus. Although other UFG portfolio companies are associated with marketing services, Signarama is unique because it is at the cutting edge of outdoor and indoor signage and graphics solutions for businesses, offering products like monument signs, dimensional lettering, carved and sandblasted signs, and vehicle wraps.
"We are always on the lookout for new and cutting-edge technologies that can help our franchise owners win more business and make more money," says A.J. "Some of the technologies we are seeing emerging now and that we are actively investigating are LED message centers and high-definition LCD screens. 3-D printing has been around for a while and holds a lot of promise, and we'll only see more adoption as it becomes more efficient and cost-effective."
He adds, "Electronic and LED signage has been the future for a while now, and I think it's safe to say it's here to stay. It is so important to have great vendors who support our franchisees around the world as this segment continues to grow." A key partner with Signarama in that regard, Genoptic Smart Displays says one of the fastest and most prominent growth areas of their business is LED Digital Signage. In fact, they have implemented a Leasing program to assist owners in getting involved in the success of this product offering.
Signarama sold its first franchise in 1987 and, over the years, has perfected the art of franchising, enabling hundreds of entrepreneurs to open and operate successful sign businesses around the world, focusing on the owner's and potential owners' backgrounds before joining the Signarama Network. A.J. explains, "When looking for the right franchisees, we look for individuals with a background in sales, marketing, or operations. Someone who can go out and network, shake hands, and close business deals. We focus on these traits because it's what we have seen work in the past, and we want to ensure our business matches our franchisees' strengths before they get started."
However, it isn't always as simple as looking at someone's resumé because multiple other factors also play into the final decision to award a franchise. Once a franchisee is on board, the company provides comprehensive training, including offering a personality test, so they can know their weaknesses. "We tell our franchise owners to hire for their weaknesses," says A.J., "so the business has the right mix of skills to support growth."
Signarama's operations revolve around recruiting new franchise owners and supporting existing ones. For one of the largest signage companies in the world, it is remarkable that it does no sign production itself. According to A.J., "We don't produce any signs at our global headquarters, all of our franchise owners handle the printing mostly at their individual locations or through vendors we work with. The same goes for installations, with some franchise owners having trucks while others subcontract to installers."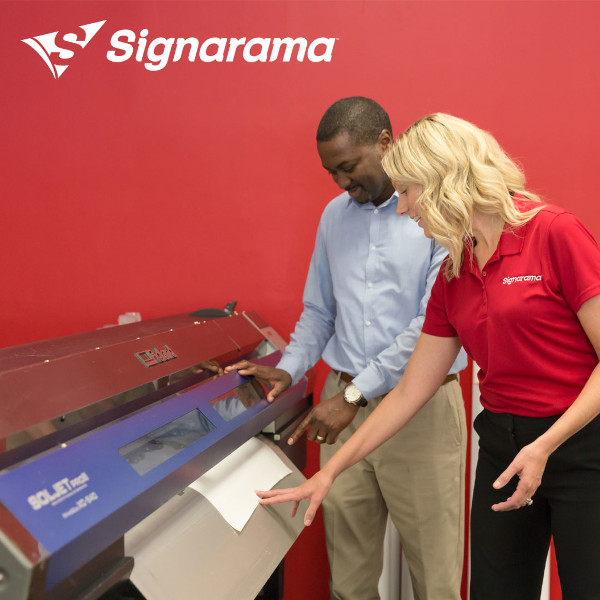 When it comes to hiring talent, A.J. has some interesting perspectives to offer. He notes, "Our franchise owners are currently reporting some labor shortages across the United States, mostly emerging in the wake of the pandemic. I believe this shortage will be short-lived because while people are currently hesitant to return to work due to the virus, and others are reassessing their options, I expect to see a major boom in skilled labor once these issues resolve."
Speaking to the effects of the pandemic on the company's ability to expand, A.J. explains there have been some complications, which have compelled the company to evolve and adapt. He admits, "We have major footprints in countries like Australia, New Zealand, France, South Africa, and Canada, but travel restrictions have made it impossible to maintain physical ties with these territories. As a result, we have embraced digital communication and collaboration tools like Zoom and hosting webinars to stay connected with franchise owners, master partners, and other stakeholders."
In the same vein, the company has built a state-of-the-art studio within its corporate offices to push out live streams, webinars, and other multimedia for training and communication purposes. "What is interesting is that we always spoke about setting up the studio, but we never got around to it," says A.J. "Once the pandemic hit, we had no choice but to pull the trigger and implement all the plans and technologies that we had already planned for in the past."
Aside from the studio, Signarama has also made significant investments in its website and communication options, including virtual meeting capabilities that empower franchise owners to continue meeting with customers and fulfilling their obligations. In addition to pivoting its ICT infrastructure, the company has also seen great success in pivoting its core products to align with pandemic-driven market shifts.
"In 2019, we would never have thought we would do a lot of acrylic face shields and guards and other PPE products," asserts A.J. "But these sold well, as demand from hospitals and medical and testing facilities increased, in addition to an overall increase in signs related to social distancing, COVID-19 infographics, and other safety precaution signage."
These pivots wouldn't have been possible without the help of key partners that Signarama has collaborated with over the years. "Partners like HP, Avery, CoreBridge, and Stouse have been instrumental to our success so far and in helping us weather the challenges that came along with the COVID-19 pandemic," says A.J., "and we are very grateful for their continued partnership as we continue to evolve and grow as a company."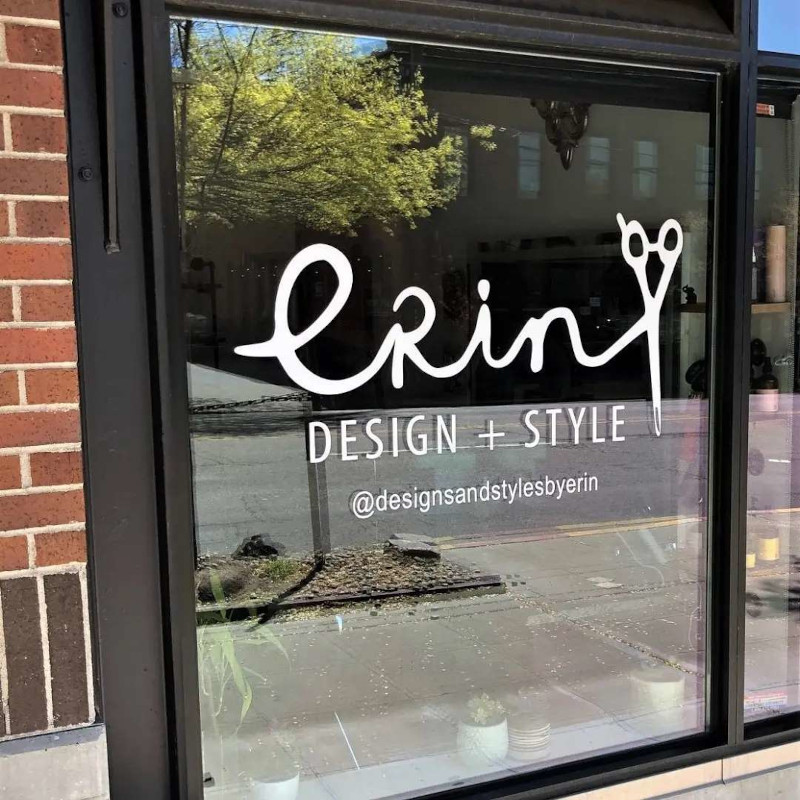 When Signarama pivoted a lot of its core business to the health industry last year, this helped compensate for drop-offs in other sectors, especially the hospitality and conference industries. Many of their franchise owners cater to events, conferences and trade shows – business areas that fell off as the pandemic swept in. At the same time, other customers like schools and office blocks wanted to complete work while people were away, which provided additional work for Signarama franchise owners since the company was considered an essential business.
An additional factor that has helped the company through the pandemic is the longevity of most of its franchise owners. A.J. acknowledges, "Another blessing for us has been how long some of our franchise owners have been with us, from 10 years up to 33 years – back when we first started selling franchises. Among these owners, we have a lot of mentors who have been through recessions, economic downturns, and have dealt with other economic issues, and we've connected them with younger franchise owners as a support system."
As the economy emerges from the pandemic, A.J. sees some bumps that require ironing out before the sign industry returns to normal. He says, "Supply chain uncertainty is what we are dealing with right now because we cannot be sure what substrate or vinyl will be available in the next week or two. However, we've figured out a way to use what comes down the pipeline and ensure our customers get the signage they need when they need it."
Another area that has seen some slowdown is the number of new franchise owners signing with Signarama; something A.J. attributes to temporary economic uncertainty. "We did not hit our franchise sales targets for 2020, but something else interesting happened – sign sales from our existing franchisees were up close to 20 percent, which was a major silver lining in such a difficult year."
Looking ahead over the next three to five years, Signarama's overarching vision is to remain the leading sign franchise company in the world. A.J. is busy working on what he is calling "Signarama 30," a blueprint that will outline the company's trajectory over the next decade. He's a bit tight-lipped about it since it is still in development. Still, he can share, "We're in close discussions with various stakeholders, including the Franchise Advisory Council, our parent company United Franchise Group, and others. Part of the blueprint is to solidify our position as the leading sign and graphics franchise in the world by being innovative and being viewed as an industry leader—two things we believe will always keep us one step ahead of our competition."
AT A GLANCE
Signarama
What:  An international sign and graphics franchise company
Where: Headquarters in West Palm Beach, Florida
Website: www.signarama.com
Canon Solutions America – www.csa.canon.com
Aided by commercial and residential construction and the strong public pull of social media, extraordinary creations in wallpaper, murals, and large-scale décor have fueled a transition to wide format digital printing. Customers, looking past primitive analog printing methods, actively pursue systems to perfect their patterns on supersized graphics, single images enveloping rooms, dramatic feature walls, and more. With revenue from digitally printed wallcoverings anticipated to increase to $7.5 billion by 2025, according to Smithers Pira, it's no wonder why this rising industry requires transformative print technology.
Print Service Providers (PSPs) looking to overcome the limitations found in existing print technologies (solvent, latex, and UV) require devices capable of delivering more productive and cost-effective large format application output. Quality, speed, high output, lower cost, and versatility are key ingredients to producing successful one-of-a-kind creations in today's landscape. But where can PSPs gain this advantage?
Enter Canon's UVgel technology. In combination with the Canon Colorado printer series, UVgel is architected to print on a wide variety of media types (both uncoated and porous) and printable substrates. Wallcovering creators have lauded its ability to yield full production speeds with some of the lowest ink usage in the market. Outstanding color consistency, stunning velvety matte finishes with consistent panel-to-panel matching, and practically zero drying time puts this technology in a league of its own.
More importantly, the fundamental structure of UVgel—which is comprised of Canon's UVgel piezoelectric printhead, UVgel ink, low-heat media platen, and LED curing—helps to seamlessly combat the compromises PSPs have made in the past. With wallcovering appeal encapsulating nearly every industry, abrasion robustness is a must. UVgel prints, which are instantly dried and cured for immediate post-processing, are less prone to damage and are proven to withstand scratch and scuffing better than any other technology, giving PSPs confidence in their output.
Join the high margin interior décor revolution here with the Colorado printer series, visit lfpp.csa.canon.com/INTERIORDECORREVOLUTION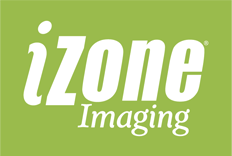 iZone Imaging – www.izoneimaging.com
iZone Imaging is an international leader in the Custom High Pressure Laminate (CHPL) market with a fully integrated manufacturing facility centrally located in North America. Backed by a 10-year warranty, our signage solutions and custom graphics are made to withstand the most challenging environments and the worst forces of nature.
Advantage+ Financing – www.advantageplusfinancing.com 
Advantage+, a nationwide business lender since 1992, provides customized financing solutions for small businesses.
As a small business ourselves, customers and vendors receive the benefit of our proprietary underwriting process. This process gives us thorough understanding of each customer's unique needs which allows for a quick credit decision and flexible payment options all while reducing "sticker shock."
Our vendor partners enjoy shorter sales cycles and the confidence in knowing that they have a strong financial expert to count on to help overcome objections or issues that may arise during the sales process. Our online tools and knowledge base, as well as dedicated account managers, to help our vendor partners get the sale closed faster.
Our customers benefit from flexible payment options and 100% funding for their new or used equipment including any soft costs – taxes, shipping or installation.
We offer low monthly payments, easy loan add-on options, and no pre-payment penalty. In addition, our loans will build a customer's business credit while not impacting personal credit. Our goal is to develop mutually rewarding, long-term relationships with our customers. We strive to be best with our customer's needs in mind as seen with our A+ Better Business Bureau rating.

Genoptic Smart Displays Inc. – www.genopticsmartdisplays.com
Genoptic Smart Displays provides the industry's most vibrant, energy-efficient, and reliable LED Digital Displays, throughout North America. Products include outdoor billboards, monument, and mobile signs.
Recent technology breakthroughs have greatly enhanced product performance; resulting in new industry standards for visual performance, efficiency, reliability, and warranty (industry's only 10-year manufacturer's warranty).