Rogue Valley International – Medford Airport
If you build it, they will come!
Business View Magazine interviews Jerry Brienza, Director at Rogue Valley International – Medford Airport, for our focus on U.S. Regional Airports
The Rogue Valley International-Medford Airport (MFR) is a busy aviation hub in southwestern Oregon, ideally situated on 855 acres adjacent to the City of Medford's central business district, north of the I-5/Highway 62 interchange. The Airport serves the Southern Oregon/Northern California region, with the majority of users residing within Jackson County. In 2018, over 1,000,000 passengers used air transportation and aircraft operations totaled over 43,000.
The management system at the Rogue Valley International-Medford Airport is consistent with many county-owned airports, but in this case, a very active Airport Advisory Committee supports management with master planning and other public concerns at the airport and reports to the County Board of Commissioners.  The Airport Director is responsible for the operation and maintenance of the airport to meet the safety standards required for continued certification in accordance with Federal Aviation Regulations. The Director is also a professional public relations agent for the Airport, its expansion, and its future. In that role, current Airport Director Jerry Brienza excels.
He explains, "The airport is basically two-fold – the commercial air service and the economic development side. One day I'm wearing one hat, the next I'm wearing the other. Economic development throughout the pandemic has really thrived here – it's surprising how that side of the airport business has been doing. As for air service, it was a bumpy road in 2021; like many other airports of our size, we continued to struggle with enplanements. Even January and into February of 2022 were not great numbers – although definitely up from the previous year. But March was the first time we broke a record for the airport since pre-pandemic times. Our March numbers were the highest the airport has ever seen for enplanements. If it continues on that pace , we may break an annual record because I believe our numbers were up 12 percent over last year."
Seven commercial carriers operate out of MFR – Alaska, American, Allegiant, Avelo, Delta, United, and aha! that just came on in October 2021. Brienza notes, "It's interesting because throughout the pandemic, we actually gained four new commercial routes – San Diego, Orange County, Burbank (Avelo) and Reno (aha!). So although our passenger numbers and capacity were down, we gained destinations. I really believe people are ready to spread their wings and start taking vacations that they might have postponed early in the pandemic."
General aviation has a strong presence at Rogue Valley International – Medford Airport. Because it is so close to California and the area has lower personal property taxes, a lot of people that live in California find it cost-effective to base their planes at MFR. This summer, the Airport is starting a construction project  to accommodate GA growth. "We'll be building taxiways and putting utilities into a site that didn't have this before," Brienza says. "It's a three-acre site that will be able to accommodate 15-20 hangars. We have a pretty significant waiting list; we haven't even put a shovel in the ground and we're having people claim, and reserve, and start leasing spaces in that area." Another similar project on a six-acre parcel of land is in need of a taxiway for access. That is on the to-do list for 2023 and when complete it will open up the area to general aviation.
Another exciting addition is also underway at the Airport. According to Brienza, "With the economic development boom during the pandemic, one of the things we were able to do was attract a hotel to a very nice piece of property we have on the corner of a busy road, close to the Interstate and within walking distance to the main terminal. It took us about a year to negotiate and finalize a contract, which we have now with Kauri Development, LLC. They are moving forward with their due diligence, so we're really excited to get that hotel going. They have their own construction company doing the build for a Home2Suites by Hilton with at least 118 rooms."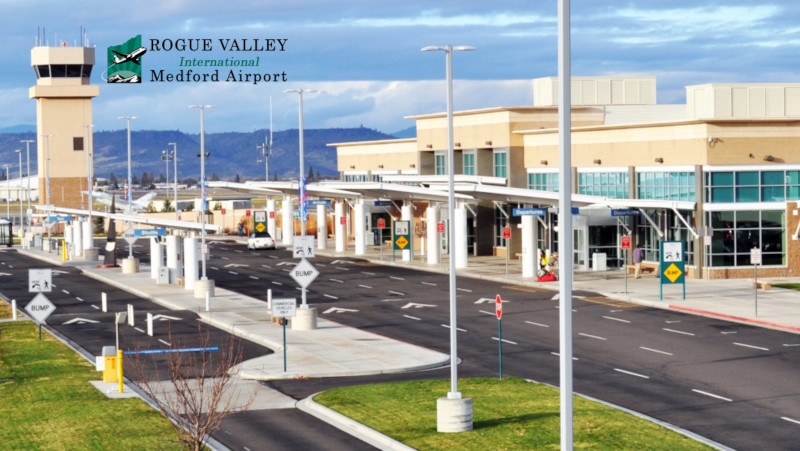 The goal is for that to attract other commercial development and spur tourism. The hotel will be sitting on a 5.5 acre piece of land, but only needs about 2.5 acres. The Airport team is now in the process of finding a consultant that will put together a restaurant feasibility study to see what restaurants would be successful in that area, possibly a gas station. "We're in that stage now to determine the appropriate businesses for that site – to make it a little community," Brienza says. "The one really good thing about our airport, in my eyes, is that we're so remote from other airports that we are the only entry point to the Rogue Valley region. So if you want to go to Crater Lake National Park, the scenic caves, some of the 126 vineyards in our county, we are the access point to all those activities."
Promoting aviation as a career is a key priority for the Airport. An onsite flight school works with several charter schools, so a lot of students are actually getting their pilot's license at 16 years old, before they're even eligible to get a driver's license. MFR has been instrumental with assisting in developing that program but now they are looking to expand it. Brienza shares, "Our vision for the six-acre development site I spoke of is to bring in a multitude of higher education facilities as well as corporations to start a Regional Aviation Center of Excellence at the airport."
It will be a brick and mortar building for classrooms with a hangar on either side – one to store aircraft for a flight school and the other for an Aviation Maintenance Professional (A & P) program. They plan to offer a variety of programs there, including everything flight training, aviation engineering, aviation management, as well as training for air ambulance emergency responders, fire fighting emergency responders, aerial emergency responders. Everyone will be sharing in the operations and maintenance of the facilities.
"It will be a consortium of public and private entities in the area," Brienza says. "We have two or three universities looking at it, plus two community colleges that want to be involved, as well as a multitude of charter and high schools. We want to get these young kids interested in aviation or transportation-type careers and it's really exciting. We have conceptual plans in place and we had our first potential stakeholders meeting recently, where it was unanimous that everybody wants to move forward with this project. So we might just have progressed from the infancy stage to the toddler stage. That really feels good."
Hunter Communications, a local fiber optic company, recently did a major upgrade to the fiber system at MFR to improve Wi-Fi accessibility. It also gives room to expand fiber out to Airport tenants, such as the general aviation area that's under construction. That site will then have all the utilities, including fiber, for anybody who wants to build a hangar. It's a great upgrade for the whole community.
Travel Medford is the community tourism arm for the Airport. "They are a tremendous partner," Brienza says. "No matter what we do at the airport, they have been in step with us. They have a customer service/tourism desk here with volunteer staff on hand to answer an array of questions from customers. It's a great looking, octagon-shaped information booth, very interactive, and they do a fabulous job. They want to see the region grow."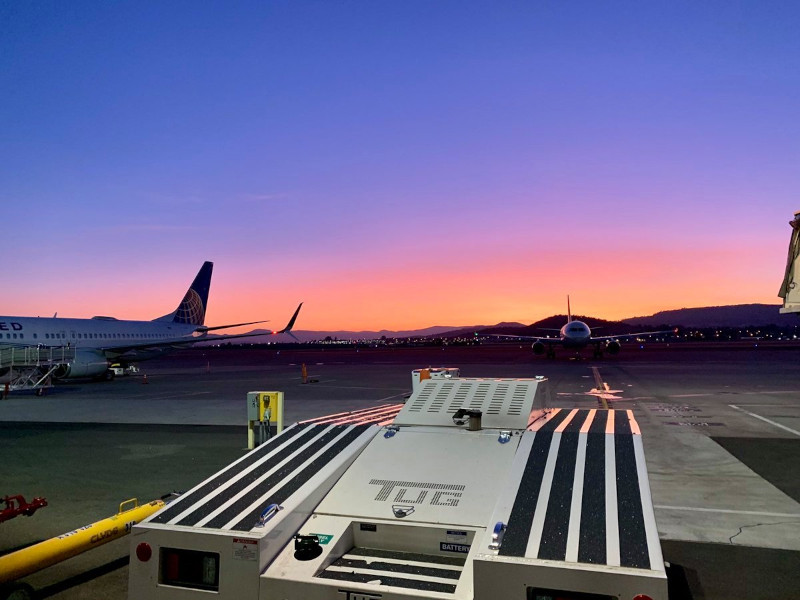 On the environmental front, the Airport is wrapping up a $4 million detention pond project to centralize the drainage on the property. Created in an undevelopable area, engineers did a great job at keeping the pond shallow, but wide, to avoid a lot of settling of waterfowl. It's also a water quality treatment facility. Brienza attests, "The water that comes off the property and into the streams is so filtered that's it's probably cleaner than what's in the streams already. So we made sure we protected the environment around our community."
For the future, Brienza has some key objectives in mind. He shares, "On the west coast, we suffer from wildfires in Washington State and California, and the smoke comes in and affects our commercial airlines. So to help combat that, we have the U.S. Forestry Service based here. They bring in VLATs (Very Large Air Tankers) to get filled with fire retardant – but we don't have room to accommodate more than one. So we're expanding that ramp by three-fold, which will allow four of those aircraft in at any given time. It appears that we are in a very good position to receive state funding to assist with that project.
"Looking ahead, The Aviation Center of Excellence is high on our radar, we really want to get that off the ground. We need to start being the pipeline for people interested in aviation careers because the pilot shortage is unbelievable. And we also want to be able to build general aviation facilities so we don't have to turn developers, and eventually revenue, away from the airport. So many great things on the horizon!"
AT A GLANCE
Rogue Valley International – Medford Airport
What: A progressive, public-use airport
Where: Jackson County, Oregon
Travel Medford – www.travelmedford.org
101 E 8th Street Medford OR 97501
Travel Southern Oregon – www.southernoregon.org
33 N Central Ave #203 Medford OR 9701
Rogue Valley Wine Country
The Rogue Valley wine country is a wine lover's paradise. From its winding country roads, rolling vineyards, and organic farm stands – where a furry friend is sure to greet you – there is nothing better than the Heart of the Rogue.
Endlessly Diverse
Recently named one of two wine capitals in Oregon by Northwest Travel & Life Magazine – uncover the authenticity of every bottle, glass and drop the valley has to serve.
One of the Rogue Valley's greatest features is its four distinct wine trails — Upper Rogue, Bear Creek, Jacksonville and Applegate. Experience dramatic landscape views, exceptional flavor, and deep commitment to regenerative agriculture with distinct biodynamic wines and unforgettable experiences.
Experience the Valley in Luxury
Immerse yourself in the foothills and mountain ranges with a special picnic experience at one of the many vineyards and wineries.
Enjoy classically delicious farm-to-table food, and charcuterie boards that are sure to satisfy. Medford is also home to the "World's Best Cheese" with Rogue Creamery's Rogue River Blue, awarded at the World Cheese Awards in Bergamo, Italy.
From double gold, award-winning whites and reds to world-class, artisan foods, Oregon is no one-trick-pony. Dive into a world of adventure with Oregon's only national park, Crater Lake, the world-class rapids and fishing of the Rogue River, and the 1,740 acres of hiking and biking trails at Prescott Park. A scenic, beloved treasure, the Heart of the Rogue invites you to discover variety, diversity, and all things beautifully rogue.