Reading Regional Airport
All good on the horizon
Business View Magazine interviews Terry P. Sroka, Manager at Reading Regional Airport, for our focus on Regional American Airports
When it comes to growth, comparing the numbers from 2019 to 2020 can be an enlightening exercise. On the surface, many companies, organizations and individuals achieved less growth than one could ever have expected. When we look at airports, however, the deeper story tells of steady but influential growth – or at the very least so much less of a decline that one can imagine 2020 as a momentary blip in that upward trend. Pennsylvania's Reading Regional Airport is a prime example.
There are currently 97 aircraft based at Reading Regional Airport including 65 single-engine, 17 multi-engine, 12 jets, and two helicopters. In 2019, there were 118 aircraft on the field. Operations this year have really dropped off because of COVID-19. At the end of 2019, there were 46,389 operations and over 12 months in 2020 it was 25,531; almost half as many. In addition, the airport's charter operation, Boscov's Travel Centre – which had direct flights from Reading to Orlando for visitors to Disney World –  have cancelled all their flights for the time being and may postpone until April. In 2019, there were three Fixed Base Operators at the airport: Reading Jet Center was located on the West Apron; Millennium was based on the East Apron; and there was a smaller FBO based on the North Apron that catered to general aviation and also ran a flight school, however that FBO went out of business in 2020. But there is good news…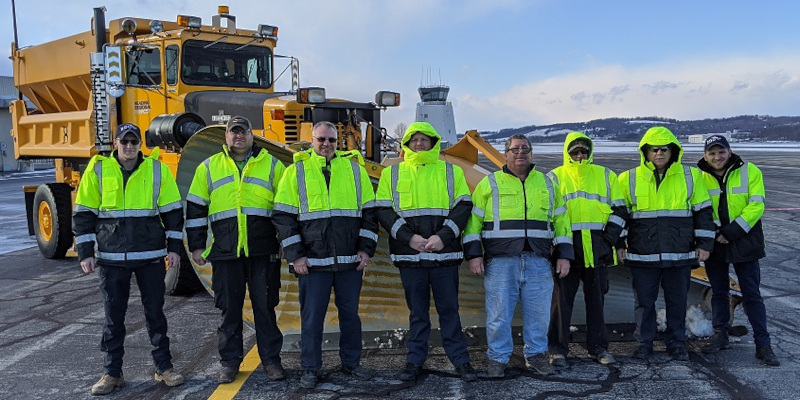 As Airport Manager, Terry P. Sroka, reports, "Our T-hangars are full. We have a waiting list. And when the one FBO went out of business the others took over. Millennium has picked up a new flight school called Fly Elite and they're also providing general aviation maintenance to the facility, sort of filling that void. Reading Jet Center leases the North Apron and are doing total renovations to the building to accommodate more operations. The Airport Authority has also been in conversation with the FBOs, trying to take the bull by the horns about developing more hangar space. We hope to be increasing that space within two years. Our FBOs are great to work with and do an excellent job. They jumped right in to fill the gaps this year when we needed them to and because of them we continue to move forward. We also have a great working relationship with our airport insurer, Engle, Hambright & Davies. We try to think of it all as a partnership."
Like many airports, the Reading Regional Airport, also known as General Carl A. Spaatz Field, has gone through the ups and downs of the last century of air travel. Built as a small airport in 1938, three miles northwest of Reading in Berks County, PA, it was taken over by the Army Corps of Engineers in 1942. The Reading Army Airfield trained tactical reconnaissance units there and it also included a 300-bed hospital. The site even had a prisoner of war camp set up.
At the end of the war, it became an Air Force Reserve Base, and in 1950, the city took it over and it became the Reading Municipal Airport. They built a new and modern terminal, upgrading the facilities to meet the need of modern commercial air service. By the 1960s, this airport hosted the largest air show in the United States, with over 100,000 attending at its peak. Again, changes in the economy and the culture led to its decline. The air show ended in 1998. Commercial travel was declining as well and following 9/11 dropped to seven flights. In 2004 commercial aviation ceased altogether.
"Here we are 15 years later, growing again and hoping for a bright future," says Sroka, pointing out that the airport has maintained its Part 139 certification. "In 2020 we completed several capital improvement projects. We have done rehabilitation mill and overlay work on both the north and the west aprons. As you can imagine this was a rather large project. In 2021, we are going to be rehabilitating the main terminal apron which is currently in the design phase. We will have federal and state grants to allow us to do this, and it needs to be done. It is the oldest piece of asphalt at the airport and is going to end up being about a $1.5 million project."
Recently, the airport received grants from the Pennsylvania Department of Transportation to purchase a new firefighting gear. There was also a grant to purchase airfield maintenance equipment and material, which will allow airport staff to do the small projects like crack filling and airfield painting. Additional capital improvement projects laid out for each of the next five years include rehabilitating the signage on both the runways and taxiways. They are also hoping to rehabilitate the terminal parking lot. The terminal itself was renovated in 2000, but needs to be "spruced up" with the most recent changes in the HVAC system. Then they will turn their attention to changing over the lighting from quartz to LED.
"And of course," Sroka chimes in, "we are out of hangar space. There is a waiting list for both corporate and GA clients. We have the room to build more, but the airport itself does not have the financial resources. We own 16 nested T-hangars. There is another set of T-hangars on the north side which are privately owned and our FBOs are pretty much filled up. PPC Excursions was a private company who came in and built their own hangar and we have another site that is shovel ready. The airport has lots of room to grow and we are working with our FBOs to find new tenants. We get several calls throughout the year looking for hangar space, and most people want them tomorrow. Obviously, the answer is no, and that is a problem. So, we must get to the point of realizing there is so much interest that we could fill additional hangars. I would love to see some box hangars, more T-hangars, or even a corporate facility at the airport. We have a 17-acre spot adjacent to the taxiways and we are working on ideas for that. It would be great to have a maintenance and repair facility set up there, for example."
The Reading Regional Airport also does a lot of community service work, especially with school-aged children. There is an anti-bullying group called The Camel Project in Reading, started by an author who was bullied growing up – they seek to educate and inspire people to rise above bullying, and each year the airport puts together a 5K run in November with them. They even managed to do it this year despite COVID restrictions. The airport also works with the Young Eagles Experimental Aircraft Association who are looking at taking up residence on the airfield in conjunction with Reading Jet Center on the north ramp. They usually do a 'Christmas in the Air' program in which they offer free flights for school-age children. This was not possible because of the pandemic in 2020, but it is a wonderful initiative that has been going on for 20 years and will hopefully start up again in December. In the past, they provided free flights for over 350 children during a single event.
Geographically, Reading is close to a lot of other areas which offer some sort of air service… Lancaster, Allentown, Harrisburg, Philadelphia. Since 1980, however, they have been working on diversifying both inside and outside of the airport. Since the early '90s, there have been two developed industrial parks for non-aeronautical use and those have been quite beneficial in keeping revenues afloat. "Berks County Industrial Development Authority is working on another 155 acres of unused airport property, which they purchased and are creating an industrial park called Berks Park 183," says Sroka. "The infrastructure is completed and most of the sites are shovel ready. We are working with them and the county and hopefully there will be tie-ins, as well as increased operations at the airport. Reading is a great place to live and a great place to work, so we still see all of this as a great opportunity. There are great things on the horizon."
AT A GLANCE
Reading Regional Airport
What: General aviation airport owned by Reading Regional Airport Authority
Where: Berks County, Pennsylvania
Website: www.readingairport.org