Planet 13 Holdings Inc.
Getting cosmic
Business View Magazine interviews David Farris, VP Sales & Marketing, Planet 13 Holdings Inc., for our focus on the Retail Cannabis Sector
The legalization of recreational pot in New York, New Mexico, Connecticut, and Virginia were big wins in 2021, bringing the total number of states in which marijuana is legal to buy and consume for pleasure, rather than for medicinal benefits, to 18. More than a third of Americans now live where you can freely light up a joint, while the rest of the country is watching, learning, and working at collectively disrupting the "stoner" stigma of marijuana use. The growth potential for the cannabis sector is becoming clearer through the stardust, as experts insist 2022 will be the year of consolidation and appeasing those who've been 'jonesing' for scale.
"We'll continue to see a lot of mergers and acquisitions," projects VP of Sales & Marketing David Farris. "There's been a lot of competition within certain states. At some point, they'll have to start building together instead of building against each other." For Planet 13 Holdings Inc., the Nevada-based company that hatched the world's largest cannabis dispensary, Planet 13 Las Vegas, and California's newest weed wonderland, Planet 13 Orange County, the year's big goals will involve expanding their footprint thanks to medical marijuana and retail pot licenses snagged in Florida and Illinois respectively.
"We acquired a Florida super-license," Farris shares. "That gives us cultivation, production, and dispensary capabilities in this huge market because Florida license holders are vertically integrated companies. Plus, there's basically an unlimited cap on the number of dispensary retail locations allowed per medical marijuana business license. What we intend to do with ours is have smaller neighborhood retail locations spread throughout the state."
As for their motives in the Chicago market, Farris says the plan is to parlay their license into building another over-the-top SuperStore location. Their Orange County SuperStore, which opened its doors last July to great fanfare, generating strong initial sales, is expected to help Planet 13 tap into the tourist potential of southern California.
"We put another van installation there that's similar to the one we've got in Vegas," Farris mentions. "You press the button and smoke comes out and people look like they're hotboxing the van. We also had Cheech & Chong visit Planet 13 Orange County recently. We had a line out the door of people just wanting to interact and take pictures of themselves inside the van. It was a really cool photo moment. We've got an LED wall and digital interactive floor there, as well, which we use to play up the California beach theme. So, as you're stepping onto the "beach", which is the interactive floor, you can see your feet in the sand and then waves crashing-in rince your footprints away. When you go out onto the dispensary floor, there's a massive octopus installation that's really colorful and vibrant and cool. We've set out to create this amazing experience for our customers, and to give them photo moments along the way that they can share with friends and family."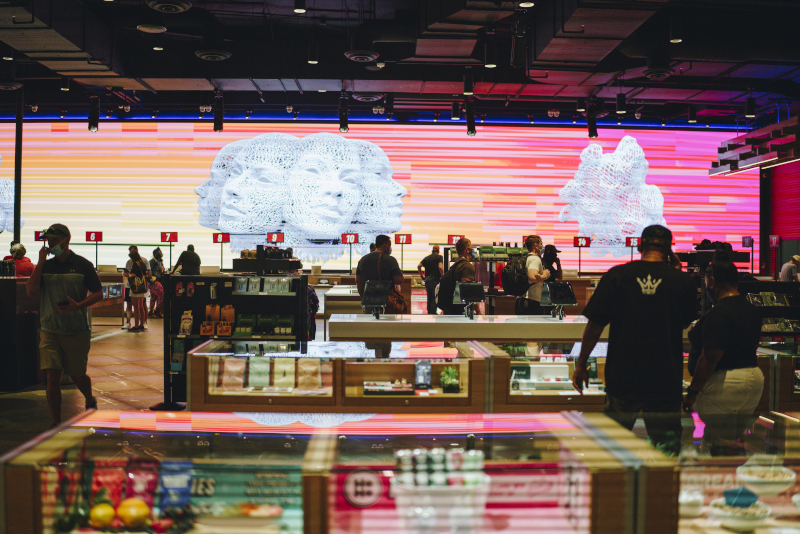 Planet 13's Design and Marketing team live by the mantra that "no idea is a bad idea", an openness which, according to Farris, improves the cannabis business's capacity for innovation and creativity, not only in strategic meetings but also on working levels. "Nothing is ever really out of the question," Farris emphasizes. "We're throwing ideas around every day on what we can do next – ideas for future SuperStore locations. We're really looking at all those opportunities and seeing which ones make the most sense."
The Planet 13 flagship Las Vegas SuperStore saw its sales floor double in size in 2021, with an expansion of its dispensary to 23,000 square feet and an extra 40 Point of Sale (POS) terminal machines added (for a total of 80) to lower wait times and improve the overall retail experience. Farris says the next expansion, which is slated to begin Q2 of this year, will round out the amenity set of Planet 13 Las Vegas upon completion of its immersive cannabis photo museum. "It's called Cannabition and it's basically an interactive exhibit that celebrates all things cannabis," Farris explains. "Customers will be able to enter the museum, check out the installations throughout, take photos with them. We'll be able to use it as an events space as well."
Farris teases he's got lots of "big, bold" ideas on how they're going to develop Planet 13 Vegas. "We're trying to draw people from around the world to see this." Beyond what they refer to as a next-level, club-concept cannabis experience that features an orb show (pulled from overseas, in Germany), a restaurant, bar, and what's soon to be Nevada's premier marijuana consumption lounge, the company is also known for their world-class dispensary operations and inventory of premium quality cannabis products.
"We have a massive selection for people to choose from, all sorts of edibles and beverages, gummies, vapes, flower, prerolls, infused prerolls – really, any product you can think of," Farris says. "Within our bar area, we've also created some innovative cocktail concepts in collaboration with different gummy brands where we basically built our drink menu inspired by those flavors. That was some really cool cross-promotion that our Marketing team put together."
Planet 13 Las Vegas also just added a sundry store to its roster of attractions, which has proven to be a huge success, particularly with the tourist market. According to Farris, "We started asking, 'What are people doing after Planet 13? Where are they going? What do they need? What didn't they get?' And we saw a huge correlation between Planet 13 and people wanting to stop and pick up some quick snacks, or cigarettes. So, within that sundry store, we have tobacco products. We also carry Tylenol, NyQuil, toothbrushes, clothing – anything you would need on your trip if you'd forgotten to pack something. That's been a huge feature for the tourism side, where we're basically a one-stop shop."
Other convenience factors for customers both local and far include Planet 13's 24/7 online ordering menu, curbside pick-up service, and free marijuana delivery offered daily from 10 am-12 am. "Through the pandemic, we've been able to maintain a huge delivery platform," Farris reports. "I always reference the fact that our delivery business alone does as much as another dispensary would within the state of Nevada. It's a sizeable operation. We've built something that we're very proud of, and I think customers love it because they know what to expect. They know what they're going to get and they're used to the process. We've really dialed into that over the past two years. COVID-19 forced our hand a little bit, but we achieved much of it ourselves through trial and error."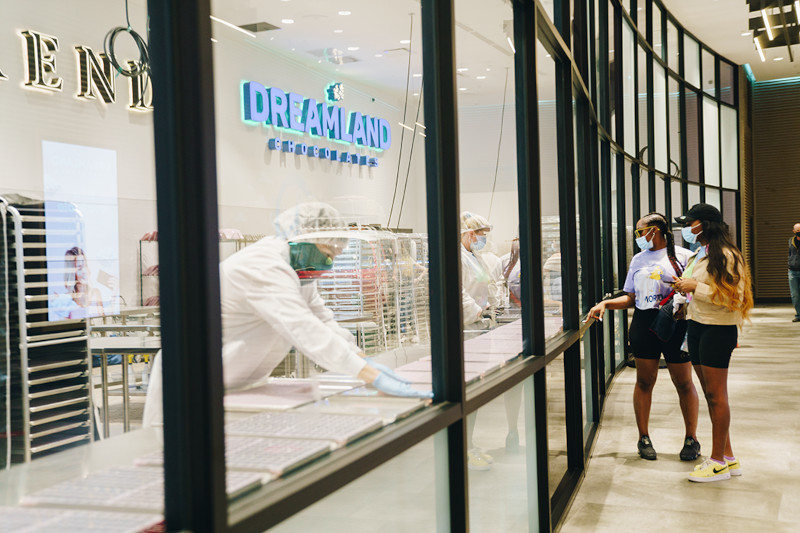 On the product development front, a couple of Planet 13's house brands have dropped new collaborations recently, including Trendi's Limited Edition Infused Superblunts+!, which are loaded with top-shelf flowers from some of the most sought-after cultivators in the state, and HaHa Sodas, crisp and refreshing drinks infused with the perfect amount of cannabis. "We've got Old School Root Beer and Guzzle It Grape sodas," Farris notes. "We also have sour bombs, which are basically sour gummies, within that collection. Our Dreamland Cubes, which are sort of like peanut butter chocolate cups, are a huge hit during the winter months. Those were the first of their kind to hit the cannabis market."
All of Planet 13's house brand products were scaled up throughout Nevada and are currently on shelves in about 90% of dispensaries. "It's something not a lot of people understand when they think of Planet 13," Farris admits. "But we've built a really robust wholesale and house of brands service throughout the state. What we're hoping to do in the near future is to bring that to other states, so we can continue to build out our touch points with those brands."
As for what he predicts for the future of the cannabis industry itself, Farris circles back to that wave of mergers and acquisitions he mentioned, insisting that consolidation will happen at all levels… everywhere from small marijuana dispensaries to large grow operations. He says consolidation has been a huge expectation for 2022, and it includes an increase in the consolidation of licenses to bigger marijuana businesses.
"With that, our main goal is really to put that Chicago license we were awarded into motion," Farris shares. "Get Florida going with our cultivation and continue with storefront expansions and buildouts into future states. We field opportunities constantly. At the same time, we've always told our investors and shareholders that we treat this like it's our own business. We spend money like it's coming out of our pocket. We're very careful and we're patient. All that slow but steady growth has been a big benefit to us."
AT A GLANCE
Planet 13 Holdings, Inc.
What: Vertically integrated cannabis company
Where: Las Vegas, Nevada
Website: www.planet13holdings.com

Cannavative – https://www.cannavativegroup.com/ 
"Cannavative is a premium cannabis brand in Nevada. Cannavative produces a variety of infused and extracted products, including multi-award winning infused pre-roll, the Motivator, and incredibly popular leading cartridge product, Resin8. Cannavative won best infused product (Motivator), best RSO and best Flower at the 2021 Golden Bong Awards."
Nature's Chemistry – alex@natureschemistrynv.com | (702) 278-4702
Nature's Chemistry is a locally owned and operated cultivation facility. Our main objective is to deliver the highest quality cannabis to our dispensaries and production facilities and ultimately, to the consumer. We want consumers to "Experience the Difference."