Pitt Meadows, British Columbia
"The Natural Place"
Business View Magazine interviews Bill Dingwall, Mayor of Pitt Meadows, British Columbia, for our focus on Infrastructure and Growth in Canadian Cities
Nestled between the mighty Fraser River and the majestic twin peaks of Golden Ears Mountains in beautiful British Columbia, Pitt Meadows is a dynamic municipality that's home to a growing population of 19,728. With an ongoing commitment to building a better community for residents, businesses and visitors, Pitt Meadows is known as "The Natural Place" to live, work and invest. A six-lane highway on the Golden Ears bridge over the Fraser River connects Pitt Meadows to Surrey and Langley on one side and Maple Ridge on the other. To the west, the Pitt River bridge connects the City to Port Coquitlam. Pitt Meadows acknowledges that it is located on the traditional territory of the Katzie First Nation.
Mayor Bill Dingwall, reflects, "Our slogan is 'Pitt Meadows Proud' – a "generational saying that resonates within our community. In the next 20 years, we'll grow to about 25,000 which means we'll remain this very quaint and niche city in the Metro Vancouver area, which by then will have 3.5 million people." Pitt Meadows is made up of 78 percent agricultural land, surrounded by sixty kilometres of dikes that provide breathtaking trails for walking, cycling and horseback riding. The City is blessed with tremendous natural beauty from its waterways: Pitt Lake to the north; Pitt River (a tidal river that connects the Fraser River and Pitt Lake); Alouette River and the mighty Fraser River to the south. Metro Vancouver has invested heavily in the local parks, creating a vast amount of greenspace. The Pitt Meadows Parks, Recreation & Culture Department provides facilities for hockey, figure staking, lacrosse, softball, baseball, slow pitch, soccer, football and rugby – and there are six outstanding 18-hole golf courses, and a 200 plot community garden.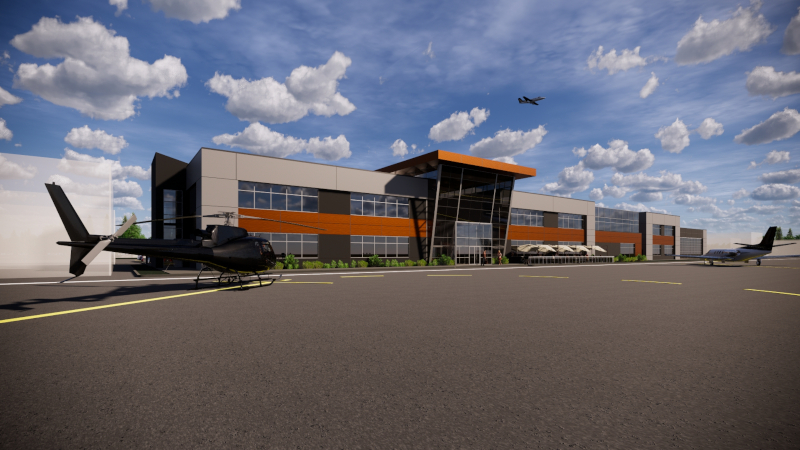 Situated to the west of Golden Ears Bridge, east of Pitt Meadows Regional Airport (YPK), is the Golden Ears Business Park (GEBP). Consisting of four project phases, the business park encompasses 189 acres for development. The land for Phases 1 and 2 was rezoned in 2009 and 2011 and construction is well underway and the bylaws to rezone Phases 3 and 4 were adopted by Council in 2018. Mayor Dingwall elaborates, "The GEBP is almost 200 acres of light industrial space owned by the Onni corporation. We're into the final two phases of that development with completion anticipated in 2022. The park provides not only tax revenue but jobs and services for the City and is expected to be the second largest, single-owner light industrial complex in British Columbia. Onni also owns one of our large commercial malls called 'Meadow Town'."
The Pitt Meadows YPK airport, co-owned by the City of Maple Ridge, has approximately 800 acres. It is a thriving airport for small aircraft and is enjoying tremendous growth and investor confidence including a new tower, two terminals and hangars.
The next big project for Pitt Meadows, in conjunction with Vancouver Fraser Port Authority, the federal government, and Canadian Pacific Rail, includes an overpass above the train track near the Pitt River bridge, an underpass on the main road in Pitt Meadows, and some rail extensions for CP Rail. The $141 million project to support the transportation of goods nationally and internationally is being funded by those three partners. The City of Pitt Meadows will assume ownership of the overpass and provide maintenance once built, but there are also significant benefits for the community. Public safety will be significantly enhanced, as first responders will no longer be held up at a train crossing. Part of the plan is to have a road built next to the crossing on Harris Road that will facilitate movement north and south during the build, so traffic will keep flowing.
Thanks to prudent financial management and planning, the City continues to be diligent with annual reserve contributions, which provide funds for capital projects such as the new Fire Hall. Chief Administrative Officer, Mark Roberts, speaks to this important project, "With community safety being a major focus for the City and Council, we are building a new Fire Hall that will better meet the needs of our community over the next 50 years. The new state-of-art facility will replace the existing hall which opened in 1983 and will also include a new Emergency Operations Centre. The estimated $15 million project is being entirely funded by our reserves. Construction is set to begin later this fall with completed expected for 2022."
In other infrastructure news, Mayor Dingwall reports, "As a council, we're working on a 125-acre project called the North Lougheed Study Area. The Lougheed Highway is a provincial highway that runs through Pitt Meadows and we're in discussions with the Provincial Ministry of Transportation and Infrastructure to do substantial improvements to the highway because of the traffic volume. We have one major landowner that owns 65 of the acres and is prepared to invest. We're looking at medium to high density residential, some commercial, greenspace, and perhaps even some light industrial on that side of the highway. We have exclusions from the Agricultural Land Commission, so that continues to move forward." Coinciding with that development, Translink recently launched Rapid Bus that runs right down the Lougheed Highway to Coquitlam in front of the development area and has east and west stops in Pitt Meadows. About 80 percent of residents commute outside of the City for work but it's hoped that will change with the airport, with Onni, and the North Lougheed Study Area providing opportunities for local employment.
Work on the Pitt Meadows official Community Plan is nearing completion, and part of that planning process included a review of housing stock – current availability and what is needed to accommodate future growth. Along with North Lougheed, the City is looking at its major corridors for infill and density opportunities; everything from affordable rentals to penthouses. Over the next 20 years, the community's senior population is forecast to double, so housing and amenities for those residents is a priority. In that light, City Council has embraced a social planning initiative for affordable housing that would see Pitt Meadows partner with the Metro Vancouver Housing Corporation. The City would lease land at a nominal figure and Vancouver Housing would build affordable housing for seniors, the disabled, and qualified families. The model is based on 10 percent under market for rental rates or 30 percent of gross income. The project will be a much-needed and welcome addition to the community.  Adding additional daycare spaces is yet another initiative, and the City is working on seeking grants from the provincial government.
On the environmental front, flood mitigation is a key focus. As Mayor Dingwall, recounts, "The Dutch came into Pitt Meadows in the 1930s and '40s  to help build dikes around our community, which then allowed for farming to occur. We have five major pump stations and invest heavily in our dike infrastructure. We secured a grant last year of $412,000 to assess the dikes and then we'll use those results as a business case to take to the federal government for millions of dollars to do upgrades. With climate change occurring, flood mitigation is an important topic in the whole Metro Vancouver area. We work closely and collaboratively with Katzie First Nation – the main part of their territory is in Pitt Meadows – and we have water, sewer, and fire service agreements with them. And hopefully a policing agreement in the near future. They are a great partner with us. We also oversee the flood mitigation aspect for the City of Maple Ridge."
Tourism is also a key focus of the City Council. They endeavour to promote the City's vast beauty and visitor experiences, such as Sky Helicopters and the local Farm Tours, which in turn help drive the economy and put Pitt Meadows on the map. "We support our farmers, more than three quarters of our community is still farm land. We have some of the best blueberry and cranberry farms in Canada," says the Mayor. "Pitt Meadows has a wealth of walkways and pathways throughout the whole community, recently rated in the top five cycling areas in Metro Vancouver, and we're very aware of our role around climate change and the environment. In fact we have two EV charging stations right outside City Hall."
Looking ahead, Pitt Meadows has a vision for a downtown revitalization that will include the area around City Hall, because land is expensive and the City needs more density. But Mayor Dingwall emphasizes, "The first goal is to maintain this quaint community that embraces our neighbours, families, seniors, and growth. The greatest risk is in affordability of housing in the Metro Vancouver region. We want our children to grow up here, find employment, and raise their families. Our land values are much more attractive than cities west of here. We can be very competitive for people who want to live in a small city and have this great ambience, as well as accessibility to urban areas like Vancouver."
AT A GLANCE
Pitt Meadows, British Columbia
What: Quaint niche municipality; population near 20,000
Where: Metro Vancouver Area of BC
Website:  www.pittmeadows.ca