People Mover
getting riders where they need to go
With new routes and increased ridership, People Mover paves the way
Like the postman's motto: neither rain, nor snow, nor sleet, nor hail will keep the Municipality of Anchorage's People Mover from getting its riders where they need to go.
Run by Anchorage's Public Transit Department, People Mover's motto is to connect the Anchorage community "with safe, reliable transportation options, emphasizing customer service while providing economic, social, and environmental benefits." So, when the area's worst snowstorm in two decades hit the city, People Mover's buses were there, on time, ready to help its ridership reach their destinations.
"When the school district and solid waste services and everyone else canceled service for the day, we ran a full and complete schedule all day to get people where they need to go," says Bart Rudolph, the Municipality of Anchorage's Transit Planning and Communications Manager. "A lot of credit goes out to our drivers and our dispatchers. One of the things that helped us keep running was their sheer determination and grit to be out there every day. And people showed up."
People Mover has been a staple in Anchorage since it opened on July 1, 1974, serving 39,505 in its first month alone. After a system redesign in 2017, Ridership has steadily increased with a peak ridership of 4,220,667 in 2019.
Today the transport service serves around 500 passengers per weekday through bus stops located across the greater Anchorage and Eagle River areas. And no matter what the weather, People Mover's buses are out there, racking up over two million miles of road traveled annually.
When the COVID-19 pandemic hit in March 2020, ridership fell to 50 to 60 percent of pre-COVID numbers for the first time in history. But now, numbers are picking back up.
"Right now, we're at about 30 percent pre-COVID levels, so people are starting to return, but we are still not where we were in 2019," Rudolph says. "But the trend is up."
Helping rider rates rise is the introduction of the People Mover m Ticket app, which is a mobile ticketing platform that allows riders to purchase their tickets contact-free and in advance.
"We just had an update today from our customer service manager and mobile ticketing is outpacing the fare box ticketing at this point," says Jamie Acton, Anchorage's public transportation department director.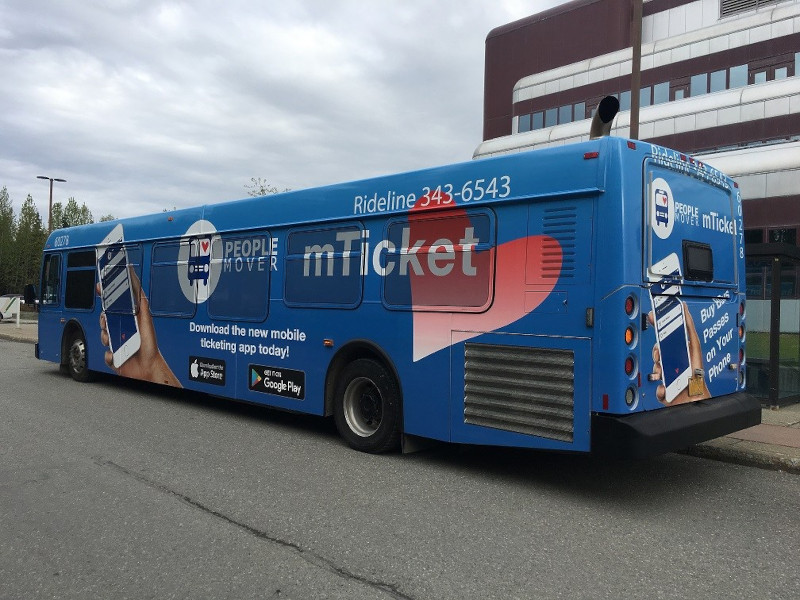 Mobile ticketing isn't just beneficial for customer purchases, it's also had some other surprising benefits as well, Rudolph says.
"Another benefit that we've seen with mobile ticketing is there's less interaction with the driver and time spent at the fare box," he explains. "So, we have seen our routes increasing and being on time more often due to the speed of the boarding process."
Even more changes are coming to People Mover, with the transit program being in the process of turning over its fleet. The new line of buses uses clean diesel, which makes them virtually smokeless and therefore emits fewer emissions.
Plans aren't in place at the moment to move over to an alternative fuel source, but it's something they are keeping in mind, Acton says.
"At this time, we're looking at doing a separate planning effort that would basically evaluate the different alternatives," she explains. "One of the things we are seeing here in Alaska is that some of the northern cities are transitioning to CNG (compressed natural gas), so we're wondering if that would be a fit for us. We're looking at taking on a planning effort that would really look at all the different alternatives and kind of vet those for us. That's our next step."
Currently, People Mover is working on making its way through an improvement wishlist  laid out in a transit plan called Transit on the Move that was developed in 2020.
"We have a really robust planning effort that took place in 2019 called Transit on the Move that outlines all of our upcoming improvements as soon as funding is available," Acton says. "We went out to the public and we did basically a year's worth of public engagement saying, 'Hey, if we were to get additional investments for the system, where would you like to see those dollars spent?' And now we have a really robust plan that outlines 30 to 40 different initiatives of where we would like to see investments made in the system."
While the new route 85 was the first initiative for People Mover, the most recent initiative to get the green light is an overhauled transit security initiative that will come online in early 2023.
"We are basically looking at contracting out through a local security contractor that will allow us to provide security on the vehicles, but also out into the system," Acton says. "They're kind of going to be ambassadors for us, per se, where they also will be assisting riders and helping with day-to-day questions or system issues, things like that.
"We tried to take some of the pressure off the operators and really support them and make sure that the riders are having safe, enjoyable commutes and trips that they're taking with us."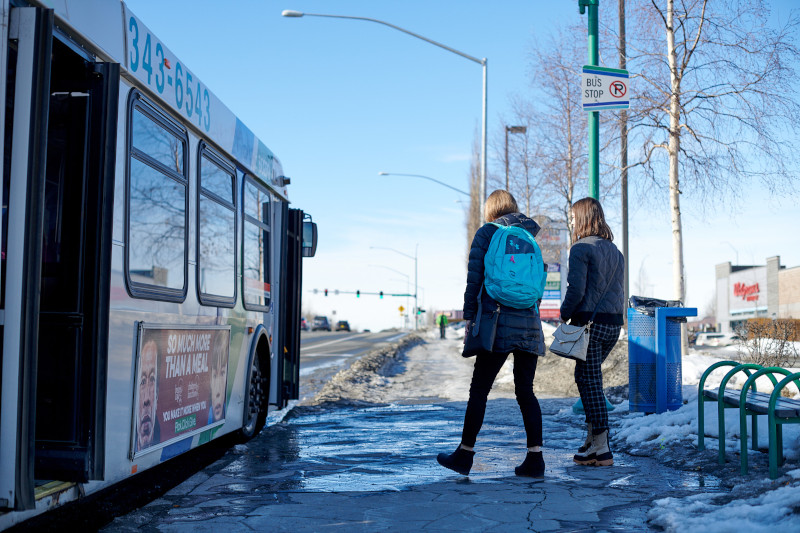 People Mover is also introducing a pilot project that will allow seniors aged 60 and above and youth aged five to 18 to ride free. The project is being partially financed through the Infrastructure Investment and Jobs Act, as well as through carbon-reduction funding.
Future initiatives include looking into micro-mobility and micro transit, potentially offering an on-demand direct service like Uber or Lyft, as well as bike-share or electric scooter options.
This wouldn't be the first time the Anchorage transit department has branched out when it comes to its transit offerings. The municipality also offers both paratransit and ride-share programs.
AnchorRIDES offers a shared ride, accessible, door-to-door transportation throughout the urbanized Anchorage area, and Commute with Enterprise is a vanpooling program for groups of five and up.
In addition to fleet improvements, People Mover actively works to keep their drivers up to date with the latest training thanks to a dedicated, in-house trainer.
"The trainer works with every class that comes in, and then also does refresher training and any other comprehensive training that needs to go into play," Acton says. "When we got the new buses, we needed to make sure that there was some sort of introduction to those new vehicles because they were very different from our older vehicles."
Training happens for the entire transportation department whenever technology upgrades are introduced, but when it comes to drivers, People Mover is always updating their training to make sure they're providing the best transportation option for Anchorage residents.
"We keep them up to speed on the latest ways to keep themselves safe, interactions with customers and constituents and just basically keeping them safe out on the road," Acton says.
When it comes to marketing the program, People Mover has a large presence on Facebook, Twitter, and Instagram, which are all updated regularly. They also use a program called Everbridge when it comes to critical and emergency notifications, and to let riders know if they're still operating during a snowstorm. With the new year, new changes will come into effect and People Mover will no longer be using Everbridge.
"We will also occasionally place ads through local new channels, programmatic ads, we'll track online behavior, we'll do social media ads," says Whitney More, marketing supervisor. "We've done print ads in the past, TV placements, radio placements."
Over the summer they held a targeted awareness campaign where People Mover reached out to people in the community who lived or worked within a quarter mile of its frequent bus routes – four routes that have service running every 15 minutes.
"We reached out to them via social media ads, mailers, we had a street team that attended public events," More explains. "It was an awareness campaign to make sure that those areas of the community knew how frequent our service was and where it could get them. We were giving out a free one-week pass to try and get these folks to try our system and ultimately change their behavior and continue to use the system afterward."
In addition to its natural ridership, People Mover also draws on local partnerships to help get students and employees where they want to go. The transit system has partnerships in place with the University of Alaska Anchorage and the Anchorage School District, as well as one with the oil and gas company, ConocoPhillips.
"We have multiple partners, and we rely heavily on their ridership," Acton says.
Looking to the future, People Mover has big plans to continue working toward accomplishing all the goals laid out in its Transit on the Move Plan – including implementing Microtransit. That is Acton's number one priority.
"For me, the ideal objective would be filling in all the gaps in the system," she says. "We want to make sure people can get where they need to go when they want to get there."
Genfare – www.genfare.com
Genfare is the industry leader in fare collection solutions. We gain an understanding of each community we serve to design customized solutions comprised of innovative and cost-effective fare collection hardware, software, and services. We empower equitable mobility while simplifying and positively impacting the public transit rider experience.
CSched – www.csched.com
HASTUS by CSched and CSched**-Services** ensure we cover your short-term and long-term transit scheduling needs. With both solutions, the world-renowned HASTUS scheduling software is used for network data management, timetabling, blocking, runcutting and rostering. The international experience of our senior staff team represents fifty years of innovative solutions.