North Whitehall Township
Preserving Today to Prosper Tomorrow
Development is good. It's growth. It's progress. But sometimes, all that future casting needs to include holding on to what is. And for North Whitehall Township in eastern Pennsylvania, that holding on comes in the form of the Farmland and Open Space Preservation Project.
Located in the northwestern area of the Lehigh Valley, North Whitehall Township is busy preserving, protecting, and planning for the future. It's home to 16,000 residents and covers 28 square miles– much of which is farmland.
North Whitehall's roots are in farming. "At one time, we had maybe 50 farmers," recalls Dennis Klusaritz, Vice Chairman of the Board of Supervisors. "Now, we're down to about a dozen or so. Farmers are joining off. They are getting older and their kids do not want to farm anymore. So, they sell their property and then builders buy the property and start building."
Helping to preserve the farmlands has been important to Klusaritz. "I've been on this board for over four years. During my first year in office, I was instrumental in getting money for farmland preservation." The plan made it to the ballot and the people supported it. "Now," he says, "we're getting money to purchase farmland… we've purchased two farms in 2022, which is a good start for us. [I'm] so proud that we did that in my first term here." Those farms are now preserved, meaning there can be no more building on those properties. The township continues to query larger farms, in a continued preservation effort. In today's day and age of building and developing, this, obviously, is a rare – and special – undertaking. "We have five preserved farms in the township, totaling 434 acres," Township Manager Randy Cope adds.
One of those farms still going strong is Jaindl Farms, who produces upwards of 850,000 turkeys a year. "It's a big operation," Cope states. "They supply the annual turkey to the White House… there's a tremendous history for that family-run business." Klusaritz says that they are one of the biggest turkey farmers in the US and the biggest property owner in Lehigh County.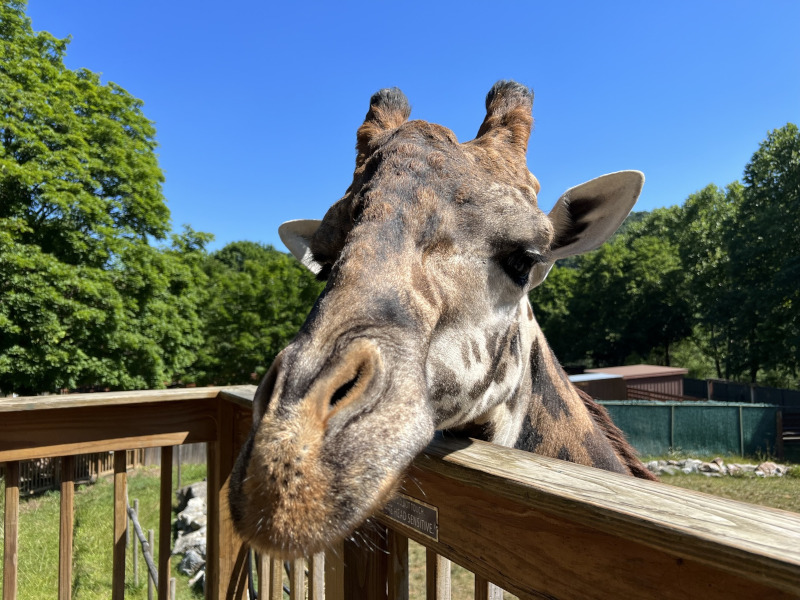 But this rural community has access to the bigger places, too. They are a second-ring suburb of Allentown, a city with 110,000 residents. They are close to I-78, a major artery to New York and New Jersey. And the Pennsylvania Turnpike is just five minutes out, offering quick access to both Harrisburg and Philadelphia. "I think that's some of the reasons people come to North Whitehall," Klusaritz believes. "People move to North Whitehall because we're rural and a majority of our lots that people build on are about one acre. Lots of people like that. They can have a little garden. The kids can play out back."
Cope agrees. "I've been a Valley resident my whole life, as well. What makes North Whitehall unique in my eyes is what makes the Lehigh Valley unique. It's the geographical location. It's very attractive for business. It's attractive for residents that want to live and stay here. The rural feel of the community. The big lots. I think those are all highly sought after."
For Kayla Mack, Special Project Coordinator & Planning Assistant, this has always been home. "I actually ventured out for college," she confesses, "but then decided to come back home because I loved the Lehigh Valley. [I loved] what it stood for and I think North Whitehall is a nice little pocket in the community. You get to travel to those main places like Bethlehem and Allentown, but you still get that small community feel."
"My background is in Parks and Rec," Mack continues. "So those are the things I look forward to. One major project we are currently implementing is our Parks, Recreation and Open Space Comprehensive Plan. We had a study committee and opportunities for public input to look at how we can improve the quality of life within our municipality over the next ten years. Some of the amenities we are looking to add are pickleball courts, an amphitheater, and a pump track. Enhancing our park system allows us to bring on community events and opportunities to integrate our local businesses.
Mack wants everyone in the township to be serviced equally. For example, she's also exploring not just one, but two splash pads– one for each side of the township. "Everyone gets that equal play."
"We want to lengthen the amount of time that our residents spend in our parks, rather than just coming to visit one playground," says Cope. "We want them to be able to walk on the trail, visit the splash park, and really lengthen their stay. When you speak about parks and rec, that's really the main goal: to keep people in the park systems. To create a healthy lifestyle. To improve their quality of life. To give them opportunities to better themselves both mentally and physically."
This area prides itself on its open spaces, for both preservation and recreational purposes. The Trexler Nature Preserve is a public park that covers just over 1,000 acres. It has 18 miles of trails, used for hiking, biking, skiing, and horseback riding. There's a pond to fish in. Bison and elk roam here, too. Ironton Rail-Trail offers nine miles of paved trails, connecting North Whitehall Township to Whitehall Township and the Borough of Coplay. It's used year-round and features 23 historical sites. In addition, the township is a partner in the Jordan Creek Greenway, a regional conservation initiative that connects several communities on its 14-mile, multi-use trail currently in planning and development phases.
This area is also home to Shankweiler's Drive-In Theater, the oldest Drive-In in the US, as well as the popular Lehigh Valley Zoo.
Another attractive component to the township are the schools. "Parkland School District is a very popular and well-respected school district here in the Lehigh Valley… if not the most highly sought after [district] for young families to move into the township. It encompasses three townships, with North Whitehall as one of them," Cope says. The district has the stats to back up that statement, too, with a 96% graduation rate. In addition, 79% of the 783 AP tests taken by students in 2021, received a 3 or higher (on a 5 point scale). These scores earn them college credit, with colleges typically accepting a 3, 4, or 5.
Founded in 1971, Lehigh Career & Technical Institute is Pennsylvania's largest career and technical center. They offer 45 skills-based programs for high school students in Lehigh County's nine public school districts.
Lehigh Valley Carbon Community College is home to 9,000 students and offers over 90 programs. "They're two great schools," Klusaritz says. "[They have] beautiful campuses."
Growth, though, can be a tricky beast sometimes. For example, the township is seeing a growth in warehousing and distribution. Cope attests to the fact that because of their location, close to the metropolitan areas, "it's a very attractive place for large business to come in." But those giant facilities require trucks. And more trucks means more traffic. "We're really concerned about trying to keep truck traffic off of our local roads," shares Cope. "It's something we are constantly aware of and frequently discussing on how to provide the best places for these types of development."
Planning takes on other forms, too. "There's a new trend called grid style solar coming into Pennsylvania, so we're preparing for that," says Cope. "We've attended some seminars to be able to update our zoning ordinance to prepare for these grid style solar fields, which are basically hundreds of acres of solar fields that come into a municipality to provide solar into the grid for power."
Cope seems to be just getting started in North Whitehall. "I have a whiteboard in my office with about a hundred priority tasks on there. I [want] to continue to build our foundation here at the township with our staff, improve our township facilities in terms of buildings and parks, and ramp up our preservation efforts… [We want to] create the place that our residents want to continue to stay. [We want to] create a good resident experience here at the township building as well as our parks."
"I was born and raised in the township," Klusaritz reflects. "I've lived here all my life… There is so much to do here in the Lehigh Valley… And you know what? It's a great place to live in."
Berger Sanitation, Inc. – www.bergersanitation.com
Berger Sanitation, Inc. provides residential, commercial and industrial waste removal services to customers in Eastern Pennsylvania. Founded in 1971 by Robert J. Berger, Jr., Berger Sanitation, Inc. continues to be family owned and operated with 4 Berger family members working for the company. For more information please visit our website!

Lehigh Valley Inspection Service – www.lvinspectionservice.com
For three decades, Lehigh Valley Inspection Service has provided municipalities, contractors and homeowners in Northeastern Pennsylvania with comprehensive code compliance services. To learn more, please visit: www.lvinspectionservice.com

Ironton Telephone Company – www.ironton.com
Ironton Internet & Telephone has been providing quality voice communications for residences and businesses since 1909. Our portfolio includes high-speed internet, fiber to the home, residential phone, and cloud-based business phone systems with Ironton Global. Backed by industry-leading technology, we provide dependable, affordable, and reliable services to the Lehigh Valley.