New Jersey Bankers Association
"Making Connections"
Business View Magazine interviews John E. McWeeney, Jr., President & Executive Director of NJ Bankers Association, for our focus on the New Jersey Banking Industry
For more than a century, the New Jersey Bankers Association, or NJBankers, has been a staunch advocate for the New Jersey banking industry. The original association was founded in 1903 by 53 commercial bankers, as a way to collectively address what founders considered to be "adverse legislation." Today, that mandate continues, as NJBankers' primary mission is to represent the interests of its members before state and federal government and regulatory authorities.
NJBankers membership consists of banking institutions of all banking charters that are headquartered or have branches in New Jersey. Other firms that provide goods and services to the banking community are also members at the associate level. NJBankers is governed by a 26-member board of directors and, with its affiliated company, Bankers Cooperative Group (BCG), is well staffed by 18 dedicated employees.
Business View spoke with John E. McWeeney, Jr., President and CEO of NJBankers, for insights into the industry and current topics of interest for the association membership.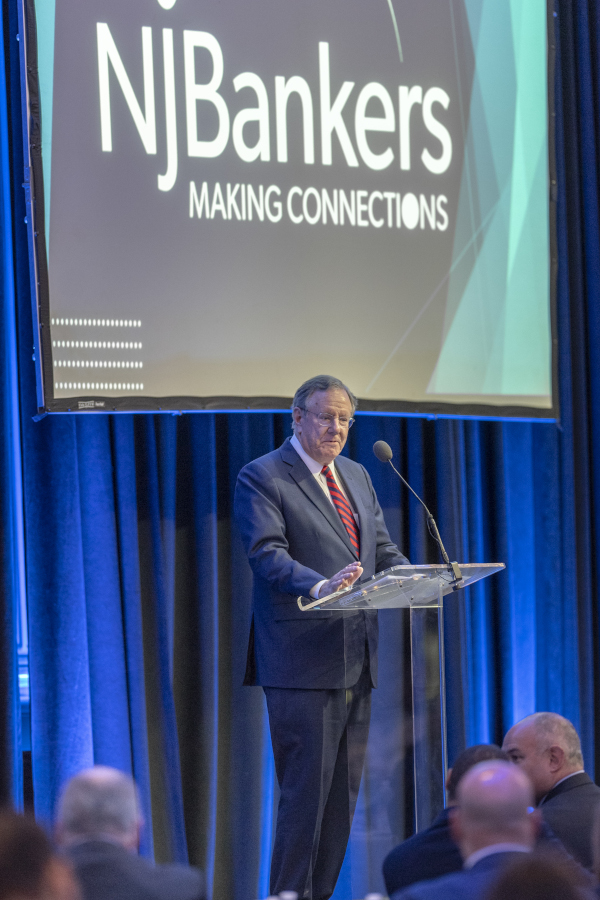 BVM: Can you give us an overview of NJBankers?
McWeeney: "We've been around for 117 years, and our membership base today is approximately 70 banks; from very large institutions, like Bank of America and JP Morgan Chase, down to institutions with only one or two branches. Some are focused almost exclusively on consumer customers, others on commercial customers. Many of them focus on both, as well as government entities and the like. And we have stockholder institutions, as well as mutual institutions that are owned by the depositors and not publicly traded. So, it's a very diverse membership base.
"In addition to our bank members, we have about 170 associate members that do business with banks. Companies such as auditing firms, security firms, recruiting firms, etc. They join the association as a cost-efficient way to interface with the banks. They are an important part of our association because they bring resources to help our members serve their customers."
BVM: What is the association's current mandate?
McWeeney: "Our primary mission is to represent the interests of our banks with legislators and regulators. First and foremost, in Trenton, our state capital. We want to make sure that when our legislature considers new legislation or changes to existing legislation that they understand how it may impact the banking industry and their ability to serve customers.
"We also work with the national trade associations – the American Bankers Association (ABA) and the Independent Community Bankers of America (ICBA) – on federal issues. We interact with our congressional delegation that represents New Jersey. We do a lot with the regulatory community, as well. So we have a lot of interaction with the FDIC, the OCC, the Fed, the CFPD, and the New Jersey Department of Banking and Insurance. Again, making sure that if our members have concerns or interests, that there's a good communication between members and the regulatory community."
BVM: What other membership benefits do you offer?
McWeeney: "We also provide education and professional development for our members. We have a robust schedule of conferences and webinars, etc. that are targeted toward different groups within the banks. This past year, we pivoted and just about everything was virtual. We're now going back to some in-person events, but we will retain some of the virtual events because they were successful. We have a leadership development program for emerging leaders, as well.
"We also have 25+ committees for different disciplines within banks. That includes human resources, chief financial officer, commercial lending, enterprise risk management, and many more. Those committees allow our members at the upper or middle management levels to network with their peers. They meet quarterly and we have speakers come in on relevant topics of interest, and each committee puts on their own annual seminar or one-day conference.
"Our affiliated company, Bankers Cooperative Group (BCG), is in the employee benefits brokerage business. So, BCG acts as a broker for over 50 members of NJBankers for the health insurance needs of those members. They can also get dental insurance, long-term care insurance – a wide variety of employee benefits. We're able to negotiate more favorable rates for these insurance policies than members could on their own and enhance the benefits they can offer their employees.
"Through our associate members, we take the relationship a step further, where we'll endorse the service of a particular member that we feel is exceptional in their field. We'll provide their services to association members, usually at a discounted rate. If the associate company is successful, they'll share that success with the association – that helps us generate revenues and also helps our members serve their customers."
BVM: How do you promote the New Jersey banking industry?
McWeeney: "We serve as the voice of the industry and represent the industry with the media and public relations, as we are with this article. We try to get our bankers involved whenever it's appropriate. Often, we'll respond to media inquiries – during the pandemic there were a lot of questions about whether the banks were open or closed, what was going on with the PPP program, things like that. So, we do our best to make sure the industry is represented well in the public arena, to tell the industry story.
"We're very much a member-driven organization. We're governed by bankers, so everything we do is with their best interests in mind, and we rely on them for their guidance and input. When we're lobbying regulatory or legislative issues, and developing our educational programs, they're telling us what's important to them. So, we take that very seriously. Our tagline is "Making Connections" and we really feel that we connect our members with all these other important constituencies, such as legislators, regulators, and the public at large."
BVM: What are some recent initiatives on your agenda?
McWeeney: "We're very focused on diversity, equity, and inclusion. Since the tragic killing of George Floyd, I think everybody has raised their profiled efforts in this space. We had started to do some DE&I things before that happened and we've really stepped it up. We've established a Diversity, Equity, and Inclusion Council, with about 20 banks represented by their employees, mostly people of color. We meet on a regular basis and have created a series of webinars that are free to our members. As part of our DE&I initiative, we've proactively reached out to the African-American Chamber of Commerce in New Jersey and encouraged our members to join and get involved with that organization to do things collaboratively. That will be a major initiative going forward.
"We're also dedicated to helping develop the next generation of banking leaders in New Jersey. We've had leadership training programs in place for five years and have probably put 80 bankers through in that time. One of our biggest challenges now is to help prepare our members for all the innovation and advances in technology, and competing with fintech firms. We're now working on helping our members to become better equipped to do that. So, there's a lot going on."
BVM: What were some ways the pandemic affected NJBankers and banking operations?
McWeeney: "We viewed our primary role in the early stages of the pandemic as just making sure our members were connected with all the important constituencies. One of the biggest initiatives being the PPP program. We positioned ourselves as the go-between to make sure our members were informed and to have people at the national, state and local level to disseminate the information. In the beginning we had a PPP conference call or webinar every week. One of the early calls had over 1000 people, which really reinforced the importance of what we were doing. It was a great opportunity to demonstrate the value of being a member of the association because these were all things that they could not have done on their own.
"Bankers were designated as essential workers in New Jersey during the pandemic. People were worried about their finances and paying their bills, so the banks were the front line responders in that regard. They made sure customers had access to their money through online and mobile banking, and through safe, socially-distanced, in-person appointments. The other interesting thing was that drive-ups became critically important as a distribution channel. They were closing PPP loans, having the customer come through the drive-up to sign the document. In New Jersey, alone, a total of 307,838 PPP loans were done – that's like 10 years of volume done in 5 or 6 months. Over $25.7 billion… It was incredible."
BVM: How do you see the industry evolving, going forward?
McWeeney: "The industry is going through consolidation, the number of banks nationally and locally is shrinking. Banks need scale to be effective in this day and age, to make the necessary investments in technology to compete with other banks and fintech firms. The financial services space is incredibly competitive. Having said that, I do think there is a niche for smaller community banks that have a good business plan to do quite well. All in all, the industry is very strong and has a positive outlook for the future."
AT A GLANCE
New Jersey Bankers Association (NJBankers)
What: A member-based organization representing the interests of New Jersey bankers
Where: Based in Cranford, New Jersey
Website: www.njbankers.com