Morehead City, North Carolina
eclectic, historic, and dynamic
With a roadmap to future growth, Morehead is providing the right path for its residents
Nestled on a picturesque peninsula, Morehead City, North Carolina, is a hidden gem boasting a rich history, a thriving local community, and unique geographic features. "We're unique in our geographics and demographics," states Mayor Jerry Jones.
Founded in the mid-1800s through the vision of then-Governor John Motley Morehead, the city has always been inextricably linked with water, with the eastern end of the city housing the Port of Morehead City, an International Seaport.
Today, Morehead City is a diverse and eclectic community, home to approximately 10,000 within its corporate limits and 28,000 in its unincorporated areas. Despite its relatively small size, the city boasts amenities and businesses typically found in larger urban centers, reflecting its vibrant and innovative spirit.
As Morehead City emerges from the shadow of the COVID-19 pandemic, Jones envisions a bright future for the coastal town. With 24 years of experience as mayor, he remains committed to forward-thinking and responsible growth. "We've got to continue to move forward," he asserts, acknowledging the need for long-term planning in government.
One of the critical strategies in Mayor Jones' vision for Morehead City is fostering public-private partnerships, particularly at the individual level. He explains how the city has worked to make it appealing for residents to annex voluntarily, allowing them to take advantage of the services and amenities offered. "We're partnering with them to make it appealing to come into Morehead City," he says.
The Mayor's vision for Morehead City goes beyond economic growth and infrastructure; it encompasses its residents' quality of life and sense of community. "Morehead City is a great place to live, work, raise your family, go to school, and retire," he proudly states. Mayor Jones is determined to maintain this appeal while nurturing the growth of services, businesses, and amenities that cater to the individual needs of families and the community.
City Manager Chris Turner outlines several key initiatives currently in the pipeline to attract new businesses to Morehead City while supporting existing ones as they recover from the impact of COVID-19. Turner emphasizes the importance of infrastructure in attracting new companies and enabling existing ones to thrive.
One such initiative is expanding the fiber network in Morehead City and the surrounding Carteret County community. This market-driven development provides crucial high-speed connectivity for corporate and regional headquarters, insurance underwriters, and other commercial businesses.  Either remove "the" before surrounding or add "community" after Carteret County
Another significant infrastructure project is the I-42 highway, a federally designated national highway system, which aims to provide a fast route between the state capital and Morehead City without any stop lights. Turner believes this new highway will drive commercial and residential traffic and boost the tourism industry.
In addition to these large-scale projects, Morehead City is also focused on fostering public-private partnerships and offering a world-class planning and development system. This approach ensures that new and existing businesses can access the necessary resources, including zoning, infrastructure, and utilities.
Turner says Morehead City is "ready and willing" to accommodate businesses in this new environment.
One industry that has found success in Morehead City is insurance underwriting. Several insurance underwriting associations and groups, including Burns and Wilcox, AmRisc, and Southern Insurance, have established their regional headquarters in the city.
Turner attributes this success to Morehead City's high quality of life, high average median income, and robust network infrastructure.
Despite such an appealing narrative, Turner acknowledges Morehead City's challenges in residential development, particularly given the city's tourism-driven economy. Morehead City currently has 5,296 housing units, with half being renter-occupied and the other half owner-occupied, as well as 737 seasonal housing units.
As the city reaches its housing capacity, especially for its service industry workers, it is looking for unique ways to increase housing availability.
One such project is Elijah's Landing, a grant-focused housing initiative involving public-private partnerships between the city and private entities.
Turner explains that this project aims to provide attainable housing for those working in the tourism development industry and for individuals who wish to live in Morehead City without purchasing a home.
These housing initiatives often involve grant funding. Elijah's Landing is just one example of the many projects being pursued to address the need for attainable housing in the city.
The emphasis on attainable housing is crucial to support Morehead City's diverse population, particularly those in the service industry or tourism-related sectors. As the city continues to grow and evolve, Turner and other city officials are committed to finding innovative solutions to ensure residents can access affordable, quality housing options.
Morehead City's development efforts are not limited to the commercial and residential sectors. The city is also seeking to make the most of its unique status as the home to the largest concentration of marine scientists in the US.
Turner explains, "Morehead City is the home of the North Carolina Center for Marine Science, Pivers Island, and the NOAA Beaufort Laboratory at Pivers Island. We house almost 90% of the marine scientists in the US."
In addition to its economic aspirations, Morehead City places immense importance on providing attractive outdoor spaces for residents and visitors.
Mayor Jones proudly says, "When I was first elected mayor in 1999, we had three and a half acres of public parks and recreation space. We have 30-plus acres of it now." The city has developed numerous facilities to cater to diverse recreational needs, including boat ramps, tennis courts, splash pads for children, pickleball courts, and soccer fields.
Moreover, Morehead City is home to the Morehead City Marlins, a collegiate baseball team that has seen dozens of players drafted into the big leagues over the past ten years.
One particularly popular recreational spot is Shevan's Park, which boasts tennis courts, picnic tables, a splash pad, and a playground. The park has become a significant attraction for people coming to Morehead City.
Alongside commercial developments, Morehead City is actively working on projects to protect and preserve its environment, including the Sugarloaf Island stabilization effort.
Turner shares details about the project, saying, "We're working with the state of North Carolina and the federal government to shore up Sugarloaf Island, which is the barrier island that protects the Morehead City waterfront." The initiative involves local, state, and federal agencies collaborating to find aesthetic and nautical wave attenuation methodologies which will help protect the island and the waterfront.
The Sugarloaf Island stabilization project is a testament to Morehead City's commitment to preserving its natural environment, ensuring a sustainable future for its working waterfront, and enhancing the quality of life for residents and visitors alike.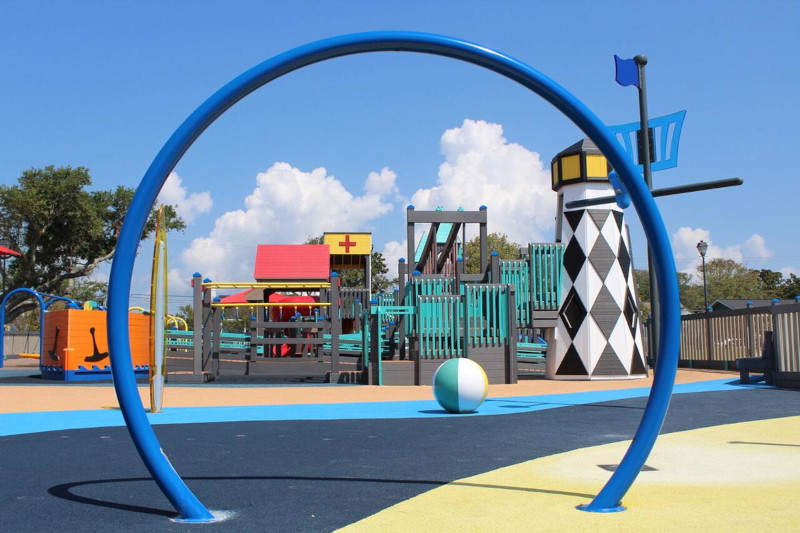 Regarding infrastructure expansion, the City recently purchased land for a new fire station. Turner shares, "We're moving forward with the scoping of Fire Station 3, which will service the western end of our district, a heavy commerce section."
The new station will be located along US Highway 70, soon to be re-designated as I-42. Turner also clarifies that the city's fire service has fire and EMS components that the town owns and operates without relying on volunteer services.
These developments demonstrate Morehead City's pledge to invest in essential infrastructure, public safety, and its continued growth. With a focus on business incentives and public services, the City is positioning itself for a vibrant and prosperous future.
Another major attraction in Morehead City is its annual events that attract thousands of visitors , and puts the City on the map. Turner singles out the Big Rock Blue Marlin Tournament, to be held from June 9-18, 2023, 2023, describing it as "the Super Bowl of fishing."
The tournament, boasting a purse of $5.8 million, is the largest and oldest Blue Marlin event in the world, attracting participants like Michael Jordan and Curtis Strange.
Another significant event in Morehead City is the North Carolina Seafood Festival, from October 6th through the 8th, 2023. Turner explains the festival as "our state fair of the East," featuring regional seafood chefs, musical performances, and fair rides. This famous festival, which has been ongoing since 1987, draws more than 100,000 people to the downtown waterfront of Morehead City.
Morehead City is also renowned for its world-class scuba diving opportunities. Turner states, "We are ranked number one in the world for best recreational scuba diving." The area, known as the "graveyard of the Atlantic," attracts divers from around the globe.
Mayor Jones quickly clarifies the name, explaining that it refers to the many shipwrecks off the coast due to the unique geographical layout explaining in the early years of maritime commerce before modern navigation equipment, numerous ships sank in waters offshore our coastline due to the shifting sandbars / shoals and inlets. The area's clear waters, abundant marine life, and historical shipwrecks make it a sought-after destination for scuba diving enthusiasts. And for our beach enthusiasts, Morehead City is located on the "Crystal Coast" which is known for our sandy beaches and pristine waters.
In addition, he mentions the importance of the North Carolina Seafood Festival's closing ceremony, known as the "blessing of the fleet." He describes it as "a solemn event" that honors past, present, and future watermen and their contributions to coastal North Carolina and Morehead City's economy and way of life.
As 2023 reaches the midway point, Mayor Jones emphasized that Morehead City is open for business, stating, " We will bend over backward to help you if you want to relocate to Morehead City."
He also mentions the unique relationship between the City and its businesses, supported by local communities and national chains, and the City's role in providing services and amenities for its beachfront neighbors.
"On any given day, we have 150,000 people moving through Morehead City," he says. "We don't just service 10,000 people; we service everybody in the county."
Over the coming years, the mayor sees Morehead City as a thriving, dynamic town open to the rest of the world and the state, providing opportunities for growth and prosperity for its residents and businesses alike.
AT A GLANCE
Morehead City, North Carolina
What: a historical and dynamic city with growth and economic projects on the horizon
Where: Carteret County, North Carolina
Website: https://moreheadcitync.org/
Crystal Coast Tourism Development Authority – www.crystalcoastnc.org
As the largest of the Crystal Coast's 11 distinct communities, Morehead City is home to an endless array of experiences for visitors of all kinds. Outdoors lovers will find activities ranging from relaxing to thrilling, with fishing excursions, horseback riding, kayaking, hiking, SCUBA diving, and more to fill their days. Dozens of restaurants, with cuisine ranging from Mexican to BBQ to pizza and everything in between, will satisfy foodies of all kinds…even the kids. Plus, fresh- caught seafood is never far away. Exciting events are happening all year-round in Morehead City, and we're even host to the largest three-day festival in the state (North Carolina Seafood Festival) and one of the oldest and largest fishing tournaments in the country (Big Rock Blue Marlin Tournament). Beautiful views of the water are everywhere you turn, and welcoming locals are always there with a warm smile and a recommendation for something fun to see or do. Add in challenging golf, a cool arcade, vibrant art, and tons of shopping, and you'll find there's a whole lot of amazing to experience here in Morehead City, NC.