Middletown, Connecticut
"It's all here"
Business View Magazine interviews representatives of Middletown, Connecticut for our focus on Economic Development in U.S. Towns & Cities
The historic community of Middletown, Connecticut is ideally situated along the Connecticut River and is the only city within Middlesex County. It's also the southernmost city in the Hartford-Springfield Knowledge Corridor Metropolitan Statistical Area (MSA) – New England's second largest metropolitan region. Middletown's rich past can be traced as far back as 1650, when the settlement first began to build its reputation as a busy sailing port before transitioning into an industrial center. Today, the city is mainly residential with a vibrant downtown housing Wesleyan University. It's a community full of diversity – from its population and geography to its culture and economics. A special place that befits its tagline: 'City of Middletown…it's all here.'
"The way I describe it," explains Mayor Ben Florsheim, "is Middletown is a place made up of many things but isn't defined by any one of them. It can feel like a college town, but it's not just a college town. Our downtown feels like a destination area, but it's more than that. We have a densely populated downtown neighborhood, but also huge rural sections." He maintains there are similar Connecticut towns in size and even demographics, but none have Middletown's same unique myriad of qualities.
Jen Alexander, Chair of the Downtown Business District, agrees, believing a distinguishing factor is the community's sheer diversity, especially when it comes to its residents. She shares, "Not everybody here is rich and white. It's one thing to run a successful New England town when it's a monoculture; but it's altogether different to have an engaged community when citizens come from different walks of life, economically, racially, and culturally. That's what's so exciting about Middletown, because we're making a go of it but avoiding being gentrified or elitist."
The county perspective aligns with this view. Larry McHugh, President of Middlesex County Chamber of Commerce, regards Middletown as the county's "hub" and a very inclusive, blue-collar community. He emphasizes, "Working together, even at the county level, we made this a good area. The Middlesex County Chamber of Commerce, the Middlesex County Revitalization Commission (MCRC), and numerous other commissions all collaborate. Wesleyan University is also a vital component that makes Middletown a distinctive community. Not to mention our downtown, and proximity to the Connecticut River." There are also outlying areas along Interstate 91. This essential roadway goes from New Haven, Connecticut to Springhead, Massachusetts, and it's along this stretch that the city's manufacturers are located. Pratt & Whitney, the American aerospace company, has a sizable branch there that employs over 3,000 workers. It's a active section of the city, but the busiest area by far is the downtown business district (DBD).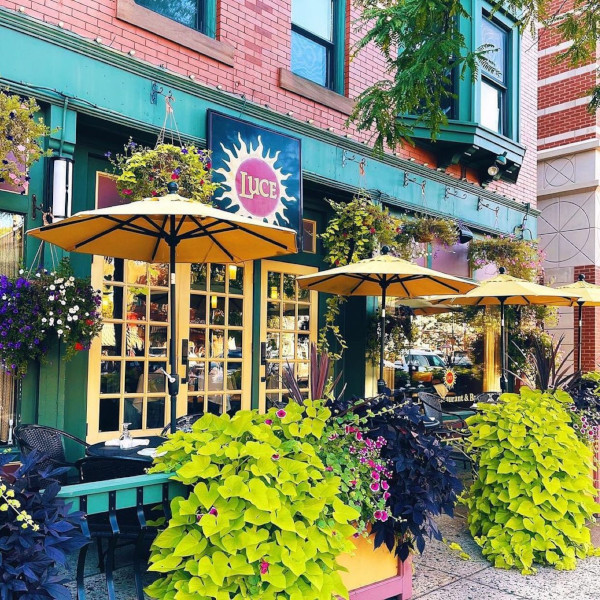 This section comprises seven blocks and has approximately 200 different businesses, including about 40 restaurants. The State of Connecticut also offers Special Districts (SSDs), special taxing, in this area.  "We're seeing a lot of entrepreneurial energy right now," reports Alexander. "Businesses have a life cycle and since we've been here a long time, that lifecycle for us means the next generation steps up. The business doesn't just close. We have family-owned businesses on Main Street that have been here for almost 100 years. They're in the second or third generation now, like Amato's Toy and Hobby of Middletown, Malloves Jewelers, and O'Rourke's Diner."
Sometimes it's not even relatives taking over, but "adopted" family members. For example, Eli Cannons Tap Room, which has been purchased by Rocco and Aubrey Lamonia, the former General Manager and Bartender, respectively. Alexander adds, "These institutions are getting a new life; people who've worked there for a decade stepping into ownership roles. It's unusual that our downtown is so robust and independent, but with so few chains. We're figuring out how to grow past the first business cycle."
Apart from its many businesses, Middletown's downtown Main Street is surrounded by historic neighborhoods. The university is two blocks up the hill and there is subsidized housing for residents of all income levels. Some of the downtown shops, such as the bike store, Pedal Power, have even bought the historic buildings they're in and developed apartments on the second floor, renting them out. Mayor Florsheim wants to avoid any housing strategy that "prices out residents." Attracting new people is important but meeting the needs of existing citizens is essential. He acknowledges, "Since the pandemic, the demand for single family homes has shot back up because it's a very hot real estate market. There's also a sharp increase for apartments and rental housing. The other day I was on a tour with a local entrepreneur. He bought the former Middletown Roller Skating Rink behind Main Street and he's renovating it into a community space and a business incubator with workforce housing. He'll be creating apartments in there, but in a mindful way that matches our community values."
Apartment developments are already being built, with more on the horizon once the Middletown Riverfront Redevelopment is underway. Mayor Florsheim and McHugh are working hard to make this this project a reality, intending to reopen the waterfront. Middletown was founded there and settled as a port city. The indigenous people settled at the bank of the river, calling the area 'Mattabeseck,' meaning, 'people at the bend of the river'. In those days, it was the state's wealthiest town, profiting from port-driven economics. The Mayor recounts, "Over time, the economy depended less on the port and Middletown cut itself off from the Connecticut River. What started as a local road became Interstate 91 and a water treatment plant was built on the riverbank. These physical obstacles weren't created to keep people away; I think there wasn't a perceived need for the river anymore if it wasn't going to be a port. But we're at a turning point right now as we figure out what will be next. The riverfront project is part of all that."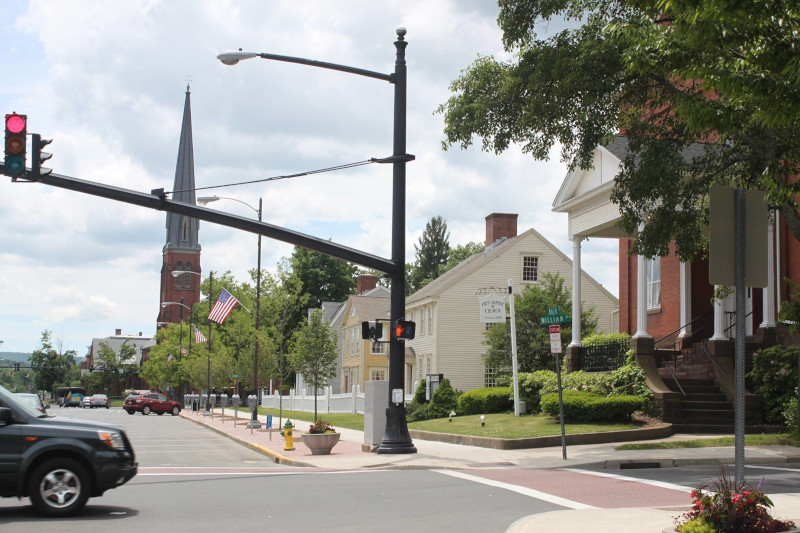 There has always been a community desire to reconnect to the river. Mayor Florsheim reminisces about coming to Middletown as a Wesleyan student in 2010 and not realizing there was a waterfront. Over the decades various plans and visions have been proposed, but ultimately shelved or reimagined. Although Interstate 91 cannot be moved, the water treatment plant was recently decommissioned. "We're moving in a positive direction," says McHugh. "We had the 21st Century Infrastructure Development Bond passed at $55 million. It's going to give us some great opportunities moving forward."
Recently, the New York City firm Cooper Robertson has been brought on to lead the master planning process. The company will develop a plan for what each parcel of land will look like. "One of our first keystone projects for the riverfront will happen over the next 18 months," shares Mayor Florsheim. "There's a restaurant, right on the riverbank at Harbor Park. It used to be the Mattabesett Canoe Club, but it's being renovated and getting an exciting new tenant. Over the next decade, the Connecticut Riverfront is going to transform and become something new. We're at the end of the middle, which is an exciting place to be."
It's not just Middletown's Riverfront Redevelopment project that is garnering state-wide attention, but also the city's reputation as a center for healthcare. Main Street is home to both Middlesex Health Care Center, affiliated with The Mayo Clinic, and the Community Health Center, Inc. McHugh describes the latter as, "not only a leader in Connecticut, but also in the country. It provides health care to people who really need it. It has several buildings in the north end of town, and during COVID, it led our state in both testing and vaccines. It also employs lots of people who will hopefully move into the apartments we're developing. Where else would they want to go? Middletown does have it all: healthcare, the university, aerospace, manufacturing, retail… The residents are committed to making it a great place to live."
When it comes to record keeping and data solutions, Middletown partnered with Grotabyte to archive their email communication for the purpose of eDiscovery. Grotabyte's software uses include: Recovering mailboxes when the email server goes down; Freedom of information act (FOIA) requests; Searches for Internal and external investigations; End-users having access to search their archive emails.
Looking ahead to the future, Mayor Florsheim believes Middletown's next chapter will be participatory. He notes, "It'll involve the whole community – from the young and old to newcomers and long-time residents. I wouldn't be working on the riverfront project if it weren't for the wisdom of my predecessors. Hopefully we're laying the groundwork for future generations." Alexander agrees, adding how Middletown's diversity cannot be overlooked. "Just in this conversation, you have the President of Middlesex County Chamber of Commerce, 20-something Mayor Florsheim, and myself, a 50-something mother and downtown business owner. That diversity and collaboration is in our community DNA. I talk to people all over the U.S. and many say, "I love Middletown. How do you do it? Our city can't get this or that done." Like the saying goes, 'to grow a walnut tree, you need smart grandfathers.' Well, we had smart grandfathers. We're successful because we have a history of trying things, figuring them out, and changing. The heart of it is working together."
AT A GLANCE
Middletown, Connecticut
What: A vibrant city with a business-centric downtown; population 48,000
Where: Middlesex County, Connecticut
Website: www.middletownct.gov
Liberty Bank – www.liberty-bank.com
Since our founding in Middletown nearly 200 years ago, we have stood firmly behind our mission to improve the lives of our customers, teammates and communities for generations to come.
We are Connecticut's oldest bank and one of the largest mutual banks in the country. We are owned by our customers, not shareholders. And as our communities' needs evolved since 1825, we have evolved along with them.
Liberty is a leading financial partner with the size and scale to meet all of your banking needs. We are an employer of choice with hundreds of bankers working in Middlesex County and across the state. Liberty is also a community kind bank – dedicating more than $1.5 million annually to local organizations and countless hours of volunteerism.
While this has earned us coveted accolades like being named a 2021 Best-in-State Bank by Forbes and a 'Top Workplace' every year since 2012, what's most important for our customers, teammates and communities is that Liberty remains in a position of financial strength, talent and opportunity and focused on building the Community Bank of the future right here in Middletown, Connecticut.
For more information on Liberty Bank, please visit our website at www.liberty-bank.com.  #BeCommunityKind
Middlesex Health – MiddlesexHealth.org
Located minutes from downtown, Middlesex Community College is an excellent and affordable place to boost earning power or transfer to a four-year institution. Choose from over 70 programs in business, health, education, manufacturing, new media, and more. With flexible scheduling, students can explore new careers while adapting to changing lifestyles.
Murphy Road Recycling  – 15 Mullen Road, Enfield CT 06082
Murphy Road Recycling's All American MRF in Berlin, Connecticut will usher in a new era for Connecticut recycling and will be flexible enough to adjust to changing consumer habits and future recycling market conditions, further solidifying Connecticut's position as a top 10 state in recycling for years to come.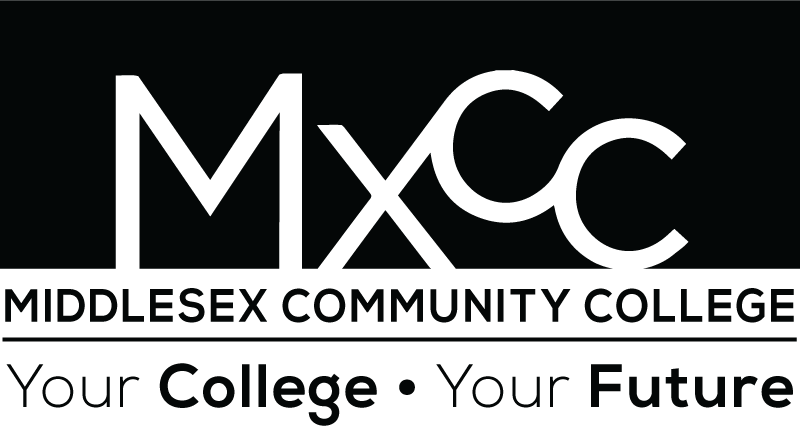 Middlesex Community College – www.mxcc.edu
Located minutes from downtown, Middlesex Community College is an excellent and affordable place to boost earning power or transfer to a four-year institution. Choose from over 70 programs in business, health, education, manufacturing, new media, and more. With flexible scheduling, students can explore new careers while adapting to changing lifestyles.