Middleton, Wisconsin
A jewel of balanced urban living in the heart of Wisconsin
Working collaboratively to meet urban growth, Middleton, WI provides the framework
Directly to the west of the state capital, Madison, Middleton stands tall as a beacon of balanced urban living. It's a place where the bustling heart of the city seamlessly melds with the serene beauty of nature. Middleton isn't just a city by the majestic Lake Mendota; it's an experience waiting to be embraced by its residents and visitors alike.
"Every community speaks of being a great place to live, work, and play. But in Middleton's case, it's more than just a tagline. It's a reality we live every day," says Bryan Gadow, City Administrator. He speaks of Middleton's geographical blessing, with Lake Mendota's shimmering expanse forming its eastern border. A monumental asset, this lake, in many ways, defines Middleton's identity. "It's something our residents and businesses embrace, and we are entrusted with its stewardship," he adds.
Middleton wears its distinct flavor with pride. It isn't merely a shadow of the larger city of Madison or any of its neighboring suburbs. It's a vibrant urban ring community that has masterfully struck a balance. Downtown Middleton bustles with energy and vibrancy, while just a short distance away, one can find tranquility in varying residential settings – from multifamily units to serene single-family homes.
It's no coincidence that such a design-led Middleton was honored by Money magazine and CNN, from 2005 to 2013, as one of America's best places to live. "Our community layout, the growth areas we've chosen, and our downtown feel – all of these factors make Middleton unique. Many cities lack that central hub, a pulsating heart, but we have it here," Gadow proudly notes.
The city's unwavering commitment to sustainability further solidifies its distinguished status. A frontrunner in Dane County, and by some measures, nationally, Middleton is making strides in ensuring its decisions ensure long-term viability. Whether it's sourcing energy or managing stormwater, the city's vision is long-term, with generations to come in mind. Gadow underscores, "Our approach to sustainability, our dedication to ensuring Middleton thrives for the future generations – that's what truly sets us apart."
Middleton's Resilience: A Business Community Rising to the Challenge
"Middleton may be small in population, but in terms of business, we are a powerhouse," beams Kate Miller, Executive Director of the Middleton Chamber of Commerce. Middleton's vast business density isn't just a result of favorable geography or planned urban design. It's also a symptom of the camaraderie and resilience of the community, particularly during challenging times.
Miller, who took the helm of the Chamber just before the world changed dramatically with the pandemic, saw firsthand the immediate impact on the business community. She recalls, "Our downtown thrives and we have Stone Horse Green – a testament to our residents, the business community, and the city all uniting. Beyond that, there's a large shopping district. A key to Middleton's appeal has been creating unique districts to draw businesses."
As the pandemic unfolded, Miller's vision for the Chamber was unambiguous: "This is where the rubber meets the road. This is when our business community needs us."
While many entities took a step back, Middleton's business leaders leaned in, recognizing that these unforeseen challenges required agility and decisive action. Miller elaborates, "There was a deluge of resources, guidelines, and changing circumstances. We positioned ourselves as the hub, ensuring businesses were aware of what was available to them. The approach wasn't generic. It was tailored – recognizing the distinct needs of the 'mom and pop' shops versus larger corporations."
The Chamber's proactive approach extended beyond emails and webinars. In a time when personal touch mattered the most, they picked up the phone, reaching out, and ensuring every business member felt seen and heard. "Our hearts bled for these businesses. Many just needed a moment to voice their fears. We were there to listen to their fears and concerns and find resources to help alleviate some of them,"says Miller.
Strategically Leveraging Tax Increment Financing: Middleton's Economic Powerplay
At a time when many municipalities are grappling with limited tools for economic development, the city of Middleton, Wisconsin stands as an exemplar in capitalizing on tax increment financing (TIF) for community enrichment.
"Unlike many other states, Wisconsin doesn't have a diverse toolkit for spurring economic growth. We largely rely on TIF," Gadow observes.
Gadow elaborates, "Middleton has been extraordinarily successful with TIF. We currently operate two active TIF districts. The first, initiated in 1993, stands as one of the state's most successful, with an initial $65 million investment. It's now generated over $624 million in new value." This initial TIF district wasn't just about numbers; it's been instrumental in revitalizing Middleton's heart – the downtown area. "It facilitated significant redevelopment over the past decades," Gadow adds.
Notably, Stone Horse Green Park, a focal point in the city's downtown redevelopment, was financed partly through this TIF. "It's not just about the city's contribution," says Gadow. "The establishment of Stone Horse Green was a testament to the spirit of collaboration in Middleton. Private donations combined with public funds turned it into a cherished community green space."
Stone Horse Green, the only greenspace in the bustling downtown, offers a gathering space to bring people together to strengthen the bonds between all of Middleton's neighbors. Honoring the first livery stable and notable city landmark, this central location has had significance as a gathering place since 1876.
Middleton's approach with TIF hasn't been one-dimensional. Beyond the bustling downtown is another TIF district, honing in on housing redevelopment. "It encompasses everything from high-end luxury multifamily units to affordable workforce housing. It's about providing a diverse housing ecosystem," states Gadow.
Middleton's Blueprint: Pioneering Modern Development
Gadow is particularly astute about the commercial landscape of Middleton. Addressing the available commercial spaces, he commented, "It's very much in flux regarding office space. There's not as much demand for office space as there was a couple of years ago. Our industrial park is near a buildout, but there's an opportunity for redevelopment." Gadow paints a picture of dynamic growth, fueled by companies both young and established seeking new operational spaces.
He suggests that Middleton could become a hub for bioscience, given its proximity to Madison. "Once you get a couple of firms deciding to locate in an area, it breeds a virtuous cycle of businesses wanting to come and locate in that same area," Gadow said. This sentiment radiates the aura of potential and opportunity, situating Middleton at the precipice of commercial advancement.
Discussing the demand for diverse residential options, Gadow elaborated, "There is a demand for more dense urban multifamily style housing. The rent varies depending on the developer and the location. What we're seeing now is a demand for high-end luxury apartments."
However, acknowledging the spectrum of housing needs, he added, "There's a demand for more workforce, affordable housing. Housing that meets the requirements of people who work in the community in various sectors."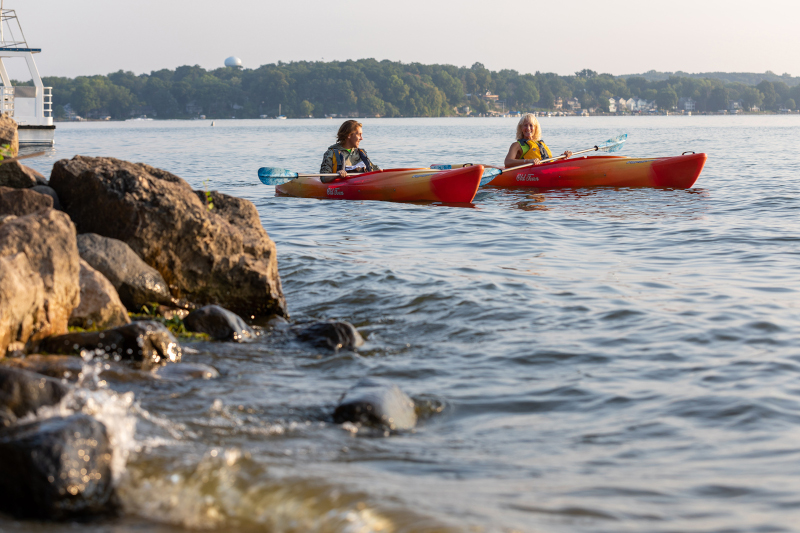 Reimagining Downtown Middleton: A Tourist's Playground
Mayor Emily Kuhn's passion for Middleton's downtown and its prospects is palpable. " Our downtown brings our community together with a walkable and bike-friendly city-center that has the perfect mix of shopping, restaurants, and sightseeing options for everyone.
With an inviting array of activities to offer, the town aims to entice visitors to a myriad of events. Mayor Kuhn stated, "Events, conferences, or a day trip to enjoy our historic Pheasant Branch Conservancy, neighbors, guests, and visitors alike should stay local and enjoy all we have to offer."
Indeed, Middleton's calendar is brimming with festivities: from the quirky charm of the National Mustard Museum celebrations to the lively pulse of musical events at downtown Stone Horse Green.
Middleton's allure extends beyond its bustling downtown. Mayor Kuhn eagerly detailed initiatives to expand tourist attractions, placing a keen emphasis on the town's lakefront.
"One of the things we're doing is making sure our boat launch is kayak, paddle-friendly," she described. This initiative encourages tourists to explore the area, combining the charm of downtown with the serene beauty of the lakefront. "We're also trying to create energy between the park systems and the conservancy to be able to walk all downtown," Mayor Kuhn added. This holistic vision ensures that visitors immerse themselves in a diverse array of experiences, from waterside activities to shopping and dining at local businesses.
Art and culture also emerge as key focus areas, as illustrated by the Mayor's reminiscence of the recent 'art hop' event. "We're doing some more music arts and we're trying to highlight that it is not just a downtown," Mayor Kuhn pointed out, emphasizing the town's broader cultural canvas.
Economic Resilience Through Innovative Collaboration
In recalling the trials of the pandemic, Kevin Mahaney, President of Middleton Area Development Corporation, mused on the intricate relationship between the city and its businesses. "It was a very unique situation," he recalled, "with the city hearing the concerns of the local business people and us being in a position to try to help or respond." At a time when traditional avenues seemed exhausted, and the political appetite for further funding waned in Washington, Middleton embarked on a journey of innovative financial support.
What emerged was the Middleton Economic Relief loan program—a collaborative brainchild that saw an initial seed fund of $100,000 from the city matched by the Middleton Area Development Corporation (MADC).
Yet, even as this initiative took shape, there was an immediate realization of its potential impact. Mahaney reminisced about his discussion with Mike Davis, the former city administrator, saying, "I think the demand is going to outstrip the available funds." True to form, the collaboration deepened, culminating in a $600,000 fund to support businesses.
The results speak for themselves. "We disbursed $595,000 of the $600,000," Mahaney pointed out with pride, "and to date, we have not had any losses." The program's success, however, was not merely a result of its financial structure. The chamber, as Mahaney enthusiastically indicated, played a pivotal role. "They have built out the infrastructure into the business community," he praised, emphasizing the symbiotic relationship between the city, the chamber, and MADC.
Considering the future, Middleton's vision is as green as its parks. Gadow explains, "We're committing to sustainability. Given our proximity to the University of Wisconsin, Madison, and its burgeoning sustainable energy and renewable tech companies, there's a ripe opportunity." He anticipates that as these enterprises grow, they might look at Middleton as an ideal location, especially given its robust biotechnology clusters.
For Mayor Kuhn, the seamless integration of resources, funding, and community outreach, coupled with the unwavering support of the council, was the real victory. "It was a machine. It was running and it went perfectly," she beamed, expressing gratitude for the shared vision and collaboration at the heart of Middleton's success.
AT A GLANCE
Middleton Wisconsin
What: An in-depth discussion on Middleton's collaborative efforts to rejuvenate its local economy amidst challenges.
Where: Middleton, USA
Website: www.cityofmiddleton.us