Manitowoc, Wisconsin
The positive power of reinvention
Business View Magazine interviews representatives of Manitowoc, Wisconsin for our focus on Economic & Community Development in U.S. Cities
The charming, historic city of Manitowoc sits on Lake Michigan at the mouth of the Manitowoc River – its name derived from the Ojibwe language, meaning "dwelling of the great spirit." The region's history dates back centuries with French fur traders being the first newcomers to arrive in 1673. The Northwest Fur Company even established a trading post a century later. During the Treaty of the Cedars in 1836, the Menominee ceded the land to the United States and within two years Manitowoc County separated from Brown County.
Today, Manitowoc is the county seat for Manitowoc County and is considered Wisconsin's 'Maritime Capital'. The city has a rich shipbuilding history, beginning with the Burger Boat Company constructing the first schooner in 1847. During World War II, the Manitowoc Shipbuilding Company produced 28 submarines for the U.S. Navy. This history is now proudly displayed at the Wisconsin Maritime Museum, located along Manitowoc's scenic lakefront.
"Manitowoc is the quintessential Midwestern city," boasts Mayor Justin Nickels. "We're beautifully located with a small town feel and big town amenities. Our downtown is thriving with museums, art, and culture. We're on Interstate 43, which connects us to the cities of Green Bay and Milwaukee, and even Chicago, Illinois. We also have rail service, the Manitowoc County Airport, and The Manitowoc Harbor – a federally authorized port."
Adam Tegen, Director of Community Development, is a relative newcomer who was enamoured by Manitowoc's downtown. He shares, "For a town our size, it's a bigger downtown. It was probably originally overbuilt, which is great because that leaves a large selection of historic buildings that are being reinvigorated. We also have the lake in our backyard. People who don't live nearby don't understand how impressive it is. We have a good selection of neighborhoods too; like the historic ones near downtown, which are wonderful if you'd like an old, Victorian-era home. But we have our newer subdivisions as well. It's an affordable cost of living; million-dollar views for substantially less."
Repurposing many of Manitowoc's stunning historic buildings has been a priority. Until a few years ago, many have either been vacant or underutilized but now are being transformed into mixed-use spaces. "The Historic Schuette Building was once The Schuette Brothers Department Store," Tegen explains. "There are now multiple commercial spaces on the lower level with apartments on the upper levels." Another developer has renovated a whole "conglomeration of older industrial buildings," with commercial businesses downstairs and condos upstairs. Until recently, there weren't any condos downtown, but that's changing. "We just broke ground on our new 87-unit apartment complex, The River North Apartments," Tegen adds. "That's in our River Point District, overall a mixed-use area. We're also trying to pull together a new housing project near downtown. That one would be 80 units and a senior housing reuse of a former tinsel factory. A very cool adaptive reuse if we can get the capital."
Manitowoc has invested heavily in downtown since many of the housing developments are near that area. The River Point District, adjacent to the city's center, has had new infrastructure installed beginning this year with phase one almost complete. It's a very substantial investment; new sewer, water, streets, parks, and a river wall. With more residents moving into the downtown core, Mayor Nickels maintains the area must be "very walkable." Currently, there is The Mariners Trail Bike and Foot Path, which is a seven-mile trail that runs along Lake Michigan connecting Manitowoc with the City of Two Rivers. "You can stay overnight at a hotel downtown and walk to restaurants or bars," says Nickels. "We're working on more ways to make it even safer, like adding bike lanes. We've added some, and overall, we're pretty pedestrian friendly."
Manitowoc's downtown houses many local businesses but manufacturing is still the area's bread and butter. Major companies include Lakeside Foods, Inc., Alliance Laundry System, and Manitowoc Tool & Manufacturing, LLC. "A new one, AMMO, Inc., from Arizona is going to be a large employer," Mayor Nickels reports. "And we have a slew of manufacturing facilities around the city. We also have a lot of plastics companies like Kaysun Corporation and Redline Plastics."
Healthcare is starting to gain a foothold with several facilities opening, such as Aurora Medical Center and Holy Family Memorial (HFM). A group of Orthopedic Doctors are even building a new 50,000-square foot facility on the lake front. Banking is another major employer, with Bank First and Investors Community Bank, both multibillion dollar institutions, headquartered in Manitowoc. Nickels notes, "We've grown more diverse over the years, because 100 years ago it was solely manufacturing. The good thing is when the economy isn't good, we're all right. We never see the swings, which is great, but it's because we don't have that diverse workforce. I'd like to add more white-collar jobs to our portfolio."
Nickels and Tegen hope that grants will help draw more diverse businesses and jobs to the area. A new state funded option is The Main Street Bounceback Grants program, offering $10,000 to new businesses moving into vacant storefronts. Manitowoc also offers several small business incentives including Revolving Loan Funds (RLF), as well as the Downtown Façade Grant program for improving building exteriors. Another incentive is the city-wide dark fibre network, only available to businesses and the public sector. Many of the companies housed on the 459-acres of the I-43 Industrial Area use the broadband service. Although the park is full, the city has already purchased another 90 acres along the Interstate for expansion.
Currently, the community's top priority is ensuring workforce training is readily available. This is done through Lakeshore Technical College and the businesses working directly with the Manitowoc Public School District high schools. "We have an excellent workforce, but that workforce is fairly tapped out," admits Tegen. "We're beginning to see wages rise, because companies are realizing they have to be more competitive to keep the good workers. Overall, it's good, but we'd like to see an influx of new talent."
The community would also like to see more green initiatives. Just north of the city is the 150-megawatt Two Creeks Solar Farm, jointly owned by Wisconsin Public Service Corporation and Madison Gas and Electric. Manitowoc Public Utilities (MPU) is currently looking at smaller scale projects to offset its portfolio. The city does have several electric vehicle (EV) chargers. "We have one by our visitor center and we just installed another in our downtown with plans on doing more," says Mayor Nickels. "MPU is purchasing those and moving forward with it. We also want to start transitioning our city fleet to either hybrid or electric vehicles, but that won't happen overnight."
With Manitowoc's proximity to Lake Michigan, maintaining marine sustainability is vital. The Wisconsin Department of Natural Resources is very proactive, especially regarding stormwater Management Ponds (SWMPs) and soil erosion control. Another big step towards sustainability is the recent establishment of the Wisconsin Shipwreck Coast National Marine Sanctuary. "We've been working on it for years behind the scenes and it just went through Congress for final approval," says Nickels. "There are only about 15 Marine Sanctuaries in the nation right now; this is the second one on the Great Lakes. The sanctuary runs from Two Rivers, just north of us, down to Port Washington Harbor, north of Milwaukee. It protects the 36 shipwrecks in the area and brings a lot of Federal resources to ensure the waters remain clean."
Over the next three to five years, Tegen wants the growth in residential development to continue. He acknowledges, "We already have great momentum with downtown investment. We're seeing it on the industrial park and employment sides too. The missing piece we're trying to figure out is how to attract residents working in the area but living outside of it. We need to get out of this holding pattern on our population, so we start seeing true population growth."
Mayor Nickels believes a possible solution is for Manitowoc to reinvent itself by making full use of its access to the lake and river. "Our focus has been on boating opportunities and building along the river. I'm a younger guy and I know the younger generation wants a place to call home rather than just a place to work. They want to enjoy life and be on the water. In three years, I'd love to see our downtown completely revitalized. I'd also like the mentality of Manitowoc changed, so we're no longer just that 'quintessential Midwestern city.' There's so much more we can offer. If anyone visited Manitowoc, I think they'd be dumbfounded; they probably think it's just that old industrial town but it's definitely much more."
AT A GLANCE
Manitowoc, Wisconsin
What: A historic maritime city; population approximately 34,500
Where: On Lake Michigan at the mouth of the Manitowoc River
Website: www.manitowoc.org
Lakeshore Technical College – Gotoltc.edu
Real experience for the real world.
Lakeshore Technical College has over 70 degree programs in 13 focus areas including Advanced Manufacturing, Business Management & Administration, Healthcare, Public Safety, and Culinary Arts. Even more impressive? Lakeshore has program course transfer options with all University of Wisconsin System campuses and 15 private in-state colleges – over 300 total transfer options.
College Your Way
Lakeshore strives to offer higher education your way. Some prefer online, some prefer nights, and others are looking for something more traditional. All programs offer personalized attention from instructors experienced in their fields. No matter if you are seeking an associate degree to begin your career or wanting to further your education, Lakeshore is your starting point.
About Lakeshore Technical College
Each year nearly 10,000 people enroll in courses at Lakeshore Technical College. They rely on LTC for job preparation, to earn a degree, upgrade a specialized skill, train as an apprentice, or seek a high school equivalency. LTC faculty and staff meet students where they are in life and help them get one step closer to achieving their goals.
LTC is a nationally recognized technical college. The college was ranked the #2 two-year college in the nation for adult learners by Washington Monthly, #20 in the nation for two-year college educational outcomes by WalletHub.com, a top-150 two-year college by the Aspen Institute, and a top 10 Bellwether Award finalist for two consecutive years.
Approximately 800 students graduate from LTC each year, and LTC's associate degree graduates earn a median salary of approximately $52,000 per year. In addition to the Cleveland campus, LTC serves students in Manitowoc and Sheboygan, and offers classes at additional sites throughout the district. Visit LTC at gotoltc.edu.

Holy Family Memorial, in affiliation with the Froedtert & the Medical College of Wisconsin health network HFMHealth.org/froedtert
A match made in Manitowoc
Manitowoc's Holy Family Memorial Joins the Froedtert & the Medical College of Wisconsin health network
Working together, we're making more of what is Humanly possible for your health care available closer to home in Manitowoc County. It's a partnership that builds on the rich legacy of Holy Family Memorial and secures it for years to come, adding the broad resources of the Froedtert & MCW academic health network to bring more health care options to the community.
It's a best-of-both-worlds scenario for local residents, as Manitowoc County's trusted health care provider partners with eastern Wisconsin's only academic health network to offer easy, local connections to high-caliber complex and specialty care.
By working together, the entire community benefits. As nonprofit organizations, we remain committed to reinvesting all revenue over expenses into our people, facilities, technology and strategies to support our shared mission to advance the health of those we serve – now and in the future. It's a mission started when the Franciscan Sisters of Christian Charity Ministry founded Holy Family Memorial and one that reflects the values long supported by the Froedtert & MCW health network.
Learn more at HFMHealth.org.froedtert.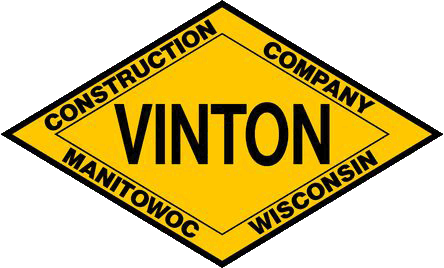 Vinton Construction Company – www.vintonwis.com
Vinton Construction Company has been providing quality concrete paving, grading, underground utility, material crushing and demolition services to the state of Wisconsin, its municipalities, and airports for the past 75 years. Our highly respected company has been honored with numerous national and state awards in concrete paving, road, and airport reconstruction. The experienced management team is committed to achieving the highest standards and strives to diversify our services to meet the market needs. Join our innovative team at Vinton Construction Company and start building your future.