Lamar Tool & Die Casting Inc.
Cast with pride
Business View Magazine interviews Brian Kolsters, VP of Lamar Tool & Die Casting, Inc., as part of our focus on best practices in the manufacturing sector.
Headquartered in Modesto, California, with another facility in Stockton, the family-owned and operated Lamar Tool & Die Casting, Inc. services the automotive, agricultural, medical, aerospace, and many other industries with die castings in aluminum, zinc, and other exotic alloys. The ISO9001-certified company was begun in 1982 by Larry Snoreen and his wife, Margie, thus the portmanteau: Lamar.
"My father was a tool and die maker by trade, straight out of high school," recounts Brian Kolsters, Lamar's Vice President and Director of Operations. "He worked for other folks, building die cast molds and plastic injection molds for many years. In 1982, he decided to venture out on his own. So, he had a small shop built in his mother's backyard, where he had a mill, a lathe, and a surface grinder. That's where he started." In 1987, Snoreen moved into a 6,000-sq.-ft. building in Salida and hired 13 tool and die mold makers. At that point, he decided to get into the production end of the business, and purchased die casting and plastic injection molding machines and began producing steel die-cast dies and plastic injection molds for other manufacturing companies.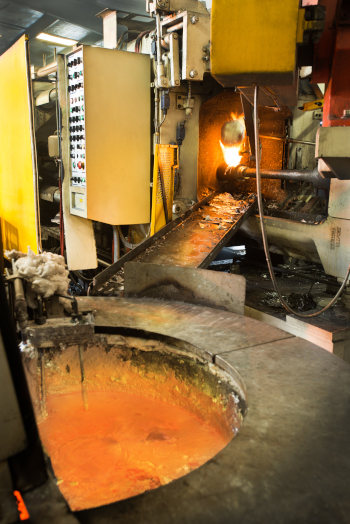 "In 1989, we expanded to our current facility, which at the time was only 11,000 square feet, and in 1994, we added another 6,000 square feet and expanded our die casting capabilities even more," Kolsters continues. In 1997, the company decided to automate its die casting machines. Prior to that, it was running manual machines. The fully-automated, seven-machine line-up helped to increase production, reduce reject rates, and provide a more consistent product.
"Then, in 2000, there was too much competition with overseas markets for plastic injection molding, Kolsters adds, "so we dissolved that part of the business and stuck strictly to die casting. As we moved along, we determined that we'd let somebody else take care of tool and die making, and that we'd just focus on manufacturing. So, for the last 15 years or so, we've solely been expanding and building our die casting operation, becoming a leader in the industry."
In 2017, Lamar's largest customer in Modesto, for whom it had supplied many castings, was told by its corporate leadership to close up shop and move its manufacturing operations to Mississippi. "In doing so, part of that process was they wanted to bring parts in turn-key, which meant that we would then also machine, powder-coat, and resin impregnate the castings as well. So, they made us an offer we couldn't refuse and offered us their equipment for pennies on the dollar," Kolsters reports. "We leased a building in Stockton, our second facility with another 24,000 square feet, and we installed 27 CNC machines, turning centers, vertical and horizontal machine centers, a state-of-the-art conveyor type powder coating line, a parts washing line, and also, a resin impregnation line. And we got up and running in 2018."
Today, Lamar's largest customer is the Parker Hannifin Corporation. "We make diesel fuel filter and water separator housings for them," says Kolsters. "We cast and machine them. Some require powder coating; some require impregnation. We send them to them; they're turn-key, so they just slap them on the assembly and send them off to different engine plants like Ford, Navistar, John Deere, Caterpillar, Isuzu, Volvo, etc."
"We also have Nelson Irrigation as a valuable customer," he continues. "They're agricultural. We make aluminum castings for their large industrial sprinkler systems where you can water the equivalency of a football field with fertilizer in a matter of seconds. We supply them a number of castings that go into the assemblies that make these components. We have other industry customers. For example, there's a company called LR Dynamics; we make some parts for the pulley systems for basketball hoops in gymnasiums. We make the clam shell and the pulley, and then they assemble the cable so you can retract the basketball hoops. I didn't realize that that was such a big industry, but we make thousands of those a month.
"We do a little bit of medical; a tiny bit of aerospace. We don't really want to dive too much into aerospace because of the strict guidelines that you have to follow in order to maintain that type of business. It's a lucrative business, but a little outside our scope at this time. But that's not to say that in the future there wouldn't be an advantage in that."
Regarding the competition, Kolsters explains that he can control costs for his customers that favor products made in the USA, with a local source for raw materials, and for those who don't have a particular preference, Lamar has a relationship with a company in China. "They build some of the highest quality and advanced tooling I've ever seen," he states. "So, if they want to save money, we do have that option, as well. And it works out well for us; it's actually gotten us a number of jobs because we were able to save money on the tooling investment. Even including the tariffs, I can still get a very high quality tool done for considerably less than I can stateside. I hope that changes sometime soon, but the way it is now, I've got to be competitive and that's one way I can do it."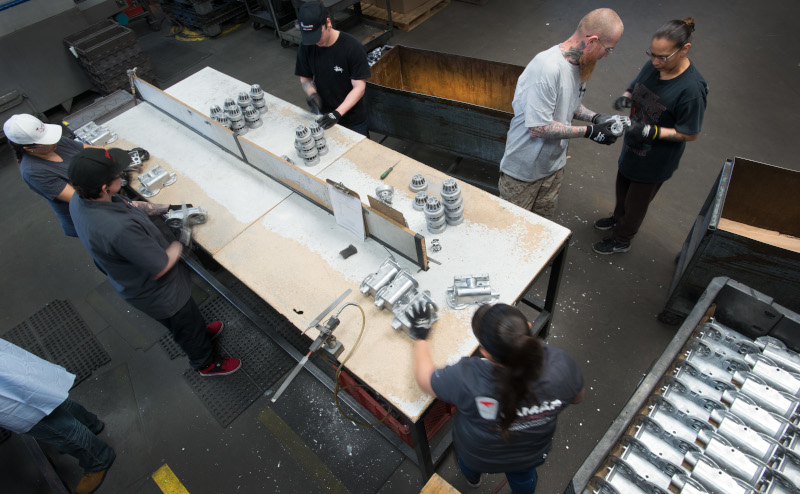 Kolsters adds that all of his material suppliers are integral to the company's operations. "Our material suppliers, who we've been purchasing from over three decades, are an important part of how we function in our business," he asserts. "If we don't have them, then we can't supply our customers. We have a very good relationship with them; we may have hit some rocky roads over the years, but we've always come out of the ashes stronger and better than ever."
As is the case with many companies, the COVID-19 pandemic has impacted Lamar's employee count. "Right now, we have just south of 40 employees," Kolsters discloses. "Before COVID hit, we had just a tick over 100. Our sales were drastically reduced, but things are starting to pick back up. We're trickling more folks back in here from their 'extended vacations.'"
The pandemic also put a crick in the company's expansion plans – at least for the present. Kolsters explains: "In our die casting facility here in Modesto, we have seven, fully-automated die casting machines ranging from 350 to 730 tons. We were on pace for a record year, this year. From January to February, we were just going gangbusters and the money was flowing in. We lost out on some opportunities because our largest machine is a 730-ton, and we wanted to look at getting a large die casting machine – up to 1,000 or 1,200 tons. Our current facility isn't big enough, so we were going to expand our foundry by blowing out the back walls and building a little higher, so we could fit a larger machine. That was one of things we were hoping we could budget for. But then, COVID hit and that meant it's going to be a few years before we can consider that. That was one of the things we definitely wanted to explore. We were actively pursuing it and then the world came to a screeching halt."
That being said, Kolsters insists that the company is still bullish on the future and is thinking ahead. "Continuous improvement is always a factor that we like to keep in the forefront of our business thinking. That expansion that I mentioned; we already have the plans drawn up for it, so we want to pursue that so that we can have the larger equipment. Also, the expansion would go even further, where we could do some of our parts processing at the machine itself, instead of having to move it to another department for processing. So, we're going to streamline our processes a little more so that we can eliminate movement and waste. We're also looking at ways to limit the number of personnel needed to do a process; looking at automated options and things that increase the capabilities of our die casting operation."
Going forward, Kolsters also intends to continue the company's focus on serving its customers well. "Because we're a family company, we pride ourselves on our customer service and the personal touch of what we do and how we do it and why we do it," he declares. "We try to be as professional as possible and work through any challenges to the best of our ability. And I think that goes a long way with our customers because they keep coming back and giving us new work when projects come along. Those are important aspects for us to maintain and continually improve on.
"So, we pride ourselves on not only treating our customers like they deserve to be treated, but also our employees; making sure that we treat them like family. Because when you have a happy employee, you have a busy and productive employee. You take care of your employees, then it happens on its own that they take good care of the customer."
Speaking of family, Kolsters remarks that he has four children of his own, and his two sisters and brother, who all work at the company, also have kids. Will the next generation step up to lead this family-owned company as time goes on? "They're all very young still, but we hope that when they get older, they'll see what this company has provided for them over the years," he says, in conclusion. "I talk to them about it every once in a while; they seem interested, but they're still young. I'm not going to force it upon them and I don't expect them to dive right into it, but if they're interested and they want to earn an honest living, I'd love to see that happen."
AT A GLANCE
WHO: Lamar Tool & Die Casting Inc.
WHAT: A provider of die casting services
WHERE: Modesto, California
WEBSITE: www.lamartoolanddie.com