Jones Field Airport
Competitive on so many levels
Business View Magazine interviews Zach Whitlock, Manager at Jones Field Airport, for our focus on General Aviation in the U.S.
Bonham is one of the oldest cities in Texas. Just south of Oklahoma along the Red River, Bonham had its beginning in 1837, when Bailey Inglish built a two-story blockhouse, Fort Inglish. By summer, several acquaintances had joined Inglish and renamed the settlement "Bois D'Arc" – later becoming Bloomington and then Bonham in honor of James Butler Bonham, who fought at the Alamo.
With the coming of the Texas and Pacific Railways in 1885, Bonham was thriving  with six churches, three colleges, two public schools, three weekly newspapers, a sawmill, two grain mills, a power plant, and about 2,300 inhabitants. Later, during the Second World War, Bonham became home to a Prisoner of War Camp for German soldiers and a United States Army Air Corps base.
In the late 1920s, Charles Jones gave a $10,000 gift to the City of Bonham to be placed in trust for building an airport. The city matched the generous contribution and the new airport opened on November 11, 1929. Then in 1941, at the onset of a world war, the army leased land from the city of Bonham and constructed three hangars and a 1200' x 100' asphalt ramp. The base was assigned to the USAAF Gulf Coast Training Center as a primary (level 1) pilot training airfield with the Fairchild PT-19s as the primary trainer. There were also several PT-17 Stearmans and by the end of the war, they were training with P-40 Warhawks. After WWII, the training base was declared surplus and returned to the city. The museum in downtown Bonham has an entire wing devoted to the airport, as well as a restored Fairchild PT-19.
"Today Bonham sits at the intersection of US Highway 82 and State Highway 121 in Northeast Texas, about 60 miles northeast of downtown Dallas," explains Zach Whitlock, Jones Field Airport Manager and owner of Whitlock Air Services. "This is an important corridor, and they are currently changing Highway 121 to a four-lane commuting highway to get people from rural Texas to be able to access the metroplex area. Dallas-Fort Worth is growing, and as it does, Bonham grows as well. In the last five years, two new reservoirs have been approved, with one 95% completed and the second one just starting construction."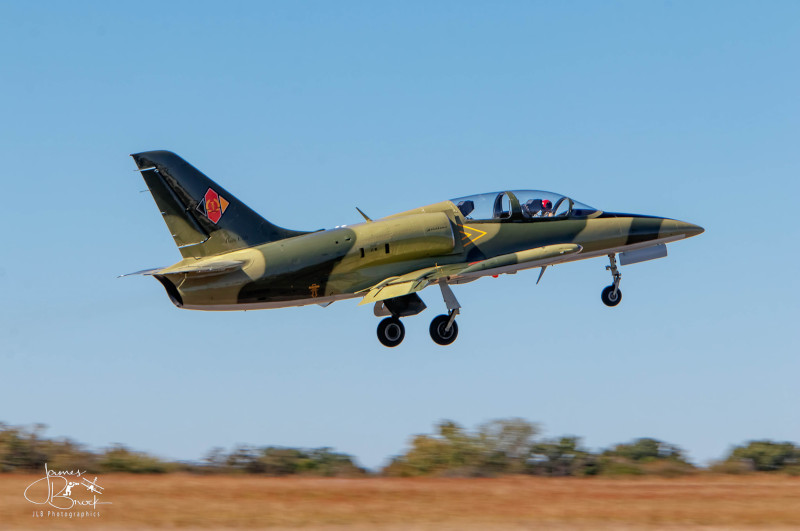 Jones Field Airport has one runway, 17-35, that comes in at 4000 by 75 feet. According to Whitlock, "This is a fully operational general aviation airport, and we see somewhere in the ballpark of 6,500 general aviation operations a year. There are 47 aircraft currently based here and we have some transient business traffic coming in and out as well. Clayton Homes (a mobile home builder) has a factory in town and they fly out of Jones Field. The Texas Department of Criminal Justice has a major prison here, so they fly multiple aircraft in and out, and the Marshall Service transfers people now and then."
The Jones Field Airport property has a terminal building with a flight planning room and pilots' lounge, 100LL AVGAS, and an on-site aircraft mechanic. All of this is run by the City of Bonham, however, Aviation Services Inc. is contracted by the city to manage the airport and provide Jet-A fuel for business aircraft.
Zach Whitlock points out that a lot of the current success and growth of the airport comes from the ability to be easier, more user-friendly, and more competitive with fuel prices, as well as hangar rentals. He notes, "Since we exist within the limits of Bravo airspace for Dallas-Fort Worth, flight schools from that area often fly up to Jones Field to practice. It's only 30-50 nautical miles away from the metroplex, and there are 10 to 15 airports surrounding the metroplex which are all full. We offer hangar space for half the price, and some people are willing to take that drive just to be able to afford their hobby."
Of course, there is a waiting list for the hangars at Jones Field as well, and a project beginning next month will see the creation of infrastructure on the north side of the airport for companies to come in with a land lease agreement to build more hangars – both private and for lease. Several businesses in Bonham have shown interest, and with all the growth, the airport has set its sights on continual expansion, at least for the near future.
"The plan for next month is to begin construction of a new taxi lane that will open up that area on the north side so that those hangars can be built and connect to our current taxiway," says Whitlock. "The project that we just completed increased our parallel taxiway the entire length of the current runway. This fall will also see the rehabilitation of the runway; we will be doing a mill and overlay to get brand-new pavement, new LED runway lights, signs, and markers. The ramp has also been completely resealed."
At present, there are two businesses based at Jones Field. H&M Aircraft Service, which is a small maintenance facility that works on some of the local aircraft as well as any transient needs, and Whitlock Air Service that offers agricultural services. The city currently has a large hangar and they are in negotiations with another larger scale maintenance company to open up a shop in that hangar.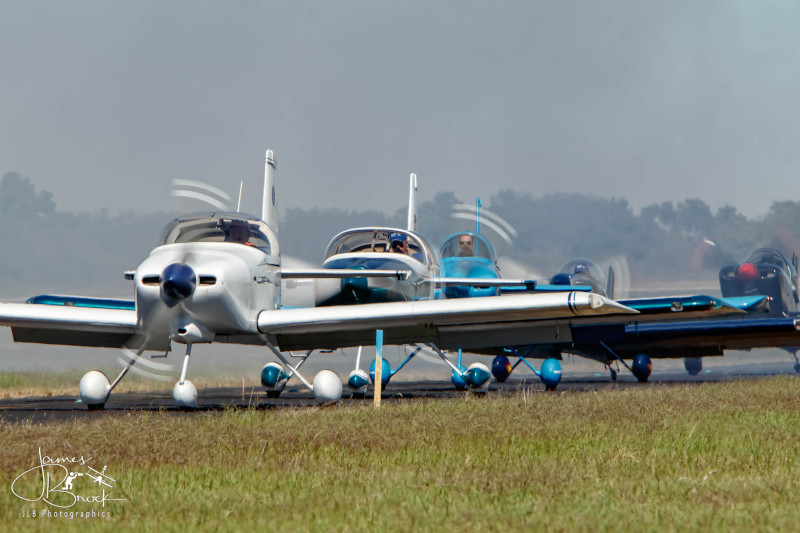 The terminal building was given a complete remodel in 2018 and will see the airport through the foreseeable future. It has offices, a conference area, free Wi-Fi, a weather station, and plenty of places for pilots to come in and relax.
Although there is no formal flight school on the property, this being rural Texas, word gets around – and if a young person seems to have an interest in flying, there is always someone who will take them under their wing and show them the ropes, which may include introductory flights and even training. The team at Jones Field Airport just love flying so much that they are willing to share that passion with anyone who shows a little initiative.
In the past, Jones Field also put on a fly-in air show called the Festival of Flight. This was free for the public (also sponsored by BEDCO) and some people flew in their current planes, some historical planes, and War Birds. There would also be static displays and vendors. The event was very successful and helped to promote aviation, so they hope to do more of these in the future.
When asked about the airport's growth and optimistic outlook, Whitlock gives huge credit to the work of the Bonham Economic Development Corporation (BEDCO). With projects that spread into many different areas of interest, BEDCO has been a strong supporter and advocate for growth in the city and at the airport itself. The corporation is very pro-airport and has been pushing expansion as a means of economic generation. "This new taxi lane project," Whitlock notes, "was fully funded by BEDCO. We are not receiving outside grants for this work, the city has just decided that we need to bring more business into the airport. And that is above all of the advertising and support they already give us."
When it comes to revenue creation, Whitlock emphasizes that there are only two ways to create revenue at an airport – hangar rentals and fuel sales. That is the main focus as Jones Field expands and the City of Bonham is doing its best to set competitive prices. "That is one of our main advantages," says Whitlock.
He concludes, "The city council adopted a new hangar lease policy, and we have 47 hangars that will be available. That is going to help us clean up the waiting list and make sure that the airport is getting the best and most optimum use out of the hangars that we currently have. Once this taxi lane project is completed the goal will become to try and get as many ground leases committed as possible. The large hangar already on the property was previously leased to general aviation tenants. The city and I have decided to switch gears and push for this hangar to house a commercial tenant (hopefully the new maintenance facility). This will not only be good for our current based aircraft, but it's good for the region and Fannin County, as more pilots bringing their aircraft from other airports here to service is going to promote Jones Field. For the next few years it is managing the growth we have to create the best experience possible for the people who fly in and use Jones Field."

Bonham Economic Development Corporation (BEDCO) – www.cityofbonham.org
Bonham: taking flight with economic developments on the horizon
How one city is utilizing its key economic drivers to embrace progress
With its natural beauty and the opportunity to fish, boat, and ski on Lake Bonham, Bonham TX has proven to be a popular destination for many years. The grand opening of the 16,000-acre Bois d'Arc Lake on October 14th will be a further addition to the recreational opportunities that the city of Bonham has to offer.
The Texoma region, which includes portions of Northeast Texas and lower Oklahoma, is booming.  Enormous investments by Texas Instruments and ancillary industries are driving the need for housing and increased amenities. Bonham's natural beauty and exceptional recreational opportunities are attracting strong residential and commercial development. Six hundred acres of housing are in the planning stages in Bonham, with an additional 2000 acres under negotiations, to accommodate a fast-growing residential demand.
The city benefits from multiple transportation routes to accommodate traffic to Bonham and Bois d'Arc Lake from the Dallas-Fort Worth Metroplex. Highway 121, a four-lane highway that leads straight to DFW Airport in under an hour, along with 78, which heads north to Arkansas, and 82, leading east to Louisiana simplify logistics for freight and personal travel.
Another major economic driver for Bonham is Jones Field Airport. Available hangars and an on-site fuel facility and mechanic are all available at Jones Field.  Recent upgrades and expansions to the airfield now accommodate more private activity and the air traffic is increasing.
With a well-run and efficient local government firmly in place, the city of Bonham is prepared to get things done. City Manager, Sean Pate, has led the city forward for eight years, and Mayor "H" Compton and his Council are progressive and open to development. In addition, the Bonham Economic Development Corporation (BEDCO) Board is composed of solid business leaders in the community, two of whom are bank presidents.
With the opening of Bois d'Arc Lake and increased airport amenities coupled with increased housing opportunities and commercial development, the city of Bonham is taking flight into its bright economic future!