Hawaii Food Industry Association
setting goals for food security in the island state
Helping to ensure a sustainable, and resilient local food and beverage industry, Hawaii Food Industry Association advocates for its members
Situated over 2,500 miles from the continental U.S., Hawaii is the most isolated populated landmass in the world. Isolation makes feeding Hawaii's 1.4 million residents a challenge. A challenge happily answered by the Hawaii Food Industry Association and its 200 member companies.
"Given the supply chain and logistical factors we were dealing with during the pandemic, It's inspiring how well our members performed under pressure to feed all the people of our State. From top to bottom, it was a labor of love to keep the operation running in the face of extreme uncertainty and danger. We needed to keep the people of this State fed in a time of crises and we did," Hawaii Food Industry Association President and Executive Director Lauren Zirbel, shares.
"Our members and their employees rose to the occasion with selflessness and compassion, and we all made it through the pandemic together. We are implementing the lessons we learned to try to prepare for future challenges."
As it did for most economies nationally and around the world, Covid-19 opened many islanders' eyes wide to the potentially devastating effects of another global event that could shut down their supply chain. And with those pandemic-driven perturbations bringing food policy challenges to the forefront, the Hawaii Food Industry Association (HFIA) was primed to rally.
Established in 1972, HFIA is a 501(C)(6) non-profit trade association whose mission is to improve conditions in the Hawaii food and beverage industry by actively promoting the strength, sustainability, and resilience of Hawaii's food and beverage retailers and suppliers through highly effective advocacy, networking, education and industry and community relations.
HFIA is supported by the guiding force of its Executive Committee and Membership Board. It currently represents over 200 companies and serves as a liaison and sounding board between community stakeholders, government, and the food industry.
"Our members include grocery stores, convenience stores, food suppliers, distributors, wholesalers, farmers, manufactures, and really any business that contributes to the food supply chain in Hawaii," shares Zirbel. "We have Associate memberships available for banks, insurance firms, shipping, and other companies that do business with the food industry in Hawaii."
"Our Executive Committee provides valuable guidance for the association. Many of them have been with us for decades and we are grateful for their leadership. Eddie Asato, Director of Sales and Business Development with Pint Size Hawaii, a leading frozen and chill distributor in Hawaii is our current Chair. Gary Okimoto of Safeway Hawaii is our Vice-Chair Maile Miyashiro of C&S Wholesale Grocers, which is an industry leader in supply chain solutions and wholesale grocery supply is our Secretary/Treasurer," Zirbel outlines.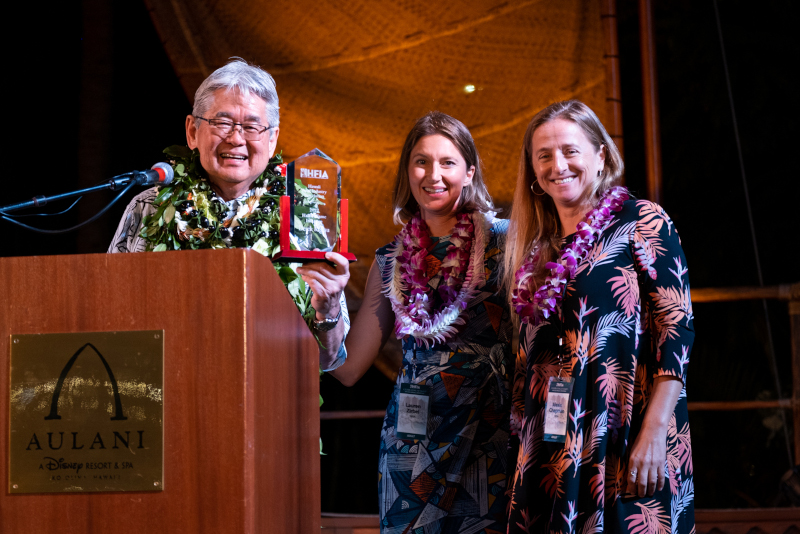 "We are fortunate to have prominent industry leaders who volunteer their time as advisors on our Executive Committee including, John Schilf, who is President of Rainbow Sales and Marketing, Paul Kosasa who is the CEO of ABC Stores, Derek Kurisu who is EVP of KTO Super Stores, Toby Taniguchi who is President of KTA Superstores, and Joe Carter who is VP and GM of the Odom Corporation/Coca-Cola Bottling of Hawaii."
"Charlie Gustafson with Tamura Super Market is our most recent past Chairman and he's been incredibly supportive of our mission over the years. These industry leaders serve without pay and are truly selfless, wonderful people," Zirbel continues.
"Their service is something greater than themselves and their individual businesses are a great example of the Aloha spiriting being alive and well. During the pandemic, everyone was so busy dealing with the immense challenge of feeding the state in a time of unprecedented disruption, but even during this time our board and the executive committee continued to support our industry," Zirbel states.
HFIA serves as a forum for promoting food sustainability and security and a pro-innovation regulatory environment. Recently, a formal event was held to commemorate its 50 years of service to the food and beverage industry. Derek Kurisu, one o HFIA's long-time Advisors, was inducted into their Hall of Fame.
"We provide multiple high-value social and educational events where members can network to create positive change in our industry," Zirbel says. "We have our annual social in January, which is a fun-themed event that we host at the Honolulu Country Club with about 300 food industry executives. It's great company! Our events provide a unique opportunity for building productive relationships with other food industry leaders."
"We have our annual springtime golf tournament coming up on April 28th at Pearl Country Club which offers sponsorship opportunities and is another occasion to meet and socialize with Hawaii's food supply chain executives. Everyone always looks forward to our one-of-a-kind annual convention, held this year from June 2-4 at the Aulani Disney Resort & Spa.
"It's a three-day event where food industry companies send several representatives, and they bring their whole family for activities including games, educational content, and our awards ceremony. This event gives attendees the chance to get to know food industry leaders at a higher level. We also provide a fun environment for member companies to showcase new products," Zirbel describes.
Today, the association focuses on three strategic objectives aligning with its mission, vision, and values: food security and affordability, energy affordability and resilience, and addressing workforce shortages.
"One of our main priorities this year is helping families with food insecurity. We would love to see taxes removed from groceries. The average thrifty-spending family ( a USDA metric) spends approximately $1,794.60 a month on groceries in Hawaii. At our current 4.5% tax on groceries, this means residents are paying approximately $969 dollars a year in grocery taxes. Hawaii is one of only a few states that still impose a highly regressive grocery tax on residents."
"Many residents are struggling with their grocery budget due to inflation, but the State has pulled in a lot of extra revenue due to inflation. In the first three quarters of 2022, The state of Haawii's General Excise Tax revenues increased by $532.6 million or 19.8 percent from the same period of the previous year. Considering that the State has a nearly $2B surplus, now is the time to get rid of our most regressive tax and help the middle class," Zirbel affirms.
"Removing taxes on groceries would put Hawaii on par with the 37 states that don't pay taxes on groceries. There are only six states that tax groceries as much or more than Hawaii, yet all of them have a much lower cost of living than we do. It wasn't difficult to implement this tax exemption in other states, and most states agree that taxing groceries and medication is extremely regressive and unethical," she adds.
"That said, we understated the political willpower may not be where it needs to be to reduce grocery taxes this year, so we are also tackling Hawaii's food affordability and security issues by supporting increasing the double up food bucks' program that provides additional SNAP benefits for the purchase of locally grown produce as well as increases to SNAP funding in general," Zirbel says.
Another of the HFIA's priorities tackles the labor shortage which took off during the pandemic and is still far from being corrected. A lot of our members are operating understaffed and under capacity," Zirbel comments. " This food industry workforce shortage impacts everyone in the state of Hawaii and has serious consequences for the people of this State that depend on our industry to supply food. To address this issue, one of our key legislative issues this year is a new-hire tax credit, to offset the expense of adding employees to the payroll. We are also strongly supporting workforce training and development programs."
Energy resilience is another priority issue for HFIA because everyone in the State depends on the food supply chain in times of crisis. Streamlining the permitting process for renewable energy and energy storage would help more companies be operational in the event of grid failure "A lot of our members have had to wait up to two years for permitting for renewable energy, and we think that's unfortunate given that the cost of electricity is so high," shares Zirbel.
"If they want to be able to install solar or other renewable energy options, we think they should be able to do that at a much faster pace because energy prices are another contributing factor to the rising cost of food. We are also supporting initiatives to expand the Manufacturing Development Grant Program to fund renewable energy and other wonderful initiatives to reduce the cost of investing in renewable energy such as 'Power Move', a program put forward by Hawaii Energy (which Zirbel is on the Strategic Advisory Board)."
Zirbel acknowledges that the tremendous regulatory burden that exists in Hawaii was not created overnight, representing "a harder nut to crack" for the HFIA than for other national food industry trade associations. "It's kind of ingrained in what's already part of our system and, obviously, the cost of labor, the cost of doing business, the cost of real estate, it's all much higher in Hawaii than pretty much anywhere else in the U.S," she says.
"That all adds to the cost of local food. By addressing factors that we can control such as taxes, government funding mechanisms, energy policy, and workforce development, we can bring Hawaii closer to the strong, sustainable, and resilient food supply chain our residents deserve."
The HFIA is incorporating more sustainability and resiliency into the fabric of the food industry using research-based evidence to inspire effective action to combat the scourge of food insecurity.
"There's been a recent study out of Cornell University that revealed how food taxes are directly linked to food insecurity. We think that's a powerful reason to reconsider taxing groceries. At our annual board meeting, we collected valuable data on what is holding companies back from utilizing more renewable energy in their businesses. With this information, we were able to develop a plan of attack for how we can make renewable energy more affordable and attainable for the food industry.
"If these efforts are successful, we will not only increase the operational resilience of the food supply chain, but we will also lower the cost of food for everyone. The cost of energy in this state is astronomical, and grocery stores require a lot of energy to power their refrigerated and frozen spaces. Anything we can do to make the entire food supply chain more resilient to grid disruption is something we want to investigate."
"As Hawaii becomes more and more vulnerable to extreme weather events we hope that community stakeholders and government leaders take the need to address food security, energy resilience, and food supply chain workforce shortages seriously," Zirbel states.
HFIA looks forward to promoting the strength, sustainability, and resilience of the food supply chain in Hawaii for another 50 years and hopes you will join them in their mission.
To find out more information and membership, events, and more click here:  www.hawaiifood.com.
AT A GLANCE
Hawaii Food Industry Association
What: The advocacy, educational, and sustainable association acting on behalf of the food and beverage industry on the island state