Global Transloading
experts on moving what needs to go
A top-tier logistics company that hauls away waste products better than the competition
When it comes to hauling away potentially toxic construction waste products, Global Transloading moves beyond the trucking competition. A veteran-owned and California-based company that brings together an expert team of contractors, environmentalists, and logisticians, Global Transloading has proven to provide the expertise needed in a growing niche market.
Specializing in the removal of waste produced by projects linked to intricate logistical or environmental regulations, Global Transloading has grown from just one truck in its founding year to 20 trucks and employees today.
Committed to safety, compliance, trust, and client satisfaction, this company offers a range of haul options via an extensive fleet that includes end dumps, Super 10 dump trucks, single and double roll-off trucks and containers, box vans, and flat beds.
Global Transloading is licensed and permitted to transport all hazardous wastes. Their disposal solutions cater to concrete, asphalt, contaminated soils, hazardous soils, PCB soils, tunnel muck, asbestos-contaminated materials, treated wood waste, electronic waste, and more.
In addition to hauling and disposal, Global Transloading assists in regulated waste compliance, waste characterization, and public works/administrative compliance solutions.
President Shannon Griego established the organization in 2004 and pioneers a level of quality in the industry that is second to none. "Global Transloading is a turnkey solution for anything a client may need to remove construction waste from their site," Griego begins.
"We work with a large contractor who is currently widening a freeway. Alongside the freeway is material that has been impacted by chemicals such as leaded gas, which was emitted from car exhausts back in the 1970s and 80s. Because these chemicals sit at a regulated level, they must be treated and disposed of as hazardous."
After working with contractor clients to draw up waste safety plans for characterization, management, transport, and disposal, Global Transloading arranges all trucking and transport to licensed disposal facilities.
Griego says, "A huge priority for us is making sure these materials end up in properly licensed, permitted, and insured facilities. We are also licensed demolition contractors, so if there is a structure on or blocking material that needs to be removed, we can demolish it and haul it away as well.
"Our focus is making the whole process as safe, convenient, and cost-effective as possible for our clients, our staff, and those living or working near construction waste sites."
Setting up shop in a male-dominated industry was no deterrent for Shannon, who had previously served in the United States Army since she was 18 years of age. "It never occurred to me to not enter a male-dominated industry, because that is where I'd always been," she shares.
"Our key personnel are all women, except our fleet manager. We didn't end up with a primarily female leadership team on purpose, but it is wonderful to see a sector that is so traditionally run by men.
"I think one of the largest restraints on women working in trucking is that our day begins early in the morning- usually before five o'clock. There's no daycare available at that time, so for mothers, it poses a tricky situation. We have rotating schedules so we make sure our trucking moms can have childcare in the morning because, without that, they're pretty much blocked from entering our industry."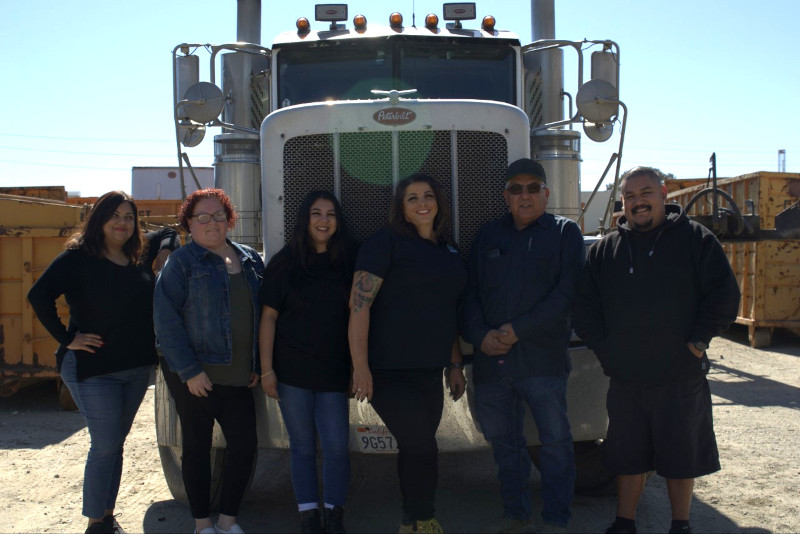 Global Transloading is proud to be the first company of its kind in California with alternative fuel running operations. Griego explains, "Our industry is greener than most, given that we remove hazardous, contaminated, and damaging materials and dispose of them properly so that future generations aren't left to deal with the consequences.
"There are limitations that we have to work with, and fuel is one of them. We have started running five compressed natural gas trucks which will drastically reduce our emissions and land us the title of first alternatively fuelled construction hauler in the state."
This company is also a 'Teamster'- a member of the International Brotherhood of Teamsters. Founded in 1903, the Brotherhood is America's largest and most diverse labor union. "We've been Teamsters now for about two years," Griego shares.
"Teamsters is somewhat new to our industry in Southern California, but it's being received quite well. It's a wonderful incentive for recruiting and helps us and our staff maintain good job security."
Innovation is key for Global Transloading and its industry colleagues. Griego explains, "Our industry is evolving every single day. Some questions need to be answered for future sustainability goals, mostly around electric vehicles. How do we install plugins for 20 vehicles in a yard where they are already parked almost on top of each other?"
She continues, "Land in Los Angeles is expensive; we have to expand in and up rather than out. Landfills are also becoming less common, so we need to identify opportunities to repurpose material for things like fuel."
Global Transloading also values its industry suppliers, partners, and supporters who have each contributed to the company's success in their way. Samsara through AI technology, Rush Peterbilt through assistance in supply, American Express through comprehensive payment solutions, and Waste Management and Waste Connections rank among these partners through their ongoing collaboration and support of the wider construction hauling industry.
Griego concludes with a note on the future of Global Transloading. "2023 is our time to knock out some of the 35 million dollars worth of backlog work from COVID-19 supply disruptions. We are also making moves to get ready for electric vehicle integration. We will likely need some investment to help us set everything up, but the vision is there, and we have the backbone to support it.
"Our more long-term growth step will be a major trucking terminal. It is currently only in the conception stage but will probably be the largest in Los Angeles for construction haulers. A facility like that will solidify Global Transloading as the premier hauler for all disposal facilities in Southern California."
AT A GLANCE
Global Transloading
What: A team of contractors, environmentalists, and logisticians performing haul and disposal services for complex construction waste
Where: Global Transloading is headquartered in Signal Hill, CA
Website: https://www.globaltransloading.com/