Forever Tiny Homes
Big dreams in small spaces
Business View Magazine interviews Arline Mendoza, President & Founder of Forever Tiny Homes, for our focus on the American RV Industry
Tiny homes started as a fad for free-spirited people looking to leave the demands of society behind to chase a dream, but somewhere along the line other people saw the opportunity a tiny home could bring. They need less land, making it a cheaper option for home ownership; they leave a smaller ecological footprint; and you don't need as much 'stuff' to fill the space. A tiny house is economical and can have everything a home requires – stove, dishwasher, washer/dryer, heating and cooling, beds, storage, bathroom, and much more. It quickly became more than a fad and developed into a trendy, cheaper way to live a minimalist lifestyle anywhere in the world. As rent prices skyrocket in every state, the tiny home way of life is getting more and more attention.
Cities have started looking at tiny homes as wise rental options for debt-strapped recent graduates, young professionals, empty nesters, and retirees. There are also movements throughout the U.S., as public housing lists broach 15-year wait times, to invest in tiny homes for those people and to help mitigate the surge in homelessness in recent years for citizens and veterans. And while local governments are starting to catch up to an economical tiny, trendy way of life, in the meantime Arline Mendoza hasn't been waiting for them. She has forged ahead creating her own manufacturing business, Forever Tiny Homes.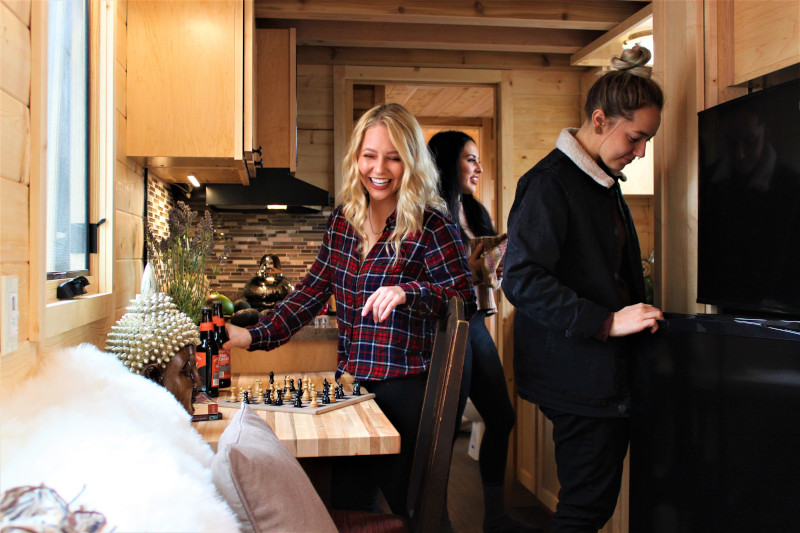 Mendoza, a Latino mother of three, started Liberty Cabins Incorporated about nine years ago, but found that people were misidentifying the company's purpose – thinking they were building traditional cabins. So Forever Tiny Homes, a sister company to Liberty Cabins Inc., was born. Today, it's a well established manufacturer of tiny homes with a very enthusiastic and rapidly growing following. Liberty Cabins Inc. now uses the newly established subsidiary to focus all their time and energy on building tiny homes on wheels. Mendoza wants to be able to meet almost every budget, because as a mom and minority business owner she knows it can be hard to make your dreams come true.
Tiny homes are classified as Travel Trailer RVs and although Mendoza isn't creating them specifically for campers or wilderness warriors, Forever Tiny Homes are state licensed RV manufacturers. You can park a Forever Tiny Home anywhere you can park or store an RV, making them a much more stylish, convenient, and comfortable experience for campers and glampers, or those in need of housing, but also for those who have no love for nature and enjoy the city life. A Forever Tiny Home is suitable for people of all ages. Size-wise, it can measure anywhere from 14 ft long to 40 ft long, have all the modern conveniences, be packed with storage space and able to go anywhere permitted by local zoning laws. Mendoza explains, "Traditional trailers can often feel plastic-like and disposable, with little real customization or change in design since their inception. But our tiny homes are definitely stepped up from the look of a traditional travel trailer. This is more of a homey feeling."
The face of female entrepreneurship is changing with a lot less white women starting their own businesses. Minority women owned 44 per cent of women-owned businesses in the U.S. in 2018, up from 20 per cent in 1997, according to data from research firm Womenable. Mendoza knows the challenges to starting your own business as a Latino woman, but she didn't do what more than 50 per cent of women do – which is start a business in the service industry, or more known traditional women's professions. She went an even harder route, striking out on her own into the manufacturing industry, where women make up only nine percent of the industry's workforce, let alone construction company presidents. Although there are barriers being a woman in a male-dominated field, Mendoza perseveres everyday and you'd be hard pressed to find a small business owner more ambitious, committed, and enthusiastic about their product and the lifestyle it allows.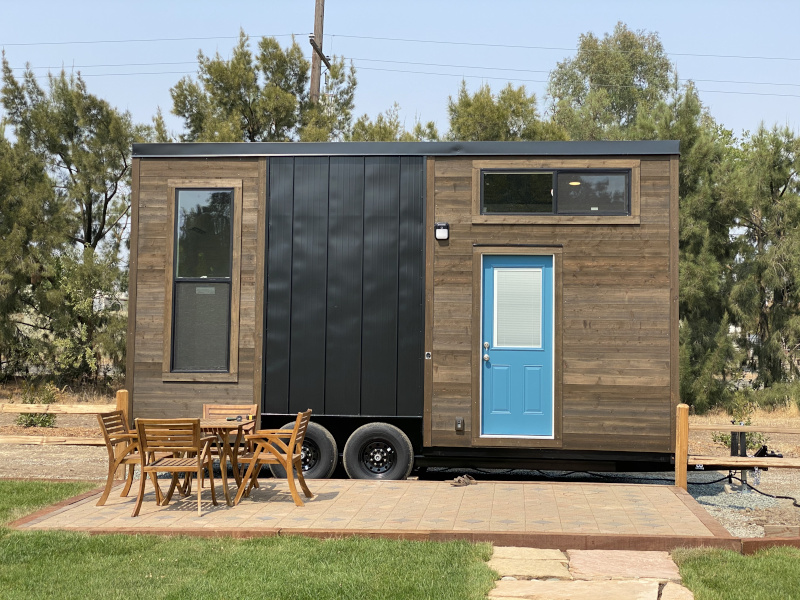 Forever Tiny Homes is a state licensed Dealer and Manufacturer of their RVIA certified travel trailers tiny home style and can offer warehouse pricing because they sell direct. They build and sell the tiny homes out their 24,000 sq. ft facility in Cottonwood, California. Every Forever Tiny Home is crafted with customers' needs and desires in mind. Mendoza and her crew have a keen knowledge of this unique industry. This knowledge and passion helped them grow from being one of the nation's first manufacturers into an expanding facility and a thriving business. The company uses state-of-the-art equipment and products, with an understanding of clients' requirements, to make each bespoke tiny home happen within their budget. Every tiny home has to pass a rigorous quality control system, which includes, but is not limited to, a propane, electrical, and general consumer safety check.
Mendoza and her crew are focused on bringing customers a high quality product at a fair price. Amid a huge housing crisis in the U.S., state and local governments are starting to look at utilizing an old idea, the granny flat or in-law suite, or ADU, (the 'accessory dwelling unit'), as a solution. Mendoza acknowledges, "This gives people great opportunities to use tiny homes as rental properties, with laws already in place to do that in Los Angeles, San Francisco, and much of the rest of the State of California, as well as in many other states. Which is good news because we ship to all 50 states. It's also a great opportunity for investors to add to their portfolios on existing properties."
Through the COVID-19 pandemic, the company has thrived because they purchased their products in bulk. They have a large inventory of products they love using and a lot of wood filling their facility. The forethought and preparedness has proved successful because Mendoza hasn't had to raise her prices at all despite wholesale, warehouse, and commercial-grade items and shipping costs increasing considerably. Orders have also increased during the pandemic. According to Mendoza, "I've been finding that people just want more space. Extra rooms away from their home for an office, or for college students, or extra income-renting Airbnbs, or for their own personal space, or a classroom setting because sometimes at home you don't have that space."
Forever Tiny Homes is deluged with orders, in part because California has been ravaged by fires in the last few years creating a loss of more than 15,000 homes just this year. Currently, they are manufacturing one tiny home a month and have a waitlist until this summer, but they hoping to ramp that up to more than 17 custom tiny homes a year.
The challenges Mendoza and her Forever Tiny Homes crew are facing stem from their passion for customization. Building everything to order and with love. And that takes time and a lot of knowledge. Although Mendoza is a hands-on jack-of-all-trades in the business, she can't do it alone and with a booming construction industry tasked with rebuilding after the fires, finding dedicated employees to work in their facility is proving even more difficult in recent times. But Arline Mendoza is up to the challenge, currently provided training skills to new employees. She hopes that by this time in 2021, the company's production will increase 10 fold to fill the market demand. Big, wonderful dreams built on tiny homes.
AT A GLANCE
Forever Tiny Homes
What: Manufacturer and Tiny Home RV dealer
Where: Cottonwood, California
Website: www.forevertinyhomes.com