The Flooring Contractors Association (FCICA)
Connecting and Educating An Industry
Business View Magazine interviews Catherine Church, Executive Director of The Flooring Contractors Association (FCICA), for our focus on U.S. Construction
The flooring installation industry is an important niche in the construction sector. It is also a skilled one, deserving of an association that brings its members together through networking and specialized education and product understanding. The Flooring Contractors Association (FCICA) is that organization.
FCICA is officially called the Floor Covering Installation Contractors Association, but the industry knows it by its tagline: 'The Flooring Contractors Association'. The non-profit professional trade association is about 280 members strong, comprising contractors and associate members, with the latter made up of manufacturers and distributors. The organization also has a consultant membership level. The FCICA has headquarters in Glen Ellyn, Illinois
The FCICA was formed in 1982 and will be celebrating its 40th anniversary in 2022. With its headquarters based in Glen Ellyn, Illinois, the association's primary mandate is to be the resource for premier commercial flooring contractors, with a principal focus on providing technical education and business support that members may need.
According to Catherine Church, Executive Director of the FCICA, a major advantage for members is the networking that the organization fosters between contractors and suppliers. This can be invaluable. For example, a contractor may come across an issue when installing a product and know someone working for the supplier that they can reach out to for support and guidance to assist with the problem. Peer-to-peer networking between contractors, etc. can also be highly beneficial for members.
With education as a key tenet, the FCICA started a certification program about five years ago for installation managers, the Certified Installation Manager (CIM) program. There are already certification programs for flooring installation that the FCICA didn't want to duplicate, which is why the organization instead focused on management education in the flooring industry. After all, one of the steps that a contractor might want to take after becoming certified in flooring installation is to be a flooring manager or project manager.
At the end of 2020, there were already 230 certified installation managers that had successfully completed the CIM program and about 40 professionals going through the process. Church considers it a great program, comprised of eight modules, which can be completed in a number of different ways. It can be done solely online and does not require an instructor for learning and tests to be undertaken.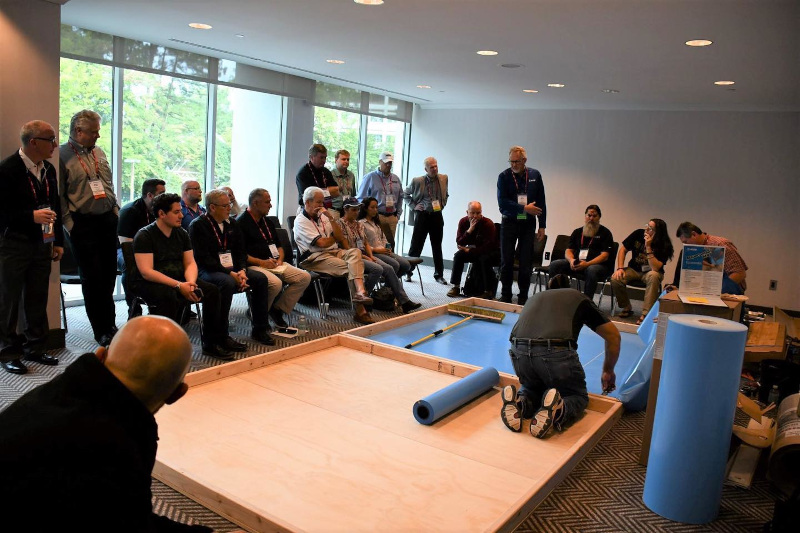 Another option is a crash course called '3 Days to CIM' in which attendees can learn everything they need to know in three days in order to become certified installation managers. Another option is the 'Live Online' option, which can be taken from anywhere, as the name suggests, with the learning done live with an instructor online.
The FCICA has its own quarterly digital magazine, The Flooring Contractor, and further communicates with members via two annual meetings. These usually comprise a convention in March and a mid-year meeting in October. The latter is usually educational and includes a tour of a local manufacturing facility that is a participating member, as well as some product demos. The mid-year meetings usually attract around 100 members, with 117 attending in 2019.
Due to COVID-19, the association's first virtual /online mid-year meeting was in 2020, with 430 attendees, nearly quadruple the usual number. Church agreed that the turnout was phenomenal, which she attributed to the fact that, "one of the things about our industry and our meetings is that often times it's hard for contractors to get away from work and take a few days off to travel to a meeting or convention." She explained how this is especially true of smaller contractors, "which we want to be supporting and have in our membership."
The virtual meeting in October 2020 was like an extension of the online education that the FCICA does throughout the year, including two or three webinars a month. As such, the virtual meeting meant being able to get through to far more people. Many non-members also attended the meeting, in an effort by the association to educate as many people as possible within the industry. According to Church, the emphasis was on helping everyone out now, especially during COVID. "It was also a way of trying to get more non-members interested in joining the association."
For Church, the October 2020 virtual meeting provided insight into different ways that the association can help its members. However, she did stress how members still need to meet in person. Successful as the virtual meeting was, attendees noted that nothing beats meeting people in person for networking purposes.
An added benefit of becoming a member of the association is that it means a substantial discount on the cost of the CIM program. Church says that membership almost pays for itself for anyone wanting to become a certified installation manager, thanks to the discount offered. Also, new members can benefit from the various webinars offered by the FCICA, of which one a month is strictly educational. A further two of the webinars each month are product-focused, with associate members doing presentations regarding the products they manufacture or distribute. These product webinars can be for new products, as well as how-to demonstrations regarding popular or existing products that installers might have the most questions about.
The networking provided by FCICA has been especially positive and even reassuring for members during the upheaval and uncertainty of the COVID-19 pandemic. Not surprisingly, business in both the commercial and residential sectors was adversely affected by COVID. Church emphasized that the industry was affected in different ways according to how states had reacted to the crisis with resultant lockdowns and other measures. "It's not even across the board, it's location-based," she noted. For example, commercial jobs were more likely in Georgia, which was open longer during the pandemic compared to other states.
Other than grappling with COVID-19, the industry continues to face the skills challenge, which was a major issue for the sector prior to the pandemic. To address this issue, the FCICA has its in-house Flooring Installation Training or 'FIT' program. It comprises eight manuals, with four books on carpeting and four books on resilient flooring. Members and non-members alike can buy the training manuals to then be used for the training of their own employees. Notably, one larger member works with a local high school each year in which students go through the FIT program and then have a graduation ceremony at its conclusion. It's a novel way of getting more visibility for the commercial flooring installation industry.
Responding to how she feels the association would continue to be a viable voice for members in the coming years, Church states, "In a late 2020 survey, members were asked how they think the FCICA should strategically plan for the next three years. The association is collating the results of the survey, with the aim of developing a three-year strategic plan with "smart goals". Accountability in reaching goals is key, as is attaining growing membership numbers."
Staying relevant into the future is extremely important for the FCICA. Making sure that its members can remain relevant too is equally important. Church reflects: "Honestly, making sure we're providing our members with everything that they need to be successful is imperative to our association. When our members are successful, the association is successful and that's what we're all about."
AT A GLANCE
The Flooring Contractors Association (FCICA)
What: Non-profit trade organization for premier commercial flooring contractors
Where: Headquarters in Glen Ellyn, Illinois
Website: www.fcica.com