Expo Square
Small but mighty
Business View Magazine interviews Amanda Blair, COO of Expo Square, as part of our series on best practices of great American venues.
For 11 days every fall, the Tulsa State Fair is the premier attraction in the Sooner State. It began life as The Tulsa County Free Fair at a baseball park near downtown Tulsa, Oklahoma in 1903. With the enactment of the Oklahoma Free Fair Act in 1915, a 15-acre tract of land was purchased a few miles east of that original site, in order to provide more suitable grounds. Then, in 1923, thanks to a land donation from J.E. Crosbie, the Fair was moved to a portion of its present site between 15th and 21st Streets. Passage of a $500,000 bond issue provided for the construction of the Pavilion, a 6,311-seat multi-purpose arena, which was completed in 1932. The Fair Board acquired another parcel of land adjacent to the gift acreage in later years, and the modern Tulsa State Fair was born.
Funded by another bond issue in 1966, the 446,400-sq.-ft. Exposition Center was completed and became home to the International Petroleum Exposition (IPE), until the "oil bust" in 1980. The Golden Driller was added as a symbol of the IPE that year; weighing 43,500 pounds and standing 76 feet tall, the Golden Driller became the symbol of the Exposition Center. During the 1970's, marketing of the facilities for year-round usage was begun, and the fairgrounds was renamed Expo Square. Improvements during that time period included construction of the North Arena, upgrades to the Pavilion, air conditioning of the Pavilion and the River Spirit Expo – the renamed Exposition Center and one of the largest clear-span buildings in the world – and construction of the 13,000-plus-seat grandstand complex.
In 1983, the Tulsa County Public Facilities Authority was created, which, today, operates all Expo Square facilities. Funded by a Tulsa County excise tax and facility user fees, $21 million in improvements were made, including a new Livestock Arena, a total renovation of the Pavilion, a new stalling barn, and extensive landscaping. Completed in 2008, Phase II of the improvement program was funded by a Tulsa County sales tax and included replacement of livestock barns, more improvements to the River Spirit Expo, and parking and landscaping enhancement.
"We continue to invest in our facilities," says Expo Square's Chief Operating Officer, Amanda Blair. "It's important to stay current with the times and continue to build." Most recently, Expo Square received a $30 million grant from Vision Tulsa, an economic initiative passed by the Tulsa City Council in order to fund public projects. "The marquee project was a new horse barn with 384 new stalls. We also just completed a permanent outdoor entertainment stage, the first one ever at our facility," Blair adds. "In Oklahoma, we're very prone to tornadoes, wind events, and thunderstorms, and that's why we wanted to invest in that permanent stage to be prepared for inclement weather. Our goal is to provide a safe, family-friendly environment." In addition, improvements were made to the State Fair Entrance Gates and the Pavilion's exterior.
"Over the past five years, we've increased our Wi-FI capacity, and we've also focused on cameras, making sure that we capture everything that we can from a safety standpoint," Blair reports. "And, as part of our Vision Tulsa $30 million initiative, we invested in digital signage at our gates with a large format LCD screen that illustrates what's going on at our facility. We changed over to TV menu boards, and we're in the middle of transitioning the whole facility to LED lighting. Another thing we focus on – mostly at the Tulsa State Fair – is our recycling of cardboard, glass, and plastic. During the Fair, we have about 1.1 million people that visit our complex, so that's a lot of trash we go through. When you're dealing with that much volume, it is difficult, at times, to keep up with it, but it's definitely something we're working on."
A future project at Expo Square concerns a 7.5-acre parcel of land, whose buildings – a former Tulsa County Health Department office and an old stadium – are being demolished to make way for whatever the Tulsa County Public Facilities Authority, which owns the land, thinks will be a good fit. "We're not set on any one thing," says Blair.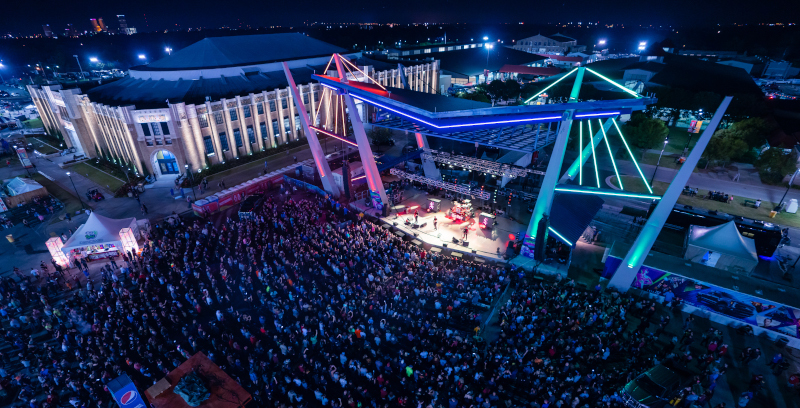 Today, Expo Square hosts 300-plus events a year – the Tulsa State Fair being the venue's main revenue driver. "The remainder of the year, we have everything from an auto show, a boat show, craft shows, gun shows, several BMX events, and, of course, we have a huge emphasis on equine and agriculture," Blair notes. "We are one of the largest facilities in the country when it comes to stall capacity and we're able to host around 11 of the national shows, including the National World Pinto Show, the Arabian Championship Show, the National Snaffle Bit Show, the Miniature Horse Show, and the Breeder Invitational."
Blair believes that, because Expo Square is located near the center of the country, it is a perfect place for horse exhibitors to hold their events as they can better attract patrons from both coasts. "We also listen to our customers and, at the end of the day, we're going to be the most customer service-oriented," she asserts. "And, in our new barn, our new stalls are called 'slide and glide' stalls. They pull straight out into the aisles and then we can run the  skid loaders through them to efficiently clean out all the debris in one big scoop, pushing it straight into the roll-off. It decreases the time and cost by about 70 percent from what it takes to do our other barns."
Going forward, Blair sees Expo Square as an important part of Tulsa's revival as a thriving tourist mecca with new restaurants and vibrant arts and music venues. "We're small but mighty," she states. "We may not be the biggest event complex with the biggest budget, but we get a lot done. We have 40 full-time employees, and depending on the time of year, we scale up to around 250-500, and even to 700 during the Fair. We have another 35 or so that are permanent part-time, and everybody is a LINK in our success. And we build on that LINK, which stands for: Listen, Inspire Memories, Never Say No, and Know Your Stuff. That's how our organization runs, and without one of those LINKs, we won't be successful."
AT A GLANCE
WHO: Expo Square
WHAT: A year round, multi-use exhibition facility
WHERE: Tulsa, Oklahoma
WEBSITE: www.exposquare.com

GH2 Architects, LLC – www.gh2.com
GH2 Architects is an award-winning, international, 46-year-old architecture and design firm. GH2 is committed to great design and the principle that that design excellence and cost control go hand-in-hand. GH2 Equine Architects, a specialty practice of the firm, has master planned and designed many of the finest equine facilities, including fairgrounds and expo centers.