Epcon Industrial Systems LP
Trusted environmental solutions
Business View Magazine interviews Tasha Jamaluddin, Managing Director of Epcon Industrial Systems, for our focus on the U.S. Manufacturing Sector
Few companies that are not environmental protection agencies are as hard at work protecting the environment as Epcon Industrial Systems. Based in The Woodlands, Texas, the company is in a unique niche that builds air pollution control solutions for a wide range of industries. In its 44th year, the company has become a significant supplier for industries like food and beverage, aerospace, and oil and gas, and many more.
With the U.S. government and governments worldwide passing more and stricter environmental protection laws, Epcon is at the epicenter of a massive industry shift towards more responsible industrial practices. "We started with a list of about 28 industries that we serve, but right now, that list has grown to over 50, as more industries adopt tighter environmental protection protocols," says Tasha Jamaluddin, Managing Director at Epcon.
Epcon's core business is building custom engineered and designed thermal oxidizers, a type of industrial machinery that destroys harmful gases called volatile organic compounds (VOCs). Air Pollution Control Equipment is required across industries that uses heat processing during manufacturing that releases harmful gases. Besides thermal oxidizers, the company also sells process heating equipment, finishing systems, and specialty systems. "All our projects are custom because that's where we see value," says Tasha Jamaluddin. "We optimize each solution and make sure that it is as efficient as possible for the customer."
The company achieves this by combining equipment sales with design and engineering services, supported by a highly experienced team of chemical and mechanical engineers. Epcon's services also extend to equipment rentals, service, parts, rebuilds, and retrofits as part of its comprehensive suite of solutions.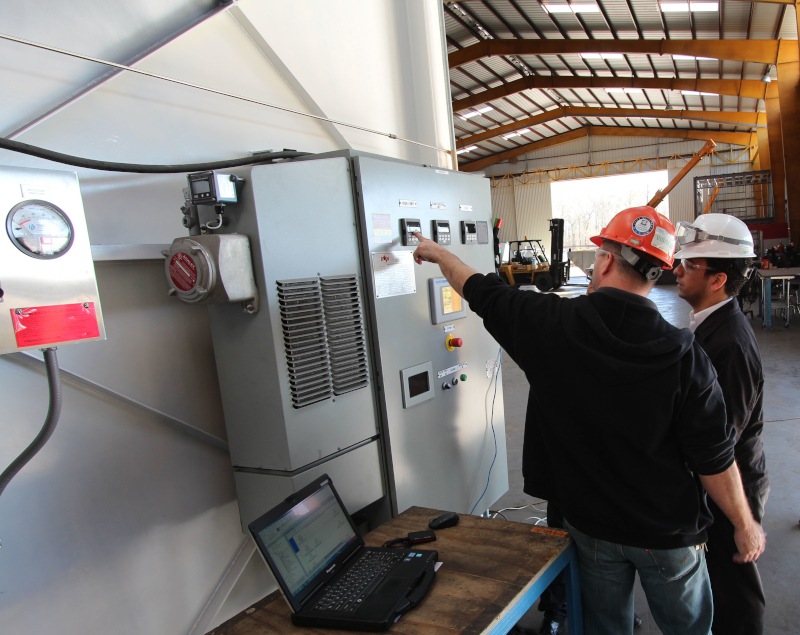 Epcon was founded in 1977 as a one-person company by Aziz Jamaluddin, the company's current CEO and Tasha Jamaluddin's father. "My father worked for a subsidiary of Industrias Monterrey, S.A. (IMSA) out of Monterrey doing a project here in Houston, Texas," narrates Tasha. "During the project, the company shut down, leaving the project in limbo. The customer's project manager said to my father, 'You know what, why don't you just come work for me and finish this design?'" Aziz Jamaluddin ended up moving to Houston and founding the company.
Since it was established, the company has hit major milestones, including completing its first international project in 1986, partnering with NASA in 1987, winning DoD contracts in 1990, and getting the NQA-1 certification (now NQA-1 compliant) in 2007 to service the nuclear power industry. Over the years, the company has also  obtained a string of patents, with the most recent patent awarded in 2019.         (Working on the latest patent, almost completed).
"Epcon has close to 100 employees working out of a full on-site manufacturing facility of around 250,000 square feet," says Tasha. "Some of our employees have been with us for over 30 years with a good number in the 10-to-20-year range." The company's corporate culture is one of a tight-knit family where everyone has agency in their work. Although the company does experience some employee turnover, this represents just a tiny percentage of their overall workforce.
Tasha admits, "Labor has always been an issue for us, especially because of our proximity to oil and gas. When oil prices go up, and they're paying welders more, it affects our workforce directly, although no more than 15 to 20 percent of our welding team." To retain workers, Epcon has created a positive and inclusive work environment that offers employees a lot of latitude to make decisions and grow in their respective fields. Tasha notes, "People like working for a company that does the right thing and feel like they're also contributing to making the environment better while making a positive impact. We have a culture that allows a lot of freedom and flexibility."
The company also fosters a multigenerational workforce, encouraging senior employees to bring their younger generations to intern or work at the company. In this environment, some employees are working alongside their sons and nephews. "We're seeing a lot of next generations coming into the business, which is reassuring," says Tasha. "We have several multi-generations working side by side, like myself and my father."
Epcon's market covers the United States and international markets like Brazil, China, the Middle East, and Europe. On the international front, most of the company's business comes from established domestic customers setting up facilities overseas. "Our domestic customers often ask us to service their facility expansions in Mexico or Singapore, for example," explains Tasha. "We get a lot of business in this way from repeat customers because they already trust us, and they want the same quality equipment in their overseas facility without relying on a new vendor."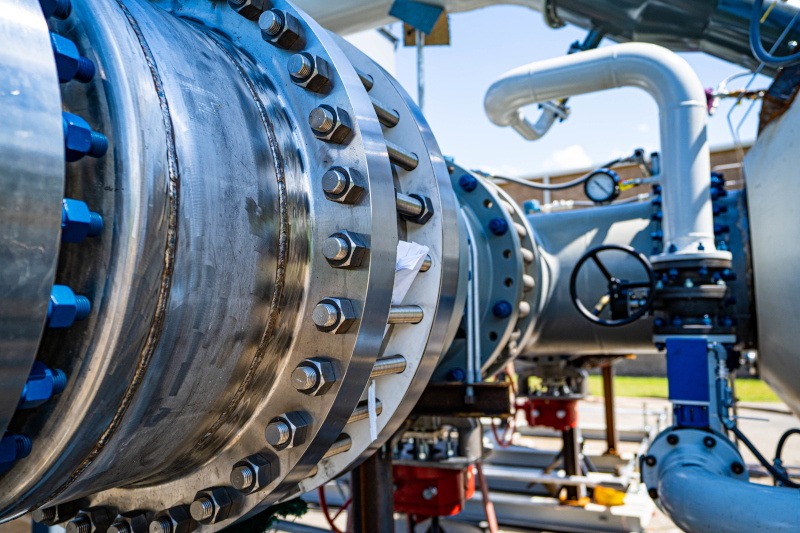 All of the company's projects are custom jobs because facilities are often different with different specifications and requirements. In many cases, customers need Epcon's equipment integrated with existing air pollution control systems – conditions the company excels in. "We work across industries," says Tasha. "Our customers include any industrial manufacturer that uses a heat curing process like in automotive painting, oil and gas upstream drilling equipment, refinery tools, and aerospace and aviation. We really are across the board when it comes to industries."
Besides setting up new projects, Epcon refurbishes existing installations or salvages old equipment after decommissioning, although this is rare. According to Tasha, "Many air pollution control systems have a service life of 20 to 30-plus years. If the installation has exceeded this period, we recommend scrapping and recycling the current installation and setting up a new one."
As an essential business, Epcon remained open during the COVID-19 pandemic. In fact, 2020 proved to be a strong sales year for the company. "I think we've proven our business is pandemic-proof because we nearly doubled our sales in 2020," asserts Tasha. "Part of it was because we had a healthy pipeline from 2019 but also because we did not have to stop when the pandemic hit." The company did experience some supplier delays, including from the Suez Canal incident, but this had a marginal effect on operations because most of the equipment is built from raw materials like steel and insulation.
On the HR front, some internal changes were necessary to comply with pandemic rules such as social distancing, which were not easy for the close-knit company. Tasha explains, "Although the nature of our work means people do not work close to each other on the manufacturing floor, the difficult part was transitioning from face-to-face meetings to online collaboration. With a family-like culture where people have known and worked with each other for many years, this was a challenge."
As the company targets growth in the coming years, Tasha sees regulatory change playing a more significant role in their growth than technological change. She notes, "At the core of our products are basic physics principles like thermodynamics that do not change much. There's nothing in our wheelhouse affected dramatically by new kinds of technology being developed. If anything, we're just taking on new tools to become more efficient."
On the other hand, any time there is an increase in regulatory or environmental regulations, it creates an opportunity for the company to provide more equipment. Tasha adds, "Stricter regulations mean somebody is going to realize that their outdated equipment isn't going to cut it anymore, or maybe they have nothing at all. So instead of paying fees and fines for polluting the environment, they come to us to provide a solution." The company sees this regulatory trend towards stricter policies strengthening its air pollution control business over the next three to five years.
Looking forward, Epcon is planning to continue growing but also evolving to become a more outward-facing company. "For years, we've been very insular and kind of head down," says Tasha. "Now we want to open up and contribute more through thought leadership and accessibility as an industry expert."
To do this, the company is investing in creating virtual facility tours in place of in-person tours, publishing case studies, articles, and videos, and opening the facility for students and other interested parties. "We are building next-generation messaging to keep the community focused on the benefits of manufacturing," states Tasha. "We believe it is important that the next generation sees the opportunity in manufacturing and that America continues to be a producer. Our current efforts center on becoming the voice of this rallying call."
AT A GLANCE
Epcon Industrial Systems
What: Global leader in air pollution control systems and solutions
Where: The Woodlands, Texas
Website: www.epconlp.com

AutomationDirect www.automationdirect.com
A well-recognized name in the industrial automation market, AutomationDirect provides quality products with FREE award-winning in-house sales and technical support. AutomationDirect provides customers with quick order and delivery through an online store and toll-free numbers. Prices on most products are well below the industry average and a 30-day money-back guarantee is offered on nearly all items.
With close to 30,000-part listings, products include the 2020 Product of the Year Grand Award Winner ProductivityOpen Arduino-compatible controller, PLCs, drives, AC/DC motors, HMI, sensors, electrical enclosures, circuit protection, cut-to-length cable, pneumatics supplies and more.
The state-of-the-art headquarters facility near Atlanta is designed throughout for maximum performance. The majority of items are in-stock and ready for fast shipping; orders over $49 ship for FREE. Some exclusions apply.
The company provides online tutorial videos through their web store and YouTube channel. They also provide FREE online PLC training to anyone interested in learning about industrial controls. A Customer Forum utilized by tens of thousands of automation professionals provides peer support on technical and application questions.
For an in-depth look at products offered, visit: www.automationdirect.com.