Electric Vehicle Association
Helping to accelerate EV growth
Business View Magazine profiles the Electric Vehicle Association for our focus on Growth of the Electric Vehicle sector in North America
Popularity and demand for electric vehicles (EVs) are at an all-time high. Worldwide EV sales doubled in 2021 to 6.6 million and first quarter sales in 2022 have already reached more than two million. Over 450 electric car models were available by the end of 2021 and this number will grow by the end of 2022. E-bike sales are growing exponentially nationwide and electric truck and fleet sales are booming too. Our businesses, communities and organization must play a bigger role to accelerate the adoption of EVs – a critical need to meet zero carbon emissions by 2050.
At the Electric Vehicle Association, our 100 chapters and thousands of volunteers are educating and advocating for the rapid adoption of EVs. As a 501(c)3, our membership includes volunteers who are EV enthusiasts as well as actual owners. In other words, one does not have to drive electric to join our effort.
New technology is best shared via word of mouth and our chapters are dedicated to educating their communities to help move the needle on clean air, local jobs, and carbon free driving. Chapter events include everything from online meetings on the latest EV news to in person EV displays and ride and drives at farmer's markets, international auto shows, and everything in between. No matter where we find ourselves, we engage the public one-on-one about the benefits of driving electric and share our experiences of driving electric.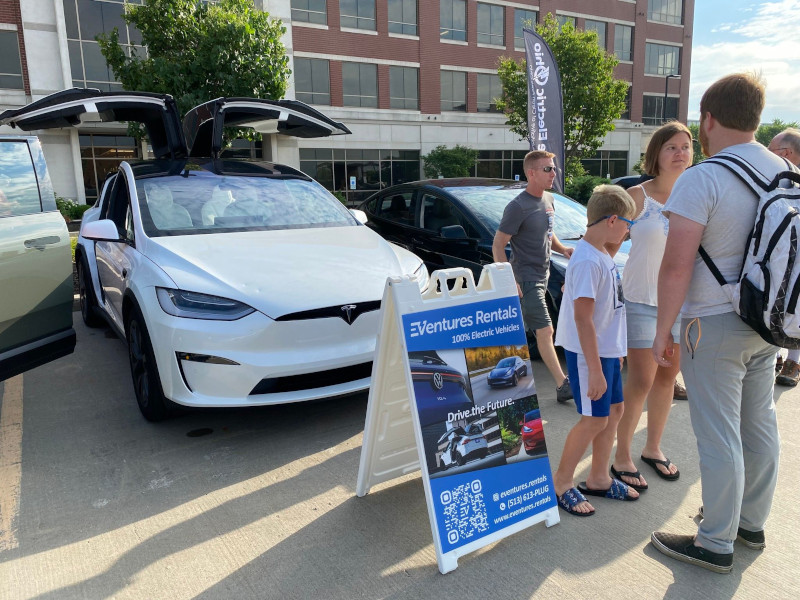 "EVs aren't just for commuting or driving around town anymore," says EVA President Elaine Borseth. She has done multiple cross-country trips in her Tesla since 2015, including a 16,000-mile trip that included the Florida Keys, Yellowstone, Glacier, and Banff. She reports, "EV fast charging is just about everywhere. When in remote areas, RV parks are a great place to "fill up" your EV and many people don't know that EVs can be plugged into a regular household outlet to gain about 50 miles of charge overnight. I've charged everywhere imaginable, from Tesla superchargers to public chargers in small towns across America to an outlet on the outside of a cabin in the Upper Peninsula of Michigan. Installing public charging is a great way for a community to attract customers."
Supporting EV-friendly policy
The EV Association has intensified our efforts to lobby for EV incentives and to change multi-unit building codes around the country. Significant effort has been made supporting government EV incentives, shown to be a key factor in the growth of EV sales, but we have a long way to go. It would be great if the US could follow Norway's lead. Norway promoted EV adoption through all types of incentives and has gone from 1% of new car EV sales in 2014 to over 85% EV sales currently!
EVA members have been actively involved in our organization's commitment to work toward ensuring EV equity. We support legislation targeting increased access to EVs in underserved areas, often the same areas with increased exposure to harmful air pollution due to high traffic flow and industrial plant proximity. We have intensified our efforts to work toward changing multi-unit building codes at the state and local level to allow home charging for all.
Trucks set to be game changers
The EVA has been hard at work promoting the arrival of several new truck models now bursting onto the EV scene, with not only the Rivian and the Tesla Cybertruck, but also the Ford F-150 Lightning, Chevy Silverado, and more. We are spreading the word to construction workers, campers, off roaders and home owners that they will see the huge advantage of powering their tools, camp equipment, or even their homes during a power outage from their electric vehicle. Fans of off-road adventures or off-grid excitement will bring their gear with them.
Overcoming the obstacles
Supply chain disruptions from the continuing pandemic and Russia's attack on Ukraine are presenting challenges for automakers to meeting the rising EV demand. For this reason, we are advising all potential EV owners to order cars early. It may take longer to get here, but the excitement of owning an EV is well worth the wait.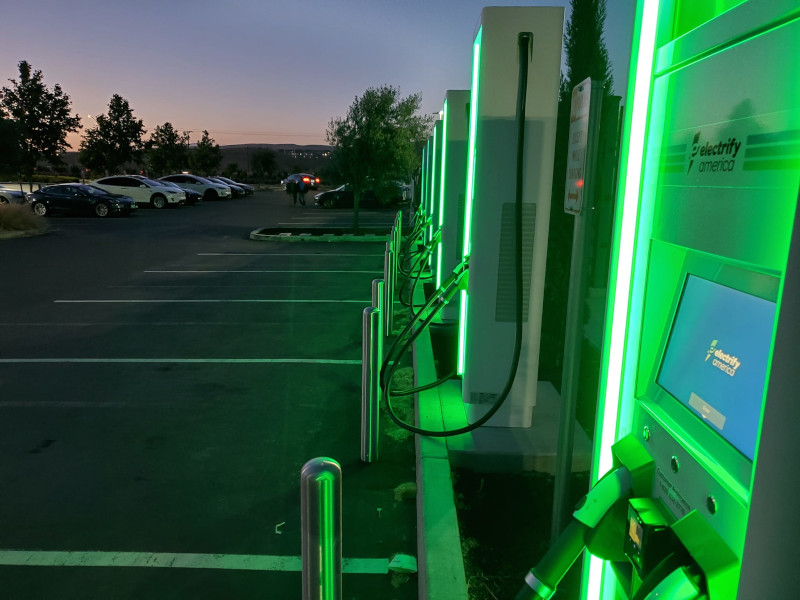 Dispelling the myths
Perhaps the EVA's most important mission, and one that needs to be adopted by all EV advocates, is to bust the EV myths that are slowing the spread of this important technology.  We can help the public understand the real facts about Electric Vehicles.
Myth:  every driver experiences range anxiety
Fact:  most new EVs have 250, 300 and even more than 400 miles of range and many can add 200 miles of range in just 15 minutes
Myth: it's expensive to add a "charging station" to your home or garage
Fact: most people can charge with a regular 110 household outlet or a 240 dryer outlet
Myth: charging in cold weather or in the rain is difficult and/or dangerous
Fact:  it is completely safe to charge in any type of weather
Myth: EVs frequently catch on fire
Fact: Government studies show gas cars are 100 times more likely to catch on fire and there are over 150 internal combustion (ICE) car fires each day
Myth:  EVs are too expensive
Fact: EVs have a lower total cost of ownership due to little to no maintenance
Myth: batteries must be replaced in five or ten years and are not good for the environment
Fact: batteries are expected to last 15-20 years and can be recycled
National events
The EV Association is one of the organizers of National Drive Electric Week. While our chapters do events all throughout the year (check our calendar at myeva.org), there will be hundreds of events around the country from September 23 – October 2, 2022. Find one in your area at driveelectricweek.org!
Membership
To get involved, please visit us at myeva.org to join our national organization. You can join the local EVA chapter near you or start a new chapter in your community.
AT A GLANCE
Electric Vehicle Association
What: North America's leading volunteer organization that accelerates the adoption of electric vehicles
Where: National HQ in San Diego, California
Website: www.myeva.org