Dixon, Illinois
A culture all its own
Business View Magazine interviews Liandro Arellano Jr., Mayor of Dixon, Illinois, for our focus on Economic Development in U.S. Cities
Located in northwestern Illinois, the City of Dixon is a thriving community well known for its festivals, historic downtown, and scenic views of Rock River. Accessible by four major highways, and Interstate 88, Dixon is the county seat and economic hub of Lee County.
Dixon has notable connections to historical figures, including Abraham Lincoln who fought at Fort Dixon in 1832, where a bronze statue now stands in his honor. Ronald Reagan spent much of his childhood in the city, attending school and working as a lifeguard at Lowell Park Beach. Reagan fondly referred to Dixon as his hometown, and it is said that the community helped shape the man who would become the 40th President of the United States. There are several museums and sites dedicated to preserving this part of Dixon's history, including Reagan's childhood home. These historic locations bring thousands of tourists to the community each year. Popular events, such as the Dixon Petunia festival and the Blues Booze and Barbeque music festival, also bring people from all over the region to enjoy what Dixon has to offer.
With a population of 15,000, Dixon embraces entrepreneurialism, especially in its large downtown district, which has seen a revitalization over the last decade. Mayor Liandro Arellano Jr. – known by the locals as "Mayor Li" – shares, "We're very much known for our entrepreneurship. The downtown is very built out, with lots of local stores. We have several different business districts and except for those on the interstate, all of them have a heavy emphasis on local owners and local businesses. We are very proud of that."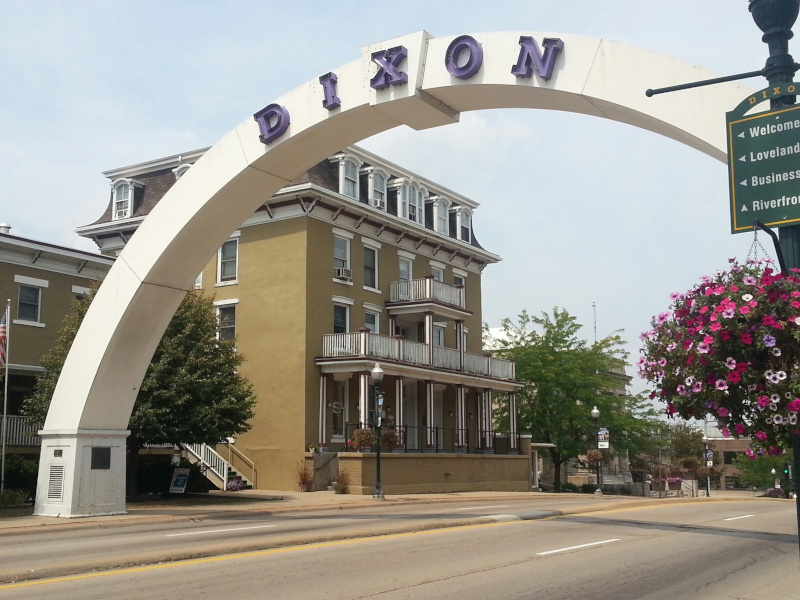 Downtown Dixon is home to The Dixon, a historic theater which originally opened in 1922 and has shown everything from vaudeville acts and silent films, to movies, opera, and local theatre. Currently undergoing a restoration, the century-old theater is a proud gem of the downtown landscape, planning to continue bringing people from surrounding areas to enjoy live experiences and film. The Next Picture Show, a local art gallery showcasing national works, and Books on First, a bookstore and café, also show the culture and spirit at the heart of the community.
A major downtown project is now underway, addressing issues along the Rock River. Fehr Graham, environmental engineers for the State of Illinois, conducted an analysis of the area and found serious environmental concerns. The city was able to bring in the federal government, who have invested $4 million into environmental remediation in the area so far. The project, called Viaduct Point, spans 14 acres, and will be developed into mixed-use commercial and residential spaces. Arellano explains the vision for the project, which is expected to be completed in two years: "We have started to work with some developers who know the federal actions taking place, and know it's going to be a prime developable area in a couple of years. We have already started doing some drafting of what can go in there, whether that is a boutique hotel, which one of the developers has a concept for, or a brew pub which another developer is really interested in, with some residential right nearby on the river. We want some additional commercial strips for downtown and, of course, a big greenspace in the floodplain to allow people to play, have family events, and use the shared use path."
KSB Hospital has been a key part of Dixon since 1897, when Solomon Bethea donated land and money to the city to finance a hospital in memory of his late wife, Katherine Shaw Bethea. Today, KSB serves the community and surrounding areas and is one of Dixon's major employers, with close to 1000 employees in the main hospital and surrounding clinics. "They are not part of a bigger hospital chain, which is getting rarer and rarer," says Arellano. "Everybody from their CEO down is based out of Dixon, and all of their satellites hub out of Dixon. The rural communities have local clinics, but Dixon is their main hospital hub. That is one of the major anchors for our downtown, which has helped it be successful. You have 800-plus employees going to work every day right there along the river in our downtown."
Dixon Correctional Center is another large employer in the city, with over 600 employees. The State of Illinois also provides employment in the region through the Illinois Department of Transportation Region 2 Headquarters, and the Jack Mabley Developmental Center – a state institution for the developmentally disabled. Both are mid-sized employers who provide a significant number of jobs for the community.
Dixon is also home to several manufacturing and distributions centers, including Rayovac, a battery company; UPM Raflatac, a sustainable labeling solutions company; and Sewer Equipment Company of America that has its national headquarters in the city. "Although we only have about 15,000 people, our daytime population is much higher," says Mayor Arellano. "We have a little manufacturing hub in town, while not massive, it's definitely a core part of our community." The city is also working to bring more industry into Dixon, looking into specialized manufacturing, machining, and technology as areas of growth. Another goal is to draw more remote workers. As Arellano notes, "Dixon is very close to Chicago, which is a tech hub, but we are a great place to live. Within an hour, you can be in the suburbs, but you can live in this beautiful rural community. Attracting remote workers from the tech community is a long-term goal of ours."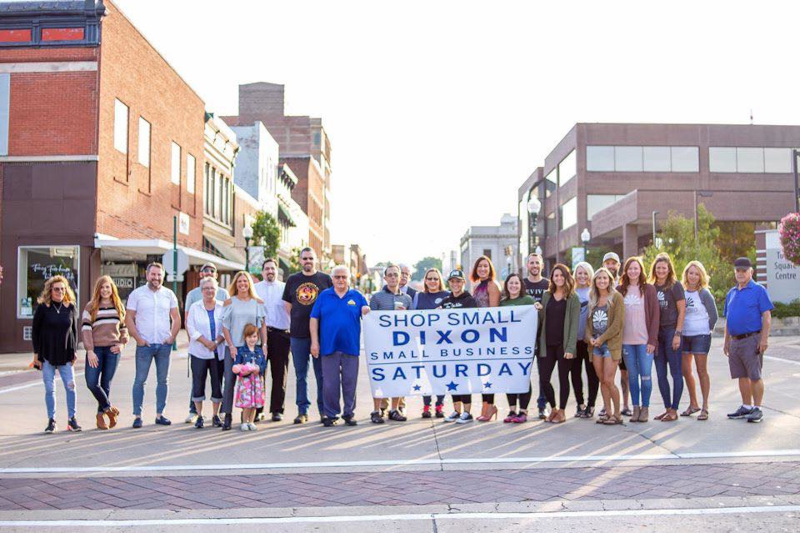 Partnering with Sauk Valley Community College provides an opportunity for the city to maintain a skilled workforce, especially in the medical fields. Arellano reports, "They have a great nursing program, and they support the hospital with some of their radiation tech and other skilled healthcare positions, because Dixon has a very large healthcare worker population." The college also offers a highly successful welding program, a valuable skill in the local workforce. "That has really helped put more welders, and other skilled construction-related fields into our region, which we definitely needed," Arellano adds. "That is a good success story and we're looking to build on it with our community college."
A tax increment financing district (TIF) is also underway in Dixon on the I-88 corridor. The city is working with XSITE, a Chicago based real estate development company, on the commercial aspects of the project – planning to bring in a mid-grade hotel, along with retail, food, and a much-needed fuel center. According to Arellano, "The city as a partner is going to be building up the utilities. We are going to be putting an estimated $4 million of work into the land, the utilities, the infrastructure and roadways. XSITE Realty are going to be developing the actual lots – doing the grading work, preparing the lot, and working with the sub-developers to bring in the individual businesses. That's very exciting because that means that it is not just a prospective TIF, where we are hoping for projects. We have multiple live projects right now. That one is 27 acres of commercial development."
There is also an active residential project underway with HVARRE Development, who are building a 55+ community. The city plans to use the TIF as an incentive for developers, offsetting the costs of water, sewer and roadwork. "It is a vehicle for us to pay for some of the public needs for that area. It is going to be hundreds of acres, it's a very large expansion of the city boundary," says Arellano. "It was part of a long planning and then recruitment process, where we were specifically looking to build along the interstate to synergize with our industrial park and our commercial opportunities, while also building up residential in a way that didn't compete with our downtown or other business quarters. We really wanted to focus on things that complemented this; appealing to the state and national traveler without competing with downtown."
With so much happening throughout the city, Dixon is putting itself on the map as a destination for tourists and travelers. Voicing his hopes for the next few years as the community continues to grow, Mayor Arellano shares, "I would love to see us continue to build up our downtown, and really grow the quality of life for our town, in such a way that not only do our own residents get all of those amenities but it continues to attract more visitors who are looking to get away from Chicago or come out of the rural areas to enjoy some of the culture of our town. The second goal would be to build up that I-88 corridor and capitalize on all of the travelers that are coming through that interstate every day. To make Dixon the biggest and best rest stop and destination along I-88 between Iowa and Chicago."
AT A GLANCE
Dixon, Illinois
What: Historic, county seat of Lee County; population 15,000
Where: Along the Rock River in northwestern Illinois
Website: www.dixongov.com
Willett, Hofmann & Associates, Inc. – www.willetthofmann.com

Founded in Dixon in 1935, Willett, Hofmann & Associates, Inc. (WHA) is a multi-disciplinary engineering, land surveying and architectural design firm with a long-standing history with the City of Dixon.  WHA is proud to be part of the Dixon Community and is a proud supporter of projects and activities that improve the quality of life in Dixon.  Over the past 85 years, WHA has provided professional design services to the City for numerous infrastructure projects including road maintenance projects, drainage improvements projects, site development projects, including the design of five blocks of downtown streetscape improvements and the design of the reconstruction of River Street with a shared use path with decorative lighting along the Rock River. WHA has also designed upgrades to City's water and sewer systems, including radium removal facilities at the City's potable water wells. WHA has also provided the design of various architectural improvements for the City including renovations at Dixon City Hall, the Dixon Public Library and the design of the Veterans Memorial Park. WHA is honored to part of the history of Dixon and is dedicated to be part of the City's bright future. WHA is headquartered in Dixon and has five other offices located across Northern Illinois and one office in Iowa.