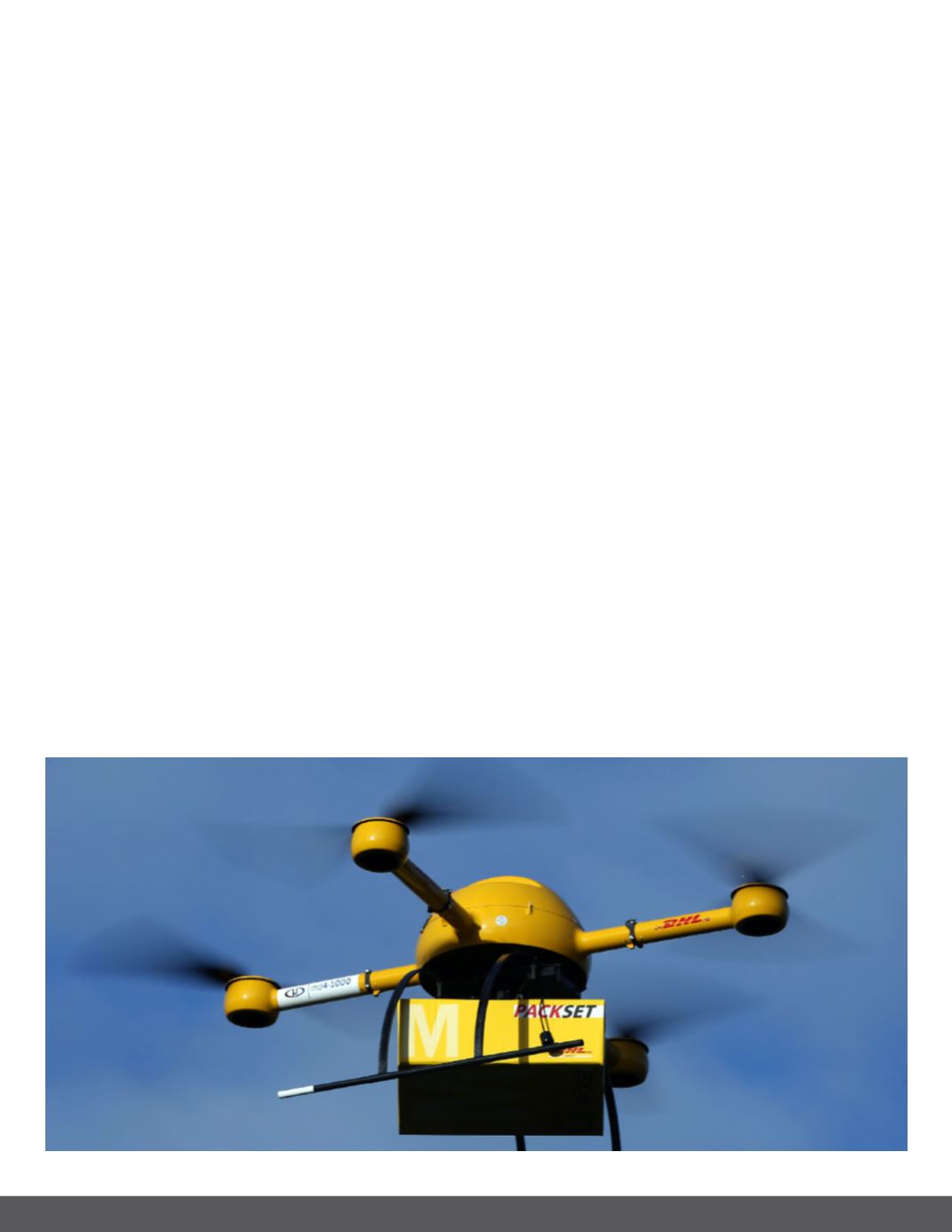 Business View Magazine - August 2016 13
torically, government and military applications have
dominated sales of drones in the US, and military
uses still accounted for over 75 percent of sales in
2015. However, civilian uses will register dramatic
growth and by 2025 will overtake government uses
as the largest outlet for drone sales.
According to Ken Long, research manager at the
Freedonia Group, "The consumer market will re-
main a key driver of overall sales growth for drones,
fueled by technological advances that are making
drones easier to fly, and by the reduced cost and
improved capabilities of key subsystems, which are
helping to make drones more affordable to the aver-
Personal photography has been the most significant
consumer application for drones so far. But cam-
era-equipped drones are expanding their use into a
number of other consumer and commercial applica-
tions. Drones are being used to photograph sporting
events and by real estate agents to take pictures of
large estates and other difficult to photograph prop-
erties. Utilities are using drones to inspect electric
lines and communications towers.
The use of drones in retail and wholesale distribu-
tion is currently minimal but is expected to increase
rapidly over the next decade. While Amazon has re-
ceived the most attention with its drone-based de-
livery concept, drones could have numerous uses in
the retail sector including store site selection, build-
ing security, logistics, traffic analysis, and inventory
management. Wal-Mart alone has over 150 distri-
bution centers and numerous supercenters in the
US that are potential users of drones. A move to
drones would allow the company to become more
cost competitive by reducing the number of employ-
ees needed at each location, and more efficiently
managing its supply chain. This is a key factor as
the company faces continually increasing competi-
tion from both online retailers like Amazon and deep
discount brick-and-mortar stores like Aldi.
With drones already being tested and used for re-
tail purposes outside the US and the many benefits
drones can offer retailers in terms of cost control
and efficiency, it is only a matter of time — and regu-
latory approval — before drone demand in the retail