Corpus Christ International Airport
Everything's looking up
Business View Magazine interviews Kevin Smith, Director of Aviation at Corpus Christi International Airport, for our focus on U.S. Regional Airports
Corpus Christi is booming! This southern city on the Gulf Coast of Texas had over 326,000 people before the pandemic hit and has been growing its economic footprint ever since. An example of this is Whitecap Preserve, an 800-million-dollar development that will see a planned community with intertwined canals, housing, shopping, and recreation being created by Ashland Development.
"All of this development is having an impact on the airport," says Kevin Smith, Director of Aviation at Corpus Christi International Airport, "and it is happening in every sector. Oyster farming is taking off. There are lots of new restaurants opening. Tesla is getting ready to open a new production facility for their batteries in Robstown, just six miles from the airport. So, everything seems to be looking up."
Smith goes on to say that the airport has also been fortunate in gaining funding recently. They received a $750,000 guaranteed revenue grant from the Texas Department of Transportation, with which they plan to create a nonstop route to Denver. Corpus Christi International has been in conversation with several airlines about this possibility, including Frontier, Spirit, and Southwest, and when you combine the TxDOT grant with a local revenue guarantee, it's a $1.6 million proposal.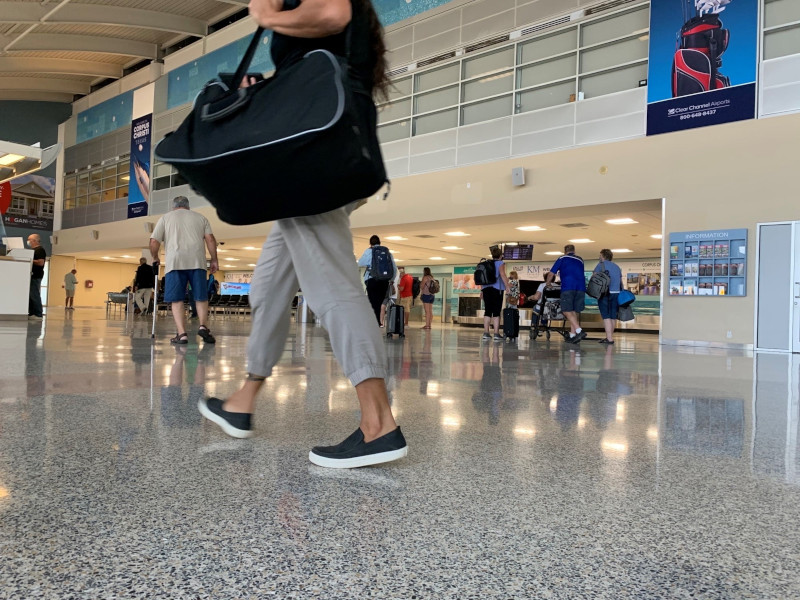 Secondly, they have received an FAA Bipartisan Infrastructure grant for $17 million. "What that does is take our 15-year capital improvement plan and allow us to complete it in two years," says Smith. "So, we are in full development mode. We have replaced every jet bridge, and we are going to replace the windows and put in a new rooftop ventilation system. Then, we are creating a 1200-square-foot outdoor patio as part of our terminal expansion, so people can go outside and enjoy our 320 days of sunshine. There will be an outdoor dog park as well. And we now have the most state-of-the-art upgraded washrooms – as you would expect in a VIP Club."
Corpus Christi International is currently served by three airlines – United, American, and Southwest. They have also recently seen an increase in charter flights with Sun Country, a charter service for casinos in Reno and even as far as the Mississippi Gulfport. "Our passenger numbers are actually back to where they were in 2019," Smith reports. "The only problem is that we no longer have the same number of seats on the market, mainly due to the pilot and flight crew shortage. All the airlines are flying at 90% load capacity."
Recognizing this, Del Mar College, which operates an A&P mechanic school at the airport, has recently been in talks over the possibility of creating a flight school/pilots program. The airport is also doing an appraisal of the possibility of creating a second FBO on the field. Atlantic has been operating wonderfully, but there is so much traffic now that Sterling Aviation, a tenant that owns a small fleet of planes, has begun to sell fuel and operate following the expected standards of an FBO while awaiting certification. "Once they meet those standards and are certified, they have six months to alter their lease agreement, to increase to the minimum six acres required and become a second FBO here," Smith explains. "The great thing about this is that Sterling operates a self-serve fuel farm that is almost like the regular gas station you use on the highway. You just pull your plane up and swipe your credit card. We think this will mean an increase in landings as well."
The growth in flights and passengers has been mirrored by the growth of cargo. July was the largest amount of outbound cargo ever shipped from Corpus Christi – 25,000 tons. UPS is even considering bringing in larger planes to the airport – going from a Beechcraft 1900 to a Boeing 757. Inbound cargo is between 90-100,000 tons a month. "It has been going really well," Smith says, "and the oyster farming community is in discussion with Southwest to create a shipping route for their product."
In essence, almost everything is being upgraded at the airport. This includes adding charging stations, and more comfortable, softer seating in the terminal. A request has been put out for proposals for food and beverage in the terminal. Smith adds, "We're also doing a request for information for a hotel and gas station combination out in front of the airport. We've had a lot of requests for hotels close by the airport, whether it's for the flight crews, or even the Coast Guard. They have about 200 airmen that they put up a month for training. And they assure us they will block those rooms every night. There's a lot of great opportunity."
Corpus Christi International is also working with an onsite rental car company to put eight electric car chargers in the rental car return lots, since they are bringing in an electric fleet now. The airport also just purchased its first electric vehicle that is slated to be delivered by the end of the year. So, the expectation between those two efforts is that they will have electric charging stations installed in the parking lot within the next 8 to 10 months.
In terms of major infrastructure projects, Corpus Christi International is preparing to completely rehabilitate their secondary runway. This will mean a complete mill and fill, resealing all the taxiways, as well as new paint and striping – a repeat of what was just completed on the primary runway.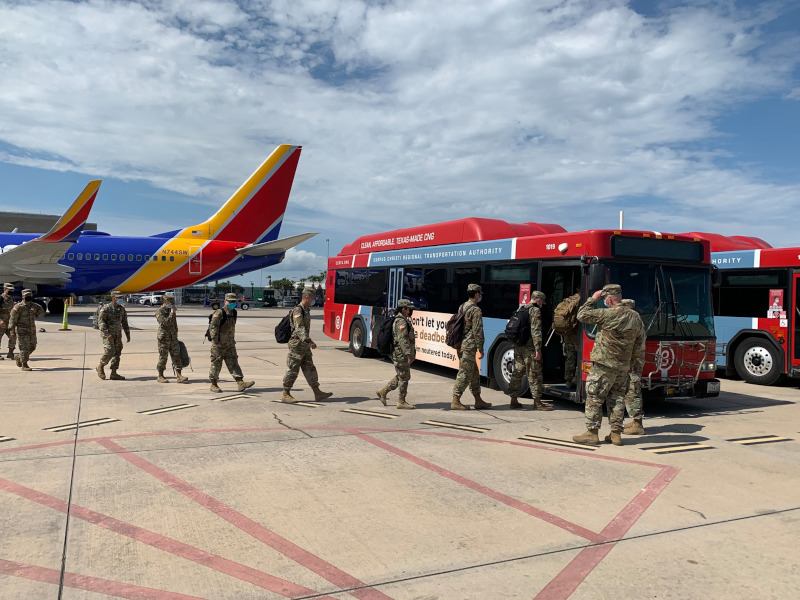 "A couple of other little things we're doing," Smith adds, "is that we are about to reconfigure the way people return their rental cars here. It is currently a very complicated return process, and one of our biggest complaints – that and electric charging for phones, which we're addressing. But, how the car rental works now, when the customers drop off their family or their bags at the ticket counter, that same curbside roadway will now turn right into the rental return lot. Previously, they were having to drive almost off airport property through a security gate and back down this old road – it's just not a very pleasant experience. We are changing that, and as part of that project, we will add an outdoor dog park with some water features, shade structures, and benches."
Another item, and a big game changer, is that they signed an agreement with a company called Vector to administer landing fees for the airport. According to Smith. "About three years ago, the FAA mandated that every aircraft over 6000 pounds had to have a specialized antenna on the aircraft and software associated with it that will communicate the type of airplane that landed – including the weight, pilot name, and who the aircraft is registered to. So, Vector will monitor that information and bill landing fees accordingly. They keep 20% and they remit 80% of those payments to us – and they are successful at about 96% of collecting all the fees. This is going to be a whole new revenue stream for us, which we anticipate to bring in up to an additional $160,000 each year. We did not have a collection mechanism in place before this and so we were not charging landing fees."
As they look ahead, Corpus Christi has begun the process of a new Master Plan. They hope to have it in place by the end of 2022 – and the goal of the plan is to build in triggering points for expansion. For example, if a new airline comes on board, the concourse will have to expand. "Right now, we are looking to the future and doing some back of the napkin drawing to plot the direction," laughs Smith, "but we want to start committing to paper just when and how we expand. If there is a wish list for the next few years it is terminal expansion, then doing some work on the TSA, which is currently spread out throughout the campus and would be so much easier with centralized screening. We would like to have an inline baggage solution to go along with that."
More cargo is also high on the wish list for the next three to five years. Smith confirms, "We want to see that grow. And then there are some of the out-of-the-box ideas that we're working on… we now have a Sports Commission in Corpus Christi that's trying to bring in, national and regional sporting events, volleyball, soccer, etc. And so, we have an offer on the table for some land down from the airport to build some of the facilities like lacrosse fields, a cricket pitch, things like that. We've also just started exploring the option of having a driving range at the airport. There's only one in town and it makes a substantial amount of money and so we feel that, if we could do it right, it's one of those non-aeronautical revenue streams that would help us diversify."
AT A GLANCE
Corpus Christi International Airport
What: A full-service commercial, cargo, corporate, and general aviation airport
Where: Corpus Christ, Texas
Website: www.corpuschristiairport.com
Art Museum of South Texas – www.artmuseumofsouthtexas.org
The Art Museum of South Texas has provided fine art education and access, to the Coastal Bend, for 50 years. Artwork from our Permanent Collection can be viewed at various local establishments including CCIA. We invite the Community and the South Texas traveler to join us for next 50 years.
Texas A&M University-Corpus Christi – www.tamucc.edu
Known as the Island University, Texas A&M University-Corpus Christi is a Hispanic and Minority-Serving Institution recognized for its top-quality academic programs. It has been named the #1 College by the Sea based on academic and research programs that directly impact the coastal community. Students benefit from individualized and immersive learning experiences through more than 85 academic programs.
Garver – https://www.garverusa.com
Founded in 1919, Garver is an employee-owned multidisciplined engineering, planning, architectural, and environmental services firm. Offering a wide range of services focused on aviation, construction, facilities, federal, survey, transportation, water, and wastewater, Garver sits in the top 125 of the Engineering News-Record's prestigious Top 500 Design Firms list. GarverUSA.com.