COE Distributing
Creative Adaptability
Business View interviews J. D. Ewing, CEO & Chairman of COE Distributing, for our focus on the U.S. Wholesale/Retail Distribution Sector
The world has faced an unprecedented two years. Since the outbreak of the COVID-19 pandemic, businesses across all sectors have faced long-running disruption. COE Distributing, a nationwide distributor of office furniture, is certainly no exception, but the adaptability it has shown in reacting to the pandemic does set the company apart from many of its competitors.
"Since March 2020, we've been experiencing constant change," J. D. Ewing, CEO and Chairman of COE Distributing, admits. "We always talk about growth and as we entered 2020, we were ready to continue on that path. We were coming off another record year and across the first two months of 2020, we were up 40% over a very strong 2019. Then, COVID started to impact the business."
The pandemic created what Ewing describes as a "heart monitor type of environment." After a promising start to 2020, COE Distributing suddenly found itself 65% down in April compared to their usual takings. "We hit that bottom in April but then in every subsequent month through to September, we grew to the point where August and September of 2020 were back-to-back record months from a revenue and profitability standpoint. We had our third quarter of 2020 eclipse our first quarter of 2020 as the best quarter in company history."
COE Distributing's ability to recover so rapidly did not come as a huge surprise, however. The company quickly pivoted to office products that were experiencing an uptick in demand as a result of the COVID crisis – items that could help protect workers. "We started producing in-house acrylic screens and we sold a significant amount of those throughout 2020, which was beneficial in two ways," Ewing says. "First, it gave us a revenue stream that we previously didn't have, and second, it allowed us to remain visible in front of our customers at a time where demand wasn't particularly high for the products that we traditionally sold."
In addition to producing acrylic screens, COE Distributing also began offering antimicrobial upholstery and laminates, as well as several other COVID-related products. With most people assuming that the pandemic would last just a few months, there was an expectation that normality would return by the fall of 2020. It was shortly afterward, however, that the second wave hit – and COE Distributing saw the return of the heart monitor environment.
"From September 2020, we really saw revenue flatten and decline," Ewing notes. "But then, by April 2021, we started recording five straight record months in terms of revenue. Before the pandemic, there have always been ups and downs but there was a sense of predictability because we were always growing. By the time the second wave hit, we not only had to manage the back-to-the-office delay but also emerging supply chain constraints." Fortunately, the supply chain issues are now starting to lessen. COE Distributing's largest supplier, which was forced to shut down for four months, has started to contribute an inflow of products again.
Although it's hoped that the worst of the disruption has passed, some of the changes forced upon COE Distributing, such as the manufacture of its acrylic screen, will likely persist. "The acrylic screens were not necessarily our first foray into manufacturing, but they were our first really concentrated effort in this area," Ewing says. "But we quickly realized that we couldn't cut acrylic in mass quantities successfully because we didn't have the right equipment. I was able to connect with two of the three largest acrylic distributors in the country and they cut our acrylics to size, which helped us tremendously. This is a product that we are definitely going to continue offering."
As well as its willingness to pivot, COE Distributing has been able to ride out the worst of the pandemic by increasing its stock to soften the impact of any supply chain issues. The company has three distribution facilities totalling approximately 750,000 square feet. It has purchased significantly more safety stock over the past 12 to 18 months to fortify itself against further disruption. "The time that saw the greatest challenge for us was when factories were shutting down completely for four months," Ewing recalls. "We were caught off guard, without a viable backup facility. But if there is any good news to emerge from all this, it's that it has certainly forced us to get creative and dig deeper as a team. Another point to mention is that the majority of our competitors are in a very similar position due to supply chain constraints. And they did not necessarily plan ahead and bring in excess inventory as we did."
COE Distributing also took the time to assess how customer demands were shifting as a result of the COVID pandemic. With more individuals working from home, many employees are looking for higher-end products to build their home offices around. "Over the last 12 to 18 months, as home working became more permanent, companies started to realize that they were going to have to fund some if not all of the necessary furnishings," Ewing comments. "There was a shift in the type of furniture that was being purchased, so we've had our clients work with their companies and their end-users to ship proper office chairs to 800 individual locations across the country. We've also seen demand for higher-quality desks as C-suite personnel started to get their home offices set up."
Of course, the difficulties created by the pandemic did not just affect COE Distributing's sales, they also impacted the wellbeing of its employees. The company has around 125 members of staff and is proud to confirm that not a single one of those was laid off or put on furlough. "We also announced that we were giving each of our employees an additional 80 hours of paid time off," Ewing says. "This could be used if an employee or anyone in their care was impacted by the virus or they simply needed a mental health day because of the stressors that are out there that we had never dealt with before. Plus, we still increased wages just as we normally would do in both 2020 and 2021, despite the pandemic."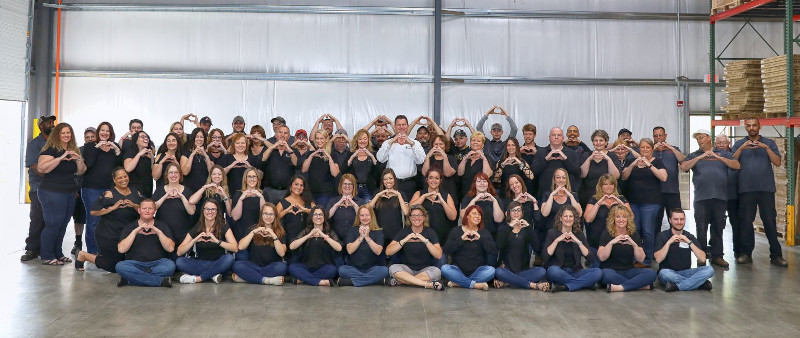 The care for its employees that COE Distributing displays ensures that the company has created a hugely positive workplace culture. It has continued to hire throughout the pandemic – including several high-level personnel that can fulfill their roles remotely. "The first time that any of us met one of the new members of our executive team face-to-face was during a team meeting in October," Ewing admits. "Although the hire had actually taken place nine months previously, everyone felt as if they knew this individual because of the relaxed environment we create.  I think this speaks to the strength of our culture, as well as our ability to adapt to a hybrid working environment."
In addition to its staff, COE Distributing was also supported throughout the pandemic by two private carrier partners, including Aim Integrated Logistics, that the company has worked with for a number of years. Another key partnership has been that of BigCommerce, the world's leading cloud e-commerce platform, which helped develop COE Distributing's online platform.
"During the pandemic, we carried out a website refresh that was focused on creating more of an Amazon-like experience," Melanie Ewing, CEO Distributing's Chief Marketing Officer explains. "With technology evolving all the time, we knew it was time for us to develop relationships with more e-commerce accounts. In BigCommerce, we found a partner that could build the website pretty much from the ground up. A company that understood our business model and helped us to execute a website that reflected that."
Having navigated the disruption of the COVID-19 pandemic with the support of its customers, employees, and partners, COE Distributing is looking ahead to resuming its growth and developing products that are beneficial to everyone that it works with. The company will also keep one eye open for expansion and acquisition opportunities should they become available, but CEO and Chairman J. D. Ewing's ambitions for the next few years are more humble. He shares, "The main items on our wish list are good health and continued productivity."
AT A GLANCE
COE Distributing
What: A national wholesale office furniture distributor
Where: Smock, Pennsylvania
Website: www.coedistributing.com
Sisterson & Co. LLP – www.sisterson.com
Sisterson & Co. LLP is one of the largest independently-owned CPA firms in Pittsburgh and western Pennsylvania. Since 1926, clients like COE have experienced the Sisterson Standard, a tradition of technical excellence and exemplary service.