California Association of Winegrape Growers (CAWG) – Golden Grapes
CAWG's Half-Century Legacy in the Winegrape Industry
Navigating challenges and celebrating milestones, the California Association of Winegrape Growers shows resilience and innovation 50 years strong
In the heart of Sacramento, California, the California Association of Winegrape Growers (CAWG) is a glowing example of the enduring spirit and unity of winegrape growers across the state. Founded in 1974 by a visionary group of growers, CAWG emerged as a beacon for the entire winegrape industry, providing a unified voice and ensuring that the interests of every grower were heard and protected.
Today, nearly 50 years later, CAWG's mission remains unwavering: to protect and promote the interests of California winegrape growers. With a vision that emphasizes the winegrowing industry's long-term success, CAWG is dedicated to advancing sound public policies and fostering an understanding of winegrape growers' invaluable contributions to the economy, environment, and the vibrant communities of California.
Natalie Collins, the esteemed President of CAWG, offers a deeper insight into the association's core. "The California Association of Wine Grape Growers was started by growers who saw a need for a statewide voice on behalf of the entire winegrape industry," she recalls. CAWG's focus has always been razor-sharp, concentrating on state, federal, and regulatory work that directly impacts winegrape growers. With a strategic presence in both Sacramento and Washington, D.C., the association ensures that the voice of the growers resonates at every level of governance.
Who exactly are these growers that CAWG represents? "We represent winegrape growers," Collins elaborates. "Our membership is voluntary, and our fee schedule is based on a per-acre fee."
With over 615,000 acres of wine grapes in California, CAWG proudly represents approximately half of that vast expanse. But the association's reach extends beyond just the growers. "We also have associate members," Collins adds, "which include industry support members such as bankers, insurance companies, wineries, vineyard supply companies, and trucking."
Advocacy and Adaptation: CAWG's Forward-Thinking Approach
Collins emphasizes the multifaceted objectives of CAWG. "Advocacy, anything impacting our grower and their operation, is paramount," she states. "Sustainability is not just about how they manage and care for the land, but also ensuring that they are sustainable for the next generation."
This involves a keen focus on labor, water, and the integration of new technologies that bolster efficiency. Collins adds, "A lot of focus is around how our growers can adapt to the ever-changing climate here. If you think of anything that might affect a winegrape grower's operation, we have a hand in on the regulatory and advocacy side of things."
The association's commitment to advocacy is evident in its robust infrastructure. While it maintains a federal lobbying team in Washington, D.C., its state-level efforts are equally formidable.
"We have a director of state government affairs on our team," Collins reveals. "He has more than 30 years of experience in the California State Capitol. Aside from him leading the charge, we also have a dedicated, full lobbying team in Sacramento."
On the state legislative front, CAWG has been proactive. "This year we sponsored Senate Bill 659," Collins shares. The bill, focusing on groundwater storage, aims to capture abundant rainfall for future use, especially during droughts—a frequent challenge in California. The bill has garnered widespread support, emphasizing the importance of water for California's crops.
Transitioning to federal initiatives, Collins highlights two significant bills endorsed by CAWG. Introduced by Senator Alex Padilla and Congressman Mike Thompson, both of California, these legislations address the challenges posed by wildfires.
"The Smoke Exposure Research Act," Collins explains, "would authorize a total of $32.5 million over five years to research the impacts of smoke on wine grapes." Another bill, the "Crop Insurance for Wine Grapes Act," aims to provide better insurance protection for wingrape growers affected by wildfires.
Fostering Growth: CAWG's Commitment to Education and Industry Evolution
"Education and information sharing is another big part of our association," asserts Collins, emphasizing the pivotal role of continuous learning in the winegrape industry. "A lot of it is updating our growers on new regulations that come into play, whether it's something that affects their workforce or anything from labor to HR practices."
CAWG's approach to education is multifaceted. It hosts regional meetings, allowing for face-to-face interactions and updates. Given its statewide reach, webinars have proven to be a particularly effective medium. "We can provide webinars, guest speakers from all over the world, and then record those webinars to create a library of resources," Collins elaborates.
However, the crown jewel of CAWG's educational endeavors is the Unified Wine and Grape Symposium. "CAWG co-owns and operates the symposium, which takes place every January in Sacramento," Collins shares. In 2024, this monumental event will celebrate its 30th anniversary.
The event draws in over 10,000 wine industry professionals across three days. "We have over 25 educational breakout sessions with more than 90 speakers from diverse backgrounds all over the world," Collins details. These sessions delve into viticulture, technology, industry trends, market strategies, and a plethora of other relevant topics. Beyond the educational component, the symposium also boasts a trade show featuring over eight hundred exhibitors, showcasing the latest innovations and services for the industry.
Collins reflects on the sheer scale of the event, "It speaks to the magnitude of the wine grape, and wine industry.. It is a true all-encompassing show that includes people and products from the vineyard all the way to distribution, and everything in between."
Navigating the Wine Industry: Trends, Challenges, and Sustainable Solutions
In the ever-evolving landscape of the wine industry, understanding and adapting to trends is crucial. "This year, many of our grape growers are having a hard time securing contracts with wineries to sell their fruit," Collins reveals, highlighting the challenges faced by winegrape growers in a saturated market.
"Wine sales have been a bit sluggish over the last few years. There are so many wines in the marketplace that consumers are overwhelmed with choices." This tight market, combined with changing consumer preferences, has created a sense of uncertainty.
Addressing the pressing need for sustainable practices, Collins shares CAWG's proactive approach. "In 2003, CAWG, in collaboration with the Wine Institute, created the California Sustainable Winegrowing Alliance (CSWA)," she explains. This separate entity is laser-focused on the sustainability of the winegrape and wine industry.
"CSWA emphasizes the three E's: environmental stewardship, social equity, and economic viability." The alliance offers a certification program for sustainable wine grape growers and wineries, providing a comprehensive workbook with resources and benchmarking targets. "Last year," Collins proudly shares, "over 80% of California wines were produced in a certified sustainable California winery."
The impressive figure underscores the industry's commitment. "The California winegrape industry is deeply focused on sustainability and innovation," Collins emphasizes. "For the winegrape grower, it's about sustaining the land they farm and their company. This program has empowered growers to set benchmarks and goals, ensuring a brighter, more sustainable future for the industry."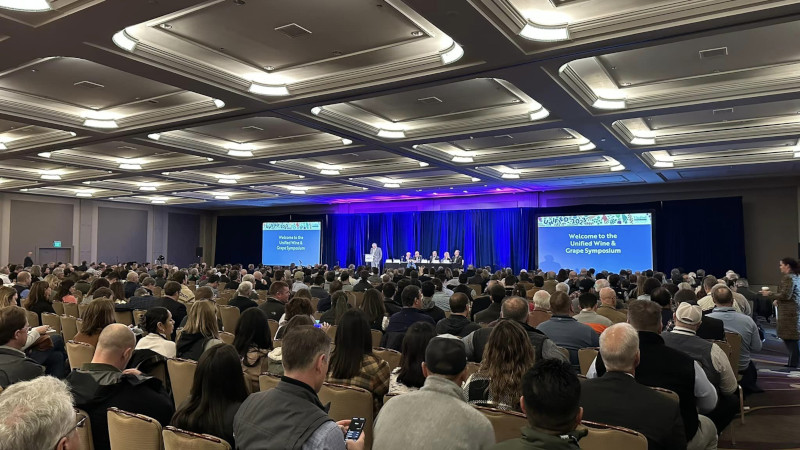 Strengthening Community Bonds: CAWG's Commitment to Engagement and Legacy
Collins also shares the heart of CAWG's community engagement, emphasizing the association's commitment to the winegrape community. "Part of the California Sustainable Winegrowing Alliance and being Certified California Sustainable focuses on community engagement," she explains. "A piece of the certification entails a strong focus on community engagement and contributions to their local communities."
In a significant move to support the community, CAWG launched a foundation in 1998. "The primary focus of the CAWG foundation is to provide scholarships for the children of farm worker employees," Collins shares. Recognizing the invaluable contributions of farm workers to the winegrape industry, the CAWG Foundation has since awarded over $600,000 in scholarships, enabling these students to pursue higher education.
While CAWG represents the entire state, Collins acknowledges the pivotal role of regional winegrape associations in areas like Napa, Sonoma, Lodi, Paso Robles, Lake, Mendocino, Santa Barbara, and Temecula. Collins notes, "These associations contribute to the overall success and sustainability of the wine industry, while also promoting the unique characteristics in their regions and the growers and community in which they represent."
The association's legacy also speaks for itself. "In 2024, CAWG will be celebrating 50 years," Collins proudly announces. "It's a huge milestone, and we're eagerly anticipating paying tribute to those growers who helped start the association and got us to where we are today."
Navigating Challenges and Innovating for the Future
As the wine industry grapples with a myriad of challenges, CAWG remains cognizant of its immediate objectives. "With the reauthorization of the farm bill due in September, we're channeling our efforts into securing funding for mechanization and automation research," Collins shares.
The devastating impact of wildfires in 2020, which led to over $601 million worth of winegrapes going unharvested, remains a significant concern. "It's estimated that the industry lost over $3.5 billion from the wildfires during the 2020 harvest," Collins reveals, underscoring the long-term effects still being felt today.
The labor shortage is not unique to the winegrape industry but is a broader challenge affecting various sectors. "We have a much older workforce currently, and those aging out aren't being replaced at the same rate," Collins observes. While innovations have reduced labor needs in some areas, such as the shift to almost 95% mechanical harvest, the challenge persists.
Supply chain disruptions have further complicated matters.
"Growers faced difficulties procuring certain crop protection tools, and even steel for planting new vineyards," Collins states. The winery side wasn't spared either, grappling with shortages of glass, capsules, and corks.
Despite the challenges, CAWG remains steadfast in its commitment to the winegrape community. As the association approaches its 50th anniversary in 2024, it remains a beacon of resilience, innovation, and community engagement in the California wine industry.
With a legacy of supporting growers, fostering sustainable practices, and championing community initiatives, CAWG is poised to navigate the future's uncertainties and celebrate many more milestones ahead.
AT A GLANCE
California Association of Winegrape Growers (CAWG)
What: An association dedicated to representing the interests of winegrape growers across California, focusing on advocacy, sustainability, community engagement, and education.
Where: Sacramento, California (with a federal lobbying team in Washington, D.C.)
Website: https://www.cawg.org/