Going digital has never been easier or more important
Technologies that sounded purely conceptual a few years ago are routine now—and they can drastically improve production routines—and results. It's time to welcome the digital future.
Digital manufacturing technologies include processes such as additive manufacturing and automation; software and control technologies; digital twin; and connectivity and Industrial Internet of Things (IIoT) solutions. If you have a problem, digital technologies can offer solutions:
Facing a shortage of skilled labor? Digital manufacturing can reprioritize labor needs and decrease training times.
Need to reduce time to market? Digital processes can cut machine downtime and streamline production time.
Struggling to respond quickly to customer requests? Advancements in digital technology enable rapid responses.
Focused on improving efficiency? Digital tools can make production both swift and seamless.
"Where analog products yield linear improvements, digital technologies create exponential growth and transform how manufacturers operate. As a result, we are on the cusp of a productivity breakthrough not seen in more than a generation," says Peter R. Eelman, Vice President & CXO at AMT – The Association For Manufacturing Technology. AMT represents and promotes U.S.-based manufacturing technology and its members — those who design, build, sell, and service the continuously evolving technology that lies at the heart of manufacturing.
Recently, Business View Magazine connected with representatives at AMT to learn how digitization is good for business. Ahead, you'll meet some of the pioneers of digital manufacturing and learn about the tools and technology they are employing— from 3D printing to IIoT.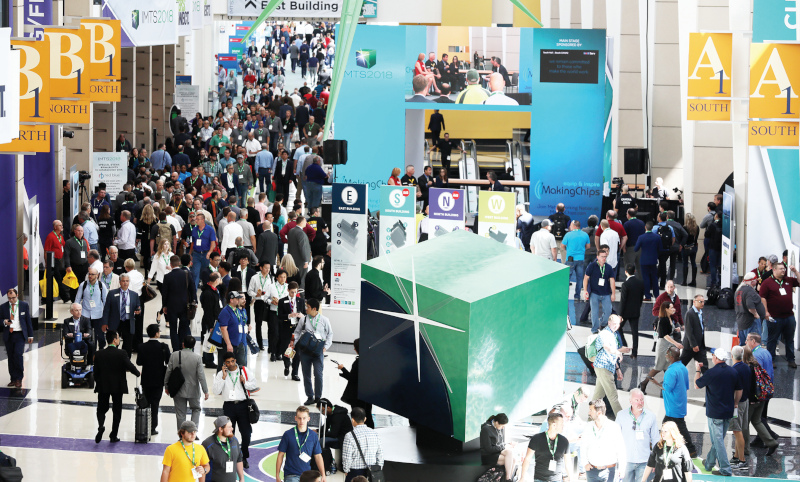 3D Printing
Additive manufacturing (AM, or 3D printing) is perhaps the most quintessential digital process, as it involves producing three-dimensional solid objects from a digital file. While originally known as a technology for rapid prototyping with polymers, AM solutions increasingly focus on metal parts made in larger sizes and lot volumes.
The best established metal AM process, Direct Metal Laser Sintering (DMLS), builds a part one layer at a time by directing a laser at a bed of metal powder. DMLS enables designers to radically rethink part geometry using lightweight components (such as for fuel efficiency). The technology also helps consolidate components to reduce assembly steps or to enhance performance.
An excellent example is the proof-of-concept part for a GM seat bracket designed with Autodesk's Fusion 360 cloud-based generative design software. Using 3D printing, the bracket went from eight welded components to a single part. The redesigned part is 40 percent lighter and 20 percent stronger than the original.
"Adoption of the technology is growing rapidly, but we're all still scratching the surface of this technology's full capabilities," notes Glynn Fletcher, President and CCA of EOS North America, an AM industry pioneer.
DMLS is just one metal AM solution. Another is wire-based AM, which features a system that resembles a robotic welding cell that offers deposition rates up to 10 kg/hr. To show the speed and versatility of large format AM systems, consider that it traditionally takes a minimum of six weeks to make a mold, and it costs tens of thousands of dollars. With wire-based AM, molds can go from a digital file to actual production in a matter of days compared to weeks or months.
If manufacturers do not want to bring AM in house, no problem. Contract services are available from companies such as 3DEO, which focuses on small, complex stainless steel components and has handled order volumes as high as 28,000 parts.
"At 3DEO, there are no high up-front costs," says Matt Sand, President. "We eliminate the cost of what could be a $100,000 mold, have a material performance and cost structure that's competitive with processes such as metal injection molding, and have the same or better quality."
Some manufacturers debate whether they should shift from a traditional metal removal process to AM, but the question is actually, "traditional, AM or a hybrid solution?" Several exhibitors in the Metal Removal Pavilion at IMTS 2020 will demonstrate systems that combine a metal removal process with an AM or a metal fusion process such as friction stir welding.
"Hybrid technologies offer all the inherent advantages of digital manufacturing, such as traceability and connectivity," says Eelman. "They consolidate processes to reduce cycle time and eliminate error sources, but they also offer the design freedom associated with AM and joining technologies."
Software and Control Technologies
The variety of software and control technologies on the market can also streamline production times and decrease costs. Often, while searching for a controller for their CNC (computer numerical control) machines, manufacturers find they need a completely new production approach.
A CNC controller functions as the brain of the system. Modern controllers and software programs can simplify the connections between the computer system and the mechanical components of the machine.
Conventional machining requires multiple material handling steps, removal of the part from its fixture for inspection and measurement, making CNC adjustments, and machining several parts to optimize set-up. The process consumes time, plus it is expensive if it means scrapping parts made from an alloy like titanium.
"There's more variety in the parts now. There's smaller lot sizes — even lot sizes of one. Cutting the first part right demands a new process flow," says Gisbert Ledvon, Director Business Development Machine Tool at Heidenhain, a leading controls manufacturer.
Ledvon describes a process flow that starts when a camera mounted inside a machining center takes a picture of a perfect setup and stores it in the machine control. During machining, the operator can look at a controller with two screens, one for 3D simulation of the part and the other displaying operating parameters. The last step involves in-process inspection, where the part is measured — while it remains in its fixture — and the metrology system feeds data to the controller for potential adjustments. As a result, the part comes off the machine right the first time.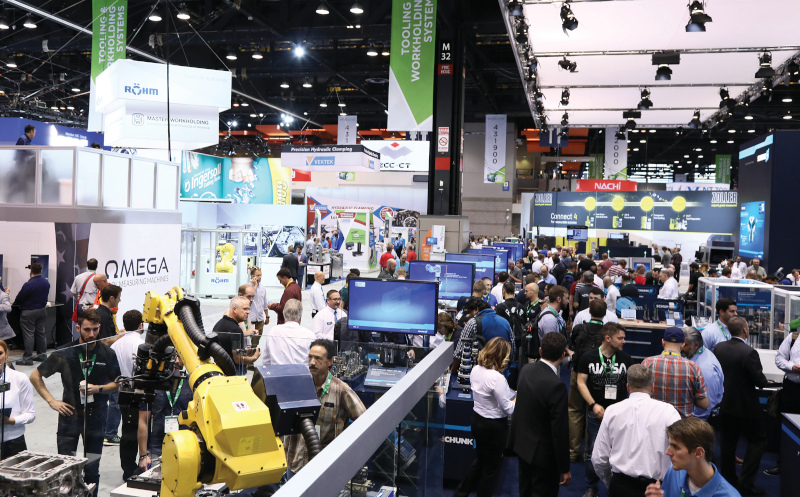 The Digital Twin
Using a digital twin can also help produce parts right the first time and enable high-mix, low volume production. A digital twin is a digital replica of potential assets and actual physical assets. It sounds futuristic, but technology now enables manufacturers to create or verify a digital twin using a real production part.
For example, Grale Technologies has developed what it calls Automated Integrated Metrology (AIM) technology. Using laser scanning systems inside a CNC or 3D printer, AIM measures up to 800,000 points per second. It collects spatially registered data accurate to the voxel level (voxel is like a pixel, but for volume) to produce a self-reliant digital twin.
Based on the marriage of the CAD-CAM files, part and process data, AIM enhances information integrity and boosts quality assurance, a very comforting thought for "mission critical" parts like aircraft turbine blades and medical components. In addition, AIM technology can also enable single part lot sizes and mini-batches to become profitable, broadening its appeal.
Industrial Internet of Things (IIoT)
Modern manufacturing isn't just spawning digital twins—it is building complete digital extended families. The Industrial Internet of Things (IIoT) is the connections between all the machines, sensors, instruments and devices in a modern workspace. These myriad connections allow for improved data exchange and analysis, ultimately leading to enhanced productivity. Connecting everything makes it all more efficient.
For example, MetalQuest Unlimited, a 70-person manufacturing company in Hebron, Nebraska, has proven that a small-town company can compete on a global scale. Connected machines were the key.
"We were IIoT before IIoT existed," says Vice President Scott Volk. MetalQuest started monitoring its CNC in 2002 by connecting its vertical machining centers (VMCs) to a network that enabled Volk to monitor their efficiency.
"Because we monitor, analyze and act on data, it's very easy for us to get 90-plus percent efficiency on a horizontal mill. Some of them run very close to 100 percent efficiency," says Volk. To put this achievement in context, 85 percent efficiency is considered world-class, and 60 percent is typical.
To connect its equipment, one of the technologies that MetalQuest uses is called MTConnect, a free, open-source, cross-platform communication protocol that enables the company to connect any device within its enterprise systems.
Discover and Act at IMTS
To learn more about digital manufacturing technologies, there is no better resource than IMTS – The International Manufacturing Technology Show, owned and produced by AMT. Called "the Super Bowl of manufacturing" by attendee Matt Guse, IMTS 2020 will be the greatest gathering of manufacturing technology and expertise in North America.
"I just don't know how you can afford to miss the show. Attending IMTS should be part of everybody's business plan," notes Guse, president of MRS Machining, a 47-person machine shop in August, Wis. He has attended every IMTS since 1996 because he feels there's no substitute for evaluating suppliers in person and networking with peers.
IMTS 2020 runs from Sept. 14 – 19 and occupies all four buildings of Chicago's McCormick Place. It will cover more than 1.4 million net square feet of floor space and feature more than 2,400 exhibitors, an Emerging Technology Center, scores of educational conferences and technical sessions and a Smartforce Student Summit.
IMTS organizes the show into nine pavilions that cover the breadth and depth of manufacturing technologies: Abrasive Machining/Sawing/Finishing, Additive Manufacturing, Controls & CAD-CAM, Fabricating & Lasers, Gear Generation, Machine Components/Cleaning/Environmental, Metal Removal, Quality Assurance and Tooling & Workholding Systems. In addition, the show features IIoT examples that cut across all of these pavilions, encompassing everything from smart tooling to software to cyber security.
"Visitors will find more digital solutions than they can imagine," says Eelman. "Even if you're coming to the show to look for a very specific technology, I can guarantee you will find much more than you intended."
For more information on IMTS 2020, visit www.IMTS.com.
Contributors to this article include:
Julie McGuire – Senior Manager, Content Development
Monica Haley – IMTS