Building Zone Industries
Teamwork, innovation, and action
Business View Magazine interviews, James Barlow, CEO of Building Zone Industries, as part of our focus on the steel erector industry.
Founded in 2006 by five farmhands in their late teens and early twenties who were looking for opportunities to stay busy, Building Zone Industries (BZI), a steel erection company based in Kanarraville, Utah, couldn't have grown from more humble roots. The partners started erecting pole barns and pre-engineered buildings for their neighbors in southern Utah and eastern Nevada, and their farming background had established within the crew a deep understanding and respect for the law of the harvest: "You reap what you sow." They grew up knowing the necessity for hard work, the importance of teamwork, and the value of innovative, out-of-the-box thinking when resources where scarce.
From just a few hands, the company grew, and eventually found its way into more commercial projects. Fast forward to today, BZI has 240 employees and is nationwide power player in the warehouse and distribution center space. And yet, there was a time, early in the company's existence when it almost came to a full stop. "In 2008, when the financial crisis hit, it tested the resolve of the team," recounts Company CEO, James Barlow. "A lot of businesses didn't make it, and construction in particular was hit really hard, and the team wondered if we should close the business. There were customers who weren't paying, and payroll was late. One weekend the team gathered – ten or twelve guys – and they took a vote on whether they should close the business or not. They voted to shut it down. Monday morning, the whole team showed back up to work because nobody had another job. They took another vote to decide whether or not to reopen the business, which became the consensus, and everybody went back to work. It was kind of a landmark moment when everybody decided to stay in the game."
For the next few years, 2008-2011, Barlow says it was all about survival and rebuilding from the ashes of the Great Recession. The company began to get some traction in the retail sector, building facilities for such well-known giants as Wal-Mart and Kroger. In 2012, BZI built its first distribution center – a 900,000-sq.-ft. facility for Family Dollar in St. George, Utah. Over the next few years, it also fulfilled a lot of specialty welding contracts, upgrading joists in existing facilities all over the U.S. "We started developing a lot of innovative equipment," Barlow explains. "We developed a battery-powered welding system, where we could go in and work in finished facilities without streaming wires and cords. The focus was on innovative equipment and systems to resolve technically complicated project scenarios."
"In that time frame too, we built our first panel table system," Barlow continues. "It's a way to modularize the work, where you do a lot of work on the ground and lift up modularized components. The conventional way is you put one piece of steel in the air at a time. We developed this panelizing process, where we would combine multiple components into one modularized piece and set that up on the roof. We did a 1.4 million-sq.-ft. project in Tracy, California – it was the biggest one up until that time – and we used this new technique. Today, both the equipment and our processes are patented. That was really the beginning point when we became different; it's really what sets us apart."
In 2016, the company began to notice a shift away from big brick-and-mortar retail into e-commerce. "We were watching how everybody was no longer building the brick-and-mortar stores, and we could see this wave of very large buildings – a million square feet and up – all over the U.S.," Barlow relates. "Up to that time, about 80 percent of our erection activity was in retail. So, we made a hard pivot into that space, and we put together a plan to take our panelizing systems into the warehouse and distribution market.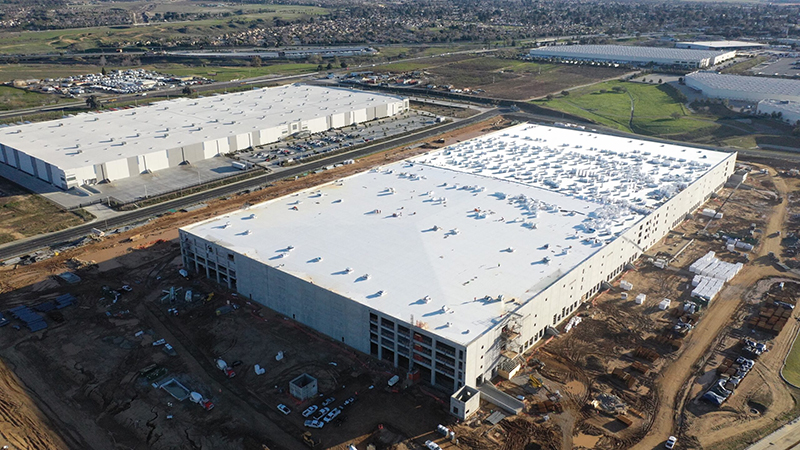 "In 2017, that was our focus. We had to redefine the company, so we invested heavily into scaling up our panelizing process, and we established all new clientele in the warehouse/distribution space. In that year, we created from scratch, and launched, two new panel tables and we also started a little fabrication shop called Realine Steel to service some of our large fabricators with miscellaneous metals and expedited components. So, it was a big move for us."
"In 2018, we deployed a new piece of equipment called the MezzMaster. It's a jib that attaches to a forklift. So, instead of having to use cranes, we can use forklifts to lift those panelized sections of roof into place. The reason it's called MezzMaster, because it's the first time that I know of, that a mezzanine in a building could be panelized. Nobody in the industry was doing anything like that, so it was a revolutionary shift. In the same year, we deployed two more panelizing systems and a bunch of MezzMasters. These are all proprietary, patented equipment – we're the only ones in the industry with it."
Because BZI is able to do most of its work on the ground, which is very different than what the industry was used to, its crews are able to work much faster. "We're cutting 40 percent of the time out of the building schedule," Barlow notes. "A project might be ten weeks, and we're putting it up in six. So, there's been exponential growth. In 2016, we erected 3 million square feet of steel. In 2020, we are on track to install over 20 million square feet."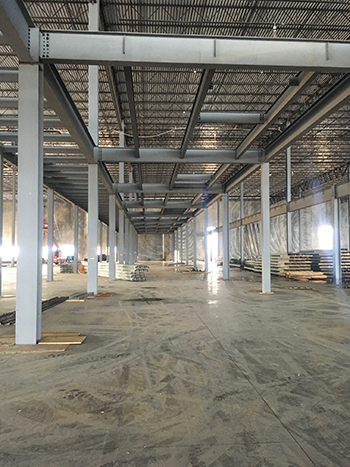 In addition to the speed at which BZI can finish projects, Barlow believes that the company is successful because of several other attributes. "I think that the most important point, when it comes to our business, would have to revolve around our culture – the commitment to continuous improvement and the commitment to hard work," he maintains. "We have a slogan: 'Teamwork, Innovation, and Action.' We feel like that really defines who we are. The commitment to the team – we do that by looking to attract a younger workforce and building a results-driven work environment. That's a key component. The innovation – we could not scale like we are without an innovative environment. It's not just a piece of equipment – it is systems thinking and the contributions we get from all areas of the organization that contribute to better processes. It's very non-conventional. Action is really about the energy – our average employee age is in the mid-20s. That's very different from your conventional erection company. Most people in our industry are in their 40's and 50's. Our entire workforce, by those standards, is a very young, high-energy, active workforce. Those are the most defining elements of our organization."
Going forward, Barlow says that the focus is on scaling up its systems, building out more teams, and leveraging its relationships so that the company can take as much of the market as possible. "Also, over the next five years, or so, we intend to regionalize across the U.S.," he adds. "Right now, we have teams that move wherever the next job is. So, one of our next steps is to regionalize, where we can get dedicated resources to specific regions to try and build a sustained presence in each of the regions. Based on those opportunities, we feel like we can continue this growth momentum for several years."
Teamwork, Innovation, and Action have propelled Building Zone Industries from a small group of industrious farmhands to a powerhouse in the steel erection sector. And Barlow says that the company is far from done. "We intend to be an industry leader in the erection world and, especially, in the warehouse/fulfillment space," he declares. "We want our name to be the household name; we want to be the go-to; the one that knows."
AT A GLANCE
Building Zone Industries
WHAT: A steel erection company
WHERE: Kanarraville, Utah
WEBSITE: www.buildingzone.com

Expera – www.expera.tech | Office@expera.tech
Expera is delighted in becoming a team player with BZI. With the rapid pace of BZI's steel erection procedures, we as well are working with our partners in developing innovative solutions, bringing safer and more efficient methods. We take our motto seriously: "Expertise to Perfection." We seek to provide expertise of workmanship, but we are always on the quest to perfection in method, safety, and customer relationship. Having specialized in stud welding, at one project we completed installation of 580,000 studs in 8 weeks, having our record day of installing over 27,000 studs in one day. We now have expanded our scope to specialize in deck finishing, such as installation of all fasteners. Having participated with Amazon and BZI now in 5 different states, we seek to expand to be a team player with all our fellow Americans to make the world a better place."