Budd Van Lines
Where moving is a breeze
Business View Magazine interviews Gary Grund, Senior VP Sales & Marketing at Budd Van Lines, for our focus on Best Practices in Supply Chain & Logistics
The mission of Budd Van Lines is to be the absolute best moving company in North America. Headquartered in Somerset, New Jersey, this family-owned operation has built quite the reputation over the years by innovating the moving process, itself, as well as a relentless focus on customer service. The recent acquisition of Merchants Moving & Storage, a hundred-year-old company out of Racine, Wisconsin, has allowed Budd Van Lines to combine both companies' efficiencies while creating a larger national footprint.
"Budd was founded in 1975," explains Gary Grund, Senior Vice President of Sales & Marketing for Budd Van Lines. "Since our inception, we have specialized in corporate relocation, so we work with many Fortune 500 companies and relocation management firms. We now have five service centers around the country in New Jersey, Wisconsin, Georgia, Texas, and California. Everything is managed centrally out of the headquarters. We have GPS on all the trucks, and we control the planning of our driver teams to cover all  48 contiguous states."  This centrally controlled system offers better control, reliability and personalized service over a van line franchise system.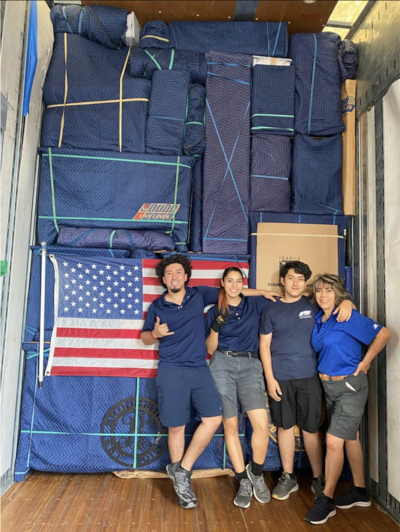 "We just built the Budd Training center in our Wisconsin office in Racine," Grund continues. "It is a brand-new warehouse and all of our new drivers must spend a week training at our Wisconsin Service Center, whether they've been in the industry for two years or 40 years. We cover everything from safe handling of goods and safe packing, straight through to how to protect the home when moving things in and out. But the biggest focus is  on taking care of the customer and delivering a great experience during a stressful life event."
When COVID-19 hit in March 2020, Budd Van Lines was coming off a successful 2018-2019 high – the economy was growing and relocations were up. The pandemic changed everything and 2020 saw a decline in the volume of relocations as people worked from home. It was a scary and uncertain time for the entire industry. Dave W. Budd, Sr., Founder and CEO, remained committed to the company's mission, and they did not implement a single layoff during the pandemic in spite of the decline in revenue. The Budd Sales Team made a strategic shift to handle more personal residential moves during this period and it helped offset the decline in corporate relocations. The post-pandemic rebound of 2021 was far better than expected. Relocation volume starting in May saw an unprecedented number of relocations in industries like pharma, high tech, and defense contractors.
Grund acknowledges, "Because we did retain our employees and driver teams, the company was able to handle the largest move volume in the company's 47 year history. During the pandemic our driver teams followed CDC standards with mask wearing and social distancing with customers. The company sent out weekly COVID-19 updates to clients and relocating families. We are very fortunate to have had a less than 1% transmission rate of COVID-19 in the field with customers and driver teams."
Not to say that the moving industry isn't still being hit hard today. They have seen a 9% inflation rate in material prices every six months for the last two years. Paper shortages are one thing, but truck parts and even drivers are hard to come by these days. When a part breaks it can take months to replace.  Despite the supply chain challenges, Budd had an on time service percentage of 99.9% in 2021. "It was absolutely amazing that we had only 33 delay claims out of 7,000 families serviced around the country.  It was by no means easy, but our team pulled it off," Grund reports.
Budd Driver Teams do short runs and cross country, with an average move of 13,000 pounds, going 1000 miles. They also have husband and wife couples who work as a team when it comes to driving, which works out well for many reasons.
Budd Van Lines credits two innovations as key to their success. First is the unique service model "Team Pack – Team Haul", while the second is the "Load it Once" Modular Move System.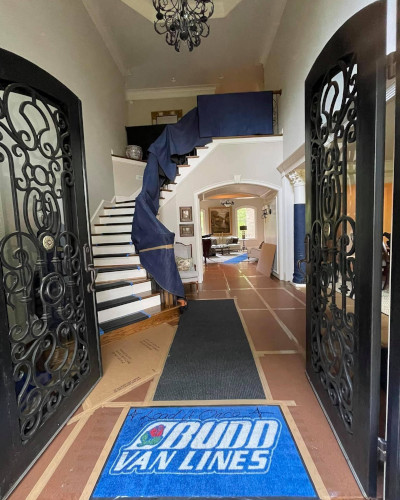 Grund explains, "Team Pack – Team Haul is a different way of doing things from the classic way that moving van companies have operated. Most companies developed a franchise model, where the mover in the city you leave would pack things and send them off to another franchisee at the destination. So, if you were moving a family from California to Florida, there would be an agent who assigns packers in California. There's going to be a company that assigns a driver to move it across the country, and then there is another agent in Florida to assign people to do the delivery services. It's a whole bunch of different people touching a family's move at one time and the service levels can be inconsistent."
With Budd Van Lines, that family moving from California to Florida is assigned one Budd driver team from start to finish. The driver is also the one that packed your home in California and is going to be the same one that delivers your goods to your home in Florida. Grund adds, "That makes for more consistency but also a level of connection that does not exist in the other model. We have had letters from customers who end up becoming friends with the drivers, they are such an integral part of the move."
The second unique innovation is the "Load it Once" modular moving system which Budd Van Lines developed, patented, and built their own trucks for. The idea came from founder, David W. Budd Sr., but sat on the shelf for a few years before it was dusted off and became particularly helpful during the COVID years.
"Take the example of an average move, going to storage and then being delivered," Grund says. "Your goods are wrapped and packed in the home, packed on a truck, then, unwrapped, re-wrapped, and stored in a storage container at the warehouse called a vault. Then they are removed from the vault, re-wrapped, packed on another truck, and moved to your home. That is like eight steps for handling.  We invented a truck that keeps all the goods in one sealed container until we get to your new home. We have reduced the handling from eight steps down to two, and in so doing, we have seen our claims ratio drop from about 20% to 2%. Which is incredible. It is also way more efficient. No drivers are waiting at a warehouse to unload before moving on. So, you look at a big move, say an executive move with 25,000 pounds. It used to take four days to turn that around at the warehouse, and now it takes 17 minutes."
A third innovation from Budd Van Lines is the Eco Crate. This has been a great addition in terms of sustainability. Budd Van Lines developed reusable specialty crates and packing for artwork, televisions, and oversize fragile items – a large, multi-layered corrugated reusable box for each item. They are now going on 11 years with some of the original Eco Crates. The Eco Crate is conserving 300,000 lbs. of corrugated material a year contributing to saving trees, landfill space, and water used in manufacturing/recycling cartons.
"We are fortunate to work with several companies that have really stepped up over the last couple of years," says Grund. "For example, we work with two car hauling companies, Reindeer and Blue Star, who had the same challenges as we did in terms of resources and retention of drivers, and they managed to stay on time while communicating every issue as it came up. They did the work to keep the drivers and customers safe while hitting the deadlines. We also work with MSS (Movers Specialty Services) who do specialty items like appliances, gym equipment, and pool tables, and do an outstanding job of making it all run smoothly for our mutual customers."
"It is a very exciting time to be a part of this industry," Grund concludes, "I think we will see a bit of change and perhaps some consolidation, but things look positive. If you had asked me two or three years ago, it was looking like millennials were not going to be buying homes and that the relocation industry could decline significantly, but in a short matter of time, we have seen that millennials are buying homes now, starting families. And because everyone is working from home, at least a percentage of the time, they're buying bigger homes because they need an office.
He adds, "The moving industry, in particular driver teams, is made up of incredibly hard working, dedicated and caring individuals. One client said it best recently, when we were able to cover their large move in the middle of the peak season: 'You have to be some of the most resilient and customer focused people I have ever worked with, because we are all absolutely nuts when moving!' "We at Budd Van Lines are fortunate to have the industry's best working for us."
AT A GLANCE
Budd Van Lines
What: Industry-leading, national moving company
Where: Headquarters in Somerset, New Jersey
Website: www.buddvanlines.com

Movers Specialty Service – www.mss1.com
Since 1978, MSS has delivered personalized service to the relocation marketplace. Through our curated nationwide network of technicians, we provide a seamless integration of third party specialized moving services to restore order and comfort to transferees. MSS comprises three distinct divisions: Relocation Support Services, Precision Crating Services, Pure Install Solutions.