Brainerd Lakes Regional Airport
An oasis in Northwoods Minnesota
Business View Magazine interviews Steven Wright, Airport Director at Brainerd Lakes Regional Airport, for our focus on General Aviation in the U.S.
The city of Brainerd, Minnesota is the heart of the Brainerd lakes region and so everything they do has a regional spin. On the other hand, the city is the industrial and commercial hub of the county and almost all the banking, industry, and employment are centered there. The Brainerd Lakes Regional Airport (BRD) is a key asset supporting all that economic development – as such, the airport team is keen to start taking advantage of the excellent strategic location and is actively working on creating an environment that will attract business and industry.
"This is the middle of the prime season for Brainerd Lakes Regional Airport," reports Airport Director Steven Wright. "When you fly in here you are going to see the Minnesota environment at its finest. This is Northwoods Minnesota, as far away from the hustle and bustle of all the city life that you can be." He goes on to point out that the summer is the peak season for the airport, but that the region is renowned for all four seasons. Brainerd Lakes is surrounded by far more water than land – but the gorgeous hardwood forests make up for that in a big way. In other words, it is the perfect tourist destination. "We are almost like an oasis in the greenery," says Wright, "with these two beautiful runways."
Brainerd Lakes Regional Airport encompasses 2,597 acres and has two active runways with concrete surfaces. The first is 7,100 by 150 feet, while the second is 6,512 by 150. There is also a separate helipad. The airport averages between 20 and 30,000 operations per year and these include both commercial and general aviation. There are 80 based aircraft, the majority of which are single-engine, along with some multi-engine, jet, and helicopters.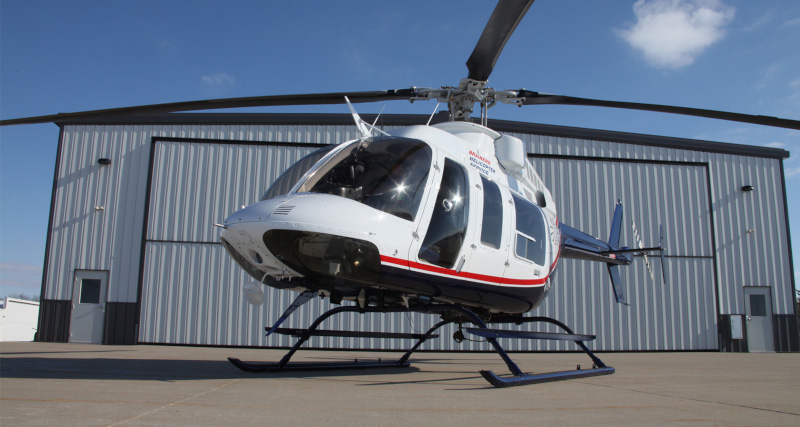 Within the last two years, they have opened a new 4000 square foot general aviation arrival and departure facility, which propelled BRD forward in terms of becoming far more customer focused and customer friendly. The interior design mimics the lake and cottage region, complete with a Northwoods fireplace. Also located on the field is a popular restaurant, as well as the Department of Natural Resources Tanker Service, a helicopter ambulance service, the Civil Air Patrol, Brainerd Helicopter Service, as well as car rental agencies.
"This is all in addition to NorthPoint Aviation," explains Wright, "who are our FBO. About 90 employees call the airport home with all these businesses combined. Our commercial carrier is Sky West, operated by Delta Airlines, and they offer two flights daily to Minneapolis. The FBO goes above and beyond to provide everything from aircraft fueling, to flight instruction, and aircraft maintenance. They have a skilled maintenance team that can maintain everything from the simple prop plane to complex jet aircraft. They support Sky West Airlines from time to time, so they can tackle any needs that our customers have."
Always looking ahead, the airport has recently extended the sewer and water lines from the city onto their property and created space that they hope will become an industrial park. "Last summer was the first summer where we were completely full," Wright notes, "and so hangar waiting lists are beginning to develop. It is good news, and part of our capital improvement plan in terms of how we grow. The clientele is changing, and we are needing to build 60 x 60 "Big Box Hangers" in order to accommodate jet aircraft and corporate-type aircraft."
Brainerd Regional was among several airports that received a sizable grant from the FAA to continue operations, as well as to develop infrastructure during the pandemic. According to Wright, "This has helped us to position ourselves for growth in so many ways. One project, for example, is to relocate our fire rescue building from one side of the airport to the center of the two runways. It is two miles from the current building to the other end of our longest runway and putting it in the intersection will dramatically improve response times. This also means extending the water and sewer lines through another 25 acres of land that we can then develop for general aviation and aeronautical use. We are just really excited about the growth potential, and we see so much of it on the horizon."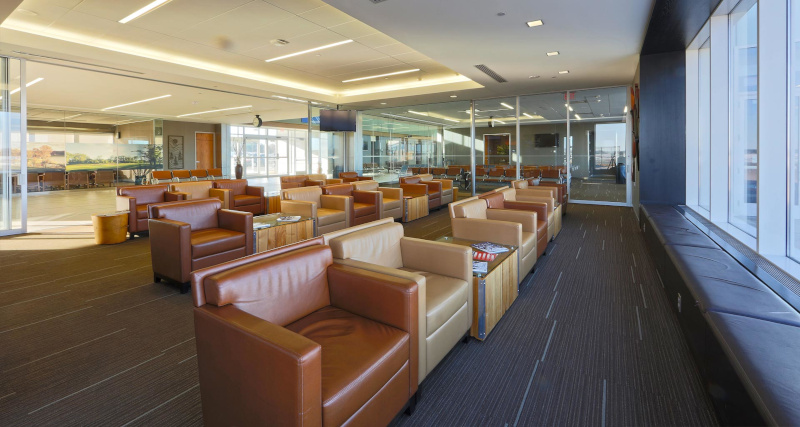 The synergy of all this can be seen when you look at one of the tenants on the field, a unique company called Brainerd Helicopter Service. Brainerd Helicopter has provided professional services for 45 years in the region, with professional commercial charter flights in Minnesota, Wisconsin, North and South Dakota, and Iowa. They also do fire support, power line support, and other commercial air services. "And here is the thing," says Wright. "We are helping them to consolidate their growth and so part of our development funding is going into hangar space for them and, as they consolidate, some of the old facilities that they vacate will be open for other corporate-type airplanes."
Wright's own passion for the aeronautical industry is seen in the focus on educational and promotional programs the airport creates. He shares, "We have an almost 270-degree view of the airfield from the terminal. The excitement begins when a kid comes up to the window and watches everything happening. They might just be there for breakfast at the café, but their imagination is going to take flight. Then along with the 13 businesses that are based at the airport we provide resources for school tours, community outreach events, public open houses… you name it. I have great tenants that are passionate about what they do and they're willing to share their story with the community kids, with schools. One neat thing that's happening is that NorthPoint Aviation and their flight instruction team have agreements with the schools – to go in and provide elective classroom experience to high school students. So every quarter we get about 12 students that come out and go through a ground school type curriculum."
For Wright, seeing people choose Brainerd as their vacation destination and then watching those same people choose Brainerd as their home has been an incredible benefit of running the airport. This has certainly been true during the pandemic, as it seems more and more people are choosing to move away from the urban centers.
He acknowledges, "It also means more business, and this is why we are being so forward-thinking. We are trying to reach out and attract those businesses owners. We are poised and ready for growth. Our regional airport has to start providing the same services that they are used to. So perhaps we can offer more flights to Minneapolis, or perhaps we can even add another hub. I have my eyes set on Denver. Then there is the demand for hangars that we have to address and continuing to develop that 25 acres I talked about."
Looking to the future, he emphasizes, "We also have to talk about sustainability. We just cleared a plan in partnership with our Brainerd Public Utilities to use a portion of the airport property to build a solar field. This arrangement will not only offset the power consumption of the airport but we hope to also be able to contribute power to the grid to achieve the sustainability requirements of our community. It's a very unique project to work on, as well as being kind of fun!"
AT A GLANCE
Brainerd Lakes Regional Airport
What: A progressive general aviation and commercial airport
Where: Three miles northeast of Brainerd, Minnesota in Crow Wing County
Website: www.brainerdairport.com

Visit Brainerd – www.visitbrainerd.com
Located in central Minnesota, along the Mississippi River, is the community of Brainerd/Baxter. Known as the economic center of the Brainerd Lakes Area, it has something for everyone—shopping, dining, entertainment, hotels, public parks, and beaches. From here, you can explore all this lake and outdoor recreation area offers.