Bingham & Taylor
Easier, safer, and more secure
Business View Magazine interviews Steve Petrides, EVP & GM of Bingham & Taylor, as part of our focus on best practices of the underground utilities sector.
Established in 1849, Bingham & Taylor, a wholly-owned subsidiary of Virginia Industries, Inc. and a woman-owned business, is North America's preeminent supplier of meter and valve access and security systems for underground utilities. People often ask why the company has a buffalo as their symbol, "The company was founded in Buffalo, New York," responds Executive Vice President & General Manager, Steve Petrides. "We relocated to Culpeper, Virginia in the 1940s, and this is where we have our cast-iron foundry operations. We have three manufacturing plants – the main plant in Culpeper, an injection-molding plastics plant and a blow-molding plastics plant in Fredericksburg, Virginia. To better serve our west coast customers, we also run a distribution facility in Corona, CA. Our main markets are water and gas utilities, and our primary customers are the individual utilities, as well as the distributors who sell our products all over North America and the Caribbean."
Petrides believes that B&T's advantage over the competition is their continual innovation of products. The company was the original patentee and manufacturer of the iconic "Buffalo-Style" valve box, as well as the first to manufacture plastic valve boxes in the 1960s. Recently, they were the first to produce injection molded meter pits and the company continues to introduce hundreds of small product enhancements to support their customers' needs.
"We offer the most complete line of valve, curb, and meter boxes currently on the market along with an assortment of complementary accessories," he states. "Over the last few years, we have introduced numerous new products to address performance, durability, and security – some of the leading concerns in today's market. We're always trying to invest in new technologies and products for the next wave of these industries. As an example, we offer a variety of security measures at various price points to keep the wrong person from opening something that they shouldn't open."
"We work with our water and gas customers to meet their specific needs through innovation, customization, special configurations, and high-performance finishing," Petrides continues. "We're not intending to be the biggest supplier out there; we really want to work specifically with our customers, primarily the municipalities, to develop unique solutions for access. Our motto is: Easy, Safe, and Secure access to underground utilities. And we want to be the specialists in that area."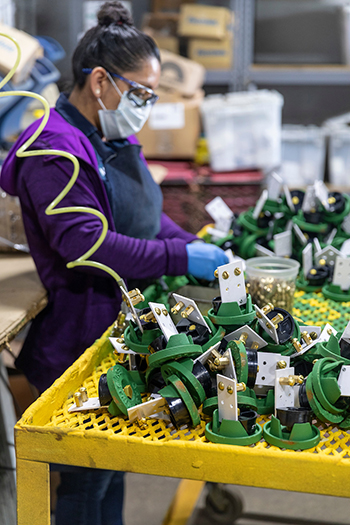 A recent innovation for B&T is injection molded meter pits. "We have a very unique process," Petrides reports. "Our parts are manufactured in just a few minutes, and we have a much superior design. Where the current products in the market tend to deform or break in heat or during loading and transport, ours are durable and stay round. They are also lightweight so it's quick to install and reduces injuries for the installers, and because it stays round, it is much easier to fit with a frame and lid. It's innovative for the market and really taking off."
"We are active in the development of lids for leak detection," he adds. "In major cities, 25 percent of all water is lost through leaks; it's a huge problem. We developed a unique plastic lid system that doesn't block the radio signal transmission like cast iron lids."
According to Petrides, making substantial investments in capital to prepare for future growth is a priority agenda item for the company. "Our growth has been averaging seven to ten percent per year for the last several years," he shares. "We are anticipating the trends in the marketplace and trying to put our dollars in those areas, so we'll be prepared. We have a specialized team of professional engineers who are doing our product development and meeting with customers to determine what problems they need solved. We can now develop products that are more specialized and add value for them. That's going to continue to be our focus – to be more innovative for our customers.
"We are also investing in high-speed equipment to increase our production and quality of work while simultaneously lowering our energy usage and waste. We are already a major recycler of post-consumer products. A hundred percent of our cast iron is sourced from scrap automotive parts. We consistently look for ways to improve on safety, improve on the cleanliness of our operations, and improve on being good stewards of the environment."
"Our goal is to provide the best products to our customers," Petrides says, in conclusion. "We want Bingham & Taylor to be the company people think of when they need a solution, not just a product. We want to continually re-evaluate the market, respond to our customers' needs, and bring those ideas to reality. Our goal is to be the go-to source for unsurpassed quality and innovation in the water and gas markets."
AT A GLANCE
Bingham & Taylor
WHAT: A supplier of meter and valve access and security systems for underground utilities
WHERE: Culpeper, Virginia
WEBSITE: www.bandt-us.com
DARA Inc. – www.daraplastics.com
DARA Inc. was established in 1982 as a custom thermoplastic extrusion facility providing superior quality plastic pipe, tube, and rods to exact customer specifications. We serve a variety of industries including, but not limited to, Underground Utilities, Biotech, Food Processing, and Mining. We take pride in saying "Made In USA."