Zerust Oil & Gas
Worldwide corrosion solutions
Business View Magazine interviews Gautam Ramdas, Zerust's VP of Global Market Development as part of our focus on the oil and gas sector.
Zerust Oil & Gas is a division of Northern Technologies International Corporation (NTIC) that provides corrosion mitigation solutions and services to clients in the oil, gas, and process chemical industries. NTIC develops, markets, and sells proprietary, environmentally-beneficial products and technical services, either directly or via a network of joint ventures, independent distributors, and agents. In addition to its market-leading Zerust corrosion inhibiting packaging business, NTIC is currently leveraging its scientific expertise and established global distribution network to commercialize Zerust corrosion solutions for oil, gas, and chemical processing applications, and Natur-Tec, bio-degradable and/or bio-based plastics for industrial and consumer applications.
Recently, Business View Magazine spoke with Gautam Ramdas, Zerust's VP of Global Market Development. Prior to working with NTIC/Zerust, Ramdas was a successful consultant working with Fortune 500 companies to streamline supply chains and introduce new technologies for process improvement. With an MBA from the University of Michigan, and a BE in mechanical engineering, he brings his background as an engineer to practical problem solving with clients, working with clients to understand their corrosion problems and can offer inhibitor-based solution options that will address their specific corrosion concerns.
"NTIC was founded in 1970 in Lino Lakes, Minnesota with its primary business in oil analyzer instruments (then known as Northern Instruments, Inc.)", Ramdas begins. "In 1993, Northern Instruments changed its corporate name by merging into a wholly owned subsidiary, Northern Technologies International Corporation. The company has since grown out of the oil analyzer instrument business and into a global provider of corrosion inhibiting products and corrosion control management services with sales and technical support." Today, Zerust Oil & Gas clients include BP, Chevron, Enbridge, Reliance Industries (India), Petrobras (Brazil), Shell (Malaysia), ADMA-OPCO, and FMC Technologies (USA).
The team leverages NTIC's global network of trained corrosion management professionals and channel partners to deliver products, provide local support, conduct client training, and participate in solution field trials. In addition, the R&D group works with companies like Chevron, Petrobras, and Enbridge to develop specialized corrosion mitigation solutions and shared intellectual property technologies. The Zerust team has state-of-the-art laboratory facilities in Beachwood, Ohio, and Circle Pines, Minnesota, that are used for primary corrosion research, product development, joint R&D with clients, and analysis of field test data.
"With Zerust Oil & Gas and our corrosion management services, we're in over 70 countries," Ramdas continues. "We operate through a network of joint venture partners of whom we own 50 percent. We have about 29 joint ventures around the world, so you can think of those as 29 offices around the world. In the United States, we have our headquarters in Minnesota and the R&D for oil and gas in Ohio. We've got seven labs around the world that cater to doing R&D projects and client testing and supplier product evaluations and things like that. We have over a hundred employees in the United States, alone, and another couple hundred across the world across all the joint ventures. Though the parent company is Northern Technology International Corporation, or NTIC, our customers know us by our Zerust brand. Over the years, we found more people know us as the Zerust guys than those guys from NTIC, so as a branding experiment we've kind of gone to marketing as Zerust Oil & Gas rather than Northern Technologies."
Zerust Oil & Gas is a world leader in protecting bare metals from corrosion using Vapor Corrosion Inhibitors (VCIs). Since moisture and contaminants in the atmosphere react with the metal surfaces and cause corrosion, VCIs can be used to protect these metal parts from corrosion without the need for greases or painting. Zerust VCIs have been effectively and safely used to protect valuable parts and equipment for more than 35 years.
"In the 1940s, during WWII, Shell came up with the concept of a vapor corrosion inhibitor where you essentially prevent rust by having a vapor land on a piece of metal and it would form a temporary layer on the metal and prevent that metal from corroding," Ramdas explains. "But the Shell product was later found to be carcinogenic, so they didn't sell it and nobody used it. In the 1970s, researchers at Northern Technology developed a safe vapor corrosion inhibitor based on FDA-approved food ingredients, and we started selling to manufacturers."
Zerust products work by releasing a harmless, non-toxic, odorless, colorless vapor into the air around metal items. Protective molecules settle on all exposed metal surfaces, forming a very thin protective layer that is just a few molecules thick. This molecular layer inhibits electrochemical reactions on the surface of the metal that cause corrosion. Exposed metal surfaces protected by Zerust benefit from a long-lasting shield against rust, tarnish, and corrosion.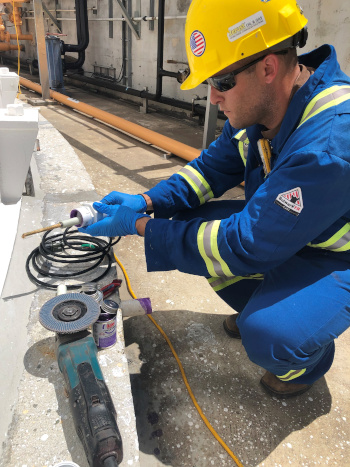 "The concept of vapor corrosion inhibitor was relatively unknown at that time, and if you were, say, a manufacturer of automotive parts, and you wanted to protect your pistons, crankshafts, turbines, or whatever, you'd normally put a lot of oil or grease on it, wrap it in plastic, put it in a container or crate, and then ship it out to your customer. But, over time, people found that these are not very effective ways. You always miss a spot here or there, or with complex geometry, you can't get into all the nooks and crannies, and, at the other end, your customer has to remove this plastic and remove all the thick oil and grease.
"With the vapor inhibitor you don't have those issues. The chemistry is embedded into your packaging so the FDA-approved food ingredients are actually embedded into your plastic sheet or paper sheets. You take your part, put it inside the packaging, and the vapor comes out and essentially protects the parts from corrosion. As long as the packaging is intact, the vapor will remain for many, many years. We have clients who protected their parts over 10 years without any oil or grease, just putting it inside a VCI package.
"So this is kind of our primary product. We've found different ways of adapting the concept of a VPI to protecting things, so, for example, if you go to Home Depot or Lowes, you can now buy a Zerust vapor capsule to put into fishing tackle boxes or gun cases. Flambeau already puts them into their tackle boxes for you. The military is using our product, as well as other industries besides manufacturing.
"The petrochemical industry asked is there something we can do in terms of preventing leaks and spills. Going after oil industry infrastructure, we found ways to adapt our VCI inhibitor concept to oil industry assets, specifically oil storage tanks, pipelines, and offshore platforms. The bulk of our revenue comes from the terminals and refineries. We originally started with supplying the offshore platform industry. Petrobras was our largest client for the first few years and they used a product, Flange Saver, and it's now part of their technical specifications for addressing flange corrosion. Overtime, what we're seeing is our VCI concept more accepted at the terminals and refineries which have oil storage tanks and they're having corrosion underneath the tank bottom plate. It would be easy to go inside a tank, where you can coat or paint or all kinds of stuff, but if it's underneath, there is no way to get under the tanks and try to protect the bottom plates."
"The parent company, Northern Technologies, wanted to be environmentally responsible and there's a lot of plastic being used, so it diversified into the division Natur-Tec that develops compostable materials. Initially, we're looking at replacing our VCI plastic bag with compostable, biodegradable, bio-based VCI packaging. It's obviously a higher cost than the regular plastic, but it diversifies and has become a very large business for us in the consumables market. So we're one of the largest suppliers and cost leaders in the world for bio-based, bio-compostable bags to the garment industry and city councils with solid food waste disposal projects. It started from this intention to be environmentally-friendly with our products and kind of morphed into something fairly large."
Natur-Tec compostable biopolymers are produced using NTIC's proprietary ReX Process, wherein biodegradable polymers, natural polymers, organic and inorganic materials are reactively blended in the presence of proprietary compatibilizers and polymer modifiers to produce biobased and compostable polymer resin formulations that exhibit unique and stable morphology. Natur-Tec biopolymer resins are engineered for high performance, ease of processing, reduced cost, and can easily be processed by converters using conventional manufacturing processes and equipment. Natur-Tec biopolymer resins are available in several grades, tailored for a variety of applications such as film extrusion, extrusion coating, injection molding, and rigid engineered plastics.
Regarding competition in the sector, Ramdas states, "The first reason why we tend to win against our competition and why customers come to us is our customer service and the technical support that we provide to our customers. This is not an off-the-shelf consumable; you need to understand the problem to specify something very specific to their assets that needs protection and for these reasons the customer service and support we do is probably a number one reason why customers come to us and work with us.
"Of course, you can have great customer service and a poor product. We believe that our product is very unique. We are the only company in the world that sells this particular version of the VCI. We've had competitors who sell different versions of these products but, on all the testing done by our clients, our products have been significantly better. So in addition to the customer service, we believe we have a product that is technically superior. The last part is the recommendations that we make are very geared towards what's best for the customer. In some cases that may not be our product, but a different approach the customer might have to take. So, they trust us wanting to help them protect their assets. The technical recommendations we provide in terms of quantities required, the types of product, and how they should approach it, are very different from what we've seen our competition offer. And that's reflected in the number of clients, our market share that we have, and the ongoing customer retention."
Ramdas indicates that the company's future is extremely promising: "One of the things we're seeing is that we're kind of scratching the tip of the iceberg at this point where we've done hundreds of tanks around the world, for example, but in the United States alone there's between 700,000 to a million tanks storing oil at different points. We've done 300 around the world, so as the API and NIST guidelines come out, as industry starts accepting our solutions, as clients start publishing data – we already have many plans to publish papers at NIST – what we expect to see is that more and more operators are going to start using our solutions and it becomes kind of the industry standard. So five years from now, instead of 300 tanks, we might say 3,000 tanks or 30,000 tanks. And not just tanks, as we also do a significant number of pipeline facing protections and monitors – there's 2.6 million miles of pipeline in the United States – in terms of protecting them from corrosion, but there's tens of thousands of additional casings that we'll be going after."
In conclusion, Ramdas states, "Our corporate culture believes in integrity, entrepreneurship, and the team is treated like a family. We sell the best delivered by the best. I go to sleep at night feeling very comfortable that I've done my best in providing the best solutions so that the clients are going to be happy. Everybody we hire, everybody we put out in the field, knows that we're doing our best with the client's interests at heart. We've had push back even internally with people saying we shouldn't do 'that' because 'that's' not right by the client and that's what we go with. We say, 'Hey okay, what's the best thing for the client?' That's why we not only have the largest market share, but are continually acquiring new customers who had bad experiences with other people."
AT A GLANCE
WHO: Zerust Oil & Gas
WHAT: A provider of corrosion mitigation solutions to clients in the oil, gas, and process chemical industries.
WHERE: Beachwood, Ohio
WEBSITE: www.zerust-oilgas.com

Corrpro – www.corrpro.com
Corrpro Helps Clients Meet Requirements Using VCIs 
Corrpro, a licensed distributor of Zerust® vapor corrosion inhibitors (VCIs), use VCIs in a variety of applications in the oil & gas industry. Our applications include aboveground storage tanks, cased crossings for pipelines, offshore platforms and more. 
What is a vapor corrosion inhibitor? 
VCIs have been used safely in the oil & gas industry for more than 35 years and can help prevent corrosion in a variety of aboveground assets like tanks. Moisture and contaminants in the atmosphere can react with metal surfaces and cause corrosion. VCIs help to protect these surfaces without the need for greases or painting. VCIs work for assets in enclosed spaces. VCIs work because they have a higher vapor pressure than the surrounding air and absorb onto bare metal surfaces to prevent against corrosion by forming a protective film. 
Corrpro's Director of Engineering, Dirk van Oostendorp, explained how VCIs can help on a project, "Corrosion is a naturally-occurring electrochemical process for ferrous materials. When the effects of corrosion are visible, it is easier to deal with. However, corrosion often occurs in hidden areas or difficult to access locations, becoming more difficult to identify and address. Due to their unique nature, volatile corrosion inhibitors are ideally suited for providing protection in these hard-to-access cases." 
Underground pipelines are required by regulations to have cathodic protection to protect them from corrosion. When these pipelines run under roadways, railway lines or other structures, the standard practice has been to install them inside protective steel casings.  Over time, ground movement can cause contact between the pipeline and casing, resulting in a metallic short that can cause a drain on the cathodic protection system. Vapor corrosion inhibiting gel can help mitigate this issue by protecting the space between the pipeline and casing, preventing corrosion caused by moisture, oxygen and other contaminants that may be trapped in this annular space.  
Similarly, aboveground storage tanks are often constructed with a secondary containment structure. This empty space is also difficult to access and can be prone to corrosion from accumulation of condensation in the annular space. Previously, metal loss from corrosion could only be detected by very detailed inspection, which can be costly. VCIs can provide a long-term solution to preventing undetected corrosion from occurring in these areas of concern. Corrpro has assisted clients by installing access ports to introduce vapor corrosion inhibiting gel for these applications.