Williamsburg Landing
The perfect place to call "home"
Business View Magazine interviews Gregory Storer, President and CEO of Williamsburg Landing, for our focus on Life Plan Communities in the U.S.
Williamsburg Landing is a premier Life Plan Community in James City County, Virginia. Just minutes away from Williamsburg, this special community is located on 137 wooded acres with many homes having serene views of College Creek.
Founded in 1985, the concept of Williamsburg Landing was conceived when a group of local businessmen bought a parcel of land with the plan of creating a community where they could retire and enjoy a fulfilling quality of life. This resulted in the development of a Life Plan Community, also known as a Continuing Care Retirement Community (CCRC), for residents 62 years and older.  It is one of the most comprehensive senior living options available today. Not only does one have the choice of independent living homes and an array of activities, most importantly, residents have the guaranteed access to healthcare should needs change. Best of all, if one outlasts their resources through no fault of their own, they know they will be taken care of. Williamsburg Landing is an innovative, not for profit Life Plan Community offering a full spectrum of opportunities to foster independence, connection and security. They are also the only CCRC in the area that is CARF Accredited.
Williamsburg Landing has 317 Independent Living homes and apartments with four additional homes coming online by the end of the year (all pre-sold prior to breaking ground). Additionally, they have 73 Assisted Living apartments, 24 secure Memory Support apartments, 74 Skilled Rehabilitation and Long Term Nursing beds and an Adult Day Care Center, licensed for 50 participants. The Adult Day Center opened in 2018 and won the Distinguished Adult Day Center Award in 2019.
Lisa Bates, Chief Marketing Officer, offers a lovely description of Williamsburg Landing: "Picture a college campus, as you enter through our secure guard gate (which is staffed 24/7), you will drive through winding residential tree-lined streets, bordered by beautiful landscaping. Home styles range from quaint English style cottages to a contemporary style open floor plan complete with an elevator. Assisted Living, Memory Support, Skilled Rehabilitation and Nursing each have their own common area spaces for activities and guest visits. The Memory Support Center recently won an architectural award for Best Design. There is also a large auditorium, medical clinic, and a 25,000sf health club with an indoor pool. Outdoor venues include an outdoor bar & dining space, tennis/pickelball & bocce courts, walking paths, outdoor pool and raised bed garden plots that residents can enjoy. We even have our own beauty shop, sundry store and bank!" Dining choices include formal and informal restaurants, carry-out and delivery options.
"We're very fortunate. We enjoy a really nice reputation here and have since its founding and inception," reports Gregory Storer, President and CEO. We enjoy a strong brand, and we are very well known." We are seeing most residents and potential residents come from the James City County/Williamsburg area, however we are seeing a growing trend of potential residents from outside of the region. The proximity of two major medical providers, Sentara Regional Hospital and Riverside Doctors Hospital, is one benefit to the location of Williamsburg Landing, which is also close to attractions such as Colonial Williamsburg. William and Mary College & Busch Gardens.
John Van Aken, President of the Residents Association shares, "I'm a resident, and location played a significant role in our decision to move here. It was an opportunity to be close to things I like to do. Being a history major, I love being in Colonial Williamsburg, and I did a lot of volunteer work at the college. This has been a wonderful location for me to be in for the retirement years in my life."
Having the Williamsburg Jamestown Airport for a neighbor is another advantage. As Storer explains, "They are great supporters of us and vice versa. We have a good relationship with the airport, and we are just good neighbors. We look out for one another, we support one another, their success is our success. The airport offers an ideal situation for anyone who wants to fly in and take a tour of Williamsburg Landing, or as John Van Aken adds, "I have a new neighbor moving into one of the buildings that is just being built. He wants to learn to fly!"
Williamsburg Landing is governed by an 18-member board of directors, including two residents who are voting members, something which is uncommon in the Life Plan space. "A lot of Life Plan Communities, or CCRCS's have residents on their board, but they're not voting members," says Storer. "We have a diverse, excellent governance committee that strategically has a very strong matrix of the skill set. We are very proactive and progressive with recruiting and bringing the appropriate members onto our board." Van Aken, who is a resident and voting member adds, "Beyond that, we have 12 committees that have 138 residents participating and interfacing with management on day-to-day operations. We have a lot of input, and the opportunity to decide how things are done here. So, as there is a tremendous amount of resident input, it also makes this a really good place to live."
Williamsburg Landing offers a variety of contract types to residents. The ability to easily adjust the level of service and care was another draw to the community for Van Aken, who explains that his three sons live in different states but are comforted to know he is taken care of in any circumstance. Not only can Williamsburg Landing take care of his present and future needs, but the community has also proven to be a huge support for him during a difficult time. He shares, "I had the unfortunate situation… one year after we moved here, my wife died suddenly. Here I was alone, my kids were far away, and this place just took charge. The residents came in, the neighbors, the staff, they just wrapped me up in warm blankets, and it got me through a very difficult time. My boys now know that no matter what happens, I am here. I'm safe, I'm secure, and I'm cared for."
In the early days of COVID 19, Williamsburg Landing took a proactive approach, being one of the first Life Plan Communities to lock everything down, in order to protect residents. Storer recounts, "Right from the get-go, we established a COVID taskforce of 30 of our team members throughout the entire organization – our senior leaders, directors, managers, and supervisors, because we didn't know what we were dealing with. We developed a taskforce that started that first week and has continued to meet biweekly for the past 23 months." He adds that without the dedication of the employees none of it would have been possible. "We have a wonderful staff who have adapted, have done anything we've asked them to do. We have continued to address situations and issues as they arise. We've done very well through the pandemic, compared to a lot of other health care facilities, and Life Plan Communities. We test on a regular basis, and we are mandating the vaccine for all our employees."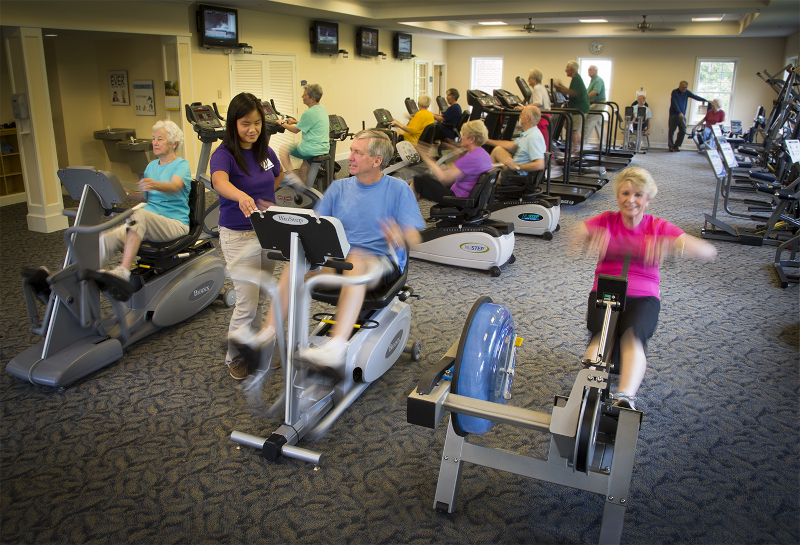 Throughout the pandemic, emphasis has been on keeping residents safe, while also keeping them connected. The introduction of Temi, a robotic companion, helped to ease some of the feelings of isolation for residents and earned the community a McKnight Technology Award. Storer reports, "We have four Temi units that have been really beneficial to our residents. Temi offers a full range of service, from FaceTime with your family members, to playing movies, videos, music, and having conversations. It was important for us to try to find ways to keep our residents connected to their family members. And we continue to do that even today."
Williamsburg Landing has seen much growth over its 36 years, with another 15 acres ready and waiting for future expansion. Continuing to focus on quality of life for residents, Storer describes his vision for the growth of the community: " I think one of the biggest things that is going to have a profound effect on how we live and work in our community is technology. We need to find ways to use technology to provide services, to work smarter, to find efficiencies, and to connect our residents. By managing this crown jewel in a manner that serves our residents, provides a great place to work and remaining financially strong will allow us to maintain our independence and position within the marketplace. We also need to continue to build on the culture that we have, our culture of caring about one another."
Surrounded by tradition, while embracing the innovations of the future, Williamsburg Landing is a progressive Life Plan Community. A genuinely welcoming place to call home.
AT A GLANCE
Williamsburg Landing
What: An outstanding Life Plan Community
Where: James City County, Virginia
Website: www.williamsburglanding.org