Town of Tecumseh, Ontario
Pride of Place
Business View Magazine interviews representatives of the Town of Tecumseh, Ontario for our focus on Economic Growth & Development in Canadian Communities
For more than a century, the Town of Tecumseh, Ontario has flourished as a source of pride and satisfaction.
"There's an entrepreneurial spirit in this region where folks are not afraid to put their best foot forward and establish businesses within our communities," says Town of Tecumseh Mayor Gary McNamara. "That boils down to the key foundational piece that we have here: it's the people and how they interact with each other. There's a real good sense of pride in our region."
First founded in the mid 1800s as a railway depot and stopover for travellers on their way to Windsor or Detroit, Tecumseh initially was part of the Municipality of Sandwich East. But the town's spirit was firmly established in 1921 when a group of people, angered by the municipality's unfair dispersal of tax dollars, petitioned the legislature to separate the Town of Tecumseh as its own entity, dedicated to providing its 1,000 residents with the best services and opportunities. Fast forward – the town amalgamated with the former Village of St. Clair Beach and the former Township of Sandwich South in 1999, and today there are just under 25,000 people who call this part of Essex County home. More than 100 years after its founding, the Town of Tecumseh is still laser focused on ensuring its residents are satisfied and fulfilled.
"We are very much a community where council has an interest in walkable neighbourhoods, treelined streets, the types of things you really come to appreciate," says Brian Hillman, Town of Tecumseh's Director of Development Services. "As a council and a community, there is a vested interest in having a beautiful place to live, so we work hard to find the balance of creating investment opportunities but also seeking a very high standard of development. Tecumseh is a vibrant municipality – a very small organization corporately, but we aspire to do very large, good things. Not only does council set a high standard but we, administratively and as a community, set very high standards. We aspire to achieve those and they come with challenges – but it's an exciting place to not only live, but to work, because of that."
To ensure they are maintaining those high standards, Tecumseh conducts a biannual citizen satisfaction survey. For six years running, the town has reached 98 percent approval. "Citizens express a great deal of support and satisfaction with the service offerings in Tecumseh," says Marg Misek-Evans, the town's CAO. "They feel it's a great place to live. And certainly in our planning and public meetings, people often comment on the warmth and support of the neighbourhoods and the small town feel – even though we are close to a large center."
The Town of Tecumseh is located just east of the City of Windsor, which is just across the Canada-U.S. border from Detroit, Michigan. The location brings with it a unique set of amenities. According to McNamara, "Regionally, we have access to a wide range of amenities. We lean on each other in terms of different amenities that one community might have that the other doesn't. We co-operatively work well in that environment, so that's an asset to the region. There are a lot of nuances that benefit our region and make it attractive for employment and enjoyment."
Having a prime location, both regionally and internationally, is a boon to industry and development, and has attracted strong investment in the Town of Tecumseh business sector. "We have benefitted from a very entrepreneurial group of investors, who over the years have really put their blood, sweat, and tears into a tool and die industry that has flourished and continues to grow," Hillman says. "And that brings with it other investment opportunities. We have been lucky that there has been considerable attention to our region through federal and provincial funds for our transportation network, our cross border connections into Detroit, and we continue to work with these types of capital investors in creating opportunities to further investment and growth in the town."
Like most communities in North America, housing is in high demand and finding new development has become a top priority for Tecumseh and Essex County. The region has grown 20 percent over the past five years and finding appropriate housing to meet the demand has been an issue. "We know there is pent up demand for further opportunities for housing in Tecumseh," Hillman says. "It's one of those communities that in our region is very desirable, so we are working to ensure that we can get appropriate housing opportunities available for the private industry to bring forward. That's where we will be putting a lot of emphasis over the next five years."
Tecumseh has already been working on a community improvement plan in its downtown core, which offers incentives to draw in more housing development, particularly for apartment-style dwellings. Over the past two to three years, the town has seen an increase of up to 200 units added to the housing stock. "This has been a very busy year for us," Hillman explains. "We have four apartment buildings that are under construction. They are modest three, four, or five storeys, but they have offered some significant housing to us in a critical location. At the same time, we are just working through a strategy to advance opportunities for some of our greenfield sites. We have identified those sites by way of critical capital infrastructure investments by the town and the development community and we are working with them to bring housing on stream in a timely manner."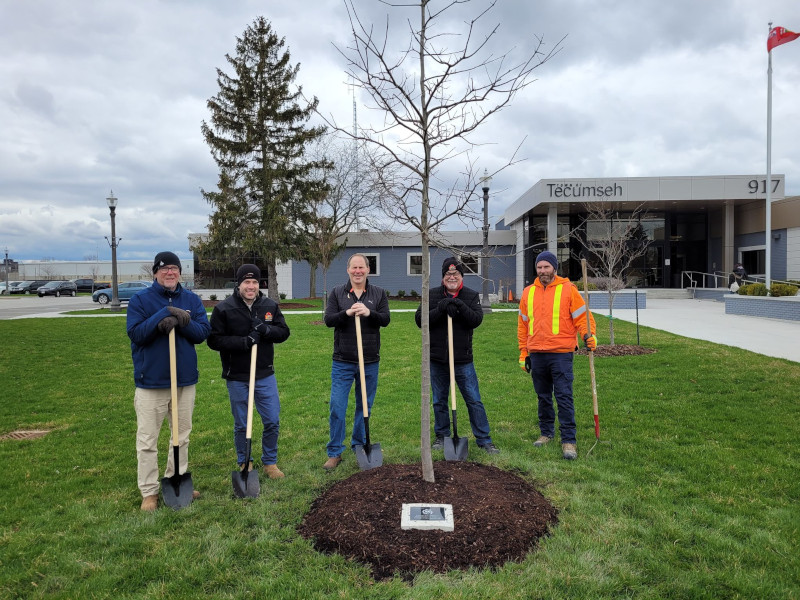 Having more housing available quickly is key because of investments being made in the surrounding communities that are anticipated to draw even more attention to the region. A $4.9 billion electric vehicle battery plant announced for the City of Windsor and a new $2 billion regional hospital to be built in east Windsor, with central access to all of Essex County are expected to drive even more future residents to the area.
But the Town of Tecumseh is ready to meet the challenge. Misek-Evans confirms, "We've got the recipe for success. We have land that is available and designated, we have good servicing, and we have willing developers. We are just on the verge of putting all of that into action and growing our supply in time to accommodate big investments."
Meeting challenges is nothing new for the Town of Tecumseh. They recently had to go back to the drawing board after federal and provincial funding fell through on a planned $70-million multi-use Sportsplex. Rather than dashing their hopes for more recreational opportunities in the area, they came up with a new plan that will still meet the area's growing needs. "I think we have come up with a really winning combination that has the support of council to distribute a lot of the elements of that Sportsplex project throughout the community," Misek-Evans says. "We will turn what was going to be situated on one site into a number of smaller projects that will be situated throughout the wards in Tecumseh."
Rather than one large FIFA-sized indoor soccer pitch, the community will now get two new artificial turf soccer pitches. The town's baseball field at Lacasse Park will get a facelift that will include new grandstands, a new plaza and infield artificial turf. The library will receive a renovation and there will also be additions to the town's inventory of splash pads. "And the Town has the opportunity to assume the Maidstone Recreation Center from the volunteer group that has established and ran it successfully, with plans for site improvements, including a new four-court pickleball facility," Misek-Evans says. "So while we may not have been able to swing the Sportsplex without senior government support, we are able to leverage the town's own finances and community partnerships to move forward with this package of community amenities."
As the Town of Tecumseh pushes forward, they hope to continue seeking the best for their residents and follow through on all their planned works to make the town an even greater place to be. "We want to continue to put forward our region as an absolute great place to live and work and play," McNamara says. "In order for us to do that, we have to continue to bring those big, small, and medium investments into our region. We will be putting all our initiatives into play. All those pieces of the puzzle are coming to bear and in about three to four years I want to see the whole puzzle completed."
AT A GLANCE
Tecumseh, Ontario
What: A thriving town, population nearing 25,000
Where: Essex County, southwestern Ontario
Website: www.tecumseh.ca