Town of Florence, Arizona
A new frontier
Business View Magazine interviews representatives town of Florence, Arizona for our focus on Economic Development in U.S. Towns & Cities
Established in 1866 by Indian Agent Levi Ruggles, a Civil War veteran who saw the agricultural potential of the Gila River valley, the Town of Florence, Arizona proceeded under Mexican jurisdiction until 1853, when the Gadsden Purchase placed all lands south of the Gila River under the U.S. government's authority. Today, this old Western town has a rich history, along with 140 consequential buildings listed on the National Register of Historic Places. It's also home to the first Pinal County courthouse (est. 1878), the oldest standing courthouse in the State.
"What makes Florence a great place to live is absolutely our community and our historic culture," says Mayor Tara Walter. "We're centrally located between Phoenix and Tucson, so that gives us that set-away from the everyday hustle and bustle of city life. But we can still access it, and it can access us, and we retain the opportunity to have that small-town feel with a sense of community that pulls together. We have events happening on a regular basis that are unique and specific to the Town of Florence, and that also support the local businesses here, especially on our Main Street."
Though small in size, Florence is home to dozens of tourist and recreational activities such as McFarland State Historic Park, Pinal County Historical Museum, Florence Aero Modeler Park, and the Charles Whitlow Rodeo Grounds. Its historic downtown also hosts several premiere events, including Road to Country Thunder (a day of country music and fun), the Junior Parada parade (the oldest junior rodeo in the U.S.), and Christmas on Main St. – an event and light parade during which food vendors, inflatables, and entertainment fill up Florence's notable main strip. "Moving into February we have our Historic Home Tour, Memories on Main Classics car show, and the Florence Music Festival," Walter adds. "They're all signature events."
Besides the social landscapes and cultural landmarks that showcase Florence as a True Western town, the Gila River that runs through its heart adds yet another touch of history and prominence to this charming, rural location. "The Gila River was one of the desert rivers that flowed continuously in Arizona for a very long time," explains Town Manager Brent Billingsly. "It no longer flows through this area due to irrigation diversions, but it helped define the boundary of the Gadsden Purchase and that's a prominent history dating back to the 1800s. The river also made Florence a hive of activity as the Native American community – starting with the Hohokam people – who built canals, farmed, and lived adjacent to the Gila River."
The community of Florence was originally developed as a copper-mining trade center and stage stop, helping to establish copper as one of Arizona's five Cs, or key economic drivers, which include cattle, cotton, citrus, and climate. "We're one of the oldest towns in Arizona and we were one of the State's largest cities in 1912, when Arizona was founded," Billingsly shares. "Prescott, Tucson, Lawrence, and Phoenix were the four largest cities at that time, and that's why the Arizona Territorial Prison was put here. People like to joke that Prescott got the capital, Tucson got the land-grant university, Florence got the prison, and Phoenix got the insane asylum."
The father of Arizona, Charles Posten, also happens to be buried in Florence. "We have a prominent butte that sits right in the middle of town," Billingsly says. "It's called Poston Butte, and Charles Posten is actually buried in a pyramid on top of that butte. We've acquired that land from the federal government and are putting together a regional attraction around it called Poston Butte Reserve. That's just one of our ongoing efforts to boost the local tourism industry."
Several dedicated downtown revitalization projects have also been ticking along. Last year, the town released its Redevelopment Plan update, which focused on four main priorities including history, identity, economy, and community. "Our Town Council was very progressive in adopting a downtown commercial revitalization grant last August," says Economic Development Director Elan Vallender. "It's got about $250,000 in it that's available to owners and tenants of commercial buildings. The grant is geared towards improving these buildings by bringing them into compliance with town building codes as well as mitigating safety concerns. Essentially, we look at some of the vacant buildings out there and work towards revitalizing them and getting tenants back into them."
So far, the program has been hugely successful, with the Town receiving seven grant applications and disbursing four-fifths of the grant monies last year. "In addition, we've got a Façade Improvement Grant that allows buildings in our downtown to revitalize their architectural character," Vallender continues. "We were able to use up all of that program money last fiscal year, which was a great thing to see. It means that our buildings are actively improving. We're looking forward to the completion of those projects, and to the new businesses that are going to be coming in once they're finished."
Another big factor in the revitalization and growth equation for Florence is nature's lifeblood itself. "Water is obviously important for all of Arizona, but it's critically important for future development and land use here in Pinal County," Billingsly reports. "Several things have occurred over the last couple of years that have made water an even more prominent topic. The main one is a new water model that was approved by the Arizona Department of Water Resources that shows a difficult water future for the County in terms of assuring a 100-year water supply. Florence has been ahead of the curve as far as instituting policies, programs, and agreements in order to diversify our water portfolio, and making sure that we have a strong water position going forward. I'm confident in saying today that the Town is in the best position out of all the communities in Pinal County, as it pertains to wet water and wet water production."
That announcement comes as a testament to the Town's continuing sustainability efforts, not just on the water side, but also from an energy perspective. Florence has just completed a partnership with Ameresco, a leading renewable energy and energy efficiency company, which resulted in plans for a solar array installation, a town-wide conversion to LED lighting, and a complete replacement of their HVAC systems to enhance sustainability and lower energy usage.
"We've taken sustainability seriously," Billingsly insists. "We've already got one solar array here but we'll be adding up to four more to offset the town's energy usage. Another project that's going to be absolutely huge to us is converting all of our existing street lighting, which is usually a low-pressure sodium, to LED. We're even taking that to another level with a Smart City Initiative that's going to allow us to auto-dim the lights, track the maintenance of those lights, and have the ability to do all kinds of neat little things with control of those lights. If we ever have a situation where we need to evacuate folks, ideally we'd be able to control these lights as part of a county-wide emergency plan, to indicate an exit route out of town."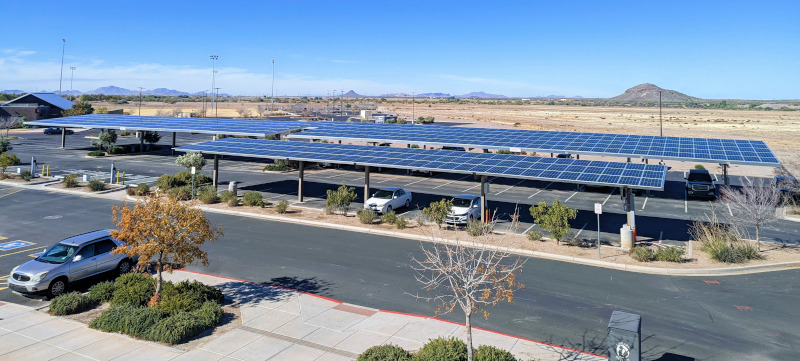 Transportation and transportation access are incredibly important to Pinal County, but especially to Florence given that it sits at the nexus of three major transportation corridors: two State highways (Routes 287 and 79) and one large County highway (Hunt highway). The Arizona Department of Transportation (ADOT) and Federal Highway Administration recently finalized plans for a new freeway corridor that will link Interstate 10 in the South, to U.S. Route 60 in the North. This represents a key project for the Town, which will gain at a minimum three interchange locations, providing housing and commercial growth to the area.
"During the last residential boom, there were quite a few developers that came out and looked at critical pieces of land and started doing the engineering and platting work," Vallender says. "When the economy tanked the last time, those pieces of land stayed dormant. But now, with the Phoenix market getting so hot, there's been an immense need for single-family residential, and we're seeing a ton of new growth in our area. A few years back, the Town created an Infill Incentive Plan which created flexibility for those developers by generating opportunities to look at fee structures and offer flexibility with zoning. That plan has been used by developers recently to get much-needed single-family homes and services into the Town."
Florence is also in the process of doing some Master Plans for its Heritage Square on the north end of town, bringing forth new commercial opportunities to cater to our growing population. "We have a significant amount of people in Town during the day," Vallender reports. "Our critical workforce here is a lot of government and correctional officers. And as we increase those densities in the evening hours with more homes and apartments, we'll create more opportunity for our local businesses to thrive."
AT A GLANCE
Town of Florence, Arizona
What: County seat of Pinal County; population 28,000
Where: Central Arizona, 45 minutes from Tucson and Phoenix
Website: www.florenceaz.gov