Mount Airy, North Carolina
ripe with history, full of character, and a tourist mecca
Providing a great spot to visit, Mount Airy, North Carolina never loses sight of its residents who are the heart of the community
For many visitors, Mount Airy, N.C. is better known as Mayberry. Fans of the Andy Griffith Show, which aired from 1960 to 1968 on television would know exactly why.
Mount Airy is the birthplace of Griffith, the actor who passed away in 2012 at age 86, and for several decades the city has embraced its place in American television lore. The various Andy Griffith Show attractions around town bring more than 70,000 visitors to Mount Airy every year and help add an average of 3,400-plus names to the visitor center registry. Many of those visitors also stop by the city's Andy Griffith Museum.
Yet there is much more to Mount Airy than just the television show as it also brings fishermen and women, hikers, bikers, and visitors looking to experience a small town with amazing views and outdoor amenities as well. The city is built on granite, which makes sense given the location of The Rock, the world's largest open-faced quarry that covers 60 acres. The city was also home to Chang and Eng Bunker (1811–1874), famous "Siamese Twins" conjoined twins of showman P.T. Barnum who settled in Mount Airy after they retired from show business
Mount Airy was settled in the 1750s as a stagecoach stop on the road between Winston-Salem, North Carolina, and Galax, Virginia. Historic Downtown Mount Airy resides at the trailhead of the Blue Ridge Mountains where urban living is enhanced by the serene beauty of the rolling foothills. Downtown is the heartbeat of the community and grows the pulse of local art, live music, abundant shopping, local wine, craft brews, authentic dining experiences, and gracious hospitality.
Fostering a diverse variety of small businesses, services, and friendly people, Mount Airy is a true Southern Town with all the charm of Griffith's Mayberry, complete with Mayberry Squad Car tours, a TV Land Statue depicting the famous show downtown, and the Mount Airy Museum of Regional History, which offers an array of cultural and historical exhibits that depict life in the backcountry of North Carolina.
Named an All-American City in 1994, the city was incorporated in 1976. It is also home to the Gertrude Smith House, a famous Victorian-Colonial Revival home that contains period antique furnishings and art and is open for free tours from April through December.
Mount Airy is a vibrant scene for Southern, mouthwatering cooking and unique, locally-owned restaurants. They range from down-home cooking to barbecue, to Asian cuisine to upscale dining. Perhaps the best-known eatery in the city is Snappy Lunch, a full-service breakfast and lunch restaurant that was known for serving blue-collar workers for 100 years, having first opened in 1923. It offers fresh, home-cooked meals and a one-of-a-kind, nostalgic atmosphere.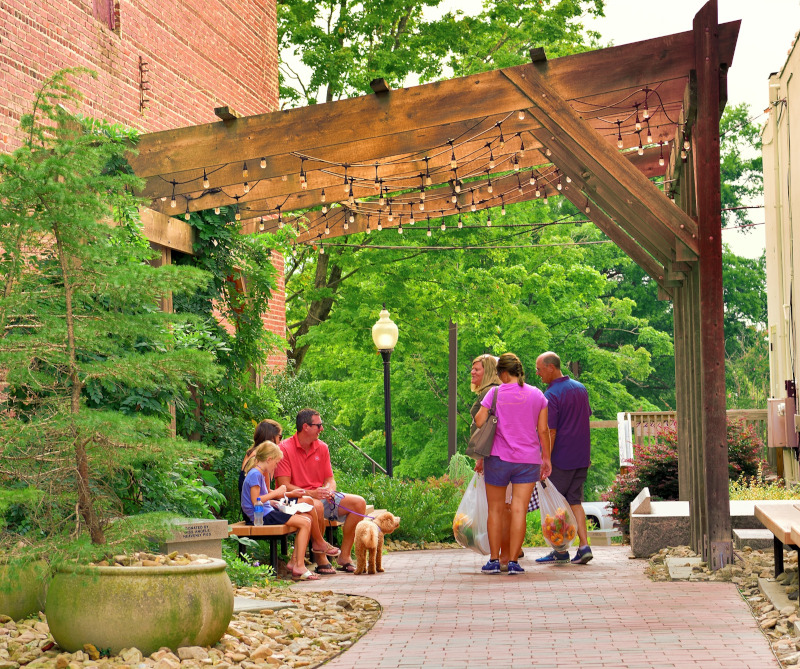 "We like to think of ourselves as America's hometown," says Mount Airy Mayor Jon Cawley, who was elected to that post in December 2022, but has lived in the area for most of his life. "We have great storytellers and very kind people who look out for one another and are always around to help."
It wasn't always easy for Mount Airy. The decline and virtual disappearance of the textile industry and other manufacturing meant the loss of 10,000 jobs for the city and surrounding communities in the late 1990s – a figure higher than the population of the city at that time. While Mount Airy's population today has grown to more than 10,000, the city has evolved over the years to make up for those lost jobs by focusing on tourism, services, and a growing downtown retail center.
One of the amazing things about downtown Mount Airy is that there are virtually no unoccupied storefronts. Any of the old textile buildings around the city have been redeveloped and historical buildings downtown refurbished and renovated for retailers. Cawley says that visitors can walk from one end of downtown to the other and back in two hours, and never worry about not finding an interesting store to visit.
The city is short on housing even though there is little room to add new developments. So, the old site for Spencer's, a well-known children's and women's clothing manufacturer, has been redeveloped to include condominiums and apartments. Spencer's moved its headquarters to Miami many years ago. Another portion of that property is being developed as a Marriott Tribute hotel complete with a conference center. That planned development is expected to cost Marriott more than $40 million and should provide an added tourism boost.
"We can only grow so big," says Cawley. "Growth will come more in quality of life rather than quantity of residents." He hopes that the convention center may draw hundreds of visitors into town most weeks.
Cawley and his team have been busy attempting to recruit other investors and employers to the city. In his first two months on the job, Cawley has already visited California and Ohio to recruit new businesses that want to move to a warmer location. He believes that new manufacturers will find the community welcoming and full of needed infrastructure and resources.
One valuable resource is the abundance of water. The Ararat River and multiple creeks border much of the city, and previous infrastructure built for the textile industry remains, meaning the city has access to an extra six million gallons of water for new employers. Any leftover water is available to sell to municipalities, businesses, and any organization in need.
The Granite City Greenway is another popular attraction that is widely used by residents and visitors alike. Mount Airy Parks & Recreation Department maintains seven parks and the 6.6-mile greenway system surrounding part of the city that offers a variety of amenities for citizens and visitors of all ages and abilities. It borders Lovill's Creek and the Ararat River, offering one-of-a-kind trout fishing opportunities.
The nearby Yadkin Valley wine region is a vibrant river valley known as the "Napa of the East." Mount Airy is the perfect basecamp for exploring nearly 40 wineries in the Yadkin Valley wine region. Breweries and distilleries are also located throughout the region.
One of the most notable success stories of Mount Airy has been Northern Regional Hospital, which has grown to become a truly regional hospital that includes expertise across all medical specialties. Its surgical and ER units have doubled in size and scope in recent years and more physician offices are now located onsite at the hospital, Cawley says. This allows providers to address immediate patient needs more quickly.
As a result, patients travel a longer distance to Northern Regional Hospital from southern Virginia and all around North Carolina. When Cawley's children were born in the 1990s, he and his wife had to go to a larger hospital for birth services. But his grandchildren were born at the Mount Airy hospital because of expanded service.
Cawley credits the hospital's president and CEO Chris Lumsden for much of this growth because of his vision and industry knowledge, calling him a "key partner."
Other important partners for Mount Airy include the Mount Airy Main Street Program and its members for its efforts at growing the downtown community, development firm Sunhouse for its efforts with the Marriott Tribute Hotel and other projects, and Smith-Rowe, and construction firm Smith-Rowe for its bridge and road support. The State of North Carolina has been an important partner on many projects.
Three additional individuals should be mentioned, Cawley says. Entrepreneur Gene Reese has "almost single-handedly helped to keep the occupancy level downtown high," he added. Jessica Icenhour Roberts has used her tourism and development experience to support the city's ongoing efforts to attract visitors, and Assistant City Mayor Darren Lewis has been responsible for maintaining much of the city's greenway spaces.
Says Cawley, "I wouldn't want to live anywhere else and when people come here they just seem to fall in love with the city and (the outdoors). "For a City our size, Mount Airy has much to offer."
AT A GLANCE
Mount Airy, North Carolina
What: Charming, historical town with a modern line up of amenities and relaxed lifestyle
Where: Surry County, North Carolina
Website: https://www.mountairy.org/
Central Steel Group – www.centralsteelgroup.com
Central Steel Group is the powerhouse behind companies such as Carport Central, Carport Direct, Metal Garage Central, Metal Barn Central, LC Contracting, American Metal Structures and the American Building Network, supporting more than 125 employees. We've helped thousands of American homeowners and businesses to get the perfect, custom steel structure solutions they need, while also providing them with the best customer service and the best financing options in the business.
Central Steel Group continues to innovate around design engineering and building customizations, and we're leading the charge in taking the metal building industry to new heights with new possibilities. We hope to become a household name for metal building solutions, and we're committed to achieving this mission by taking good care of our customers, employees, and partners, one person at a time.
At the end of the day, our motto is our creed: "What's Central to you, is Central to us!"
Central Steel Buildings – www.centralsteelbuildings.com
With over 15 years of manufacturing knowledge and experience, Central Steel Buildings Inc. was formed to supply the huge carport and metal building industry of NC and is dedicated to providing our customers with top quality products and exceptional service. Our 120K square foot warehouse houses everything from fasteners to coil products, and is designed to ensure the safety and security of materials. We are your one stop shop for all your metal building needs!
Coram Construction – www.jgcoram.com
Coram Construction is a full-service construction company and general contractor that serves the need of clients throughout the Southeast. Our value of solid communication, hard work, dedication to craft, quality and serving the needs of our clients, have led us to being a leader in our field. We are your partner in building the future, today!