Snellville, Georgia
A vision of vitality
Business View Magazine interviews Butch Sanders, City Manager of Snellville, Georgia for our focus on Economic Development in U.S. Cities
As one of the first suburbs of Atlanta, the City of Snellville, Georgia is packed with history and is ever evolving to meet the needs of residents, with residential developments to bulk up its housing stock, incentives for retail and small businesses. Beyond that, it is completely transforming the look of the city center to add a downtown that will not only bring people together for events and recreation, but also provide diverse, mixed-use housing.
Snellville's dedication to community enhancement is done at a fraction of the cost to taxpayers because of public-private partnerships with companies like CASTO Developments and MidCity Real Estate. All these improvements make it an attractive place for those who work in Atlanta to settle down. Away from the urban bustle, there are many green spaces and trails to enjoy, while also being close enough to Atlanta to make use of big city luxuries and recreation. Butch Sanders, Snellville City Manager boasts, "People started to really enjoy the area when Atlanta began to grow on a large scale. Our community obviously started building residentially in the '60s, '70s and '80s, and also started to grow commercially because the private sector is going to go where the people are."
Snellville's current population is a little more than 20,000, an increase of about two percent in the last decade and Sanders expects the growth to continue between three and five percent in the next five to ten years. The city is located in Gwinnett County, about 44 miles east of downtown Atlanta, along Highway 78 and Highway 124. That intersection is also the city's main retail and commercial hub – it sees more than 100,000 vehicles cross through it every day, with people commuting to and from Atlanta to work and others using the shopping district.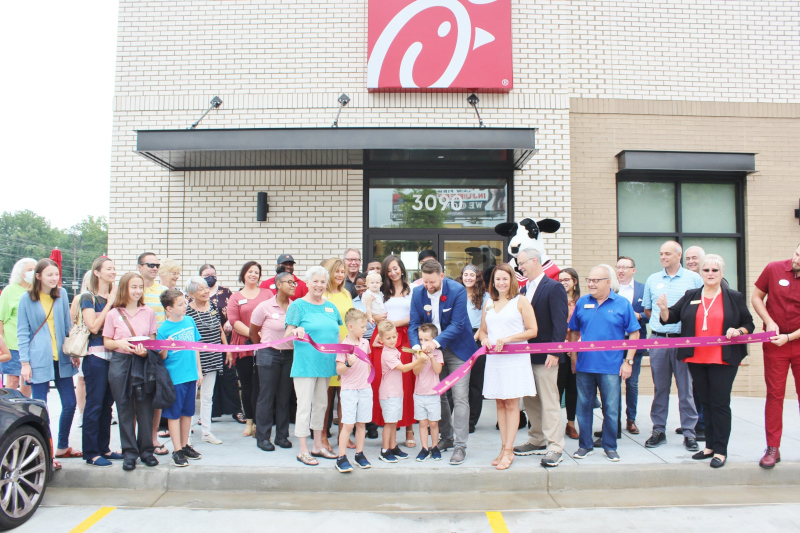 Sanders knows continuous improvement in Snellville is a big draw. He reports, "People have started to look at local communities that have amenities like we're building in the Grove as a very attractive place to live and work."
One of their largest projects has been talked about, researched, and conceptualized for the last 20 years. And now it is coming to fruition; the creation of a downtown core "Grove at Town Center" in Snellville because it has never had one. Retail and commercial operations sprung up throughout the city, but ever since the area (then called New London) was settled in 1879 by Thomas Snell and James Sawyer, it didn't have a dedicated downtown.
Sanders says the conversation that began 20 years ago was focused on what residents wanted to see the city turn into and what would continue to attract new residents. He explains, "As the residential group and the commercial group grew, the city started to provide really nice amenities through a very large park, Brisco Park, and started thinking about building a downtown, building a town center where we could provide an even greater quality of life. A mixed-use area for people to come to and enjoy and that's how the concept of the Towne Center got started."
Sanders is proud of the direction the project is taking and of the city's partnerships with MidCity Real Estate Partners out of Atlanta and CASTO Developments out of Columbus, Ohio and Florida. He declares, "MidCity has a lot of experience, they've done a lot of work in Alpharetta Town Center and in other communities. And CASTO is the builder/developer, if you will, and they have done a lot of mixed-use commercial development all across Florida and Ohio, and are getting into Georgia. We've been working with them now for a little over three years and we've come a long way."
There will be 250 apartments as part of the private sector development and a 750-space parking lot –  free for public use. The public investment is a 23,000 square foot county library on the first floor of one of the buildings, and the second floor is co-working, education space owned by the city.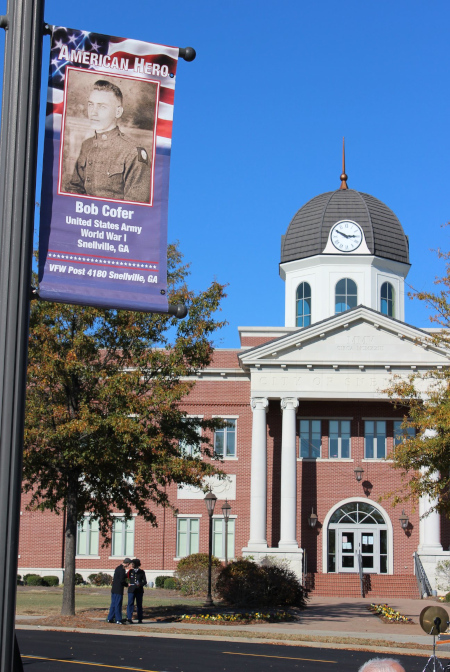 Another building called the Mercantile, will host an upscale artisan restaurant with a 10,000 sq ft event space above. That space will overlook a green space or common area where some 150 trees are being preserved. In the end there will be more than 34,000 sq ft of restaurant space and 48,000 sq ft of office and retail space in the complex. The project is approximately 10 percent complete; they hope to open restaurants and office space by the fall of 2022 with about 90 percent of the planned development finished. But all of the apartments won't be finished or leased until the fall and winter of 2023.
Sanders acknowledges, "It's been years in the making. The city was the driving force behind acquiring all the property, putting the parcels together, and then finding the right partner and MidCity and CASTO have the same vision as our Mayor and Council. It really is exciting watching it come together and exceeding what we thought we could do. So, it's been just a great process, with terrific people involved and we're looking forward to a grand opening later in 2022."
This development is in addition to the city setting records for building permits and residential developments for the last two years. Snellville has helped diversify its housing stock with smaller cluster home developments for all ages and they created a new neighborhood near their largest employer, the Eastside Medical Center, with single family homes in the $400,000 to $500,000 range. They've also created options for those aged 55 and older. "We're creating mixed residential options, many residential options for people," says Sanders. "We're really trying to span the gambit and offer housing for younger families as well as folks who are looking to have that 55-plus community with all the amenities that go with it."
The city is part of Gwinnett County School District which is one of the top five school districts in the state. Sanders boasts that all of the schools in the city excel academically and athletically. The high schools even took on an award-winning workforce employment training initiative from the city's economic development department. Within 15 miles of the city there are also two colleges, Georgia Gwinnett College and Gwinnett Tech, which just broke ground on a $40 million building. The city is also close to Georgia State University in Atlanta.
Snellville maintains its own police department, parks and recreation department, economic development department, and planning department. Water and wastewater are done through Gwinnett County, who are currently putting in a new connector sewer line which will enable phase two of the Grove to develop. The county is also putting in new water infrastructure in a neighborhood close to the town center, and the county and city just finished a redevelopment of their major intersection at Highway 78 and Highway 124. They installed a displaced left turn lane intersection. Sanders says it's one of only three in the country, "It just moves traffic quicker, and more of it."
The community offers many trails and is adding more every year to connect the green spaces, like a 10-mile Greenway with more than 3.5 miles to add in Brisco Park this year. Sanders says, "We're trying to promote green space and cleaner, fresher air. We feel like that's a big plus for people looking for amenities and good quality of life."
In the future, Sanders believes the city will continue to improve itself for residents and businesses with a planned two-phased development to compliment the downtown development on an 8.5 acre parcel of land. He states, "We think this will attract, it already has attracted, a lot of interest and calls for other adjacent property. Kind of like a halo effect, attracting a lot more private investment. We're starting out very strong. It looks like phase one and phase two will be somewhere over $100 million in development."
He also hopes to see more and more diverse housing in town with more mixed-use properties, noting, "Like most communities, we hope to redevelop into new mixed-use, more residential type areas, that can add to the quality of life of the community. We've always been a very pro-quality growth community. Working with developers, working with private investors to build according to our comprehensive plan and make something that adds to the vitality and the beauty of Snellville. We think there will be more of that type of demand."
AT A GLANCE
Snellville, Georgia
What: A desirable southern community; population approx. 20,000
Where: Gwinnett County, 18 miles east of Atlanta
Website: www.snellville.org
E. R. Snell Contractor, Inc. – www.ersnell.com
E.R. Snell Contractor, Inc. is multi-division company with corporate headquarters in Snellville, Georgia and various divisions and asphalt plants throughout the state. Founded in the 1923, our operations have expanded from building rock culverts and walls, to bridge work, to the myriad of services we offer today including asphalt paving, asphalt sales, grading, walls, and private projects.