SheerLine Associates
Coaching C-Suite Executives for healthier cultures
Offering coaching to maximize C-Suite's leadership impact
With over two decades of executive coaching under her belt, Carol Rosa Sabia, Master Certified Coach (MCC) at SheerLine Associates has found her life's work as a C-Suite Executive Coach. Located in Belmont, Massachusetts, SheerLine Associates partners with senior leaders to grow and strengthen their leadership capacity. The company sticks closely to its tagline and consistently delivers on its core promise of: "Building Healthy Organizations, One Leader At A TimeTM"
"My purpose is to create healthy work environments. I have worked in healthy and unhealthy organizations, and I've seen the immense difference top leadership makes," says Carol. "This is the reason I coach at the C-Suite level. I work with leaders who want to tap into their best selves, so they can lead from their strengths and create healthy organizations for themselves and their teams."
While previous generations were used to following the status quo, many of those entering the workforce now are demanding more value from their work life. This, in turn, has put more of an emphasis on developing a healthy organizational culture.
The most senior leaders in an organization have the most significant impact on the culture. How senior leaders lead and connect with their employees has a big impact on how valued and connected their team members feel at work and the overall quality of the culture.
Senior leaders who work with a coach have recognized the need to transform their own leadership before they can transform their organizations. "The senior executives I partner with want to know candidly how they're perceived as leaders and where the gaps are from what they intend," says Carol.
SheerLine's clients find coaching provides a framework and support for the leader to do intentional self-development. It really is "lonely at the top" and working with a coach provides the space and safety to think out loud, play back difficult situations, and clarify challenges.
Sabia elaborates, "I'm engaging with senior leaders who have no one else in their peer group to have these in-depth discussions with, and they know they can trust me." Rather than providing answers, the coach helps the leader to deeply understand what is challenging about a situation and to come up with the right answer themselves.
Coaching engagements with Sheerline typically last around six months, and meetings occur every two weeks. The process begins with formal 360 feedback to gain insights into how other parties perceive them as a leader. Individuals who are asked for this feedback include the client's manager (or Board leader), peers, direct reports, and sometimes customers or Board members.
Once these insights have been gained, the client plans their development goals with the assistance of SheerLine. The goal can be thematic, like leading more strategically or collaboratively. Then more measurable objectives are set to support the aspirational goal.
The client determines the agenda at each coaching session. Sometimes the topic is crystal clear at the outset of the meeting, but most times the leader just starts by talking out loud and uncovering what's most important to focus on during the session. The coach never gives direct answers to situations, as that is not the coach's role. But what is within the coach's scope is to ask questions, reflect back what they are hearing, and make observations about what the client is sharing.
During these in-depth discussions, the client will gain awareness of what's holding them back from their goals and work out how to move forward. These conversations will dig deeper into the issues before moving forward to take action.
Coaching is a collaborative partnership where the leader feels safe enough to share and face challenges and vulnerabilities. Once issues are surfaced and understood, it is much easier to get clarity about what to do.
SheerLine Associate's clients span many organizations including those in high tech, pharma, manufacturing, construction, retail, research, financial services, academia, healthcare, and nonprofits. The size of organizations ranges from $20M to multi-billion dollar global corporations and everything in between.
"The common denominator in all our clients is that they are senior executives who are motivated to be the best leaders they can be and to have a positive leadership impact on their organizations. Their success is no longer about what they know or what they can do, it's all about how they can tap into the full potential of the people working in their organizations," Sabia says.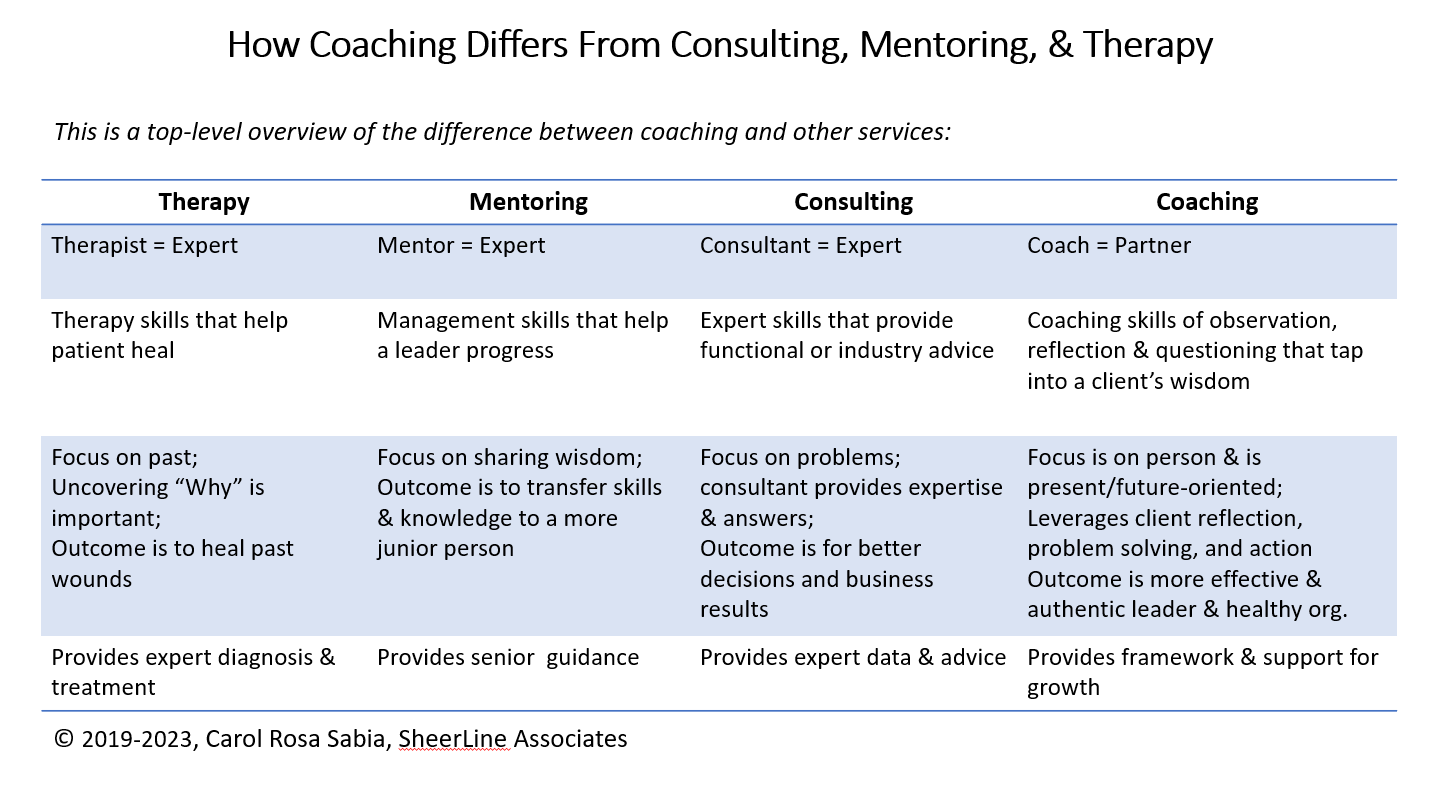 The pandemic disrupted the workforce globally and led to everyone rethinking the importance of work, how work fits into their lives, and how they want to show up at work. "While the press mostly talks about this for the general employee population, this is also certainly true at the most senior levels of leadership. Senior leaders are doing a lot more exploration of how they're showing up as leaders, and what is authentic and not so authentic. This helps to clarify for senior leaders what they really believe and how they want those beliefs and practices to be realized in the workplace. It's leading to more truth and authenticity at the top, which I believe benefits everyone in the organization," says Carol.
Another issue that surfaced from the pandemic across many sectors was finding a balance between an established typical working environment in the office to a more flexible one, either hybrid or totally remote. One factor that has suffered from this shift is workplace connections. Teams who don't meet in person may lose that relational bond, which is critical for the organization's culture.
"Most of the senior leaders I have spoken with are embracing a more flexible approach to work when that's possible, giving their employees more control in the decisions of remote vs. on-site work. However, many employees and leaders are concerned about the loss of connection and how to make sure that is factored into the equation. The real challenge moving forward will be figuring out how to strike the right balance around flexible work and strong interpersonal connections," says Sabia.
Carol recaps a more strategic trend she's seeing when stating, "Both of these pandemic-highlighted issues point in the direction of senior leaders listening to and working with their employees to come up with cultural solutions that work for people AND organizations. This is really about leaders taking a more coach-like approach to leading their team members, by asking questions, being curious about what's really important and meaningful to them, and collaborating with them to find a win-win solution. I think this 'leader as coach' approach is gaining traction and will contribute to healthier organizations in the future."
The coaching industry is going through its own set of developments. Currently, the industry is being flooded with individuals who call themselves coaches but may not have the relevant training. These people may really be doing consulting or mentoring or therapy, rather than coaching.  (See the chart clarifying the difference between coaching, consulting, mentoring, and therapy.)
"Coaches need to have the proper training and experience to be effective and I recommend working with a credentialed coach. The International Coaching Federation (ICF) is an excellent place to find a coach – there are more than 34,000 credentialed coaches in the ICF database, with 5% at the Master Certified Coach (MCC) level" reports Sabia.
SheerLine Associates will often work with senior leaders who want to improve their team's functioning and cohesiveness. Sometimes the solution is for all the team members to work with a coach and SheerLine has a network of ICF-credentialed coaches that they tap into when needed.
Other times, a leadership team offsite may be the right solution for the executive team. In those cases, SheerLine partners with Principal Consultants from business author Patrick Lencioni's firm, the Table Group. They lead executive team offsites to establish team cohesiveness, clarity, communications, and sustainability for optimum team effectiveness. We apply Table Group Organizational Health principles to both the executive team and to the coaching of individual leaders. "While we generally work with individuals, CEOs can struggle with their team's dynamics. This is when we collaborate with Table Group Consultants," says Sabia.
"We're all about partnering with senior executives to help them create and lead healthy organizations where they and their people can thrive and grow," says Carol. "In the future, we hope to spread the word to many more CEOs, Presidents, Executive Directors, and Founders that coaching can help them to intentionally develop themselves to be the best leader they can be and strengthen their organization's culture at the same time," states Carol.
"It's lonely at the top, and we're here to create a safe space, a framework and a foundation of growth for senior leaders. Why do it alone when you can partner with a coach?" concludes Sabia.
AT A GLANCE
SheerLine Associates
What: A leading C-Suite executive coaching firm providing best practices for healthy organizational leadership
Where: Belmont, Massachusetts
Website: https://sheerlineassociates.com/