National Association of Federally-Insured Credit Unions (NAFCU)
The Credit Union Difference: A Mission Worth Protecting
The association that is advocating, educating and leading the way for its valued credit union members
People ask all the time, "what is the credit union difference?" At the National Association of Federally-Insured Credit Unions (NAFCU), the answer to that question is: Everything. Compared to other financial institutions, or most organizations for that matter, credit unions are uniquely, and heavily, invested in the success of their communities, and in the financial stability of American families and small businesses. The credit union difference is NAFCU's "why."  Precisely, why the association is not only driven by, but excited every day about the privilege of working for credit unions from all over the country and the 134 million members they serve.
NAFCU believes credit unions are the best choice for affordable, safe financial services for American consumers because of the credit union difference.
The next question that arises is often: what is a credit union?
In simple terms, credit unions are member-owned, non-profit financial cooperatives whose market share represents a third of all Americans in the United States.
"Credit union members have a 'common bond' and that's what allows them to fall under the institution's field of membership. A common bond might be an employer, family, geographic location, or a membership to a specific group. The field of membership acts as the legal definition of who is eligible to join a credit union," Dan Berger, President and CEO of NAFCU, explains.
"Credit unions are member-owned and exist to serve their members and the communities that surround them. This means that any money made by the institution is put right back into the hands of its members – through reduced fees and higher savings rates. Like banks, credit unions accept deposits, make loans, and provide other safe and affordable financial services," Berger outlines.
"However, I would say one of the best parts about banking with a credit union is that it is not a bank," Berger adds.
These factors and many more make credit unions the perfect option for communities in underserved and rural areas and banking deserts. In these low- to moderate-income areas, credit unions fill the gaps left by big banks as they move to bigger cities in search of increased profits.
Berger explains that while banks have closed thousands of branches over the past decade, credit unions continue to expand in such communities and have even fought to add underserved and rural areas to their field of membership to be able to provide financial services to those who need it most.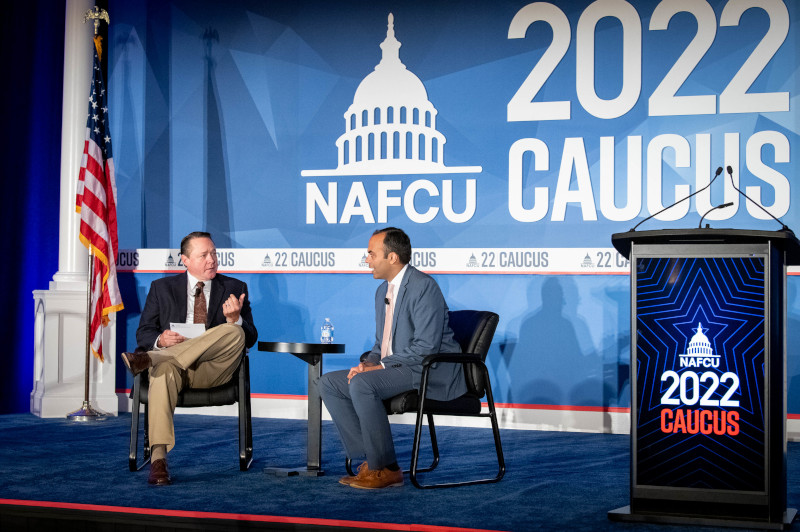 "The result of big bank closures undermines consumer financial equity and stunts small business growth," Berger notes.
Meanwhile, credit unions continue to support their communities in many ways. Thanks to their unique, prudent business model of service to their members, they are the best choice for Main Street small businesses. While the coronavirus pandemic tested the nation in many ways, small businesses fought tooth and nail to stay afloat. Credit unions – even those that did not previously offer small business lending – immediately stepped up and went to work on Main Street to deliver financial lifelines to those struggling to make ends meet. Credit unions were, and continue to be, instrumental in helping these small businesses recover.
"It is clear credit unions exert a positive economic influence that helps all consumers, spurs economic growth, and generates federal tax revenue. And our job at NAFCU is to ensure a legislative and regulatory environment that promotes viability and growth for credit unions," Berger explains.
NAFCU was created in 1967 by a group of credit union CEOs who recognized the need for an association that represents all federally-insured credit unions in Washington, D.C. Since then, with the help of its member credit unions, NAFCU has become the leading credit union advocate with lawmakers, regulators and the Administration.
Over the fifty-five years since NAFCU was founded, the association has continued to build on this strong foundation by remaining steadfast in its beliefs and focus.NAFCU's mission has remained unchanged: To fiercely advocate on Capitol Hill, at the White House, and with regulators,offer award-winning legal compliance assistance, and curate top-rated educational opportunities—all while providing extreme member service for credit union members.
"We build strong relationships with decision makers in Washington so that we can share the positive stories of credit unions – that have a lasting impact across the Nation's Capital – every day. Our Legislative Affairs Team spends their days touting credit unions' not-for-profit, member-owned message throughout the halls of Congress and advocating for legislation that supports the credit union mission," Berger details.
"We are also in constant communication with federal financial regulators to ensure credit unions have a strong voice with those who write the rules for our nation's financial institutions. Our Regulatory Affairs Team facilitates meetings between credit union representatives and staff from regulators like the National Credit Union Administration, the Consumer Financial Protection Bureau, the Federal Housing Finance Agency, and more, to guarantee credit union voices are heard and the institutions are protected," he elaborates.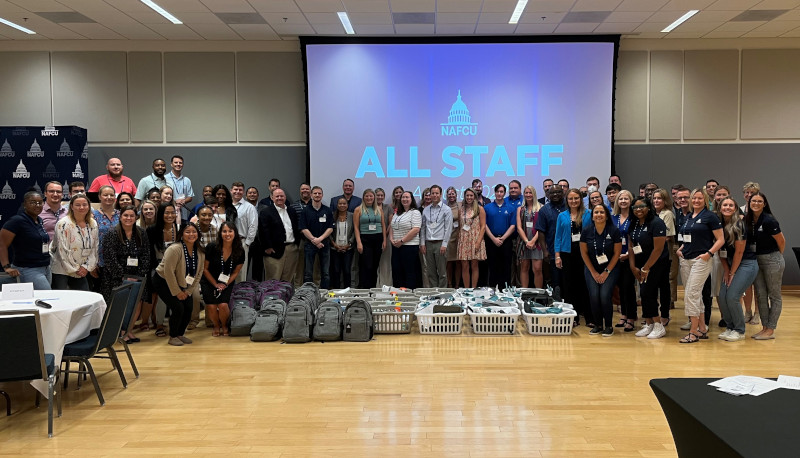 "In addition, our Regulatory Compliance Team provides unmatched compliance assistance, guaranteeing answers to any credit union question within one day – and often an answer is received much faster. The team dissects the highly complicated financial regulatory landscape and delivers digestible compliance manuals and resources for credit union compliance officers. In fact, the Regulatory Compliance Team has published 770+ Compliance Blog posts, articles, and guides, and answered 33,000+ compliance questions over the last five years alone," Berger further highlights.
NAFCU also brings industry leaders together for several conferences throughout the year, all of which include a stellar lineup of speakers and presenters who are there to educate credit unions on the latest industry trends. The largest conference, Congressional Caucus, happens yearly in Washington, D.C., where hundreds of credit union leaders flock to Capitol Hill to speak directly with Members of Congress, key regulators, and more.
"Our goal is to assist credit unions in every sense of the word. We aim to provide the industry's best ACE: Advocacy, Education, and Compliance," Berger relays.
"At NAFCU, we have a clear mantra: We fight for credit unions. And this is not a vacant promise."
NAFCU's team believes deeply in the credit union industry, and is proud to work on behalf of all credit unions. "I personally speak with hundreds of our credit union members a year, oftentimes meeting them in-person to listen to their concerns and visit their branches."
"We want to advocate for credit unions accurately and adequately, and we believe the only way to do so is to have our members' direct feedback inform our every decision. We pride ourselves on the fact that we are constantly available for our members, and we communicate with them regularly – through the many committees, online forums, direct outreach, and conferences we offer," Berger underscores.
NAFCU's staff and resources are dedicated to the credit union members it serves– because those credit unions' resources are dedicated to theirs.
"We work for credit unions in Washington, D.C. and we provide them with a voice that enacts change and protects the industry. The team at NAFCU works hard every day to protect the industry, because credit unions work hard every day to protect the backbone of the American economy and strengthen the American Dream," Berger concludes.
"Their investment into communities across the country – the credit union difference – is something we will always be proud to support and represent."
AT A GLANCE
National Association of Federally-Insured Credit Unions
What: A direct membership association committed to representing, assisting, educating and  informing credit unions to help them grow, and help grow the credit union industry
Where: Arlington, Virginia
Website: https://www.nafcu.org/